Spaghetti Aglio E Olio - Easy Delicious Pasta Recipe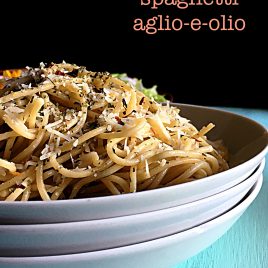 Author:
Sonal Gupta @ simplyvegetarian777
Spaghetti, dry - 1 pound (whole packet)
Garlic - 7 to 8 large cloves, chopped roughly
Parsley - 2 tbsp, fresh and chopped
Olive Oil - ¼ cup
Red Chili flakes - ¼ tsp
Salt to taste
Parmesan cheese - ½ cup, grated
Boil the spaghetti as per the instructions given at the back of the packet. Keep it al-dante (slightly firm).
Reserve 1&1/2 cups of spaghetti water in a cup, that will be used to make the delicate sauce.
Drain the pasta and set aside. Do not run under cold water.
Take a wide pan and heat olive oil in it.
Add roughly chopped garlic to it and fry on medium low heat for about 2 minutes, till it turns golden on the edges. Do not brown it all.
Add red chili flakes and saute for few more seconds. Add the pasta water carefully to the hot pan. Add salt to taste, about 1 tsp.
Boil and then simmer till the pasta water is reduced to ⅓rd.
Add the boiled spaghetti, fresh parsley and parmesan cheese.
Toss it well and let rest for 5 minutes for the flavors to be absorbed well.
Serve it warm with fresh House Salad and some super soft bread sticks on the side, for complete meal.
You may use 1 tsp of dry parsley instead of fresh parsley. Also, you may use freshly milled black pepper instead of red chili flakes.
Recipe by
simplyvegetarian777
at https://simplyvegetarian777.com/spaghetti-aglio-e-olio-easy-delicious-pasta-recipe/