Mysore Bonda in Appe / Abelskiever Pan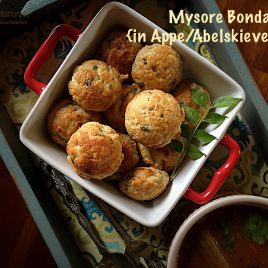 Author:
Sonal Gupta @ simplyvegetarian777
Urad Dal dhuli (Black gram split and husked) - 1 cup
Salt to taste
Black pepper powder - ½ tsp
Coconut flakes, shredded & unsweetened - 4 tbsp
Hing (Asafetida powder ) - a fat pinch
Ginger - 1 tsp, chopped into small pieces
Curry leaves - 8 to 10, chopped roughly
Oil - for greasing
Water - 2 cups
Wash and rinse the dal till water runs clear. Now soak it in 2 cups of water for 2-3 hrs.
Drain off excess water and make a smooth batter in an electric blender. If required, stop the blender in between to stir the batter and add 1-2 tsp of water to loosen up, just slightly.
Add salt, black pepper powder, hing, ginger, coconut flakes, curry leaves to the dal batter. Mix well.
Prepare the appe pan or paniyaram pan or abelskiever pan by oiling all the holes generously. Heat the pan on medium heat after oiling.
Once the pan is hot, take 1 tbsp of batter and drop in each hole, evenly.
Cover the pan with the lid for 2 minutes.
Now remove the lid and cook further for 1 minute. It will be golden brown from the bottom by now.
Brush the top of the Bonda with little oil and gently flip it with a wooden stick.
Cook further for 2-3 minutes on medium heat till the bottom becomes golden too.
Take out the Mysore Bonda from the pan and serve immediately hot with sambhar and chutney.
It might take 2 to 3 rounds of making the bonda out of the batter.
You may alternatively deep fry these as well.
Recipe by
simplyvegetarian777
at https://simplyvegetarian777.com/mysore-bonda-in-appe-abelskiever-pan/