Easy Navratan Korma Recipe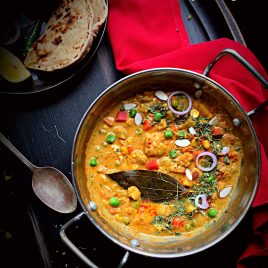 Author:
Sonal Gupta @ simplyvegetarian777
Cauliflower - 1 small, washed and cut into small flowers
Potato - 5 small or 2 large, peeld and cut into small cubes
Carrots - 1 cup, peeled and cu into small cubes
Green/French Beans - ½ cup, washed and cut into small pieces
Corn - ½ cup, thawed if refriegearted
Green Peas - ½ cup, thawed if refrigerated
Paneer cubes / Extra firm Tofu - 1 cup, cut into small cubes
Onion - 1 small, roughly chopped
Tomatoes - 3 medium or 2 large, roughly chopped
Ginger - 1 small piece, peeled and roughly chopped
Green chili - 1 small, roughly chopped
Cashews - ½ cup, soaked in hot water for 15 minutes
Oil - 2 tbsp
Bay leaf, dry - 1
Cinnamon stick - 1 small
Coriander powder - 1 tbsp
Turmeric powder - 1 tsp
Red chili powder - ½ tsp or to taste
Garam Masala - ½ to 1 tsp, as per taste
Salt - 1&1/2 tsp or to taste
Honey - 1 tbsp or to taste
Kasuri methi - 1 tsp
Almond flakes - 1 tbsp
Raisins - 1 tsp
Kasuri methi - ¼ tsp
Very important part to keep in mind is - All the vegetables have to be cut in same size and shape for even cooking and also for aesthetics.
Take a large pot of water and bring it to a boil.
Add Peas, carrots, corn, beans and potatoes to it. Boil for 7-8 minutes till the vegetables are soft (not mushy).
Switch off the heat. Add cauliflower to the pot. Cover and let vegetables sit for another 7-8 minutes.
Drain and set them aside.
Take the magic bullet or a high speed blender and puree onion, tomatoes, ginger and green chili. Set aside.
Now add the soaked cashews with ½ cup warm water and make a smooth paste. Set aside.
Heat 2 tbsp oil in the heavy bottom pan. Add bay leaf and cinnamon stick to it. Reduce the heat and add onion tomato puree to it plus coriander powder, turmeric, red chili powder, salt to the puree.
Cook the puree on medium heat for about 7-8 minutes till it reduces and thickens. Stir in between to avoid burning.
Now add cashew paste, kasuri methi, honey and garam masala to the pan. Stir all the ingredients well.
Add 1&1/2 cups of water. Bring it to a boil and then cook on medium heat till it thickens.
Once the curry is thick (not too tight), add all the vegetables and paneer/tofu cubes to the curry paste.
If needed add ½ cup more water. Adjust the salt, honey and garam masala if required.
Cover with lid and let cook for good 15 minutes on low heat.
More you cook, tastier is the curry.
Once ready to serve, garnish with almond flakes, raisins and kasuri methi.
Navratan Korma goes very well with all kinds of breads like naan, pita, roti, parantha. It tastes awesome with rice and pulav/pilaf also.
Recipe by
simplyvegetarian777
at https://simplyvegetarian777.com/easy-navratan-korma-recipe/