Indian Restaurant Style Long Grain Basmati Rice Recipe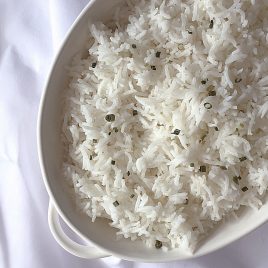 Author:
Sonal Gupta @ simplyvegetarian777
Basmati Rice - 2 cups
Water - 4 cups
Ghee - 2 tsp
Salt - ¼ tsp, optional
Take a deep pan. Add basmati rice to it. Fill it up with water. It will be cloudy. Strain it.
If you are draining rice along with water, that is no good. Use a fine mesh Sieve/strainer and then put the rice in it. Now place this strainer in the pan. Start washing the rice. This way, water will be strained but rice grains will remain inside, with no wastage.
You must wash the rice, till the water runs clear through it, about 4-5 times.
Once the rice is washed till the water runs clear, Soak the rice in 2 cups of water or just enough to keep the rice covered.
Soak the rice for 30 minutes. This will extract out any further starch from Basmati.
After 30 minutes, drain the water out from the rice.
Take a wide and deep pan. Add soaked rice, 4 cups of water, 2 tsp ghee and salt to the pan.
Bring the rice to a gentle boil on high heat.
Lower the heat to medium low. Give it a gentle stir.
Cover with a lid and let the rice cook on low heat till all the water is evaporated. It will take about 7-8 minutes. No need to stir the rice in between.
Switch off the heat. Remove the lid. Let the rice stand like that for another 5-7 minutes.
DO NOT TOUCH THE RICE AT ALL DURING THIS TIME.
Now take a FORK and gently & slowly fork the rice to fluff it up. Watch the video above.
Once fluffed, let stand for another minute or so.
Serve it hot with the daal, vegetable, korma, of your choice.
Recipe by
simplyvegetarian777
at https://simplyvegetarian777.com/basmati-rice-recipe/