How to make Air Fryer Kuttu Aloo Pakode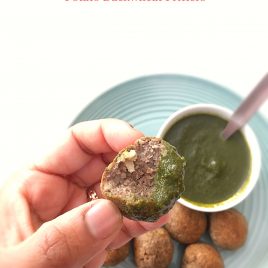 Author:
Sonal Gupta @ simplyvegetarian777
Potato - 1 large, boiled + peeled + grated
Kuttu Atta / Buckwheat Flour - ½ cup
Ginger - 1 small piece, grated
Green Chili - ½ small. finely chopped
Lemon juice - 1 tsp
Sendha Namak / Rock Salt - ½ tsp or to taste
Black Pepper powder - 1 fat pinch
Oil - 1 tbsp
Preheat the Philips Air Fryer for 5 minutes at 350*F / 180*C.
Take a bowl. Add grated potatoes, grated ginger, finely chopped green chili, lemon juice and rock salt and black pepper.
Make a dough with the ingredients. If it is difficult to make a dough then add little water or yogurt, 1 tsp at a time and gather into a dough. Don't make it a tight dough.
Divide the dough into small bite sized (1 - 1&1/2 inches) balls. Spray these balls with little oil
Take a piece of foil that is smaller than the basket size of the air fryer and oil it gently.
Place this foil in the center of the air fryer basket and place the lightly greased balls on it.
Air fry these for 12 minutes. After the 12 minute cycle, pull the basket out and turn the kuttu aloo pakode. Ar fry for 3 more minutes on 380*F / 190*C.
Ta da, air fryed Kuttu Aloo Pakode are ready.
Enjoy with Vrat ki Green Chutney and Vrat ka Chaat Masala. Links are given above.
Or break them a little and top with thick yogurt, chutney and chaat masala.
Recipe by
simplyvegetarian777
at https://simplyvegetarian777.com/phillips-air-fryer-kuttu-aloo-pakode/