Blueberry Lemon Muffin Cake - Eggless, Super Moist & One Bowl Cake Mix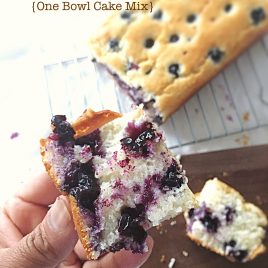 Author:
Sonal Gupta @ simplyvegetarian777
All purpose Flour - 2 cups
Sugar - 1 cup
Baking powder - 2&1/2 teaspoon
Salt - ½ tsp
Butter - ¼ cup, melted
Milk - ¾ cup, room temperature
Yogurt - ⅓ cup, room temperature
Lemon zest of 1 large Lemon
Lemon Juice - 1 tbsp
Blueberries, fresh - 1 cup
Preheat the oven at 375*F / 190*C.
Line a 7-8 inches cake loaf pan with a parchment paper and set aside.
Take a bowl. Add flour, baking powder, sugar, salt, butter, milk, yogurt, lemon zest and lemon juice to it.
Take a fork and mix everything till all the ingredients are well incorporated.
Now add blueberries to the cake batter. Fold these gently into the batter. Save 1 tbsp to add on the top.
Transfer this batter to the cake pan.
Spread out the batter evenly. Tap at the counter to level it out.
Add 1 tbsp blueberies on top and press them down gently.
Bake for 40-50 minutes till toothpick comes out clear. Mine was done at 40 minutes exactly. Start checking at 35 minutes for done-ness.
Take it out of the oven. Let it sit in the pan for 10 minutes.
Take it out with parchment paper and place on cooling rack gently.
It is a very delicate cake so you have to be extra cautious when transferring it from parchment paper to cooling rack.
Let cool for another 10 minutes before you slice.
Serve it warm.
Recipe by
simplyvegetarian777
at https://simplyvegetarian777.com/blueberry-lemon-muffin-cake-eggless-super-moist/