Turmeric Ginger Vegan Pumpkin Soup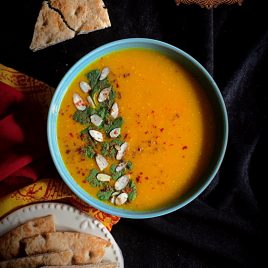 Author:
Sonal Gupta @ simplyvegetarian777
Pumpkin - 3 cups, peeled and chopped fine. I used small Pie Pumpkin. Use any kind or use pureed canned pumpkin.
Onion, red - small, chopped fine
Ginger - 1 medium piece about 1 tbsp, chopped fine
Coconut Milk, Light - 1 can of 400 ml / 13.5 fl oz. You may use full fat coconut milk too.
Water - 2 to 3 cups
Olive Oil - ½ tbsp
Turmeric powder - 1 tsp
Cumin powder - ½ tsp
Paprika or Red chili powder - ¼ tsp or to taste
Salt - ¾ tsp or to taste
Brown Sugar or Regular Sugar or sweetener of your choice - ½ tbsp or to taste
Coriander / Cilantro leaves - 1 tbsp, chopped
Some Almond flakes for crunch or use pepita or roasted pumpkin seeds
Heat oil in a sauce pan. Add onion and ginger to the pan. Saute for 45 seconds till onion softens.
Add Pumpkin pieces, coconut milk, turmeric powder, cumin powder, paprika / red chili powder, salt and sugar. Give it a good stir.
Add 2 cups of water. Stir again. Bring the contents to a boil.
Lower the heat, cover with lid and cook for about 12-15 minutes till pumpkin softens.
Take it off the heat. Let it cool for 5-10 minutes.
Now transfer the pumpkin stew to the blender and add 1 cup of cold water to it. Blend till pumpkin purees smooth.
Transfer it back to the sauce pan. Bring it to a boil. Let cook for 2 minutes.
Serve it hot, garnished with some coriander / cilantro leaves + some almond flakes.
It is mmm mmmm good.
Bring it to the room temperature and then store in air tight container in refrigerator.
If you are using canned pumpkin puree, then add the puree with coconut milk and water to the softened onions and bring it to a boil. Lower the heat and cook further for 5 minutes, before pureeing in the blender. Rest steps remain the same.
You may make this soup in pressure cooker or crock pot as well.
Recipe by
simplyvegetarian777
at https://simplyvegetarian777.com/turmeric-ginger-vegan-pumpkin-soup/