Kala Khatta Syrup - A Must Have Summer Treat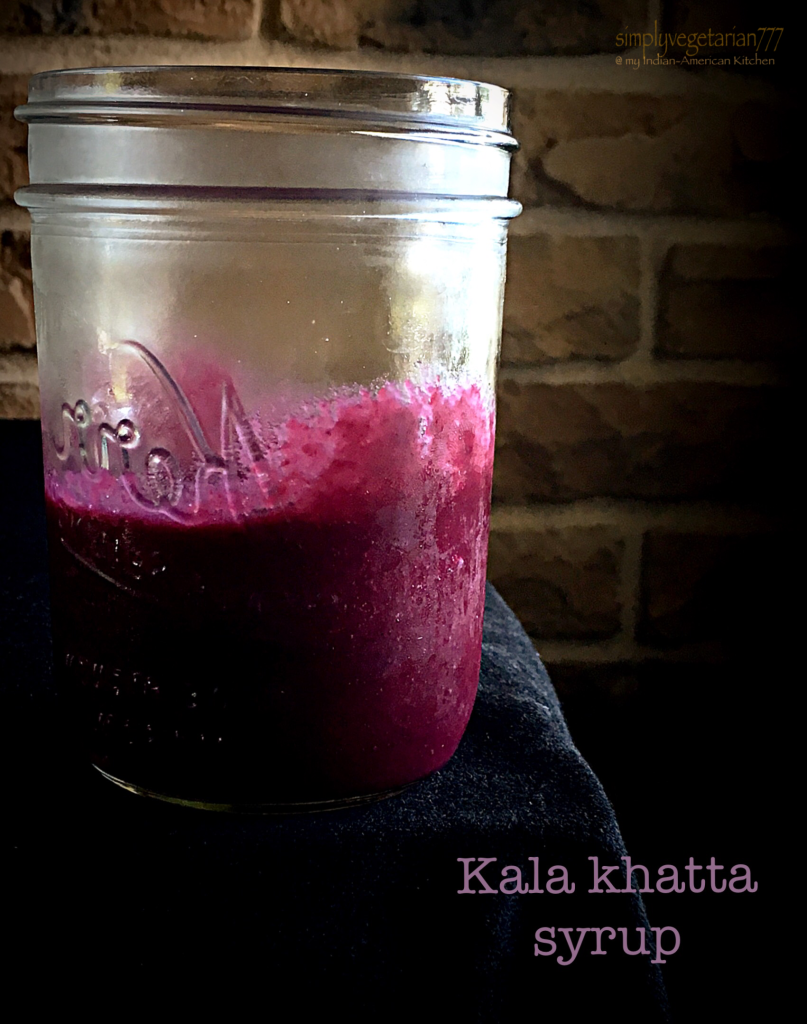 Author:
Sonal Gupta @ simplyvegetarian777
Jamun / Java Plum - 400 to 500 gms to get 1 cup puree. I used frozen Jamun. You may use fresh.
Lemon Juice - ¼ cup
Sugar - ½ cup
Rock Salt / Kala Namak - 1 tsp
If you are using frozen jamun, then thaw them first to the room temperature. Once thawed, remove and separate the pit from them by smushing them with hands. You will have coarse pulp. Blend it to a fine puree in a blender. In this case, you may strain the puree through a sieve to remove any skin or larger pieces. I did not strain it since the outer skin of the jamun is nutritionally rich and also the frozen jamun's skin becomes very soft after thawing.
If you are using fresh jamun, then wash them and chop in order to remove the pit from the fruit. Once the pit is removed, blend into a fine puree. In this case also, you may strain the puree through a sieve to remove any skin or larger pieces.
Your Jamun puree is ready for further processing.
Take a small thick bottom pan. Add jamun puree, sugar, lemon juice and rock salt to the pan.
Stir and bring it to a boil.
Now cook it for 12-15 minutes on medium to low heat, till you get a thick syrup but not of any string cosistency. We want simple fruit syrup.
Stir often while cooking or it might get burnt at the bottom.
Your Kala Khatta Syrup is ready.
Bring it to the room temperature and store in an air tight bottle or small glass jar. Keep in refrigerator for better shelf life.
Make instant cooler with it.
You may make popsicles with it.
You may make margaritas with it.
You may make snow cones and kala khatta soda with it.
Indian grocery stores in USA carry frozen Jamun and they are perfect to be used.
In case Jamun is not available and you still want to try it, use black berries. They have similar taste and color to Jamun.
Recipe by
simplyvegetarian777
at https://simplyvegetarian777.com/kala-khatta-syrup-must-have-summer-treat/