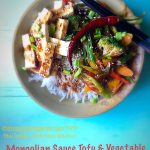 Print Recipe
Mongolian Sauce Tofu Vegetable Rice Bowl
Mongolian sauce Tofu Vegetable Rice Bowl - Asian inspired Meal
Ingredients for Mongolian Sauce
Ginger - 1/2 tbsp

Garlic - 1/2 tbsp

Soy sauce - 3 tbsp

Brown sugar - 2 tbsp

Veg oil - 2 tsp

Corn starch/flour - 1 tbsp dissolved in 2 tbsp water

Water - 1 cup

Red Chili flakes - 1 tsp or to taste
Ingredients for Stir Fry
Oil - 1 tbsp

Red Chili whole dry or fresh - 1 to 2

Vegetables - 4 cups

julienned. I used carrots, celery, spring onion, broccoli, bell peppers, green beans.

Salt and Black pepper
Tofu - 14 oz / 400 gms (Nasoya, extra firm)
Rice - 2&1/2 cups, cooked
Cook the RICE, meanwhile you prepare the other components of the dish.
Preparing the Mongolian Sauce
Dissolve cornstarch (cornflour) in 2 tbsp cold water and set aside.

Take a heavy bottom sauce pan and heat 2 tsp oil in it. Add ginger and garlic to it and saute on medium heat for few seconds. Now add soy sauce, red chili flakes, brown sugar and water to the pan. Add corn starch (flour) slurry to it. Bring it to a boil and simmer for 2-3 minutes. Take it off the gas stove and set aside. Check the salt in . It is salty enough so be careful if you want to add more salt .
Preparing the Vegetable Stir Fry
Heat 1 tbsp oil in heavy bottom saute pan. Add whole red chili and white part of spring onion to the hot oil. Saute for few seconds and then add all the other vegetables to the pan. Saute them on high heat for about 2-3 minutes, while stirring continously. Set aside.
Putting the DISH TOGETHER
Take 3 -4 bowls. Divide cooked rice equally in all the bowls. Add stir fried vegetables and Tofu in all the bowls, in equal portions.

Pour Mongolian Sauce over the vegetables and tofu, as desired. Garnish with sesame seeds and the greens of spring onions.

Serve warm.

You may adjust the salt and heat of the dish, as desired.