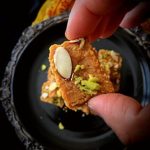 Print Recipe
Easy Recipe for Besan ki Barfi with Detailed Steps - GlutenFree Fudge
Learn to make BESAN KI BARFI at home, in easy detailed steps.
Besan / Gram Flour - 1 cup

Sooji / Semolina - 2 tbsp

Mawa / Khoya Powder - 1/2 cup

Ghee - 1/2 cup

Sugar - 1/2 cup

Water - 1/4 cup

Elaichi / Cardamom - pods of 4 with skin removed

Saffron - 1 fat pinch soaked in 1 tbsp warm milk

Almond & Pistachio Flakes for garnish - about 1 tbsp in all
Grease a plate of either 6 inches or 8-9 inches in diameter. Set aside.
PREPARING THE BESAN BEFORE ROASTING
Take a bowl and add besan + sooji + 2 tbsp ghee to it. Rub the mixture between fingers till all the ingredients are mixed well and form a grainy texture.

Now pass the grainy besan mixture through a sieve for even grain.

Besan mix is ready for roasting.
ROASTING THE BESAN MIX
In a heavy bottom pan, add Besan mix with remaining ghee and roast for 7-8 minutes on medium low heat till it turns dark brown. Keep stirring continuously to avoid burning. Control the heat between medium to low medium for best results.

Remove the besan mix from the pan and set aside.

IMPORTANT NOTE WHILE ROASTING THE BESAN - As I mentioned above, the besan quality differs. Besan might become liquid-y when added with ghee, on heat (very common with the besan available in USA). Do not get worried with it. Keep roastig the besan in liquid-y form as well, till it turs golden brown. Please do not burn it. Continous stirring and temperature control is the key.
MAKING SUGAR SYRUP
In the same pan, add sugar and water. Heat on medium high till sugar dissolves in water. Add cardamom powder and then reduce the heat and cook on lower medium heat for about 3 minutes till you obtain 1 thread consistency.

Check out the detailed recipe of making 1 thread con]sistency sugar syrup towards the end.
MAKING THE BESAN BARFI
Lower the heat of the pan, add Mawa/Khoya, Besan Mix and Saffron with milk. Mix well.

Switch off the heat and transfer the barfi mix in a greased pan of about 6 inches for thick Barfi. For thin Barfi like mine, spread in a container of 8-9" in diameter. I like mine thin since it gives me more portion control.

Sprinkle with almond and pistachio flakes. Pat these down gently with the back of a spoon.

Set aside for 2 hrs for the Barfi to set!

Cut into desired shape and relish.
RECIPE TO MAKE Sugar Syrup of 1 Thread consistency
Heat sugar with water on medium till it dissolves completely. Lower the heat and heat for about 3 minutes for 1 thread consistency.

To check the consistency, place a drop of sugar syrup at the back of cold steel or ceramic container. Let it cool down a bit for few seconds.

Dip your forefinger in the slightly cold syrup drop. Press the Syrup with thumb and stretch slowly while pulling the thumb away from the finger.

While pulling away, you will notice thread formation. If it is 1/2 thread or not even beginning to thread, then cook slightly more. If you notice 1 thread pulling out undisturbed, the Syrup is ready.
STORAGE
You can store these in air tight container, when they are cooled down to the room temperature.

For longer shelf life, store in refrigerator.