Aloo Poha Tater Tots (mini cutlets)
As an Amazon Associate and member of other affiliate programs, I earn from qualifying purchases.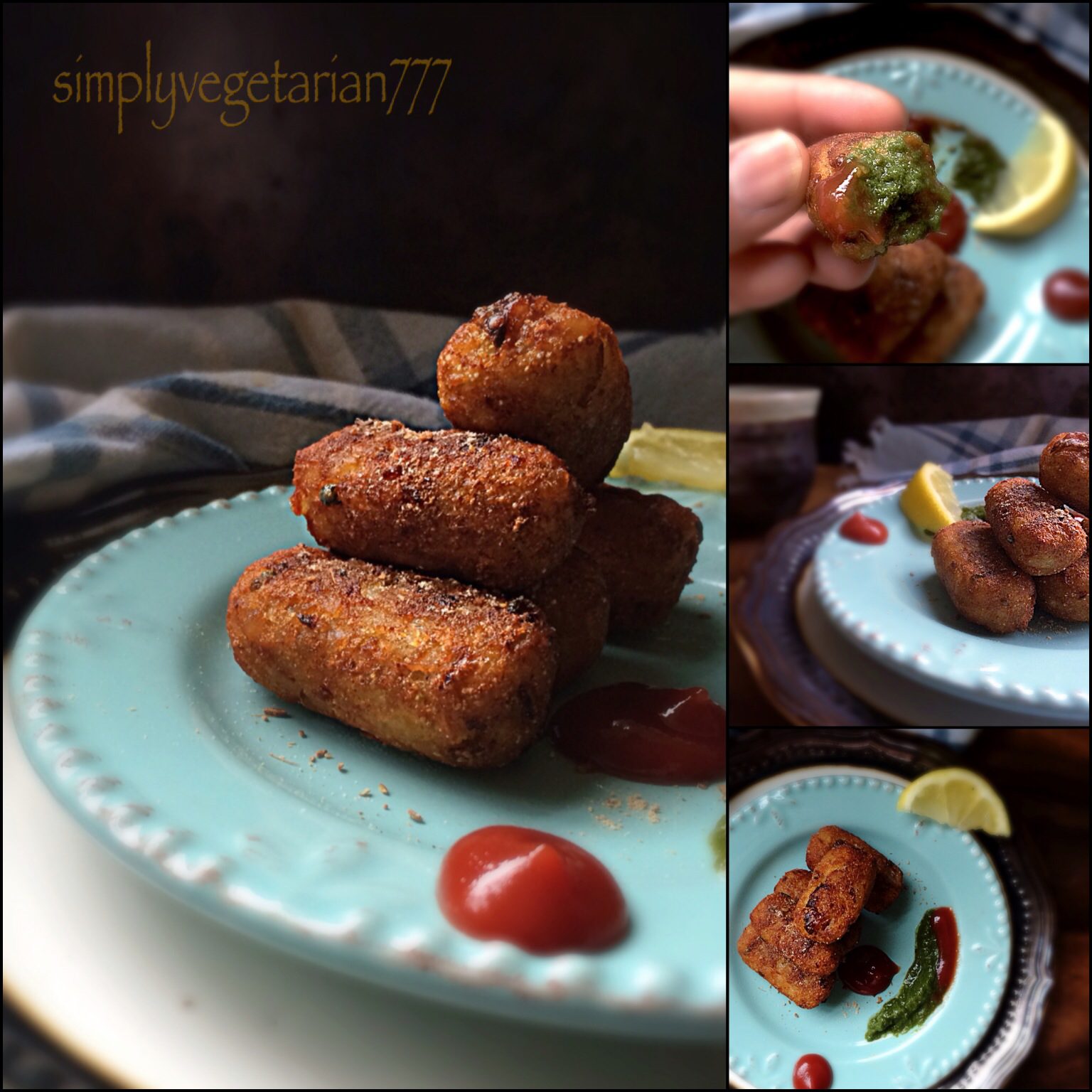 Aloo Poha Tater Tots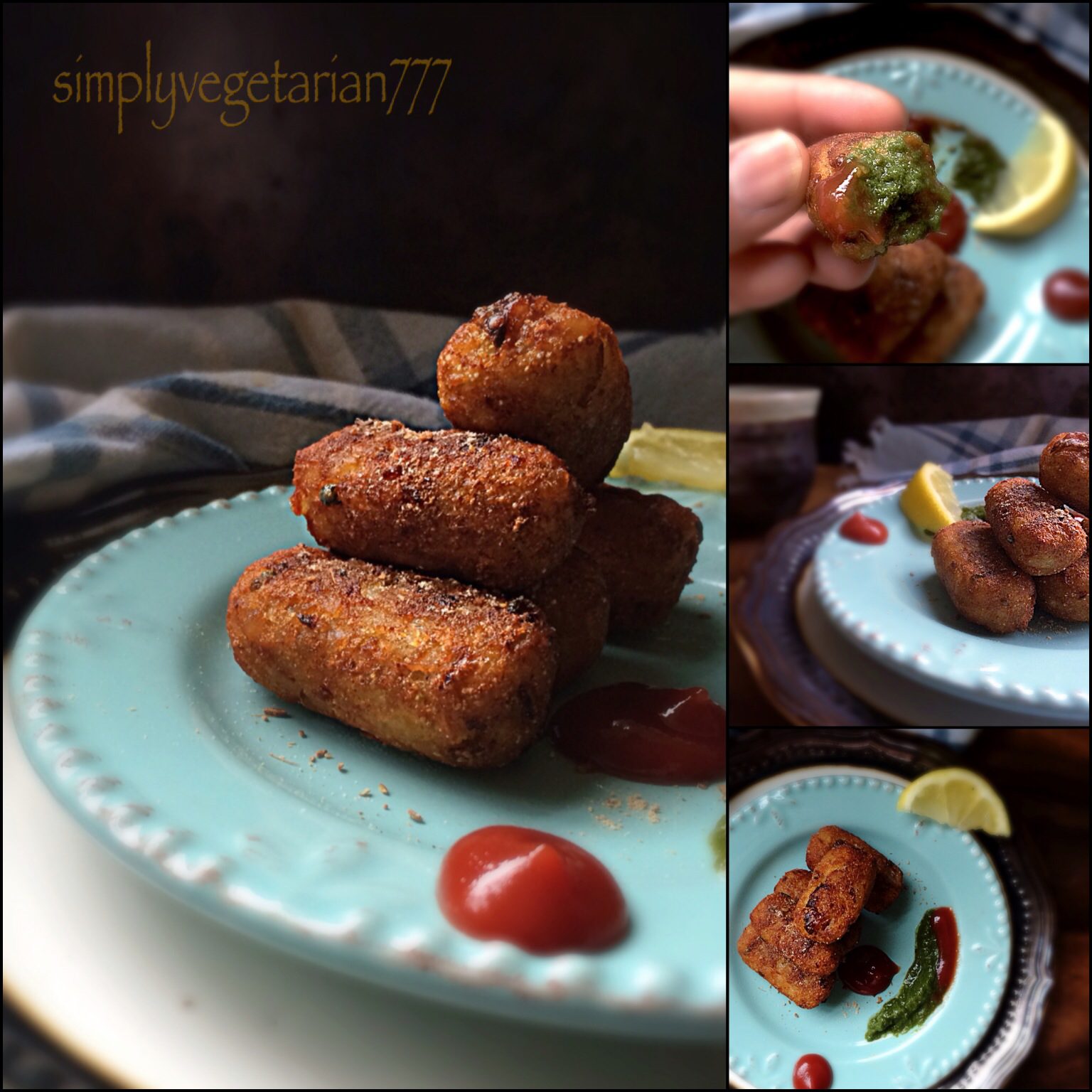 Aloo Poha Tater Tots make the Ideal Ultimate Breakfast / Brunch. Scrumptious, Crisp and Delicious. It was weekend and it was brunch time. Sometimes you gotta go the real way and that is the "deep fried" way. Yes I do deep fry sometimes to keep my family calm and at par with "but everybody else eats deep fry and they are fine". Yes, I hear that sometimes. It was raining and the day demanded it.
I think I have made enough excuses ;).
Aloo = Potato ; Poha = Flattened Rice ; Tater Tots = Mini Cultlets
Aloo Poha Tater Tots is the simplest recipe ever. Mix boiled potatoes and poha (flattened rice) along with spices and some semolina. Shape as desired. Deep fry. That's it! Isn't that super easy. Poha and Aloo, both are very common ingredients in Indian household. When combined, they make a very filling snack.
Therefore, to get some comfort and warmth on a cold rainy day, Aloo Poha Tater Tots were the perfect answer to soothe the gloomy dark and wet day. There is something magical about the fried food (occasionally) which connects heart to the contentment. So, give in sometimes and enjoy the food as it comes to you.
When I fried these and put it in front of my family to chomp on, they attacked and couldn't stop stuffing themselves. These mini cutlets were gone very soon and the girls still wanted more. I assured them to make these again soon and giggled with them over a cup of "garam' masala chai. Bonding over good food, giggles, some stories and some "picking" on each other, is the best way to bond with the family. Do you agree?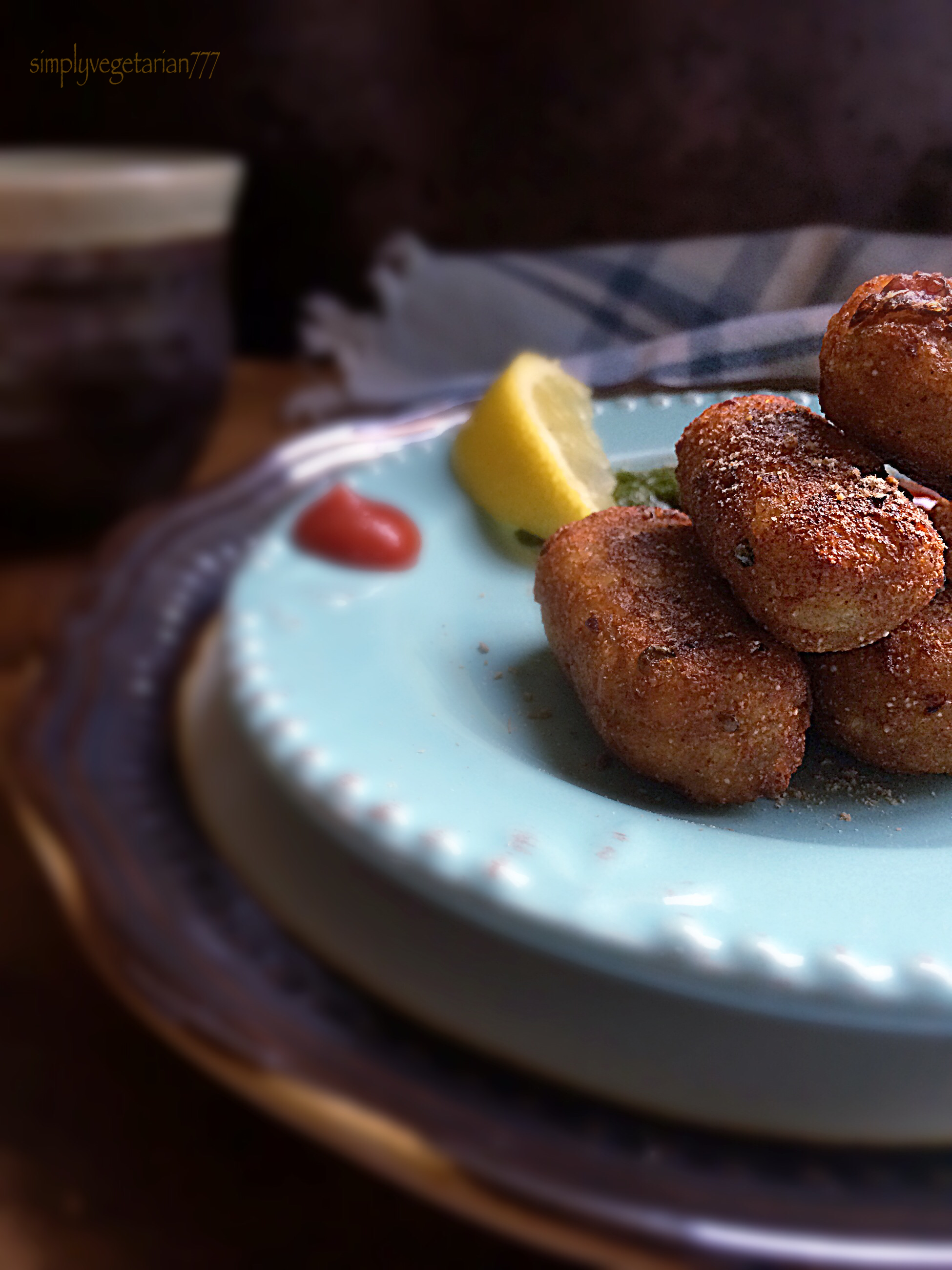 This is how I made it !
Aloo Poha Tater Tots
Servings: 4-6
Difficulty: easy
Kitchen Equipment Required
Chopping board, knife, mixing bowl, grater or masher, a wok or kadhai to deep fry, slotted spoon (jharni) to flip and fry, a plate with paper napkins.
Ingredients
Potatoes – 2 medium, boiled and grated or mashed fine
Poha – 1 cup, soaked for 10 minutes and squeezed out dry
Sooji / semolina – 2 tbsp, dry roased
Ginger – 1/2 tsp grated fine
Green chili – 1 small chopped fine
Onion – 2 tbsp, chopped fine (heap full)
Salt – 1 tsp
Coriander powder – 1 tsp
Red chili powder – 1/2 tsp
Garam Masala – 1/2 tsp
Lemon juice – 1 tsp or 1/2 tsp dry mango powder
Oil – to deep fry
Method
Take the mixing bowl. Add all the above mentioned ingredients to it besides the oil. Mix well and bring it together like a dough.
Pinch desired amount of portions from it and shape as desired. We (I and the kids) shaped them like little cylinders. Put them aside. Only advise is when you shape these, close the shape tightly so that there are no cracks or lines on the outer surface. If it is not tightly shaped, it can open up while frying and will be a mess.
Meanwhile heat the oil high and then bring down to medium.
Slowly, slide down the tater tots or mini cutlets inside the hot oil and deep fry from both the sides, flipping only once, till golden brown.
Notes 
The temperature of the oil used for deep frying is very important. I normally heat it high and reduce it to medium high for frying my cutlets. This method has never disappointed me.
The tight shaping is very important as mentioned in step 2. You may dip your fingers in little water and then shape for tightness. Alternatively, you may dip your fingers in little oil to do the same.
Do not fry more than 3 to 4 mini shapes or 2 medium shapes, at a time. If you add a lot of them together, it will reduce the heat of the oil and they will absorb more oil and will not crisp. The chances are that they will scatter and you will end up with a fried mess of nothing.
Do not flip the tots again and again. They are delicate and need not be disturbed. You can again break up the shape with repeating action.
You may shallow fly these. You may Pan grill these. You may bake these in the oven at 375*F till they brown up.
Serving Suggestion – Sprinkle with some Chaat Masala and serve it with Green spicy Cilantro/Coriander chutney and Ketchup.
I had an awesome time frying these and feeding my family in my Indian American Kitchen. I am sure that you will have fun making these for family and friends. Sometimes, it is good to eat the sinful way ;).
Eat Happy! Stay Happy!
Sonal