Basic Yellow Cake with Chocolate Ganache
As an Amazon Associate and member of other affiliate programs, I earn from qualifying purchases.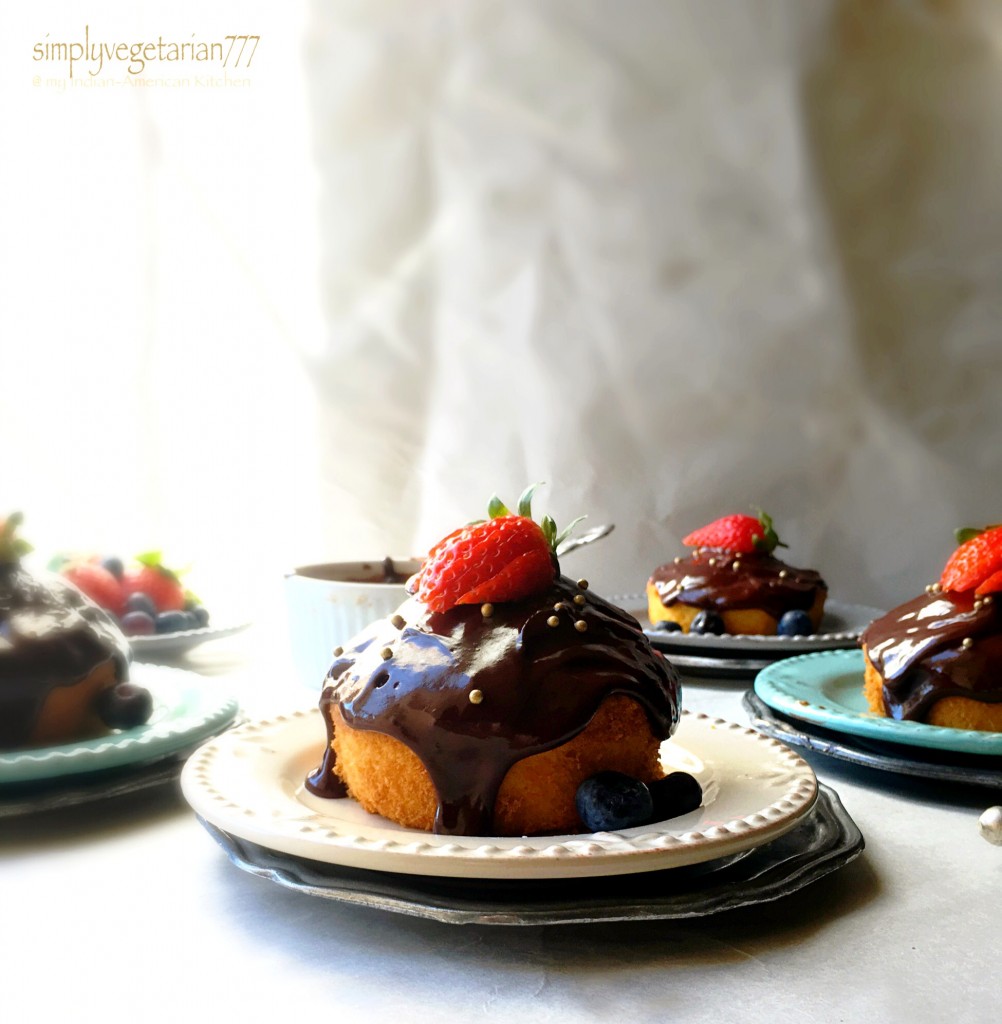 ALERT – Loaded with pictures 😜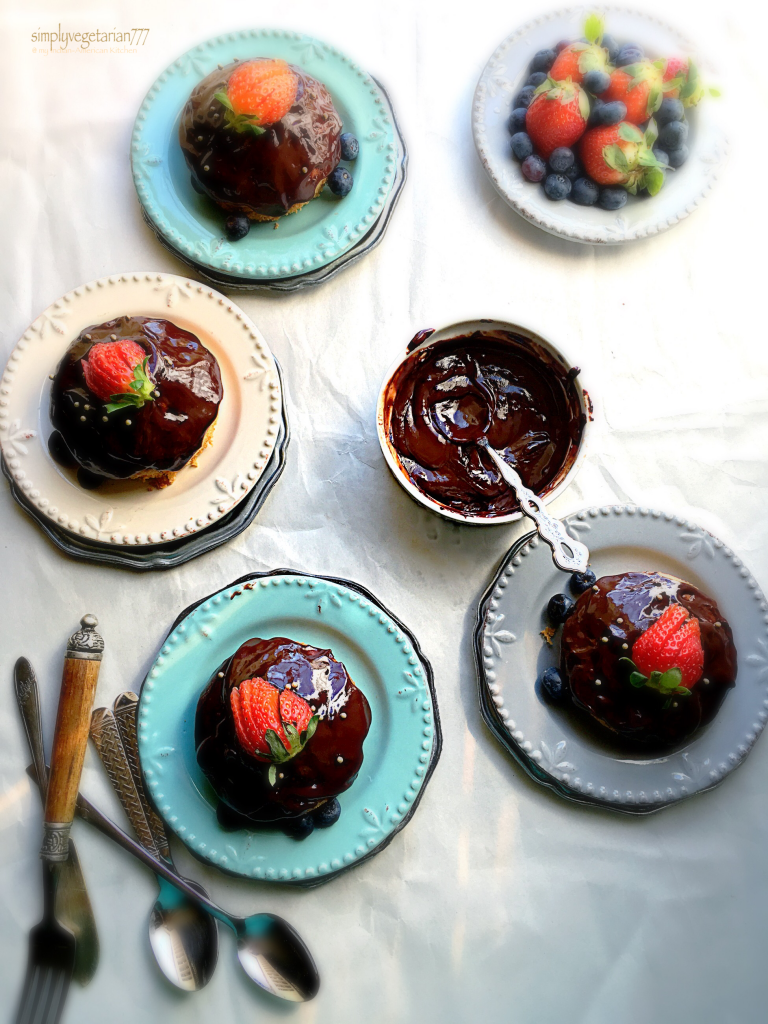 Do you believe that some recipes crawl up to you and beg you and motivate you and beat you up till you get up and get ready to make them? Nah? Well I just made it up. 😂 But truth to be told, it happened to me this time.
Angie of Fiesta Friday had posted this gorgeous Clementine Chocolate Cake last week which made me drool big time and I bookmarked it. She said few ingredients and easy and I could hear the sweet bells ringing in my ears 😀.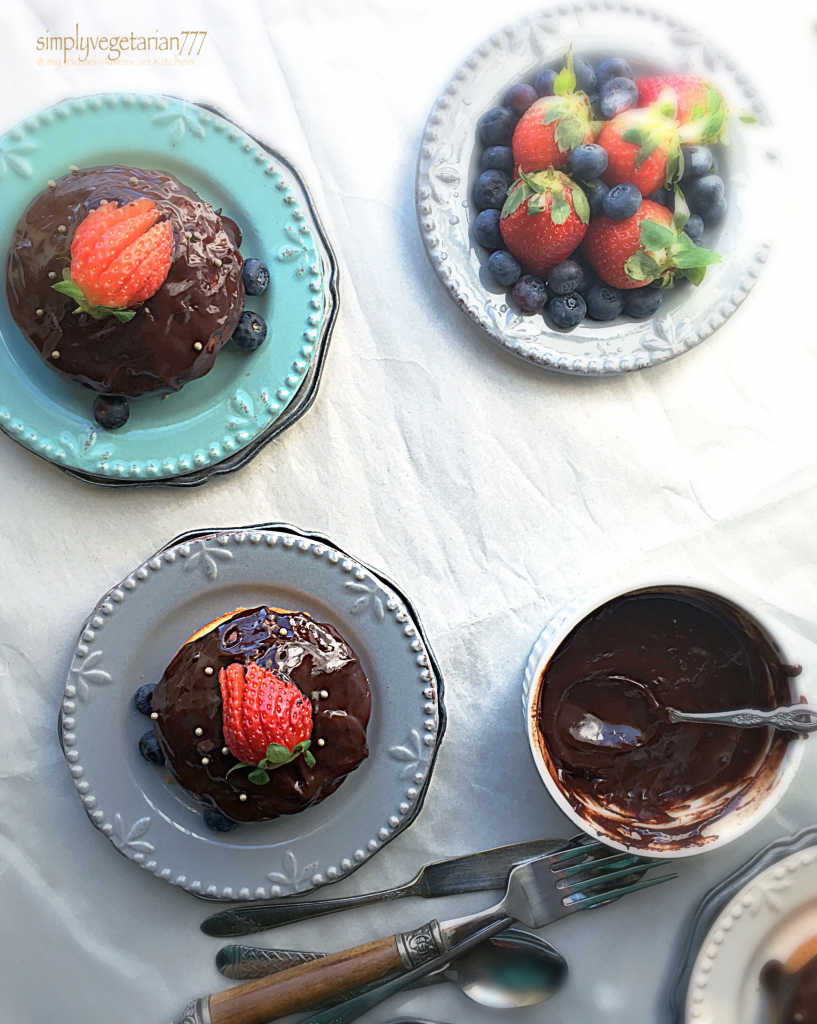 Then the other day, I was watching Melissa D'Arabian of Meals under $10 fame, on the Food Network and man…she was also baking the similar cake – Yellow cake with Chocolate Ganache. She said, it is the must have recipe since it is so simple and easy. I was totally sold again…..within a week's time..😱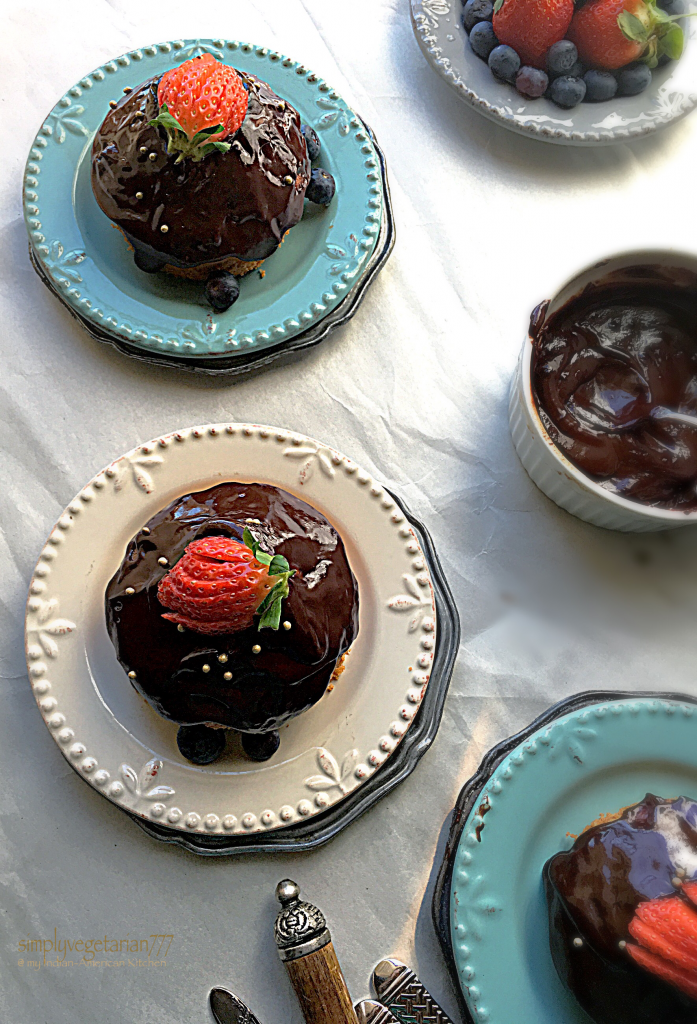 Now you see the conspiracy of the cakes that begged me to bake them? Am I making sense here? Well! Ha! Never mind!
Anyways…don't these look super cute? Like baked for the perfect tea party for little pixies and elves and like the ones that Tinker bell and the gang would feast on? I know..I am getting carried away. But they turned out super moist, delicious and super duper cute! My girls just loved these. They were so good that I ate one for my lunch…yes…just this for my lunch. I ate like a child and licked my spoon clean till the last bite. I think it will make a decent cake for your valentine too.
Basic Yellow Cake with Chocolate Ganache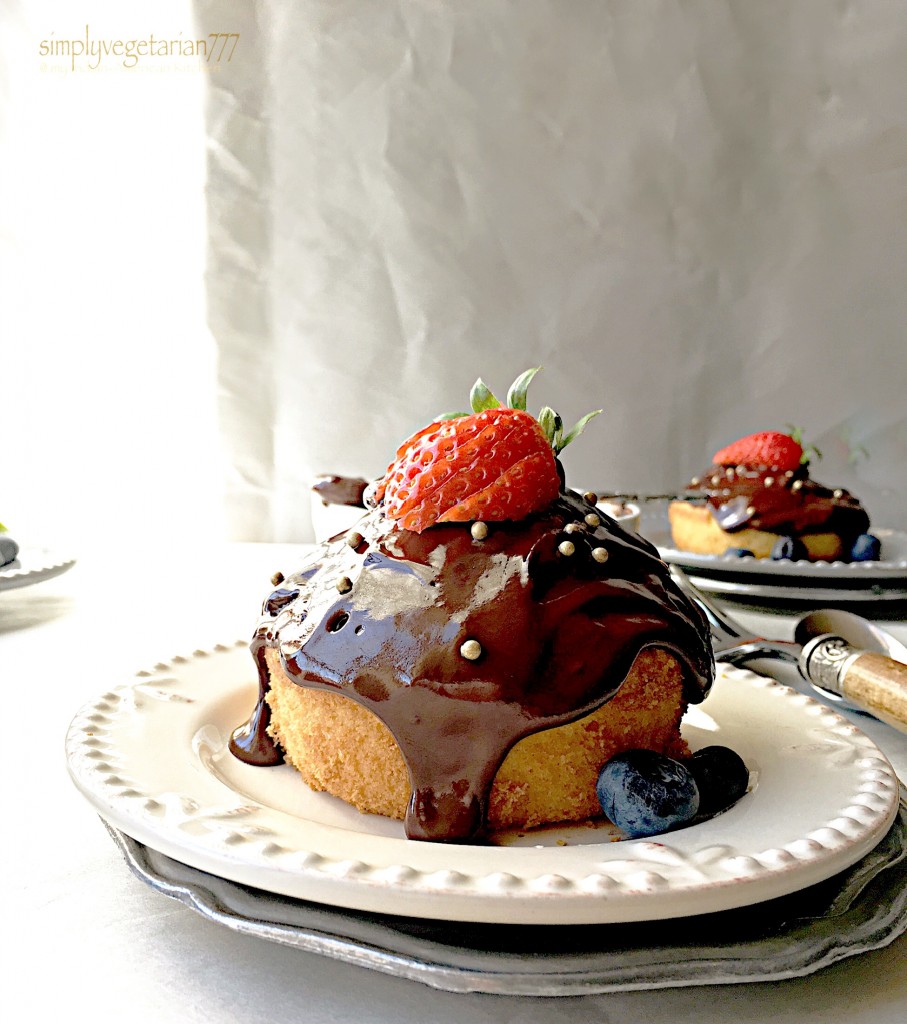 Basic Yellow Cake with Chocolate Ganache
Equipment
baking ramekins

oven

Mixing Bowls

Electric Egg Beater

Fork

Microwave Safe Bowl
Ingredients
Chocolate Ganache Ingredients
Instructions
Preheat the oven at 350*F. Grease 4 ramekins generously with butter from all the sides.

Take a bowl and add flour, baking powder and salt to it. Stir with a fork and set aside.

Take a deep and big bowl. Add butter and sugar to it. Beat at high speed with an electric egg beater till it becomes soft and fluffy, for about 3-4 minutes. Add one egg at a time and keep beating the mix at the medium speed, till fluffy and pale in color, for about 3 minutes. Add vanilla essence and mix.

Now add half of the flour mix to the wet ingredients. Stir and gently fold in with a fork or stirring spoon or using the egg beater at the lowest speed. Add rest of the flour mix to the bowl. Beat in at the low speed till it is well incorporated.

Finally add the milk or cream and mix well. Divide this batter equally into 4 ramekins. Tap them a bit to level out the batter. Place them on a baking sheet and bake for about 25-30 minutes. Do the toothpick test. If the toothpick comes out clean. it is ready. I like my toothpick to come out with little crumbs for moister cake.

Let them rest for 5-7 minutes. Then take them out on a cooling rack to cool down before you drizzle the ganache on top.
Ganache
Heat choco chips and cream in a microwave safe bowl for 30 seconds. Take out the bowl and whisk the chocolate and cream together with a fork till ganche becomes glossy and smooth. It is ready. Let it cool down a bit before pouring over the cakes.
Serving Suggestion
Place the baby cake on a serving plate. Drizzle 2 tbsp of ganache or more so that top is covered. Decorate with sliced strawberries or the fruit of your choice.
Notes
ou may use 1 big old mushy banana instead of eggs for egg free cake. Just mash it and add in place of eggs. Beat till sugar and butter till smooth and fluffy.
Nutrition
Calories:
306
kcal
|
Carbohydrates:
51
g
|
Protein:
7
g
|
Fat:
8
g
|
Saturated Fat:
4
g
|
Polyunsaturated Fat:
1
g
|
Monounsaturated Fat:
3
g
|
Trans Fat:
1
g
|
Cholesterol:
104
mg
|
Sodium:
296
mg
|
Potassium:
97
mg
|
Fiber:
1
g
|
Sugar:
26
g
|
Vitamin A:
362
IU
|
Vitamin C:
1
mg
|
Calcium:
103
mg
|
Iron:
2
mg
Kitchen Equipments Required – 2 big mixing bowls, electric beater, fork, microwave safe bowl, 4 small ramekins or oven safe dishes, a spoon, measuring cups and spoons.
I had a great time creating this cake in my Indian American Kitchen. Do give it a try in your kitchen and keep me posted.
Taking these babies to share with awesome crowd at Fiesta Friday and Throwback Thursdays !
Sonal