Chaat Masala – 2 Recipes
As an Amazon Associate and member of other affiliate programs, I earn from qualifying purchases.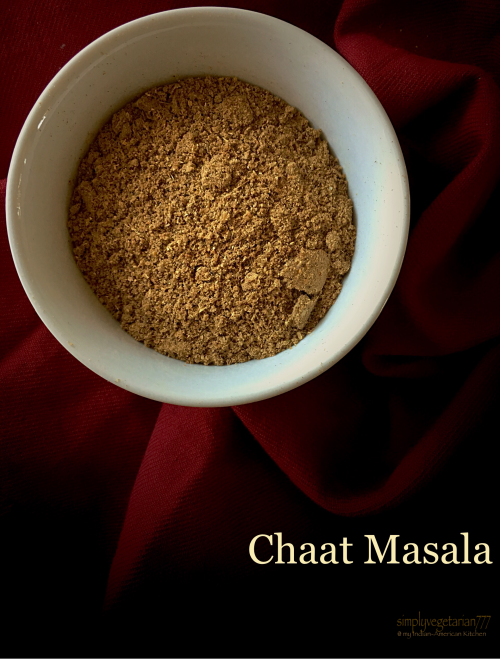 This Chaat Masala is super easy to make at home. Just toast the spices, Cool, Grind and Store. It is great to sprinkle on your cut fruits, salads, drink, lassi and juices. Not only that, it is a great digestive also. Make it at home today.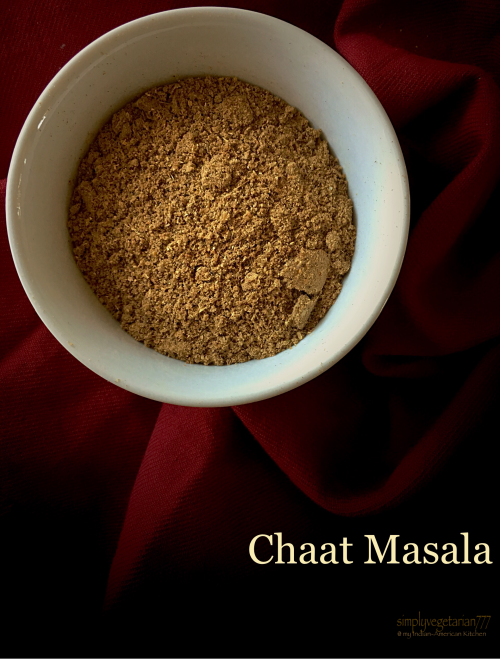 Chaat Masala
If you are a North Indian, then you probably sprinkle Chaat Masala – 2 recipes, over everything, yes practically over every damn single thing. Be it Pyaaz ke Pakode, Baingan ke Pakode (pan grilled), Dahi Pakodi, Aloo Bonda and even our salads, fruits, sodas, drinks and God knows what all…. I have often added chaat masala in my cocktails and it Sprite tastes the best with a pinch of chaat masala. You will often hear a North Indian saying, "Yaar khane mein maza nahi aa raha, ek chutki chaat masala daal dete hain" (It's not tasting that good, let me add a pinch of Chaat Masala).
Now you see the impact of CHAAT MASALA in a North Indian Rasoi? Rasoi is another word for Kitchen in Hindi.
Honestly, I was getting tired of buying that cheap and tasteless Chaat masala from the market. It just tastes pathetic. These manufacturers load every masala or spice blend with tonnes of coriander powder to add bulk and as a result, the spice blends loose their authenticity and the taste. There is no depth in the flavors.
This recipe is again from the kitchen of my super talented Ma-in-Law. Her love and dedication towards the family is absolutely clear from the way she puts her heart into a dish and cooks. Therefore, if I may say so, this again is a heirloom recipe. 🙂
I bet, once you make a batch of this Masala in your kitchen, you will never ever…I mean it..never ever..buy store bought tasteless masala.
Let us get in our kitchen and make this super flavorful Chaat Masala.
Chaat Masala, Recipe-1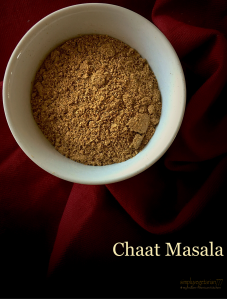 Author – Sonal Gupta @ simplyvegetarian777
Recipe Type – Spice Blends & Rubs
Kitchen Equipments Required
Heavy Bottom pan, an electric spice grinder
Ingredients
Coriander Seeds – 2 tbsp
Cumin Seeds – 2 tsp
Cloves /Laung – 10
Black Pepper whole/Kali mirch sabut – 40
Black Cardamom/Badi Elaichi – 2
Cinnamon Stick/Dalchini – 1 medium piece
Khatai/Amchur/Dry Mango powder – 1 tsp
Rock Salt/Kala Namak – to taste
Method
Heat the heavy bottom pan and add all the ingredients as mentioned above, besides khatai and kala namak, to the hot pan. Reduce the heat to low. Toast the ingredients on low for 2 minutes. Switch off the flame. Let the spices cool down in the pan. We are not looking to blacken the spices, just lightly toast them as sun dried.
When cooled to the room temperature, add khatai and mix.
Store in an air-tight container.
Now a lot of times, you do not have time for making this masala at the last minute when you find your Chaat Masala all gone and you think….abhi toh banaya tha..khatam bhi ho gaya :(….but you forget that you practically used it with everything while cooking. Even added a pinch in the Margarita that you made last weekend.
For such times, here is your Life saving recipe, a quick fix chaat masala, equally delicious chaat masala.
Chaat Masala, Recipe-2
Ingredients
Garam Masala – 1 tbsp (North Indian Blend)
Kala Namak / Rock Salt – to taste
Khatai / Amchur/ Dry Mango powder – 1/4 tsp
Method
Just Mix everything up and store in an air tight container.
I had a great time making these masalas in my Indian American Kitchen. I am sure you will love it too and keep a stack of this in your kitchen always. I bet that this recipe is going to be so handy, especially when the festival season is coming up.
Sonal