Cheesy Tomato Spanish Rice
As an Amazon Associate and member of other affiliate programs, I earn from qualifying purchases.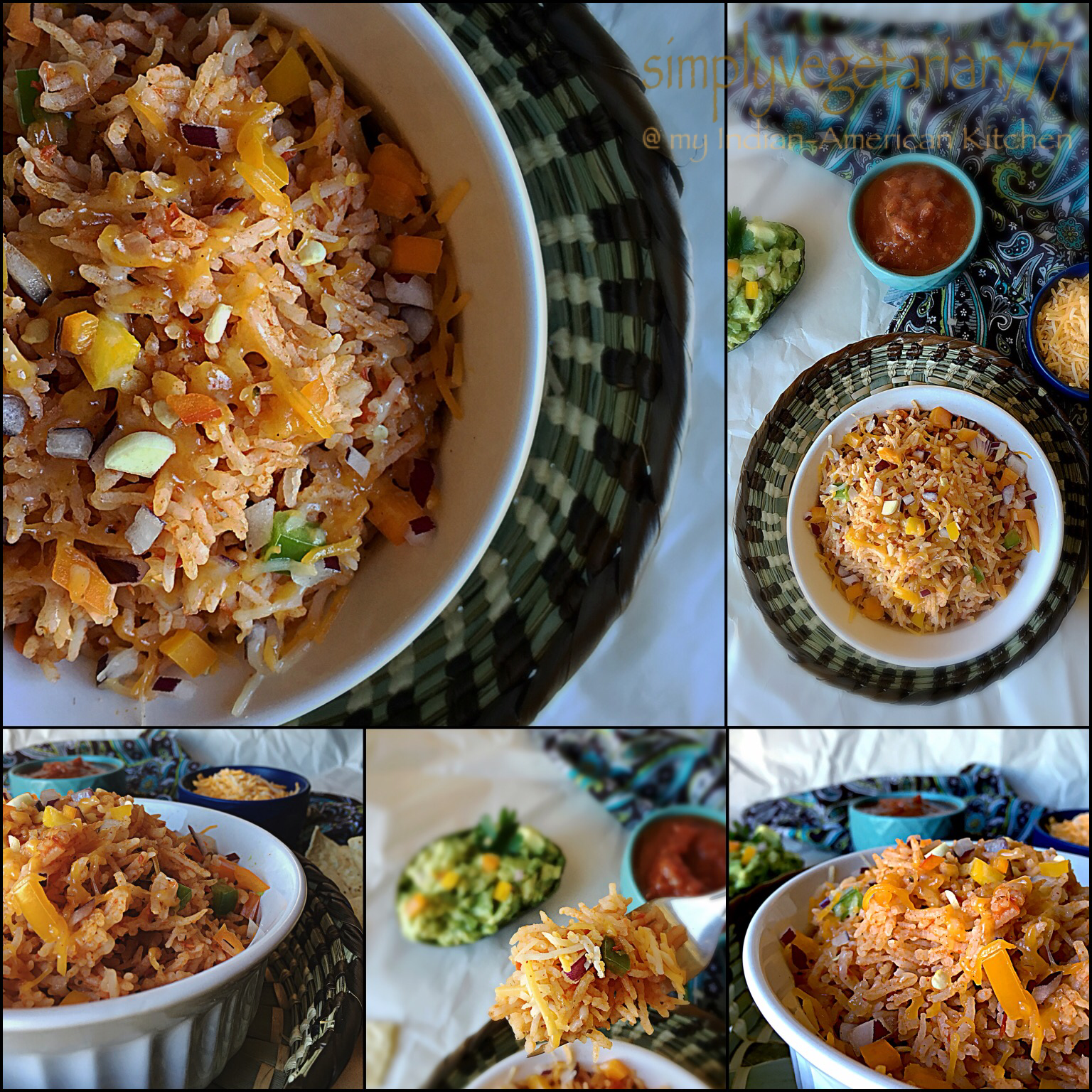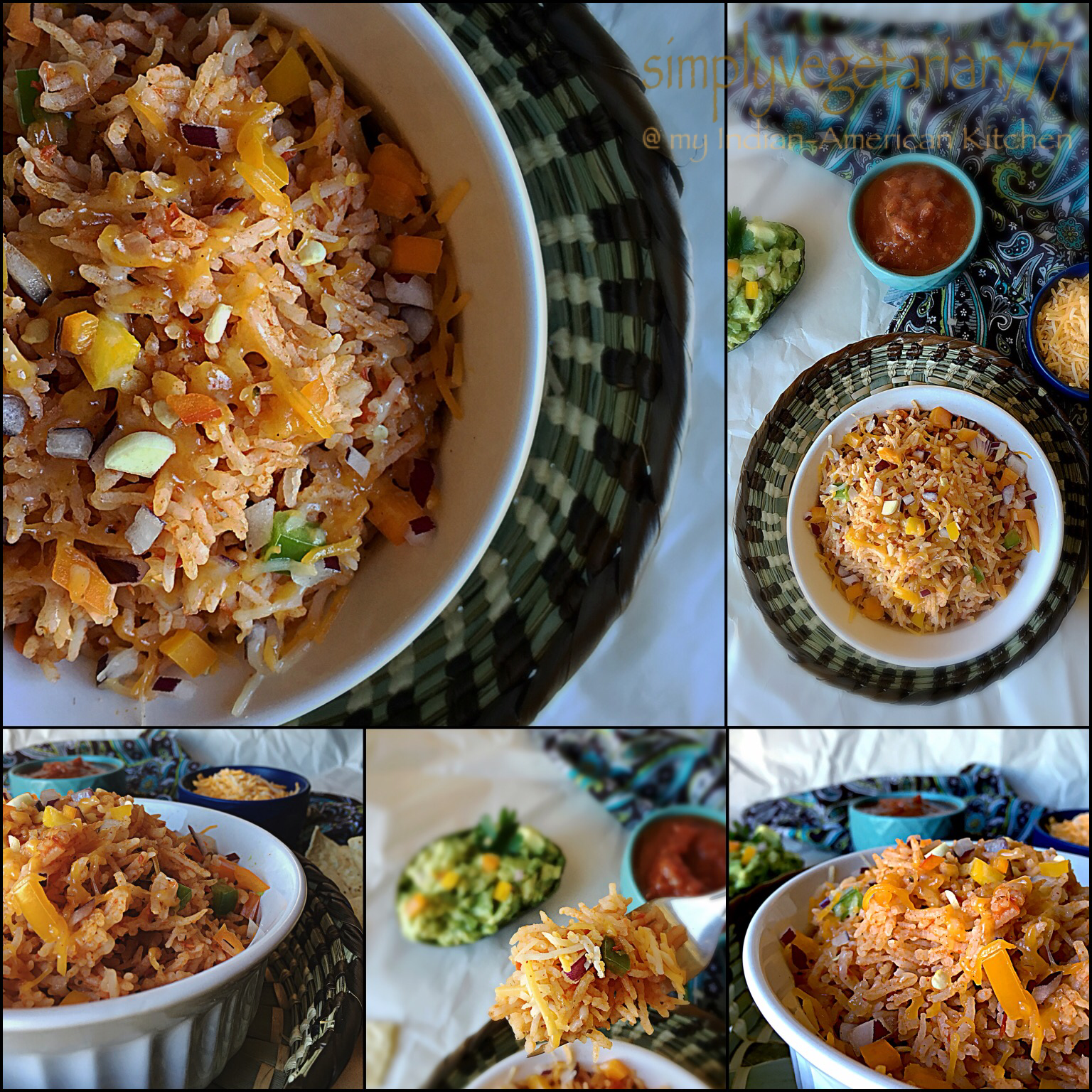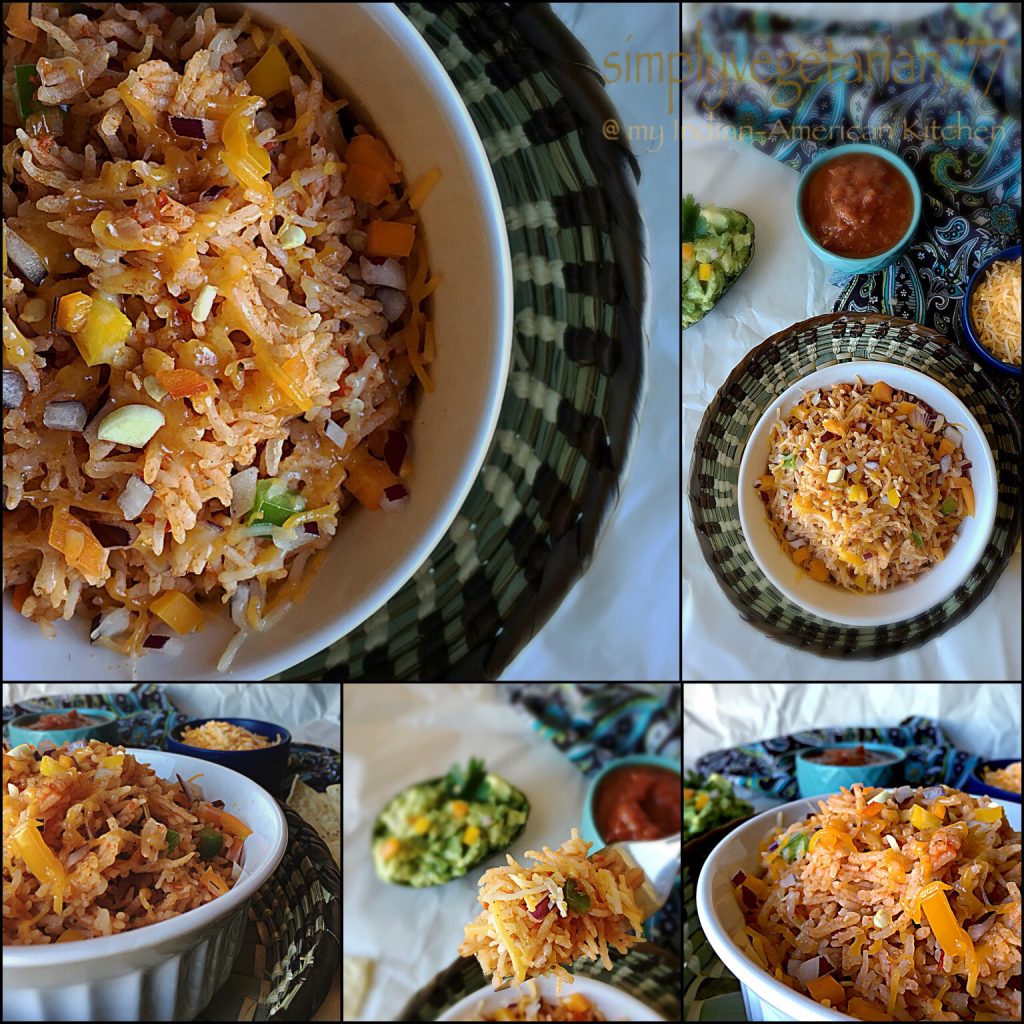 Taco Bell used to serve these delicious rice, which they switched to Cilantro Rice, later on. That side rice dish was so delicious, tomatoe-y, gooey with cheese and oh-so comforting. The kids called it Red  Rice and when the Taco Bell stopped making it, they were disappointed.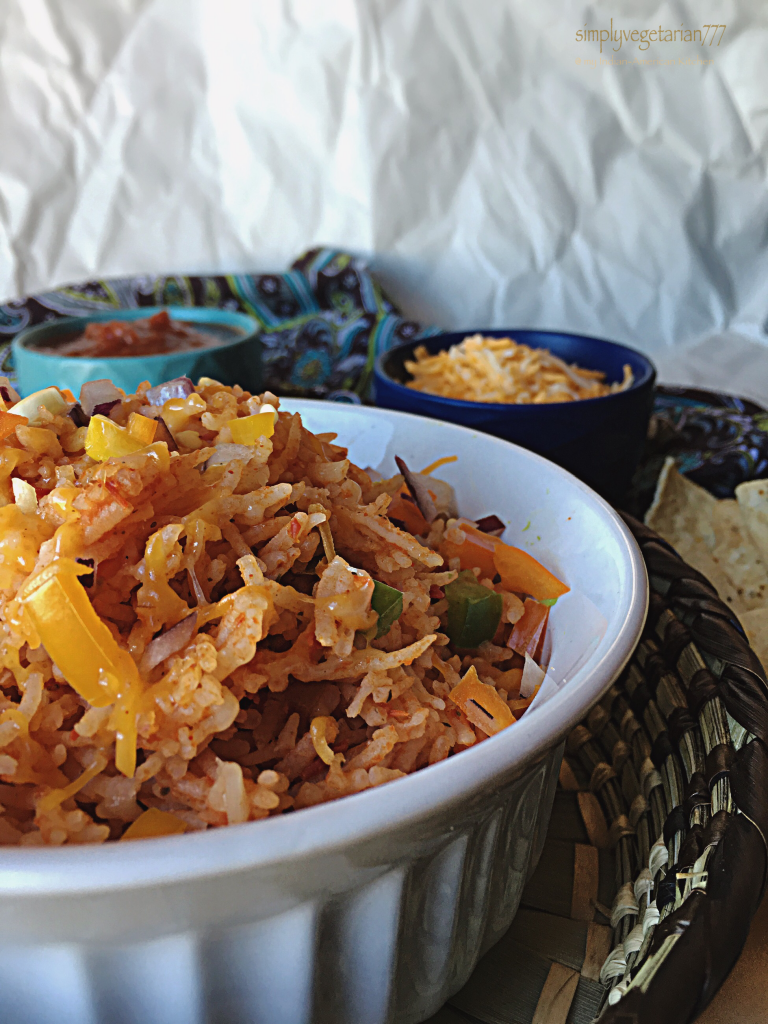 Then we tried some store bought, ready to cook, Ronzoni kinda Cheesy Tomato Spanish Rice. Aa-aa…not even close. You must be thinking that what I am talking about….Taco bell and Ronzoni and that too Sonal? 😮😱..Yes! I like fast food chain and ready to cook meals. I am human too! 😂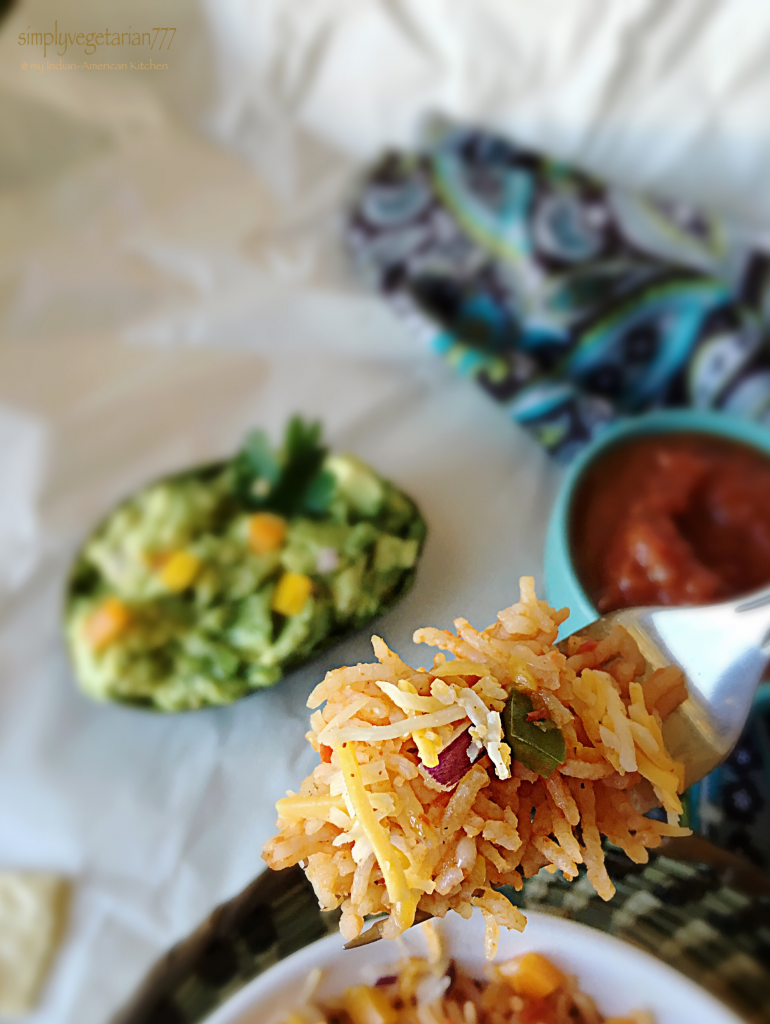 The girls were begging me to make some Mexican Food since sometime. We decided to make the past Monday as Mexican Monday. It was delicious. I cooked some of the cheesy tomato Spanish rice and some mock meat (soy granules) burritos. They were super hit. Though the rice was not exactly Mexican but similar route :).
This is how I made these super easy rice. It is a perfect meal for weekday night. Done under 30 minutes. Delicious. Comforting. Best to warm up the chilly fall night!
Cheesy Tomato Spanish Rice
Servings: 4-6
Difficulty: easy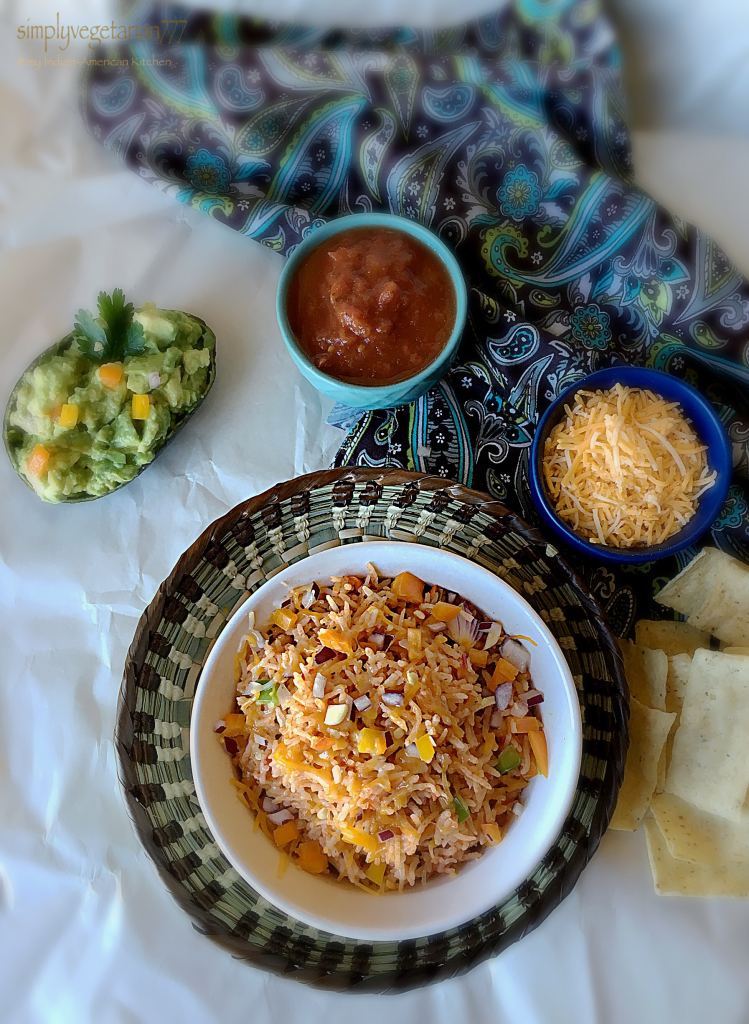 Kitchen Equipments Required
Chopping board, knife, heavy bottom sauce pan with lid, stirring spoon, fork
Ingredients 
Rice, long grain – 2 cups
Water – 3&1/2 cups
Olive Oil – 1 tbsp
Bell peppers / Capsicums – 1/2 cup, finely chopped. Prefer multi-colored. But single color would do as well.
Onions – 1/2 cup, finely chopped
Garlic – 1 big pod, chopped fine
Tomatoes – 4 medium, puréed. It will be almost 1&1/2 cups of purée
Oregano, dry – 1/2 tsp
Cumin powder – 1/2 tsp
Fancy Paprika – 1 tsp. You may use Kashmiri or Degi Mirch.
Salt to taste
Hot sauce / Tobasco – 1/2 tsp or to taste
Cheddar cheese – 1/4 cup, shredded
Method
Wash the rice and soak for 7-9 minutes.
Meanwhile, heat oil in the pan. Add onions, bell peppers and  garlic to the pan. Lower the heat. Let it cook for 3-4 minutes till it is slightly soft.
Now add Tomato purée to the pan along with dry oregano, cumin powder, salt and fancy paprika. Give it a good stir. Cover  with lid and cook for 5-7 minutes on medium flame.
Drain the soaked rice and add it to the sauce pan. Add 3&1/2 cups of water. Bring it to a boil. Reduce the flame to simmer. Cover with lid and cook till all the water is absorbed. It will take  10-12 minutes. Switch off the flame. Let stand for 3-5 minutes.
Open the lid. Add hot sauce and grated cheddar cheese. Mix it gently with rice with a fork.
Serve it warm. Make it a complete meal with some tortilla chips, guacamole and salsa.
Another dish from my Indian American Kitchen to yours! Simple recipe, easily available ingredients, no special shopping required and ready in no time!
Enjoy!
Sonal