Crisp Walnut Chocolate Cookies, Eggless
As an Amazon Associate and member of other affiliate programs, I earn from qualifying purchases.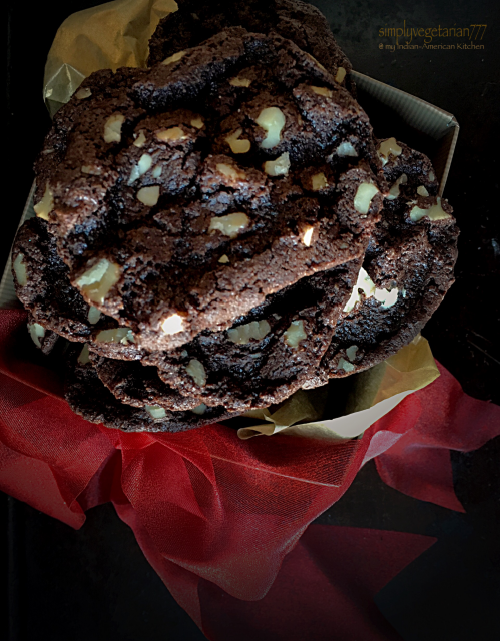 Crisp Walnut Chocolate Cookies are perfect holiday bakes. These are rich & indulging cookies and the best part is that they are crisp, nutty and egg free.
Crisp Walnut Chocolate Cookies, Eggless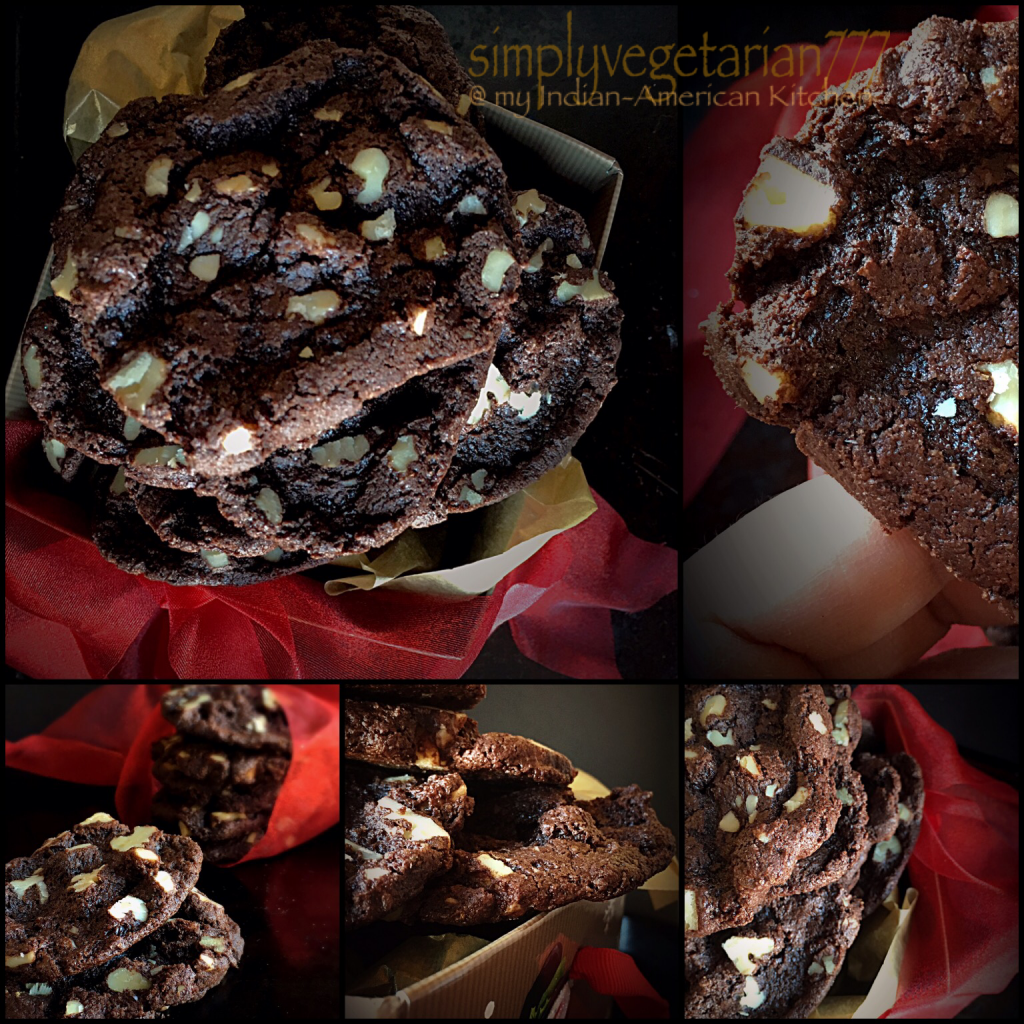 Oh yes! It's that time of the year! The Fa-La-La-La time! The Feliz Navidad time!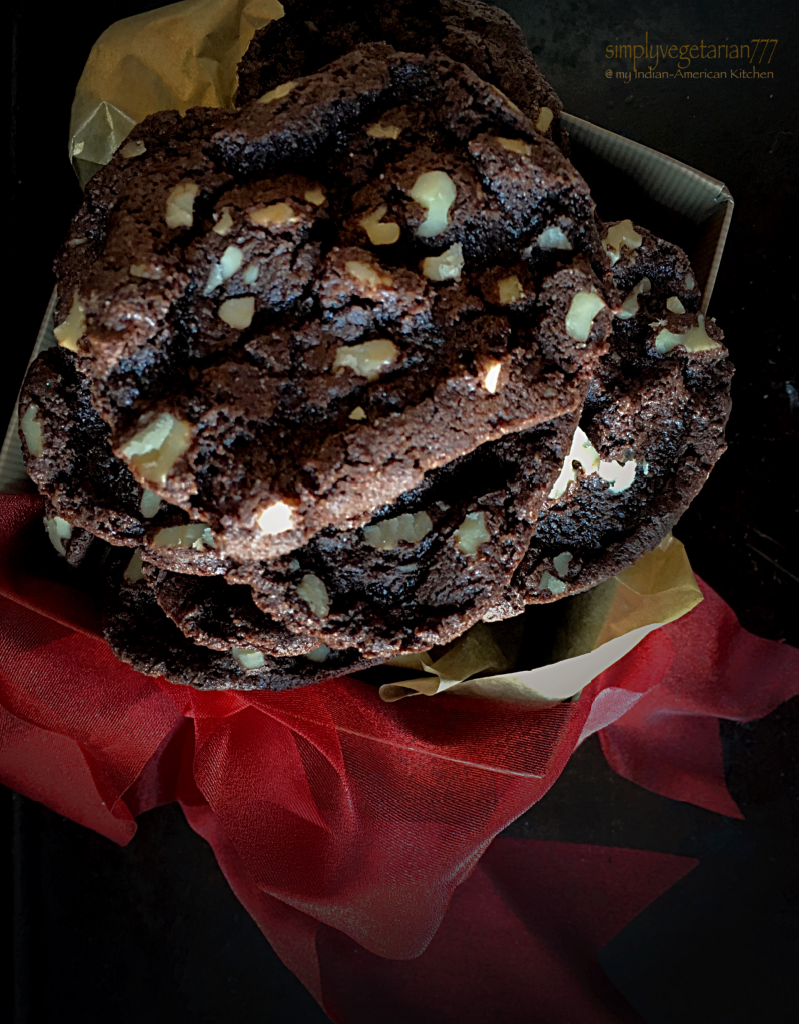 This Sunday was dedicated to the holiday baking along with kids. As much as I dote on my girls, their "help" freaks me out! The good mother inside me says, "Ah well! They are kids. Get them involved in holiday baking". The next minute, my OCD side kicks in and yells at me "Are you in your senses? Holiday Baking and kids? What about the mess and the clean up later and not to forget their constant bickering while helping." The Libra in me comes to my rescue and says, "Cool down! You can do it! After all it's about making memories. Get the kids clean up later under your supervision". And I sweat and fret and call out to them, "Girls, holiday baking time! Let's start it" and the madness starts.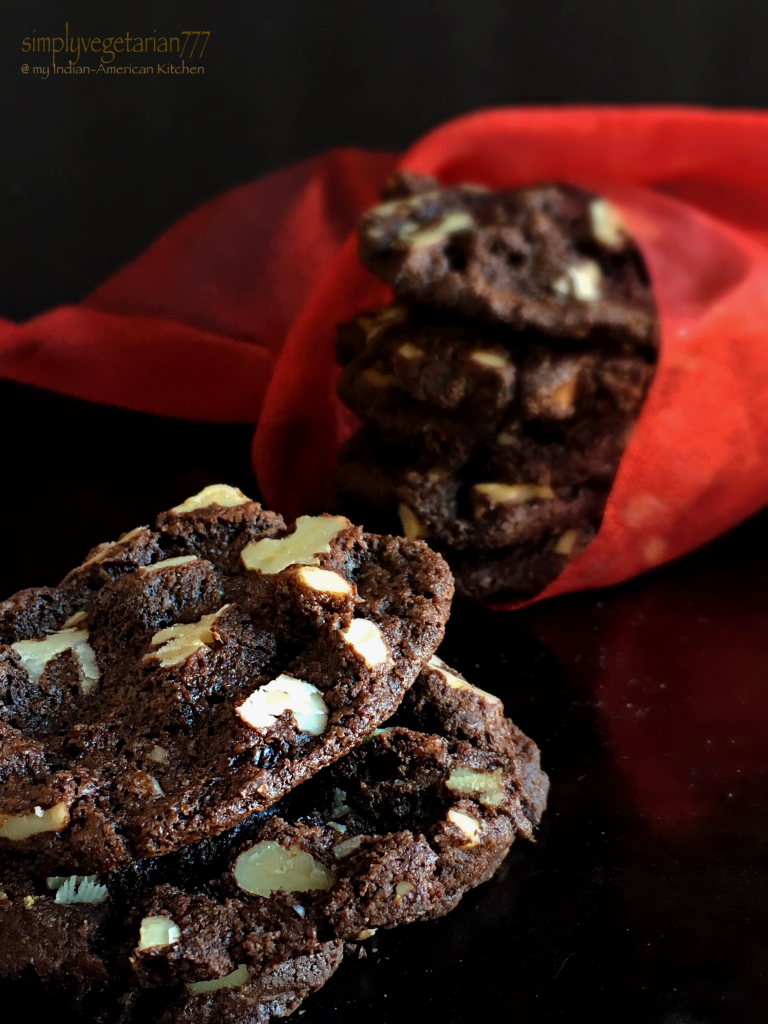 But I am telling you, amidst all the craziness and mess, it's all fun with some madness, some yelling, lot of laughter and loads of licking spoons and specks here and there. And the best part is when they line up to lick my cookie dough covered fingers. 😂
I came across this recipe in a Chocolate book and adapted it to create these crisps after 1 failed attempt. To my good luck, the adapted recipe worked well and the crisps are just perfect to eat with a cup of coffee or tea. No eggs, Light, Crispy and oh so delicious.
---
This is how I made it!
Chocolate Walnut Crisp Biscuits, Eggless
Servings: 18-20 Biscuits
Difficulty: easy
Kitchen Equipments Required
A big mixing bowl, 1 stirrer or whisk, fork or pastry cutter, chopping board and knife to chop the walnuts, a plastic wrap, 2 cookie trays, parchment or butter paper, oven.
Ingredients
All purpose flour – 1/2 cup
Coco powder, unsweetened – 1/2 cup
Sugar – 1 cup
salt – a pinch
Baking Powder – 2 tsp
Butter – 4 tbsp, cold and cut into small cubes.
Milk, cold – 3 tbsp
Walnuts – 1 cup, chopped roughly
Method
Take the big mixing bowl. Add flour, sugar, coco powder, salt and baking powder. Mix all the ingredients well.
Add the cubed cold butter to the flour. Incorporate it well in the floor either with hands or with pastry cutter or fork. When it is well mixed, the flour mixture will start looking like a bread crumbs.
Add coarsely chopped walnuts to the flour and mix.
Start adding milk, 1 tbsp at a time. It should take 2 tbsp to 3 tbsp milk to bring the flour mix together in a crumbly dough.
Take a big piece of plastic wrap. Drop the crumbly dough in the middle of the plastic wrap. Shape it roughly in a long log. Bring the crumbs together. Wrap the plastic tightly around the dough, from the 2 long sides and then 1 short side. Continue shaping the log evenly by pressing it down gently with hands. It should roughly be 2 inches x 10 inches long. Close the 4th side of the plastic wrap tightly around the dough.
Keep it in the refrigerator for at least 1 hour. You can store the dough like that for 1 day or overnight to bake later.
When ready to bake,  Preheat the oven at 375*F / 190*C. Line the cookie trays with parchment or butter paper.
Take the chocolate walnut log out. Cut 1/2 inch thick slices out of the log. It should give approximately 18-20 slices.
Lay these chocolate walnut slices on the cookie tray, at least 2 inches away from each other.
Bake these chocolate walnut crisp biscuits for 12-15 minutes. They will expand as they bake and become crispy thin.
Take the cookie trays out. Let the crisps be on the trays for 2-3 minutes and then transfer to wire racks for cooling.
Once cooled to room temperature, store them in air tight containers. These make excellent gift for holidays or a great hostess gift as well.
Notes
You may use any kind of nuts in this biscuit like hazelnut or macadamia or pecans.
These store well at room temperature for a week or so. They won't last that long either ;).
The dough can be frozen and when ready to bake, just slice and bake.
Enjoy making these eggless crisp biscuits in your kitchen with your kids, as did I with my children in my Indian American Kitchen!
Happy Holidays People!!
Sonal