Dahi wale Aloo / Potatoes in Yogurt Curry – Meatless Monday!
As an Amazon Associate and member of other affiliate programs, I earn from qualifying purchases.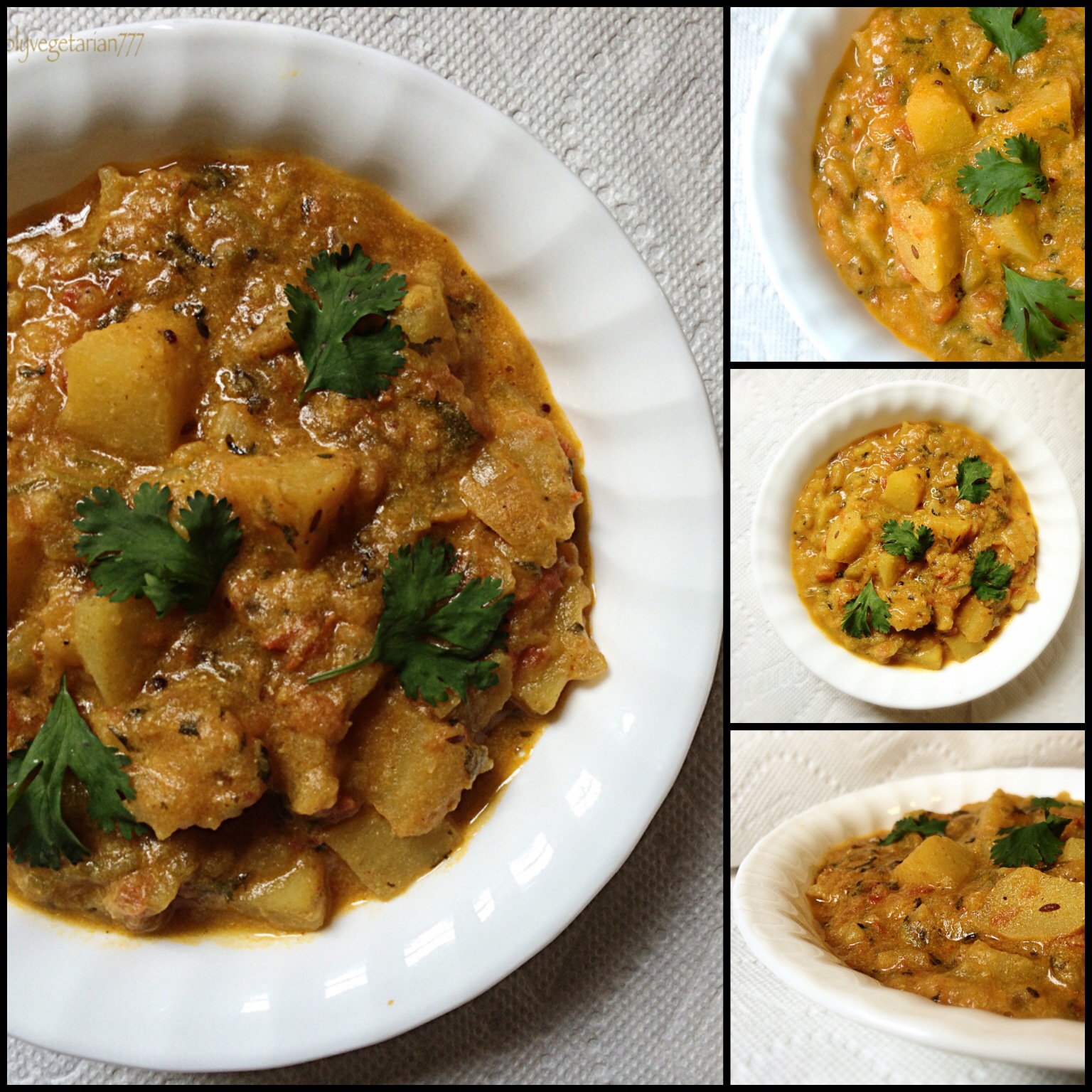 Dahi means Yogurt and Aloo is Our humble potatoes. Potatoes are such a verstaile, global and oh-so-comforting ingredient, it is amazing how a mouthful bite of any kind of potato, relaxes you.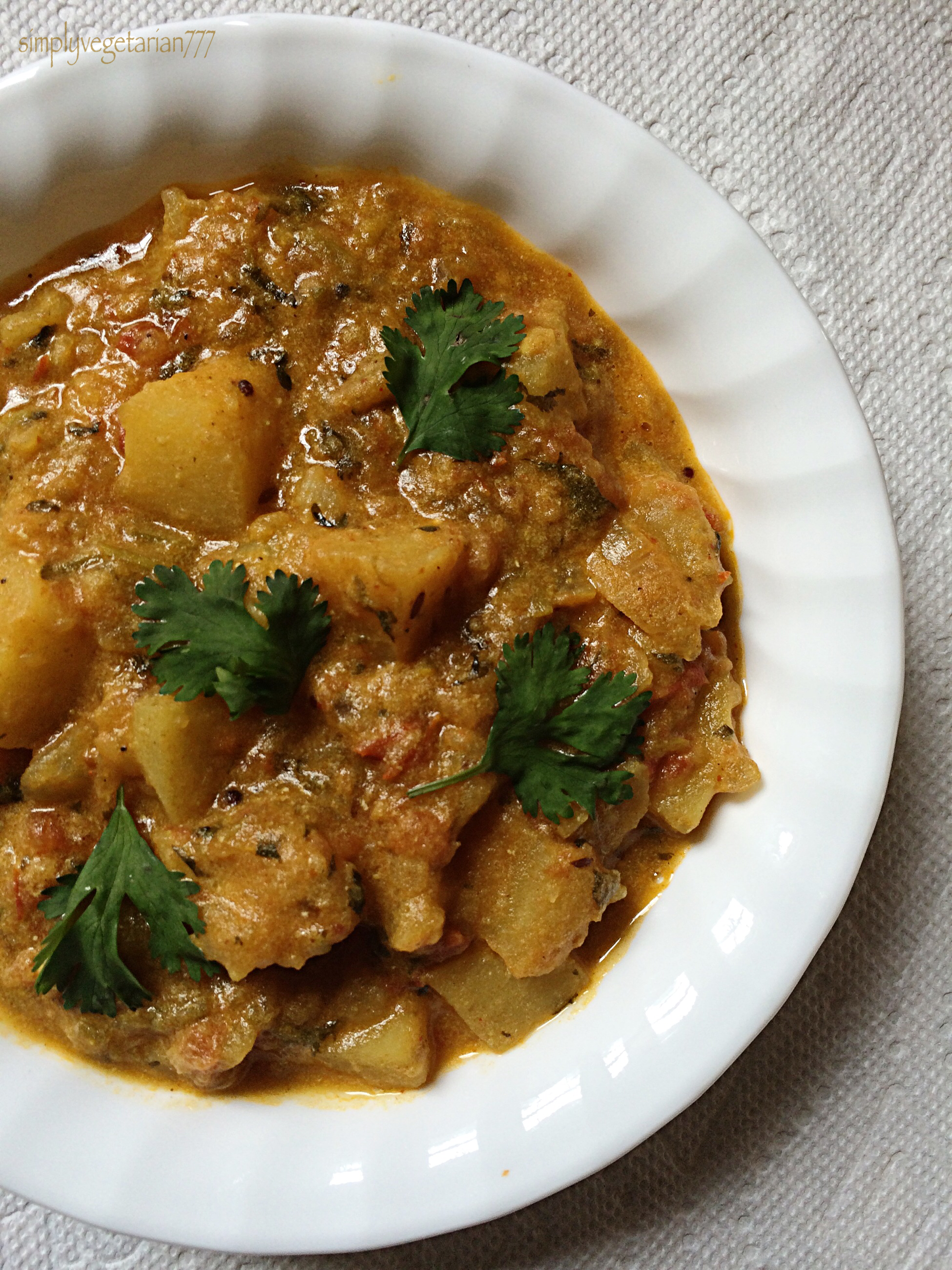 Well this particular dish brings back so many childhood memories of Aloo-Poori, Aloo-Parantha. A semi dry thick potato curry is what I craved for today to ambush my going-on anxieties. I can have this curry with a thick toasted slice of bread and even with dal and rice. The best part is that it is soooo easy to make and so quick to devour 😉.
This is how I made it! Read the Foot notes to encounter the yogurt curdling, if any.
Dahi wale Aloo
Servings: 6-8
Difficulty: easy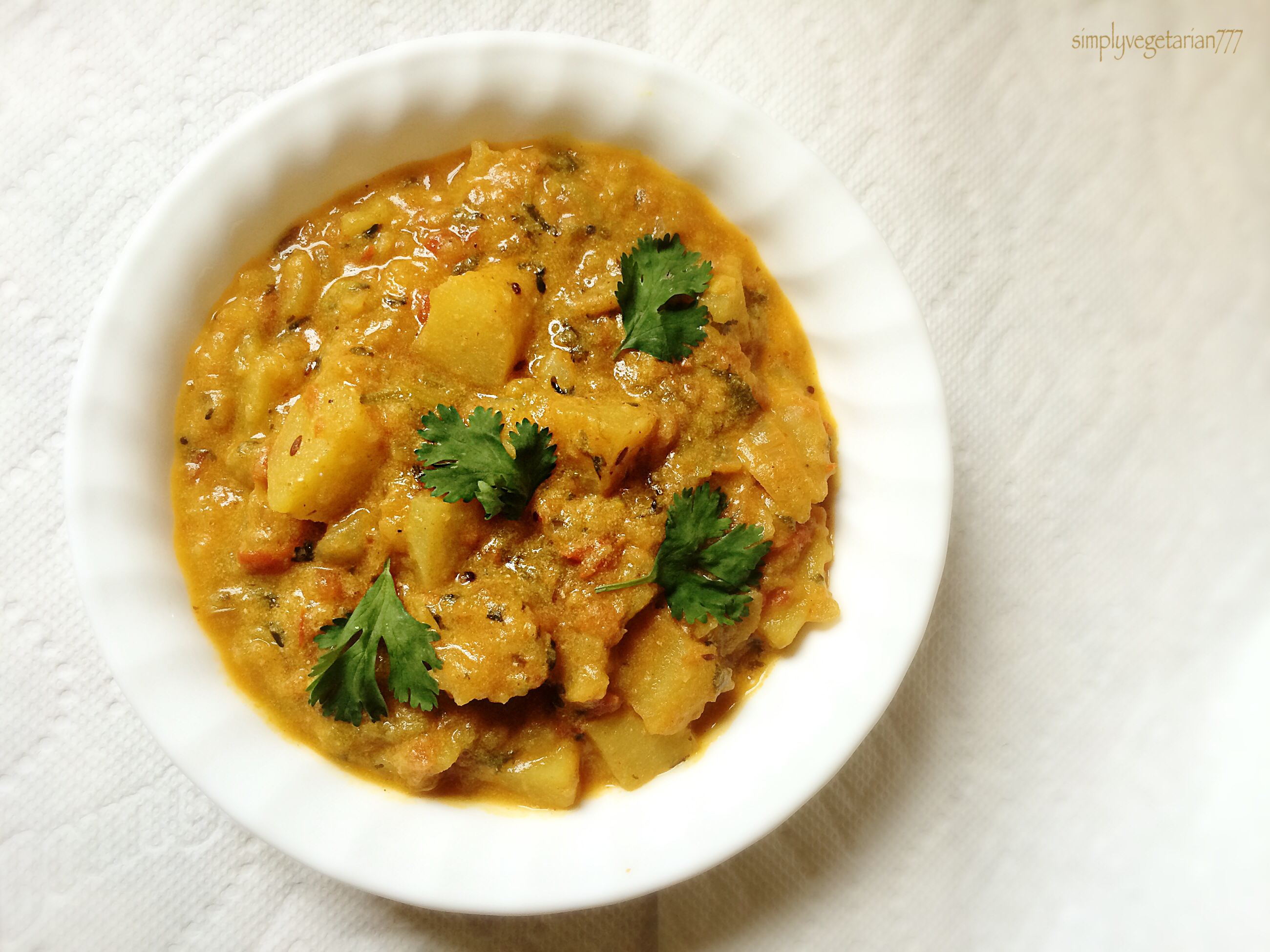 Kitchen Equipments Required
Chopping board, knife, sauce pan with lid or pressure cooker, fork, a stirring spoon.
Ingredients
Onion – 1/4 cup, finely chopped
Tomatoes – 3 medium, finely chopped
Potatoes – 4 medium, boiled and peeled
Ginger – 1 inch piece, finely chopped
Green Chili – 1 small, finely chopped
Oil – 1 tbsp
Bay leaf, dry – 1 small
Cumin seeds – 1 tsp
Coriander powder – 1&1/4 tbsp
Turmeric powder – 1/4 tsp
Red chili powder – 1/2 tsp or to taste
Garam Masala – 1/2 tsp
Salt to taste.
Yogurt – 1/2cup, thick and well beaten
Cilantro / Coriander leaves – 2 tbsp, finely chopped
Note – You may use 1 tbsp to 1&1/2 tbsp Curry powder (not Madras Curry).
Method
1. Heat oil in the pan. Add cumin seeds and bay leaf to it. Lower the flame. Once the cumin seeds crackle, add chopped onions, ginger and green chili. Sauté on medium flame for 5-6 minutes till onions are soft and slightly browned.
2. Add chopped tomatoes and chopped cilnatro/coriander leaves. Stir. Add all the spices or curry spice and salt now. Stir well. Cover with lid and cook on medium to low flame for another 5-7 minutes till tomatoes are all mushed, reduced and blend well with onions to create a paste. Stir in between to avoid burning.
3. Meanwhile mush or cut the boiled potatoes into smaller pieces. Add these potato pieces to the pan. Toss well in the tomato onion paste. Add 1/2 cup water. Cover with lid and cook for another 10 minutes on medium high flame.
Note – Alternatively, you may cook it in pressure cooker for 2 to 3 whistles. We are looking for slightly mushy consistency. If you use pressure cooker, use raw potatwos and not boiled.
4. Switch off the flame and remove the lid. Let cool for 5 minutes. Beat the thick yogurt well with a fork. Slowly add this thick yogurt to the pan from the side and keep stirring with spoon to incorporate well. Test and adjust for salt. Garnish with some cilantro leaves.
Serving Suggestion – Serve it hot with chapatis, paranthas or Pooris.
Important Note
1. Yogurt curdles when added to boiling curry. Therefore, cool the curry for 5-7 minutes and then add to the curry, gradually.
2. If you are serving the Dahi wale Aloo for a party and want to cook it beforehand. Then, prepare the curry without yogurt. Keep it aside. When ready to serve. Warm (not heat) it and add the yogurt before serving.
Enjoy this easy curry with family and friends any day of the week.
Sonal