Kala Chana in Curry ( Black Grams in Curry)
As an Amazon Associate and member of other affiliate programs, I earn from qualifying purchases.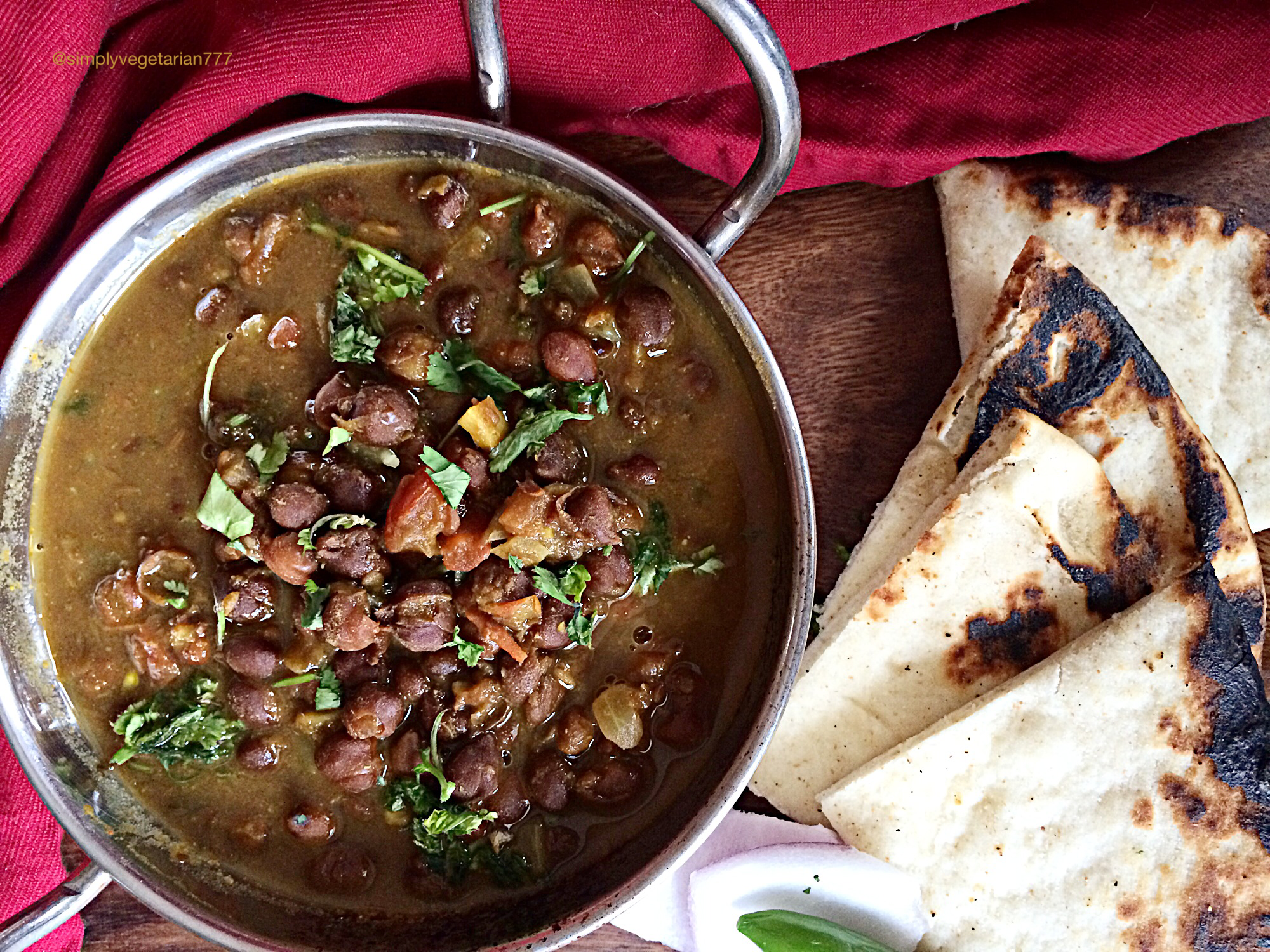 Kala Chana as in Black Grams is a staple dry bean in my pantry. I sprout it. I use it in salads. I boil and mince them and use in kebabs. Black gram flour is also available in the market also known famously as Missi Atta. I love using it in a mild curry. If you have noticed then my recipes are super easy and simple. There are hundreds of recipes online but I like to cook with ease and convenience. The daily meals should be tasty but not necessarily fancy and with lot of ingredients. This is one such recipe which fits the week day curry and not so fancy cooking but tasty and nutritious.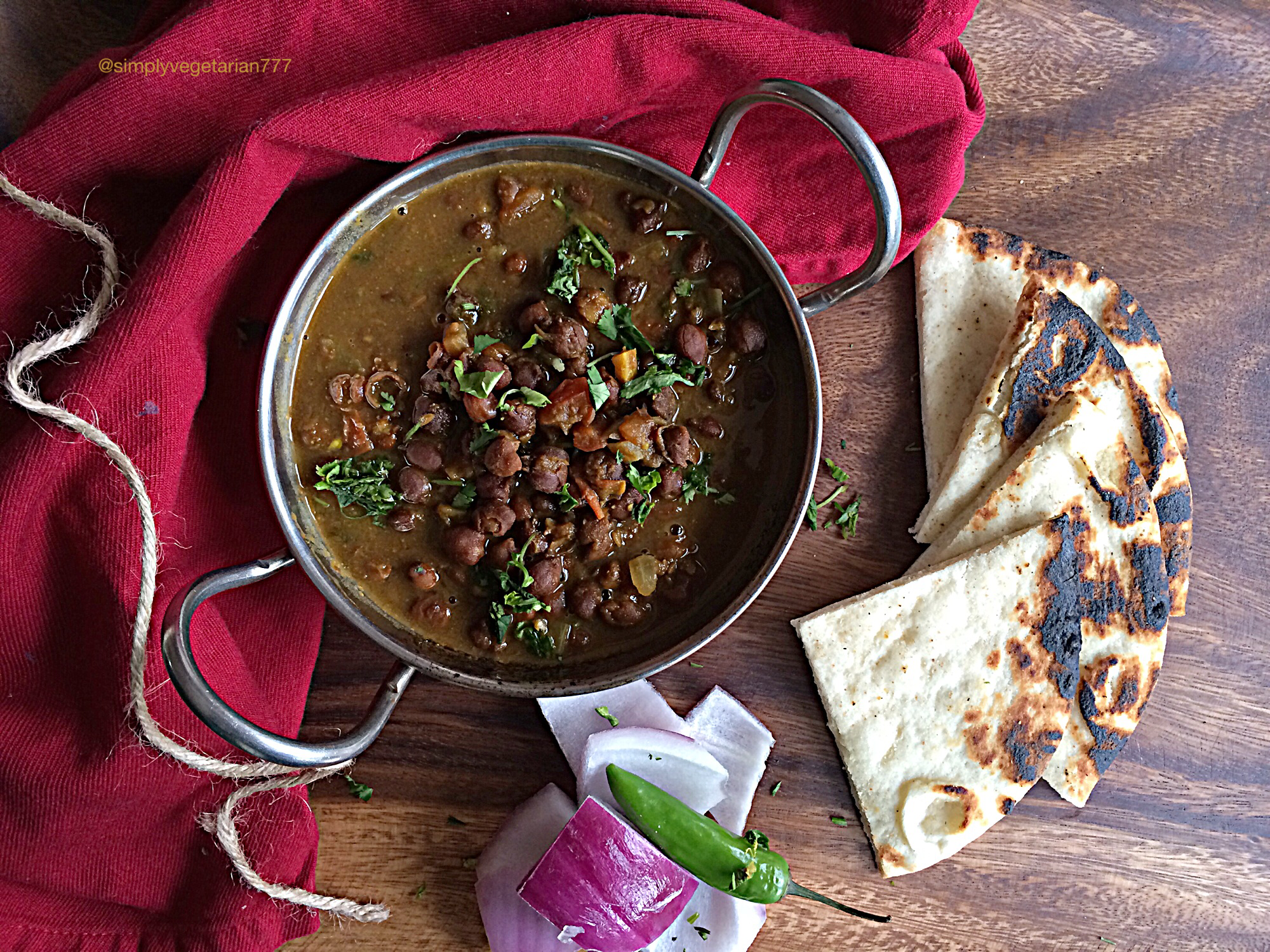 It is a close cousin to Chick peas or garbanzo. Actually, if I say that it is an Indian variant of chickpeas then it is right. Such a versatile dry bean and so rich in protein and fiber. It is a great source of phosphorous, iron, zinc, and magnesium. It has low fat and good carbohydrates. All in all, a super bean!
Kitchen Equipments Required : Heavy bottom sauce pan with lid or pressure cooker, heavy bottom frying pan, stirring spoon, chopping board, knife
Ingredients :
Kala Chana / Black Gram : 1&1/2 cups
Water : 4 to 5 cups
Onion : 1/4 cup, finely chopped
Tomatoes : 3/4 cup, finely chopped
Ginger : 1 tsp finely chopped
Green chili : 1/2 tsp finely chopped
Cilantro leaves : 2 tbsp
Ghee / Oil : 2 tsp
Asafetida / hing : a pinch
Cumin seeds : 1/2 tsp
Turmeric : 1/4 tsp
Coriander powder : 1 tbsp
Red chili powder : 1/4 to 1/2 tsp
Salt to taste
Garam masala : 1/2 tsp
Method :
Preparing the Kala Chana
Wash and soak the kala chana / black gram in 2&1/2 cups of water, for 4-6 hrs. Use hot water for soaking if required. That would reduce the cooking time.

Take the heavy bottom sauce pan. Add the soaked and drained grams to the sauce pan. Add 4 to 5 cups water to it. Bring it to a boil. Reduce the flame and cook for 1/2 an hour on lowest flame till it becomes really soft and mushy consistency.
Note : You may pressure cook them too with 3 cups of water. After the first whistle, lower the flame and cook on simmer for 15-17 minutes. Switch off the flame. Set aside.
Making the curry base
My curries are quick and no long methods, especially on weekdays. But belie me they still taste awesome.
Take the heavy bottom frying pan. Heat oil in it. Add cumin seeds and asafetida / hing to it. Reduce the flame and let the cumin seeds crackle.

Add the finely chopped onions, ginger and chillies to it. Sauté for 4-5 minutes till the onions brown a bit.

Add chopped tomatoes, coriander powder, turmeric, red chili powder and salt to it. Stir well. Cook on low flame for 7-8 minutes , covered, till the purée comes together. Stir in between.
The curry base is ready.
Putting it together
Add the boiled kala chana / black gram to the curry base. Add chopped cilantro/coriander leaves. Add salt to taste along with garam masala. Add water if required. We are looking for not very runny curry nor for a very thick gravy. So adjust accordingly. Cover with lid. Cook on simmer for 15 minutes. The kala chana curry is ready!
Serving Suggestions : It goes very well with rice, pilaf, roti, Khubz, or even any hearty rustic slice of bread. I can actually eat like a stew by itself.
Stay warm and stay healthy with this protein packed and soul warming curry.
Enjoy!
Sonal