Mung Methi Dal with Garlic Tadka, an absolute winter delight!
As an Amazon Associate and member of other affiliate programs, I earn from qualifying purchases.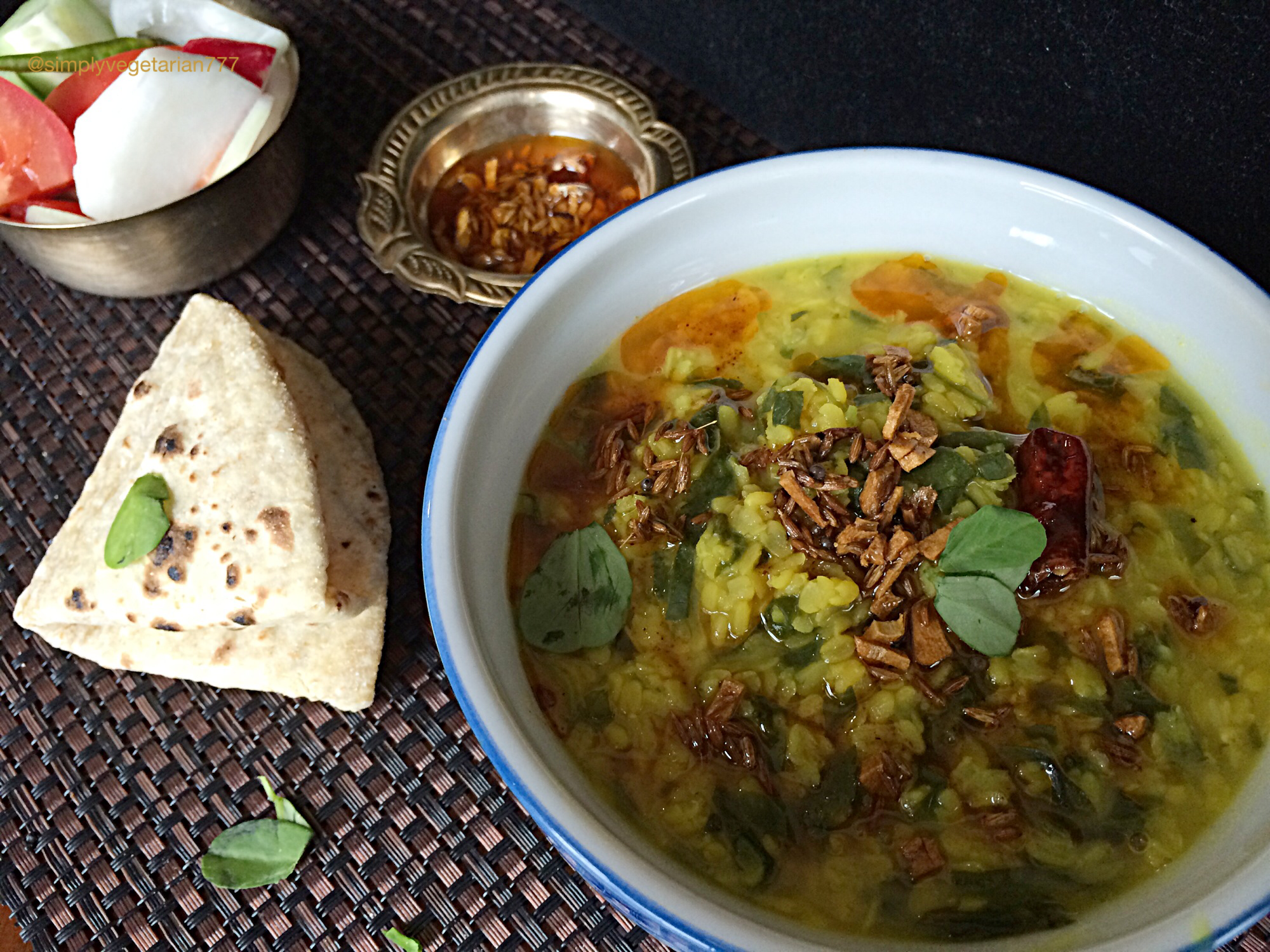 As a child, I didn't like Mung dal much. Everytime, my mum cooked it, I would tell her that it smells bad. Being such a foodie, I wonder why I did that, since I never made face for any kind of dish.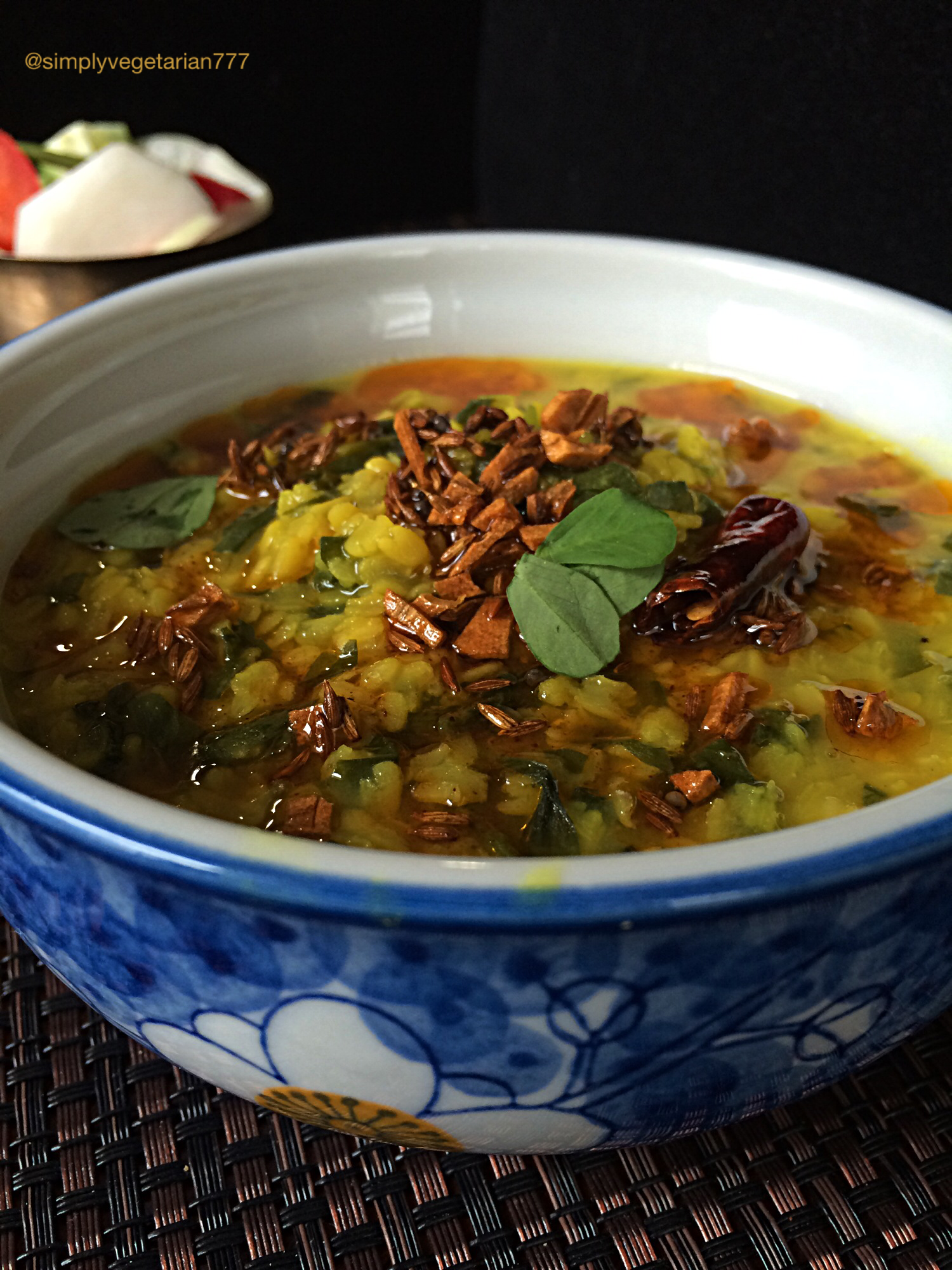 As I grew older, I started liking this dal. Mom used to cook it in various ways. I liked the variations like with spinach, onions etc. Most of the time I cook it with spinach leaves. Since I had fresh methi leaves in hand this time, I cooked the Ming dal with methi.

Methi is fenugreek leaves which are very nutritious. They reduce cholesterol and reduces the risk of heart disease. They aid in digestion and help in weight control. Helps control the sugar level in diabetes and helps in countering the acid reflux.
Kitchen Equipments Required : A sauce pan with lid, chopping board, knife, stirring spoon, a shallow frying pan.
Ingredients :
Mung Dhuli : 1 cup (yellow husked and split)
Methi Leaves : 1 cup
Water : 3&1/2 cups
Turmeric powder : 3/4 tsp
Salt to taste
Garlic Tempering for Dal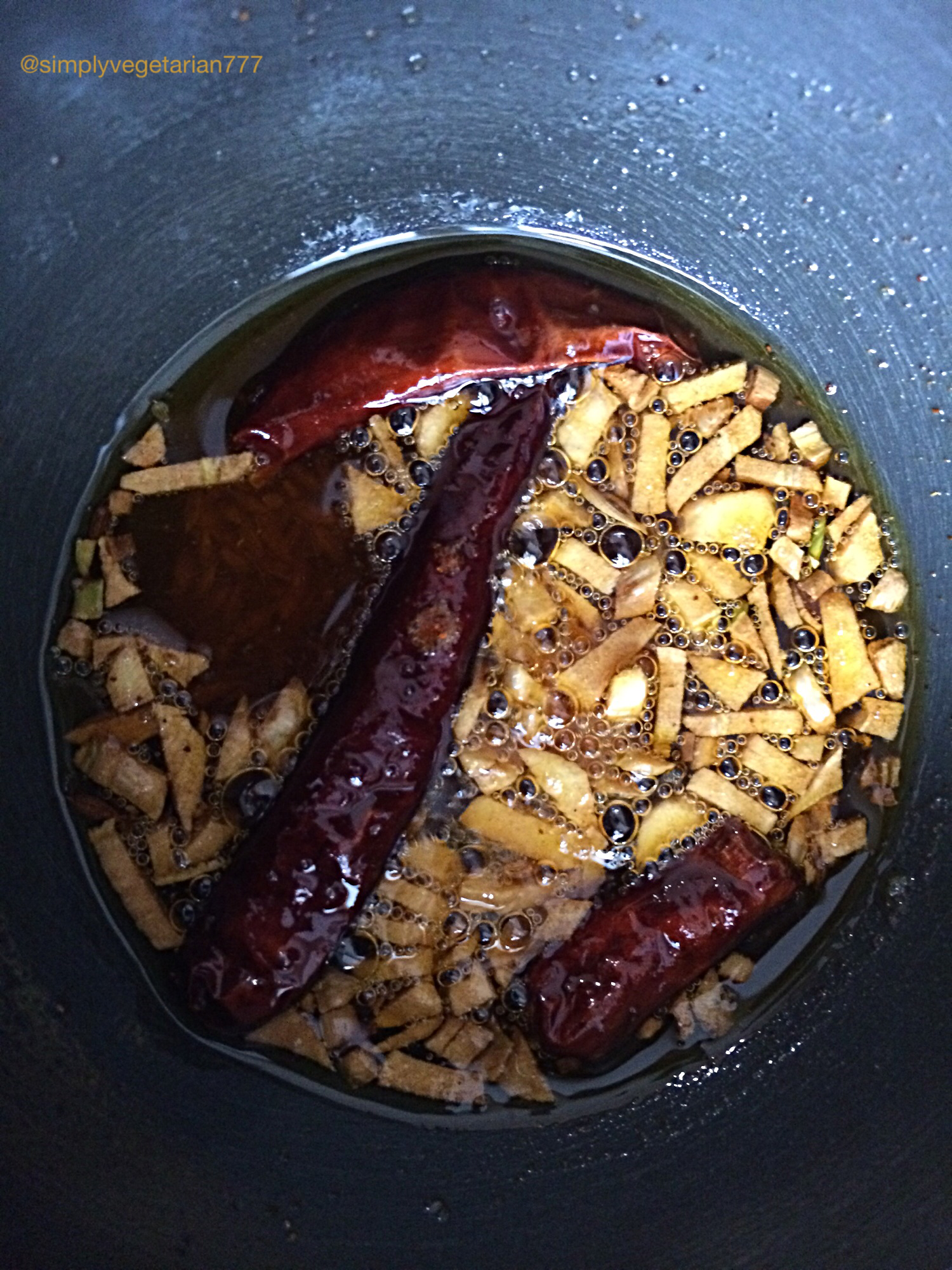 Ghee : 1 tbsp
Asafetida / Hing : a pinch
Cumin seeds : 1 tsp
Mustard seeds : 1/4 tsp
Red chili powder : 1/4 to 1/2 tsp
Garlic : 1 tsp, finely chopped
Dry red chilli, whole : 2
Method :
Clean, wash and soak mung dal in 1&1/2 cups water for 10 minutes.

Meanwhile, clean, wash and chop the methi leaves roughly. Discard the stem part of the leaves.

Take the sauce pan. Add soaked and drained mung dal, methi leaves, turmeric and salt with 3&1/2 cups of water.

Being the dal to boil and then reduce the flame. Cook the dal on low flame with lid on, for 10-12 minutes till it's soft but not mushed. Switch off the flame. Dal is ready. Check for salt and adjust accordingly. You may pressure cook the dal also in 2&1/2 cups of water.

Preparing Garlic Tadka / Tempering : Heat ghee in a small shallow frying pan. Add hing, cumin and mustard seeds. Let the seeds splutter on lower flame. Once the seeds splutter, add finely chopped garlic to it. Sauté till garlic turns golden on lowest flame. Now add whole chillies and red chili powder. Switch off the flame.
Serving : Pour the cooked dal in the serving bowl. Add the garlic tempering / tadka on top. Serve hot with either rice or roti!
Enjoy a delicious meal with your family!
Sonal