My daughter's 10th birthday and my first elaborate cake with a basic vanilla cake recipe!
As an Amazon Associate and member of other affiliate programs, I earn from qualifying purchases.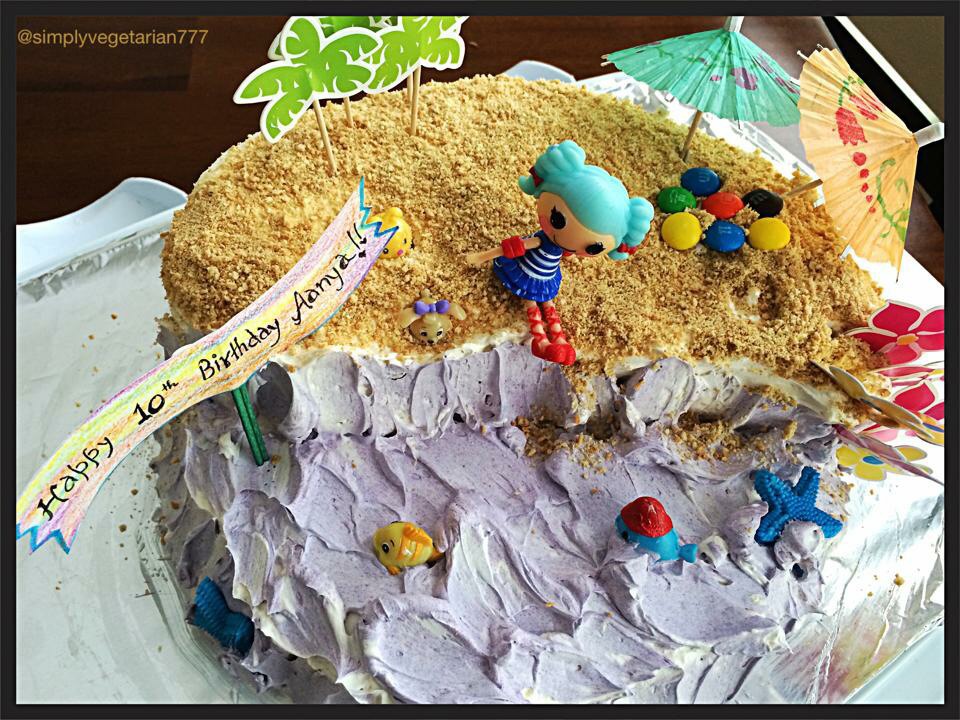 Aanya is turning 10 tomorrow but we celebrated her birthday today with her friends at a bowling alley. What a great time. While the kids bowled, we practiced our skills too. Loads of fun :).
She requested a home baked cake this time. After all mumma cooks all the time so how hard can it be! Poor child didn't realize that mumma cooks not bakes and cakes certainly not. Your kids make you do a lot of things for the first time like the first born makes you a mom for the first time :). Beautiful, isn't it ? She wanted a Hawaiian theme which actually made into a beach theme. No regrets on that part. It looked good to her. I found it cute! Have a look!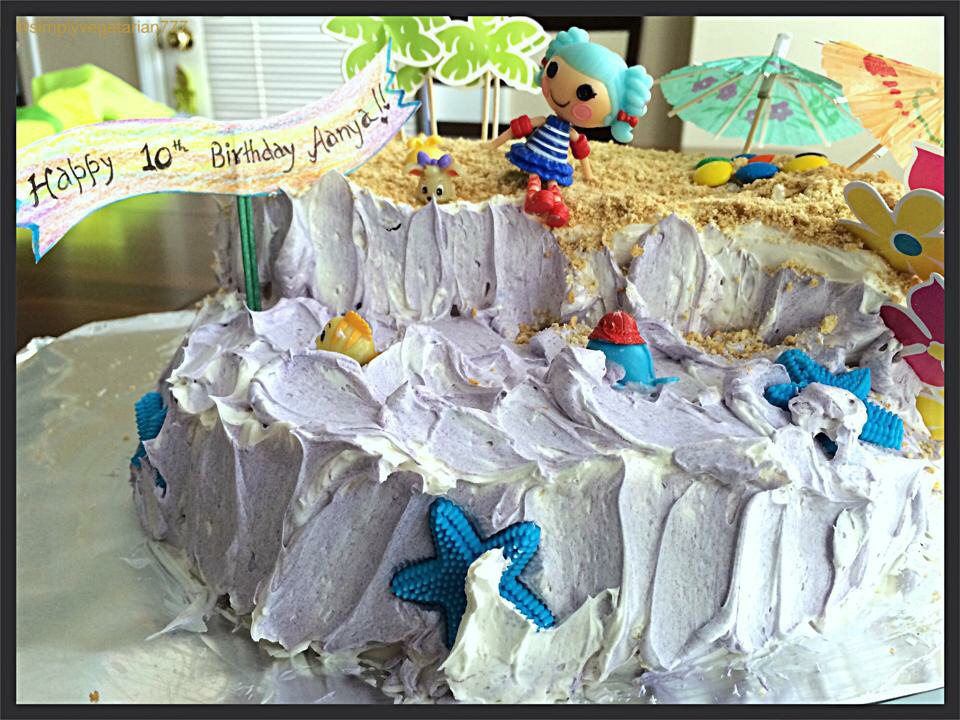 Believe me, a simple vanilla cake was the hardest. I followed one of my very good friend's recipe. Her name is Amruta! The cake came out delicious and super soft! But in the process of cooling and frosting, the cake became dry. The butter frosting was just perfect, not too sweet and held up very nicely in the form of waves. But cake under it was a little dry. Well, kids didn't complain. Seeing me upset, Aanya asked me few questions,
"Mom did it look good?"
I said yes.
"Mom did it taste good?"
I said yes.
"Mom did my friends take seconds?
I said yes.
Then she said, so feel good about it and it was the best cake ever. I loved it! Ohhhh my baby is growing up.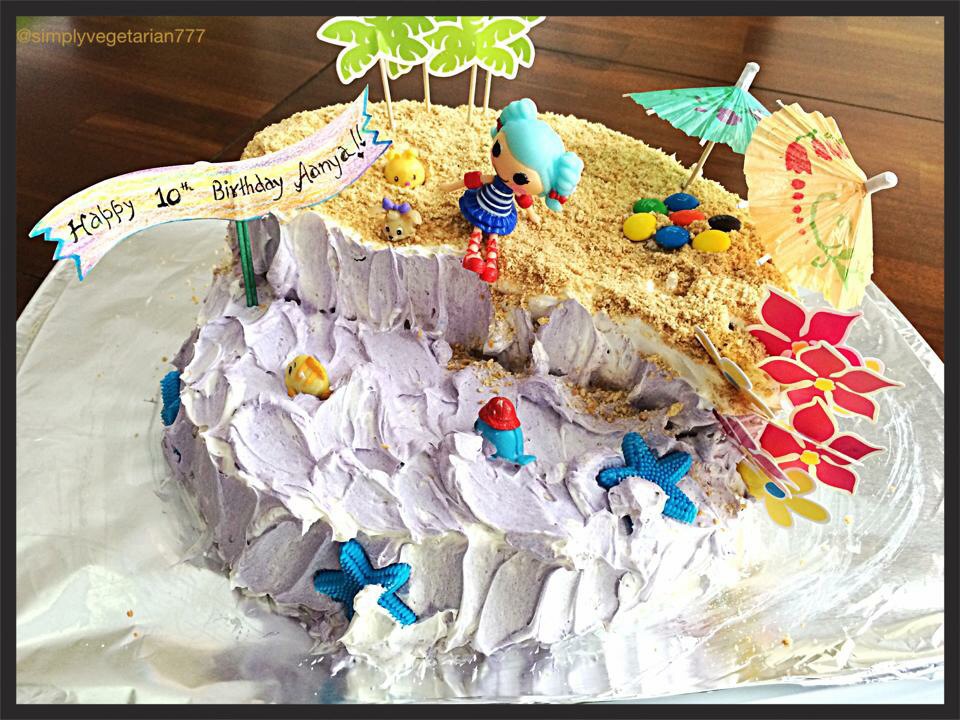 Are you wondering about the color of the water? Yup, it's kinda purple! Not my fault. I bought the Wilton's aqua blue for the effect but it didn't catch up….so it's the color at fault not me ;).
I am not a cake girl. So I used a lot of accessories to make it look like a beach atleast. Borrowed kids' squinky toys for little dogs and fishes. Begged the little one to let me use her mini lalaloopsy doll. Searched atleast 2-3 stores for those toothpicks of trees and flowers. Found umbrellas at another store. This cake made me run around so much for little little things. At that point, I so wished if I knew how to use fondant. But, as anxious as it made me, I enjoyed the experience as it let me play with another craft and brought another kind of creativity out :). I am a happy girl. May be cake gurus will make a face at it but my daughter loved it and it made me feel such a proud mama! She kept telling her friends, my mom made it :).
Aanya needs some tack boards to pin or hang pictures in her room. I am working on those tack boards so that they can make it to her room wall by her actual birthday. Plan to put these boards in a square ensemble so that she can pin her art work with a thumb pin or little clips. So much for the Saturday post.
The Vanilla Cake Recipe, that I followed as shared by Amruta!
Note : This recipe is good for one 9 inches circular cake and is good to be sliced in the middle to add a layer of frosting. I doubled up the recipe to make 2 cakes for the island effect.
Ingredients:
Sugar – 200 gms (You can use brown/ canne sugar if you are not particular about a not so white colour)
Butter – 120 gms
*Eggs – 2 medium
Vanilla Extract – 2 tsps
Flour – 200 gms
Baking powder – 1 3/4 tsp
Milk – 120 ml
*Note for eggs : In place of eggs, use 2 tbsp of flax meal dissolved in 6 tbsp of warm water. Keep it for 5 minutes and then blend to use.
Method:
Pre-heat the oven to 180C or 350F.

Grease and flour a 23 cms or 9 inches cake tin. You may line it with butter paper as well!

In a bowl, cream together butter and sugar.

Beat in the eggs one at a time and add the vanilla extract.

Add flour and baking powder to this mixture and slowly incorporate in [Sift the flour + baking powder together first].

Stir in the milk until the mixture comes together and is smooth without any lumps.

Pour into the greased tin and bake for 30-40 mins [do the skewer test, it should come out clean]
This recipe is a keeper for a basic vanilla cake. I am using it again for making vanilla cupcakes next time!
Sonal