Pesto and Marinara Pull Apart Bread Rolls
As an Amazon Associate and member of other affiliate programs, I earn from qualifying purchases.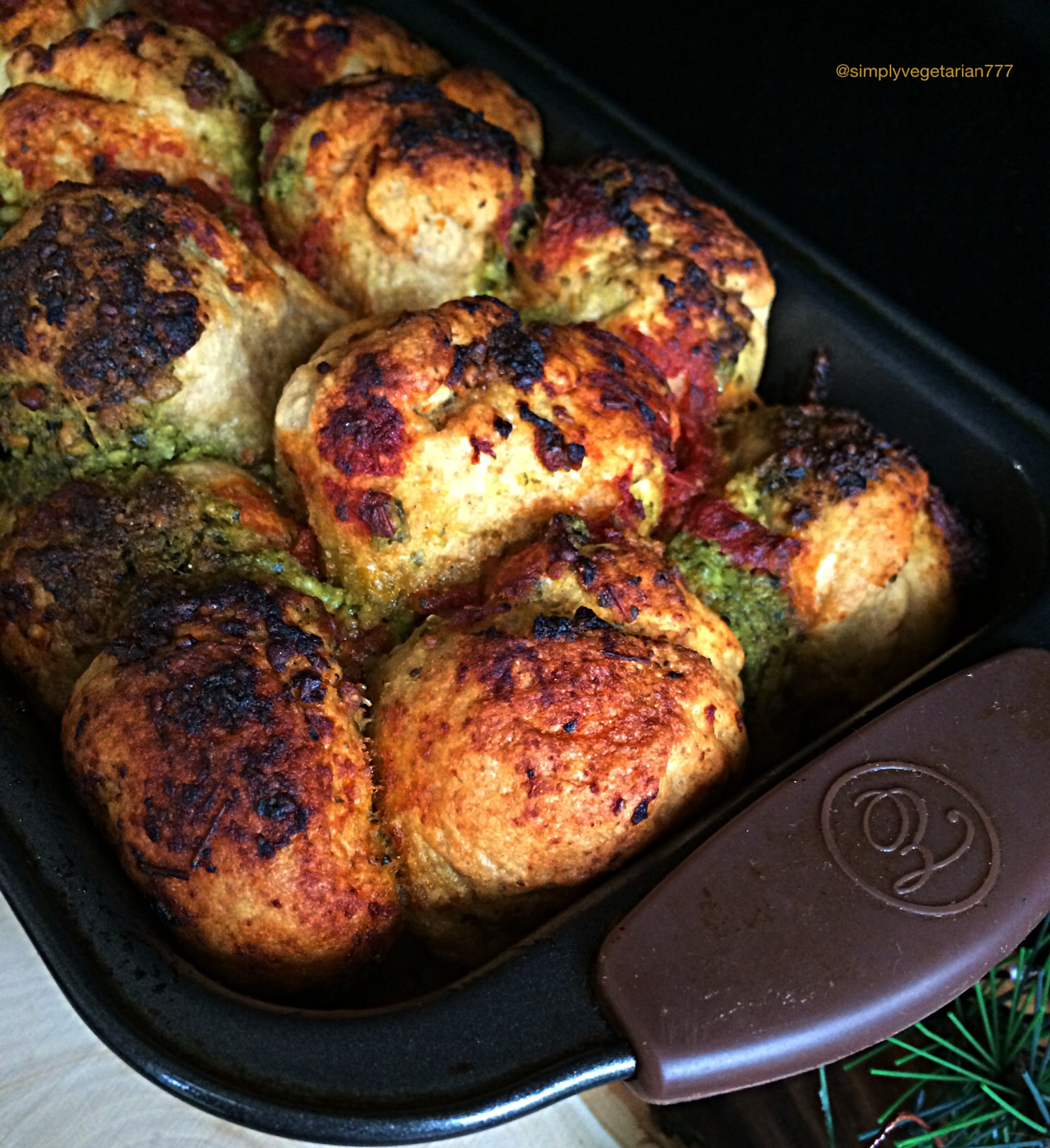 Bread making is so therapeutic and highly rewarding that it becomes addictive. When it comes to me as a Baker, who is wild and dislikes to follow recipes to the core, bread baking gives me more room to experiment with basic technique in place. Flour, Yeast, Salt, Sugar and Water. And then there are other additives that can be used like herbs, sauces, spreads, seeds, eggs etc.


Winter holidays……kids and husband at home, there is a constant demand of snack. This pull apart bread loaf is the result of such demand. Another experiment! Another thumbs up! Whole wheat ! Yay!!!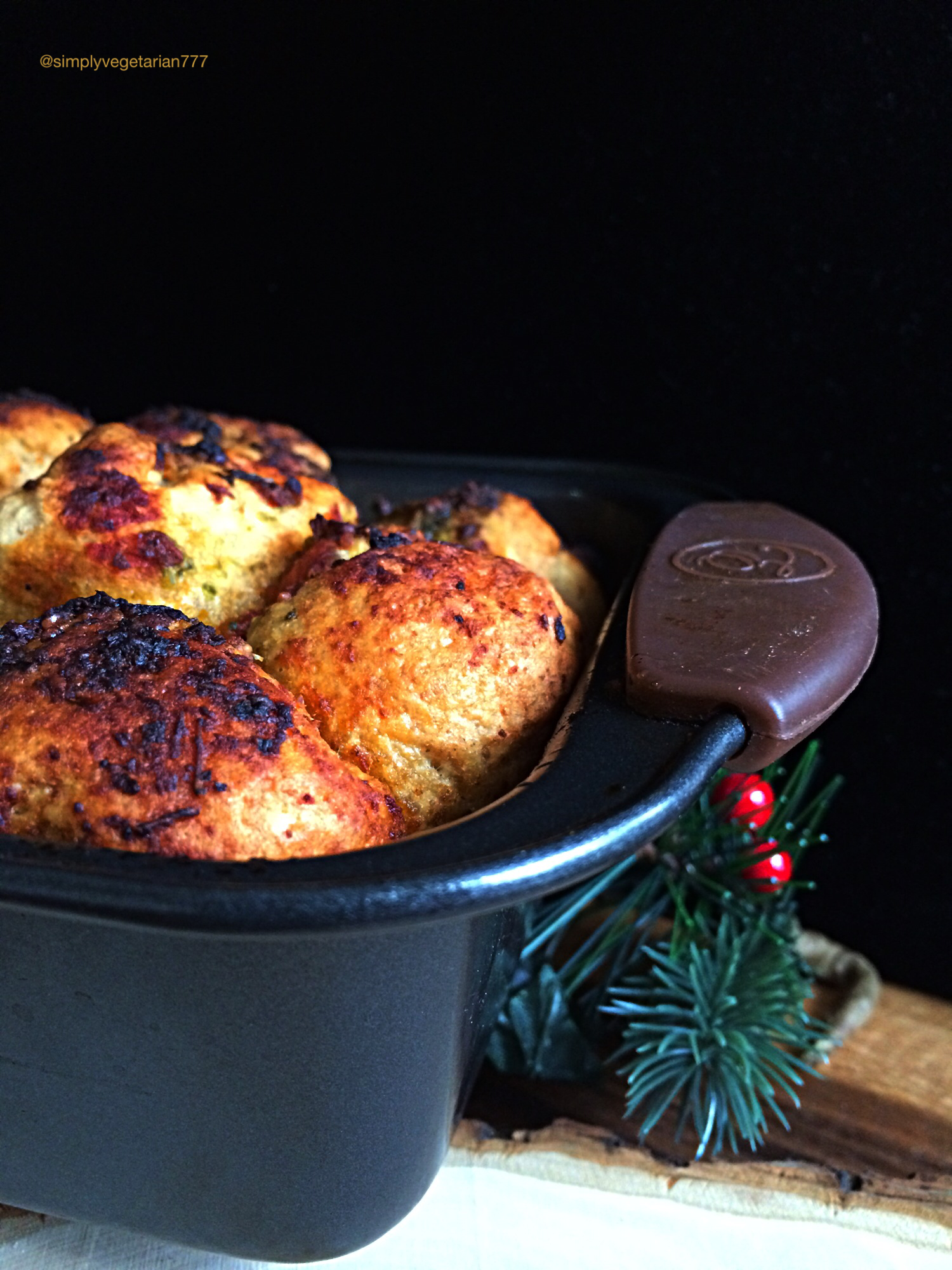 Made these bite size and actually they were more of pick and eat since the sauces in between them didn't let them latch on each other much. More fun! No mess! The best part is that you could use any kind of sauce to pour in between. I used a mix of pesto and marinara. You can use chocolate, Nutella, sugar & cinnamon, chimichuri, etc. I have used less hydration method in this recipe to have a firmer and controlled dough.
Yields : one 9″x4″ bread loaf
Kitchen Equipments Required : 1 big bowl, 1 kneading bowl, plastic cling wrap or wet tea towel, 9″ bread loaf tin or use 9″ circular cake tin.
Note : You can bake these individually in mini muffin mould too.
Ingredients :
Whole wheat flour : 3 cups + more to knead. You may use refined or all purpose flour too. I used white whole wheat flour.
Instant dry active yeast : 2 tsp or 1 packet or 7 gms
Salt : 1&1/2 tsp
Sugar : 1 tbsp. You may use honey as well.
Hot water(temperature more than luke warm) : 1&1/2 cups + 2 tbsp or more if you like little more loose dough.
Oil : 1/2 tbsp + 1/2 tbsp + 1/2 tbsp
Basil Pesto : 2-3 tbsp
Marinara sauce : 2-3 tbsp
Method :
Kneading the Dough and 1st Proof
Take the kneading bowl. Add flour, salt, sugar and yeast to it. Mix well with hand or a fork.

Make a well in between. Add 1&1/2 cup of water to it. Start mixing it with the flour, bringing it in a dough. If the dough is tight, start adding 1 tbsp of hot water, at a time.

When you get the dough, pour 1/2 tbsp of oil on the dough. Knead it with hands for another 10-12 minutes. I generally use stretch and roll method for kneading. Start working on the dough from the middle. Stretch it out. Pick and bring the sides of the dough back to the center and roll it up. Do that again. This incorporates good air in the dough. You can see the dough rising and fluffing up while kneading itself :).

Grease a deep big bowl with 1/2 tbsp of oil. Place your dough in it and slightly roll it around so that the oil gets rubbed on the dough as well.

Cover the bowl with a plastic cling wrap and place it in a warm place to rise for 1 to 2 hrs, till it doubles. In summers, the dough rises to double in 45 minutes to 1 hr. In winters it takes almost 2 hrs. Keep an eye. I normally set it in my (switched off) oven for the first rising or proofing.
Refer to the Pictogram as given below for the dough rising, before, covered and after.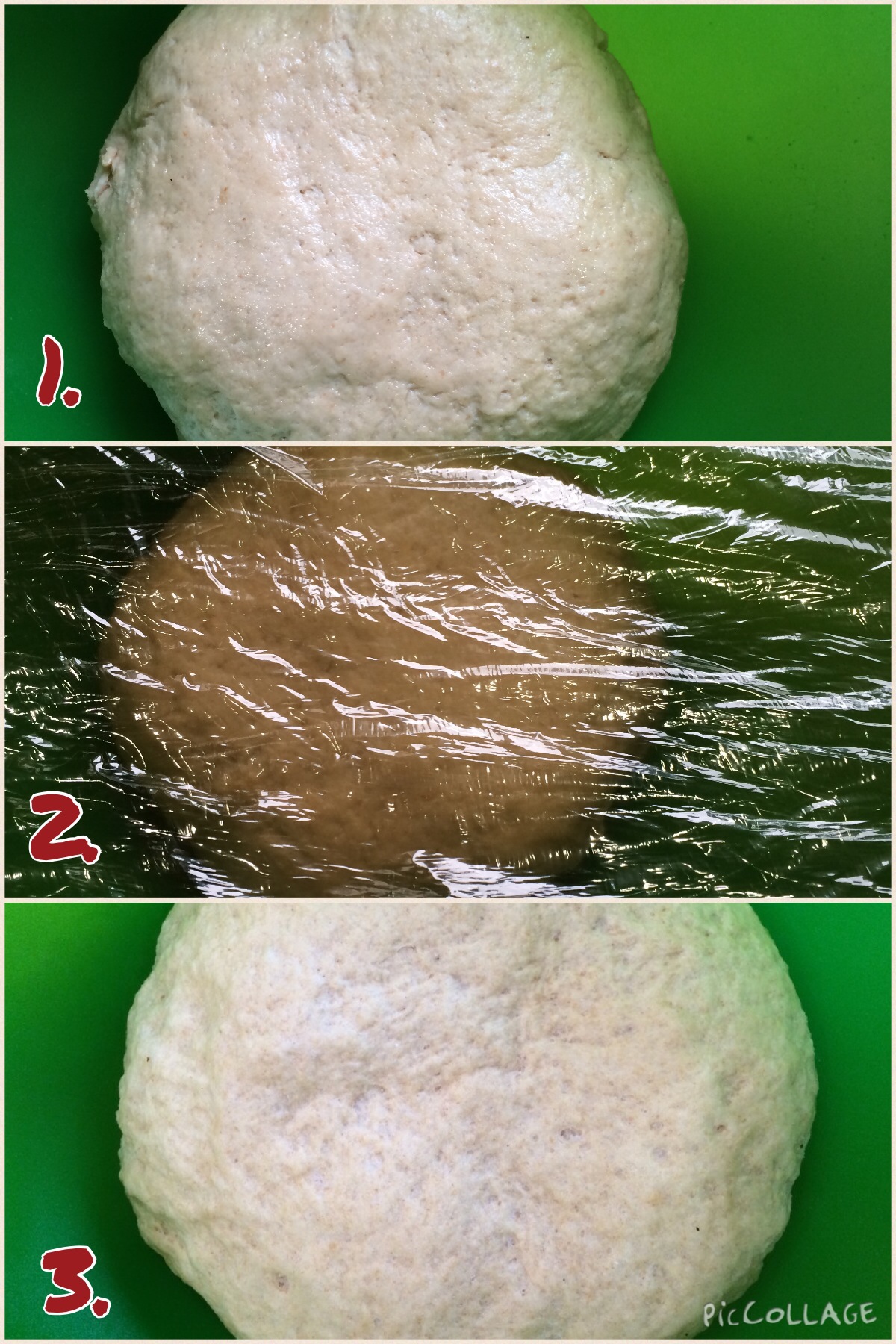 2nd Proofing and Layering
Take the bowl out with the dough. Punch it down gently. Do not box with it ;). Gently and lovingly :).

Pinch ping pong tennis balls size dough out of it. Roll them into balls. These are small balls.

Refer picture 1 given below in pictogram. Layer the bottom of the greased pan with small dough balls, keeping them a bit separate. They need some space to rise and expand.

As in picture 2 below, scatter a bit of pesto and marinara on the dough balls. They should not be drenched, but splattered.

As in picture 3 below, layer the 2nd tier with the remaining dough balls, placing them over the gaps.

Refer to picture 4, scatter or splatter that layer also with some pesto and marinara.

As in picture 5 below, cover it with plastic cling wrap. Place it in a warm place again for another 45 minutes to 1 hr. The dough balls will rise for the second time and double in size. Refer to picture 6 to see the difference between picture 4 and picture 6.

Meanwhile, in the last 10 minutes of proofing, preheat the oven to 425F / 220C.

After the second proofing, remove the plastic wrap. Brush the top of the bread loaf with 1/2 tbsp oil lightly.

Bake these in the middle or lower rack of the oven, for 20-25 minutes.
Storage and Reheating :
1.The bread loaf is good outside for a day, keep it covered tightly to avoid frying.
2.You may store it in refrigerator, wrapped in plastic wrap or foil, after completely cooled.
3. I normally reheat these in microwave for 30 seconds, by placing them in microwave safe plate and covering them with damp paper towel.
Enjoy with family and friends! A little more flavor to add to the winter break.
Sonal