Soy Nuggets in Chinese Garlic Brown Sauce : Meatless Monday !
As an Amazon Associate and member of other affiliate programs, I earn from qualifying purchases.
Whenever we do the Chinese Take Outs, Vegetables in Garlic Brown Sauce is staple. I love that garlic flavored brown sauce which I make more spicy by adding some chili paste. Chili and I are sisters :).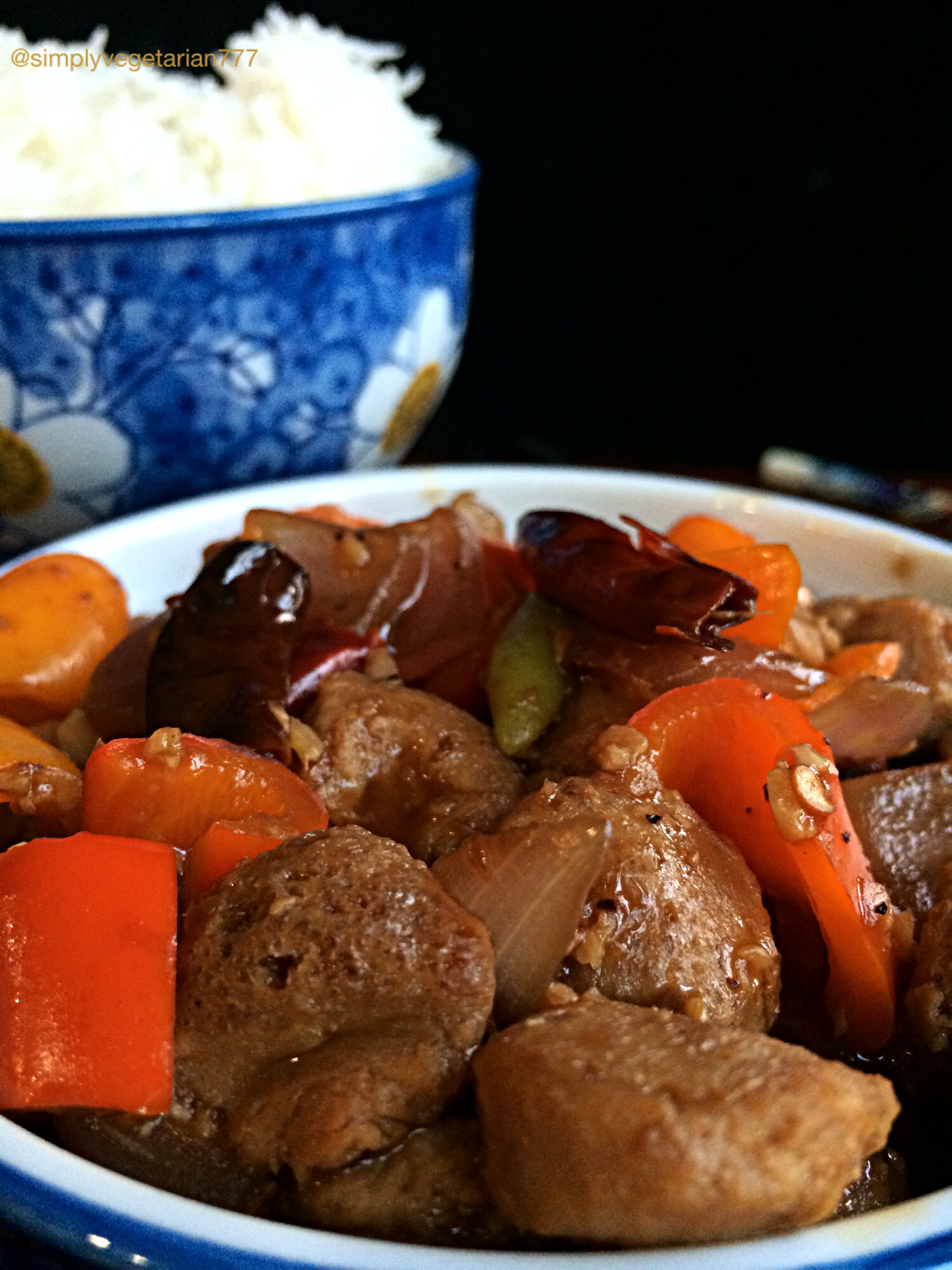 It's been a crazy week with loads of sweets and heavy food and Indian cuisine all the way, which is not normal in my house. We do a lot of variety during the week. So we didn't do the take out this time but I made this semi-dry side along with Red Thai Curry and steamed rice in controlled oil and suiting to the personal taste.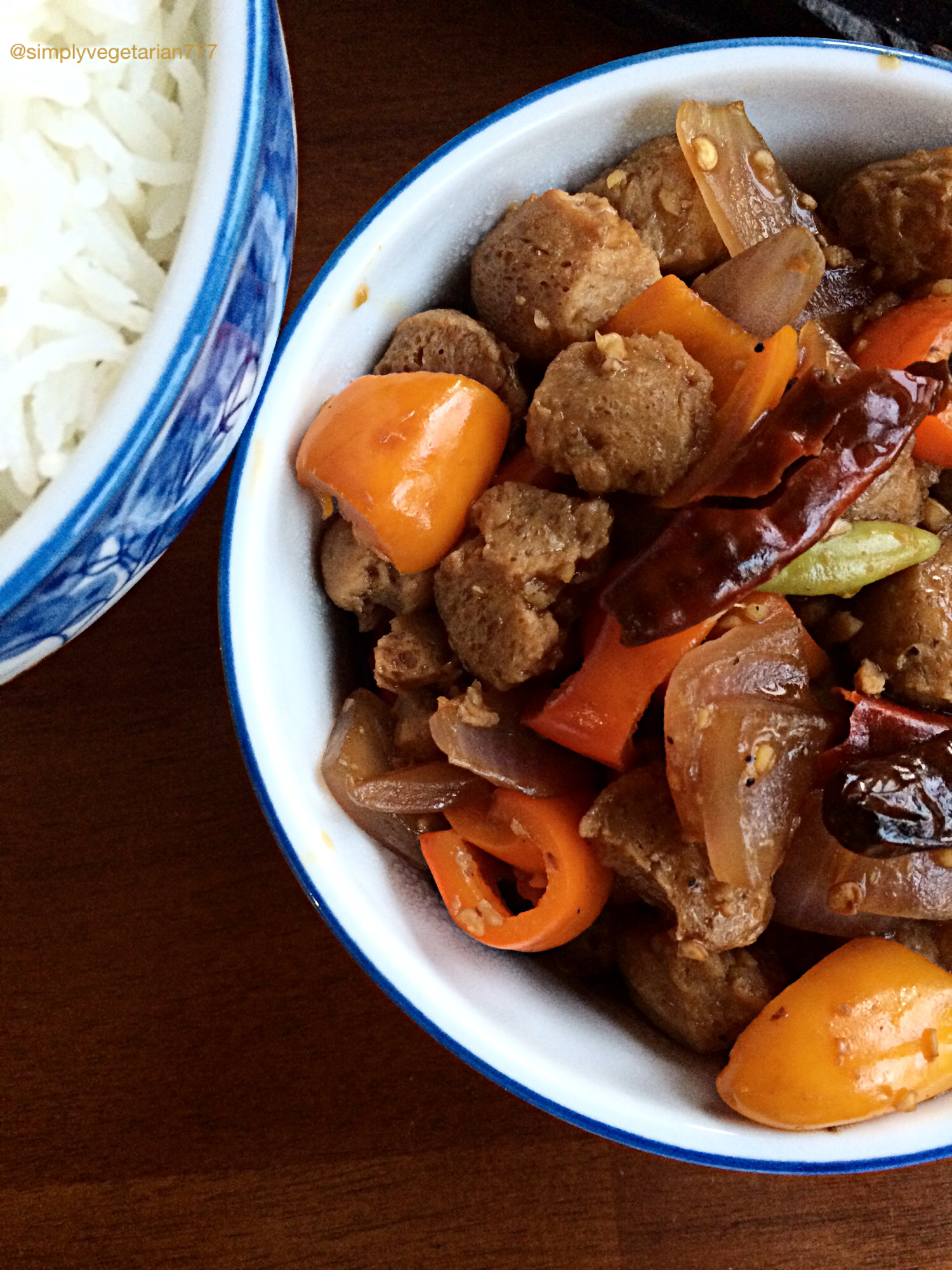 You may use Tofu or Veg Balls, or mock chicken or anything in this sauce and it will taste as good, I promise. A simple and easy dish loaded with soy proteins. The best part is that it can be done on a busy week day too !
Serves : 2 to 3
Kitchen Equipments Required : sauce pan with lid, sieve, chopping board, knife, non stick or hard anodized sauté pan with lid, stirring spoon, a small bowl.
Ingredients :
Soy Nuggets : 1 cup, uncooked
Bell peppers / capsicum : 1/2 cup chopped in 1 inch squares.
Onion : 1/2 cup chopped in 1 inch square
Garlic : 1 tbsp minced fine
Ginger : 1 tsp minced fine
Oil : 1 tsp
Dry Red chillies : 2-4. Use broken if you need more heat or use whole if need just for smoky flavor.
Sugar : 3/4 tsp
Soy sauce : 1&1/2 tbsp
Corn flour : 1 tsp dissolved in 2 tbsp water. This gives a light sauce sand not very thick in consistency. If you like thicker sauce then use 1 tbsp dissolved in 3 tbsp water.
Salt : 1/2 tsp or to taste
Black pepper : 1/4 tsp or to taste
Distilled Vinegar : 1/2 tsp
Water : 4 cups + 1 cup
Method :
Prepping the Soy Nuggets : : Boil 4 cups of water in a saucepan. Once boiling, add 1 cup of uncooked soy nuggets and switch off the gas stove. Cover the sauce pan and let the nuggets soak in hot water for 15 minutes. They will swell double in size. Remove the lid. Strain them through the sieve/strainer. Wash under cold running water and then gently squeeze all the water out. Set them aside.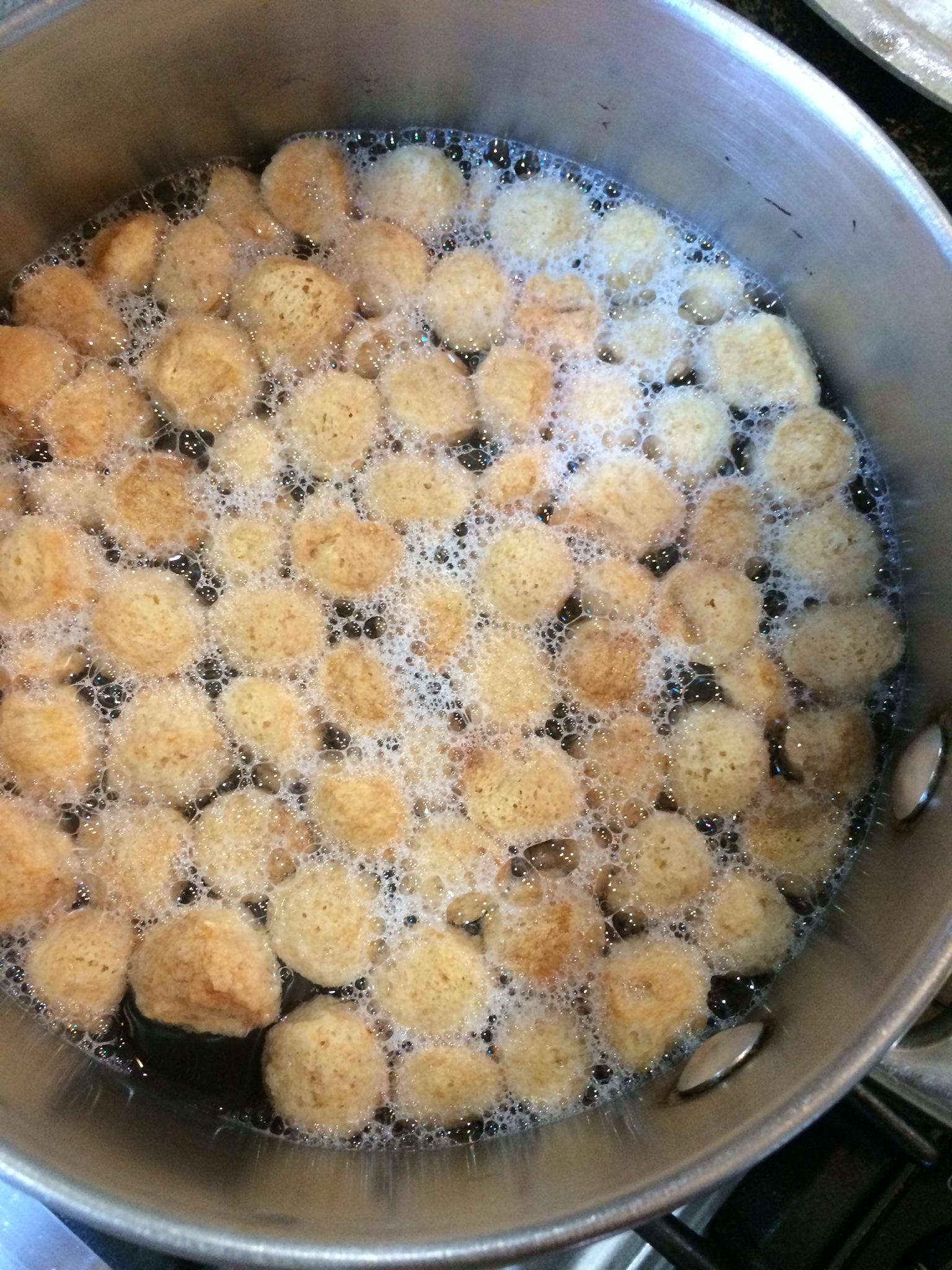 Soy Nuggets before soaking well.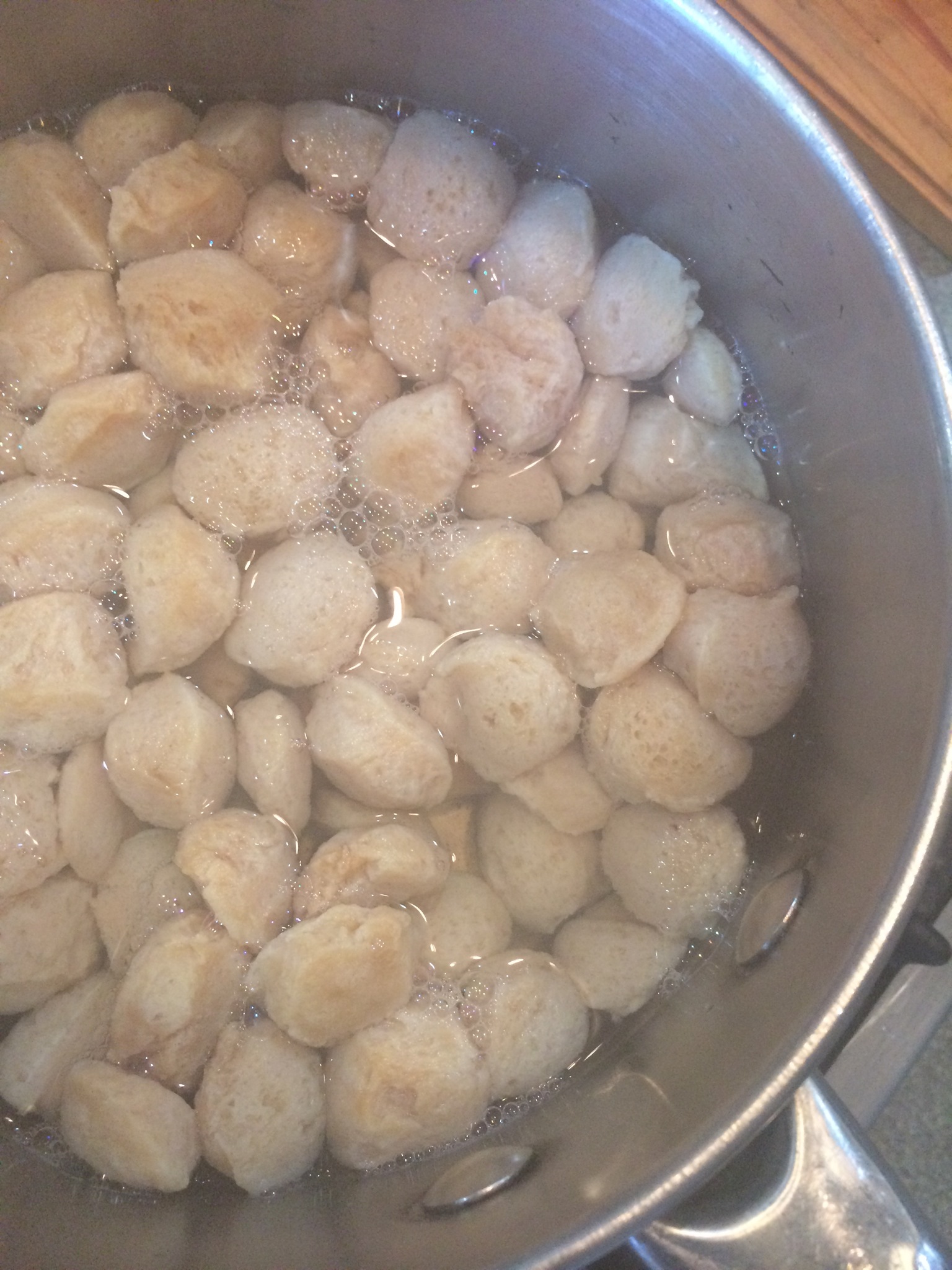 Soy Nuggets after been soaked for 15 minutes.
Making the Garlic Brown Sauce with ready Nuggets :
Heat the oil in sauté pan. Once the oil is hot, reduce the flame to lower medium. Add dry red chillies, garlic and ginger. Sauté on lowest flame till garlic turns golden. Don't burn it.

Now add chopped bell pepper and onion squares to the pan. Sauté on medium flame for 3-4 minutes. Add Soy Nuggets and sauté for another minute.

Add soy sauce, vinegar and sugar to the diluted Cornflour mix and stir together. Pour this mixture to the sauté pan. Keep the flame low at this point. Add 1 cup of water and salt and black pepper to it. Bring it to a boil and then some me for 2 to 3 minutes while covered with a lid.

Your delicious semi dry side dish is ready. You may serve it as a starter too by making a thicker sauce. Or serve it with Steamed Rice and enjoy a wholesome meal.
Sonal