Urad Dal Wadi – Hara Chholiya Curry
As an Amazon Associate and member of other affiliate programs, I earn from qualifying purchases.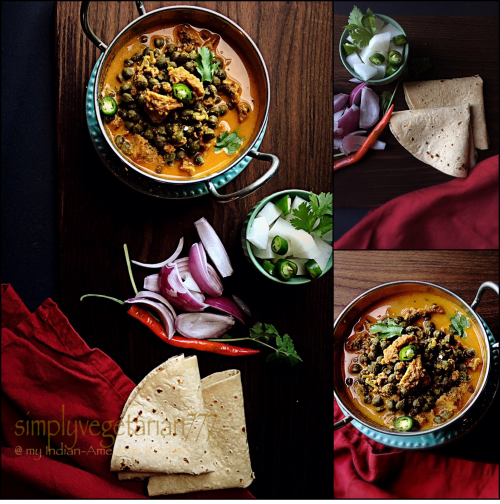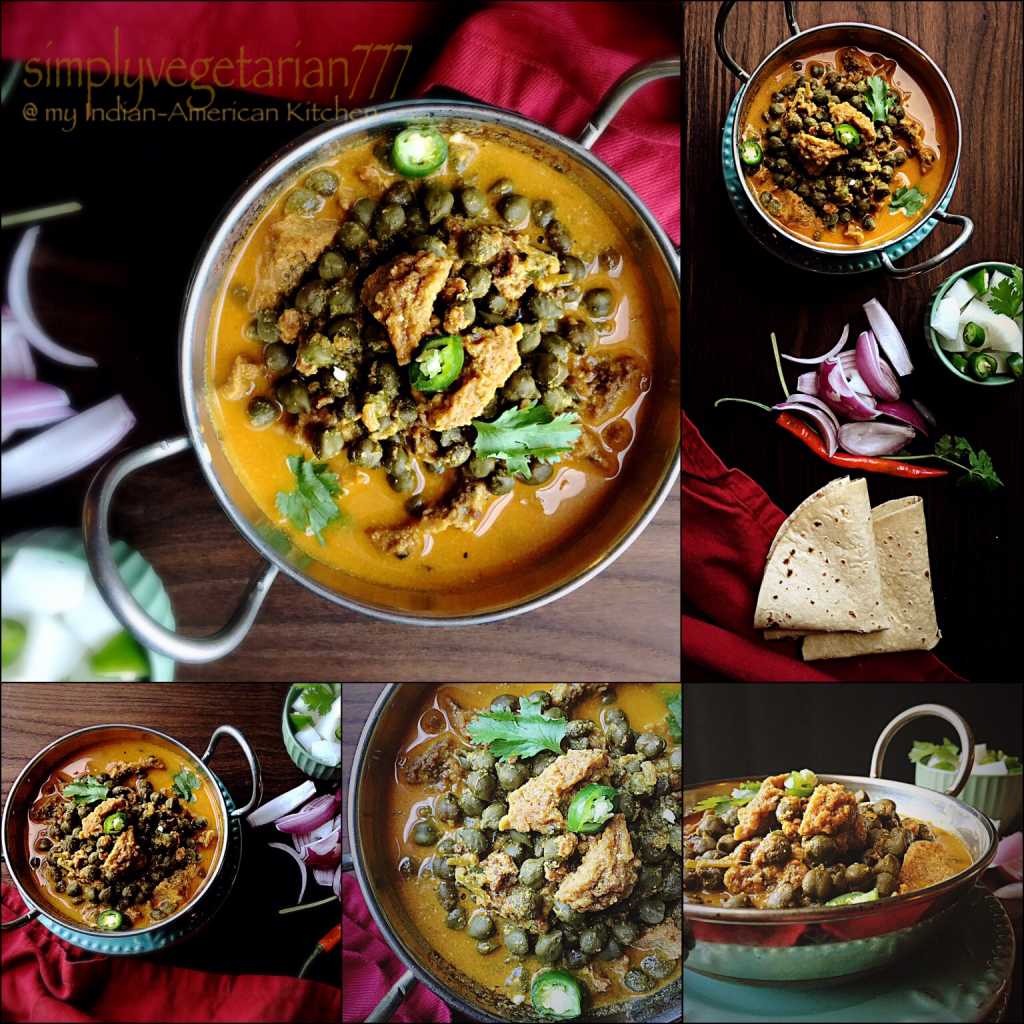 Urad Dal Wadi = Dry Nuggets made with Urad Dal & Spices.
Hara Chholiya = Green Chickpea or Gram (which is further dried to be known as Black gram or Kala Chana)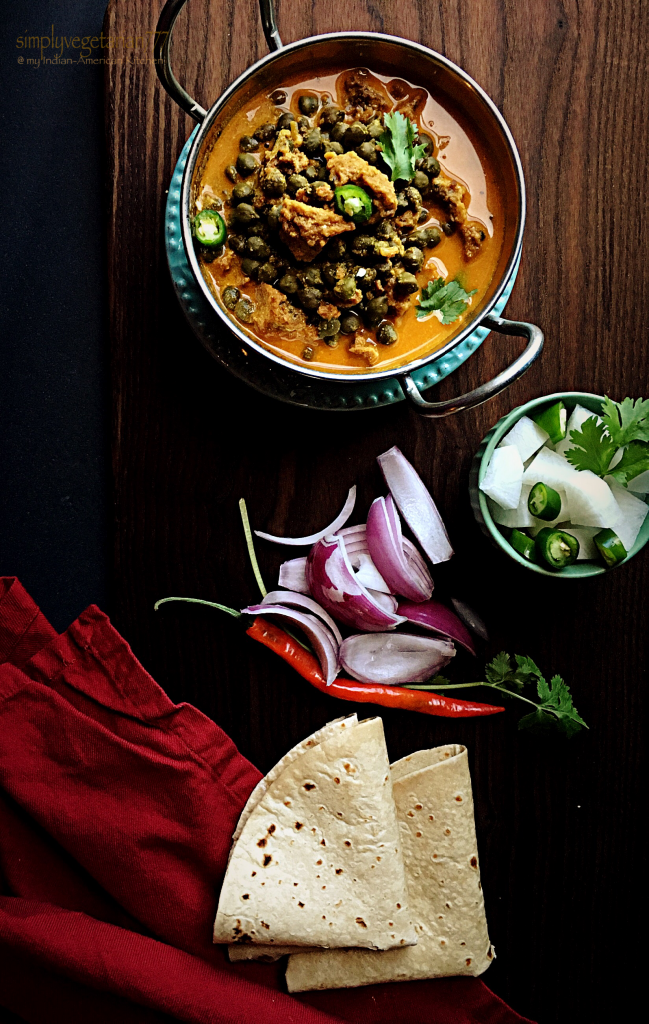 This is a heirloom recipe, passed on from my Nani (maternal grandmother) to my mum and then to me and then I adapted it a bit further. A completely delicious meal without the use of any onion or garlic.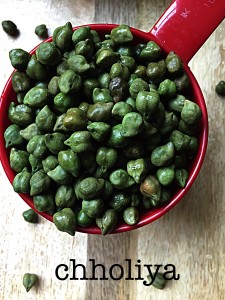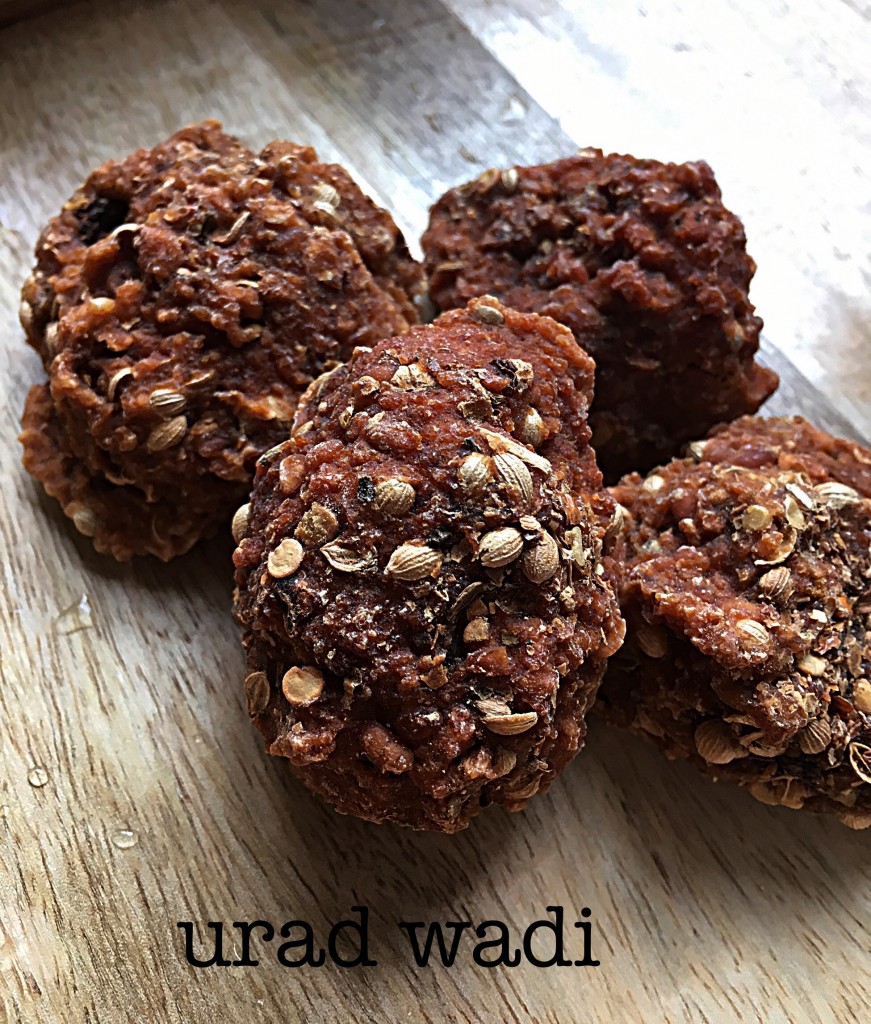 I have strong memories from my childhood of cold winter noons. We would visit Nani's house (maternal grandmother) during winter break. A street vendor on bicycle would go house to house and sell the fresh Chholiya crop. My nani would buy these fresh crops and all of us would sit outside in verandah after lunch and peel the Chholiya pods and pick the green chickpeas out. So many were lost in our mouth while peeling since they were tender and sweet 😀. Nani would always say, leave them alone, I have to make the sabzi (curry) with it, but we would keep gobbling up! 😂
This is how it looks as crop and then in the pod!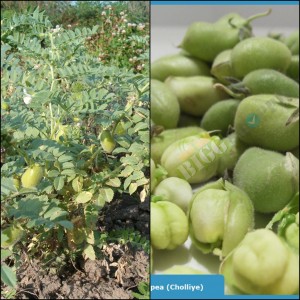 Image Source – Google
Such golden afternoons and such golden memories! Priceless! Those times won't come back again. I have moved to USA where I don't get the fresh crop but do get it in frozen packets. World has become accessible these days and I can't be more thankful !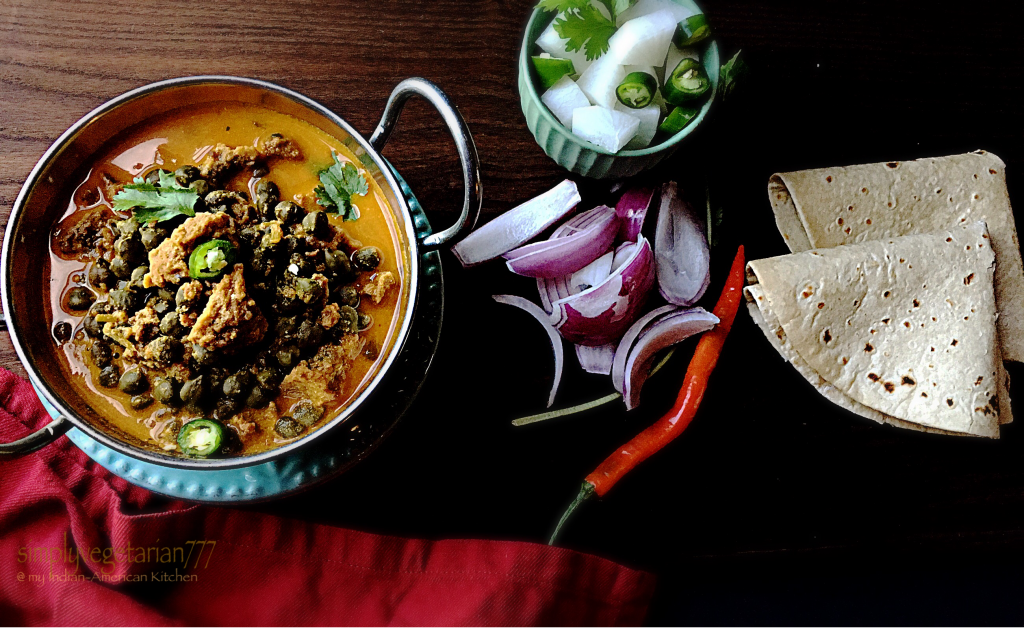 Hot and delicious curry served with hot rotis, is just what one craves on a winter afternoon!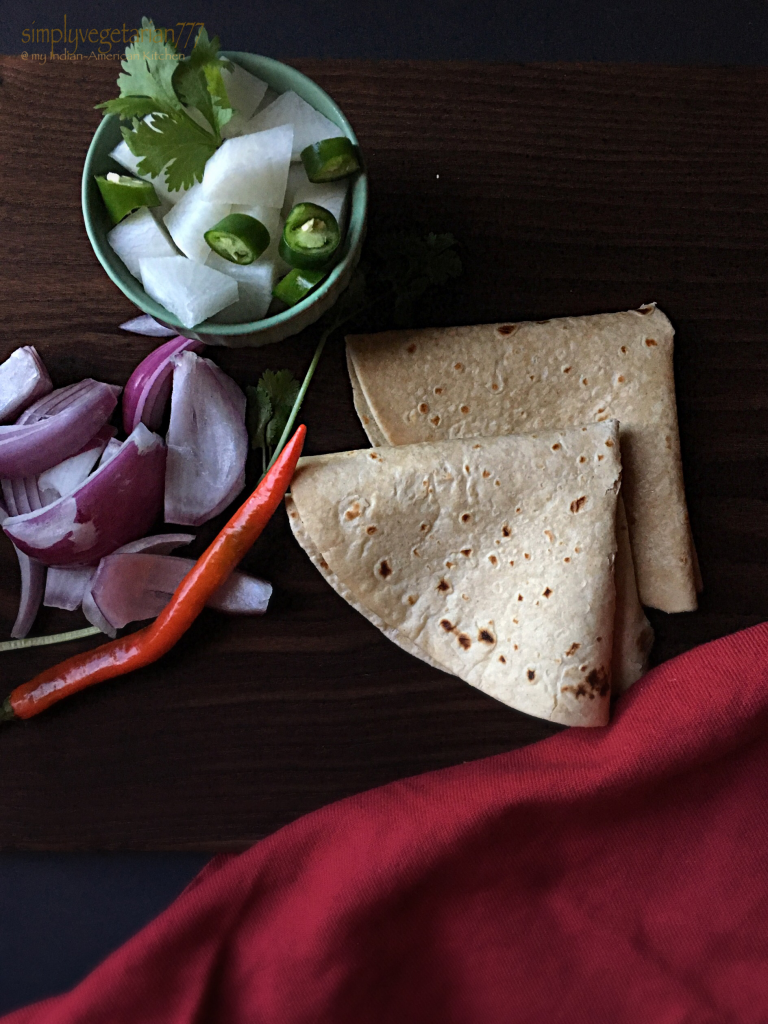 The texture of wadis cannot be described, unless tasted. These are spices heavily and then dried. When sautéed in oil/ghee and cooked in a curry, their texture is chewy, brittle, soft and bite ful- all at the same time.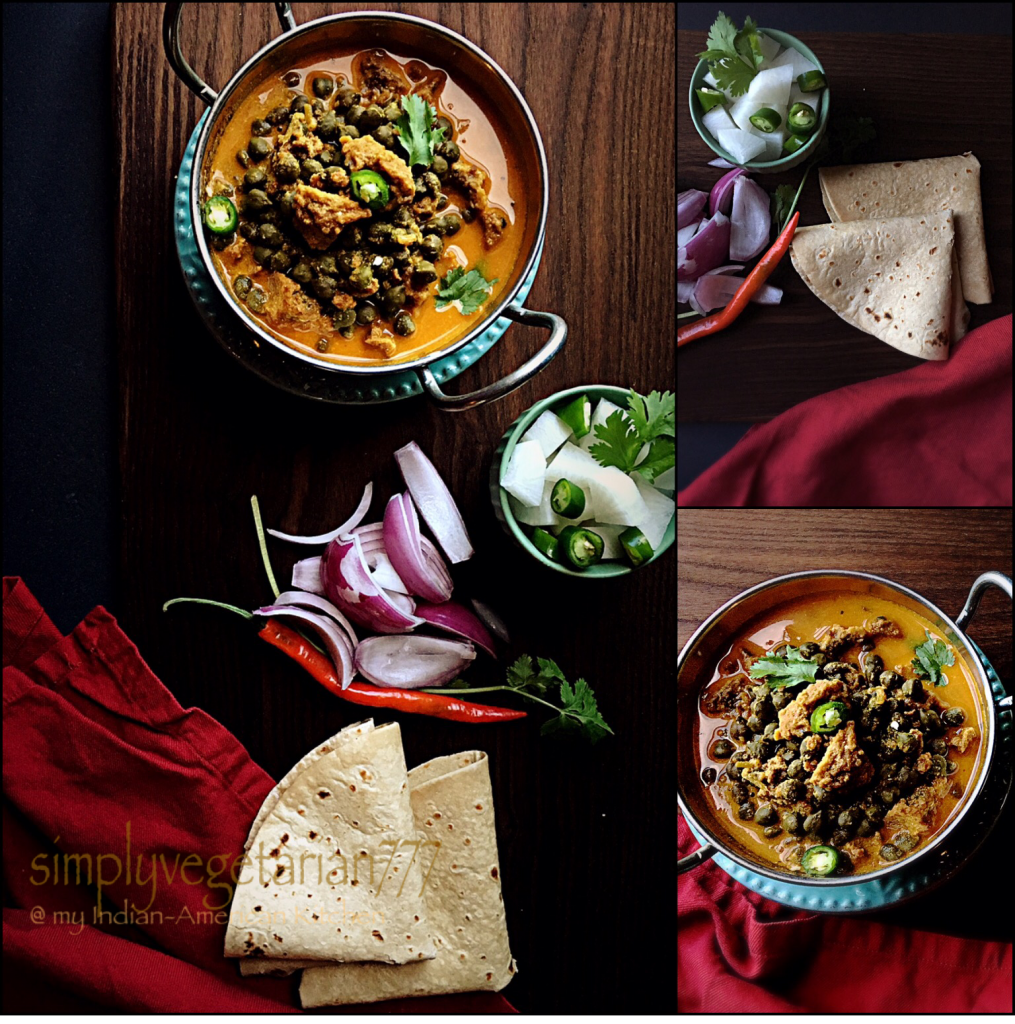 This is how I made it!
Urad Dal Wadi & Hara Chholiya Curry
Servings: 3
Difficulty: easy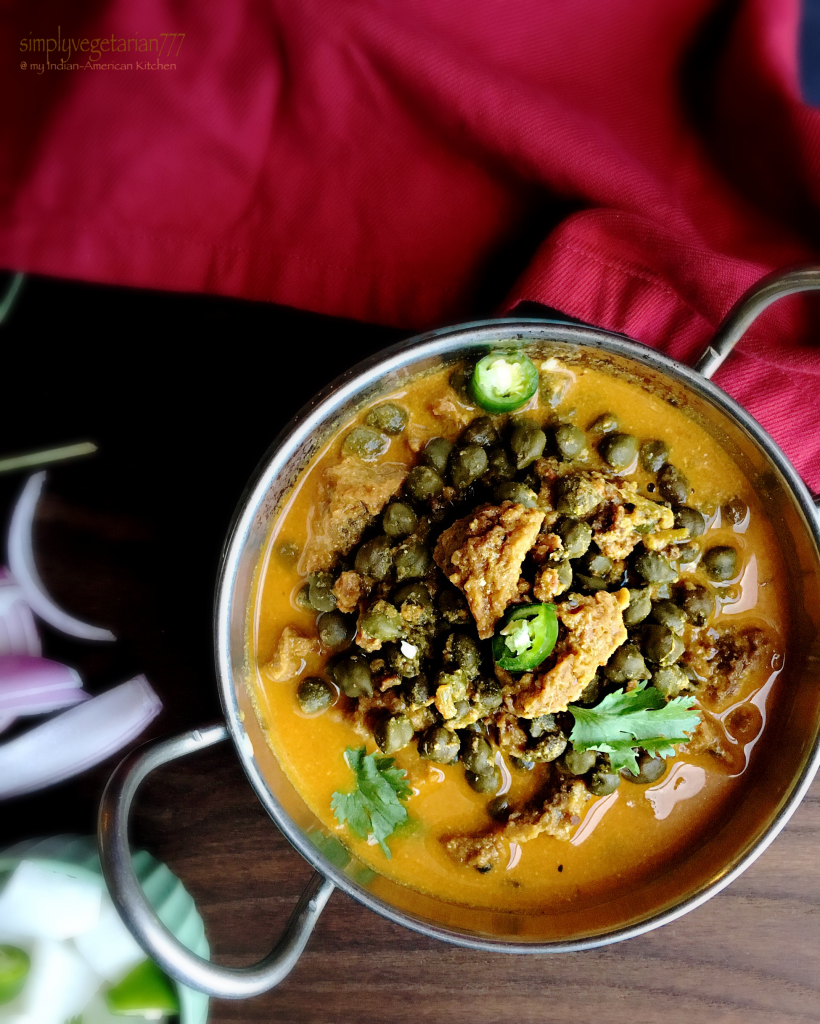 Kitchen Equipments Required
Chopping board, knife, sauce pan with lid or pressure cooker, stirring spoon, an extra bowl or plate.
Ingredients
Urad dal Wadi – 4
Hara Chholiya – 1 cup
Tomato – 1 small
Ginger – 1 small piece
Coriander leaves, chopped – 1 tbsp
Water – 2 cups
Yogurt/curd , whipped nicely  – 1/4 cup
Oil & Spices
Oil – 1/2tbsp + 1 tsp
Asafetida / Hing – a pinch
Coriander powder – 2 tsp
Turmeric – 1/4 tsp
Red chili powder – 1/2 tsp
Salt – To taste
Method
1. Heat 1/2 tbsp oil in the pan. Smash the Urad dal wadis in smaller pieces. Add to the oil and lower the flame. Sauté on low flame till they become crisp and golden. Don't burn them. Once done, take them out in a bowl.
2. Purée the tomato with ginger. Heat 1tsp of oil in the same pan. Add the tomato purée and other spices. Sauté and cook on medium flame for 3-4 minutes till there is no water left.
3. Now add the Hara Chholiya and crisp wadi to the pan. Toss well and add 2 cups of water along with chopped coriander leaves.  Cover with lid and cook till water is reduced to half and Hara Chholiya is tender. Switch off the flame.
4. Pour the beaten yogurt/curd to the pan and stir quickly. Serve immediately when warm with rotis and salad.
Notes
1. Always add the yogurt towards the end after switching off the flame. If you plan to serve it later then add the yogurt after reheating the dish and before serving.
2. If you are using the pressure cooker, then cook for 2 whistles.
Enjoy a typical desi khana from my Indian American kitchen in your Rasoi!
Have fun people! Make memories around the food!
Sonal
Another awesome Chholiya Curry by Shailja! Click on the picture to get the Paneer Chholiya Curry!