Vanilla & Fruit Perfect Pastry – Detailed recipe
As an Amazon Associate and member of other affiliate programs, I earn from qualifying purchases.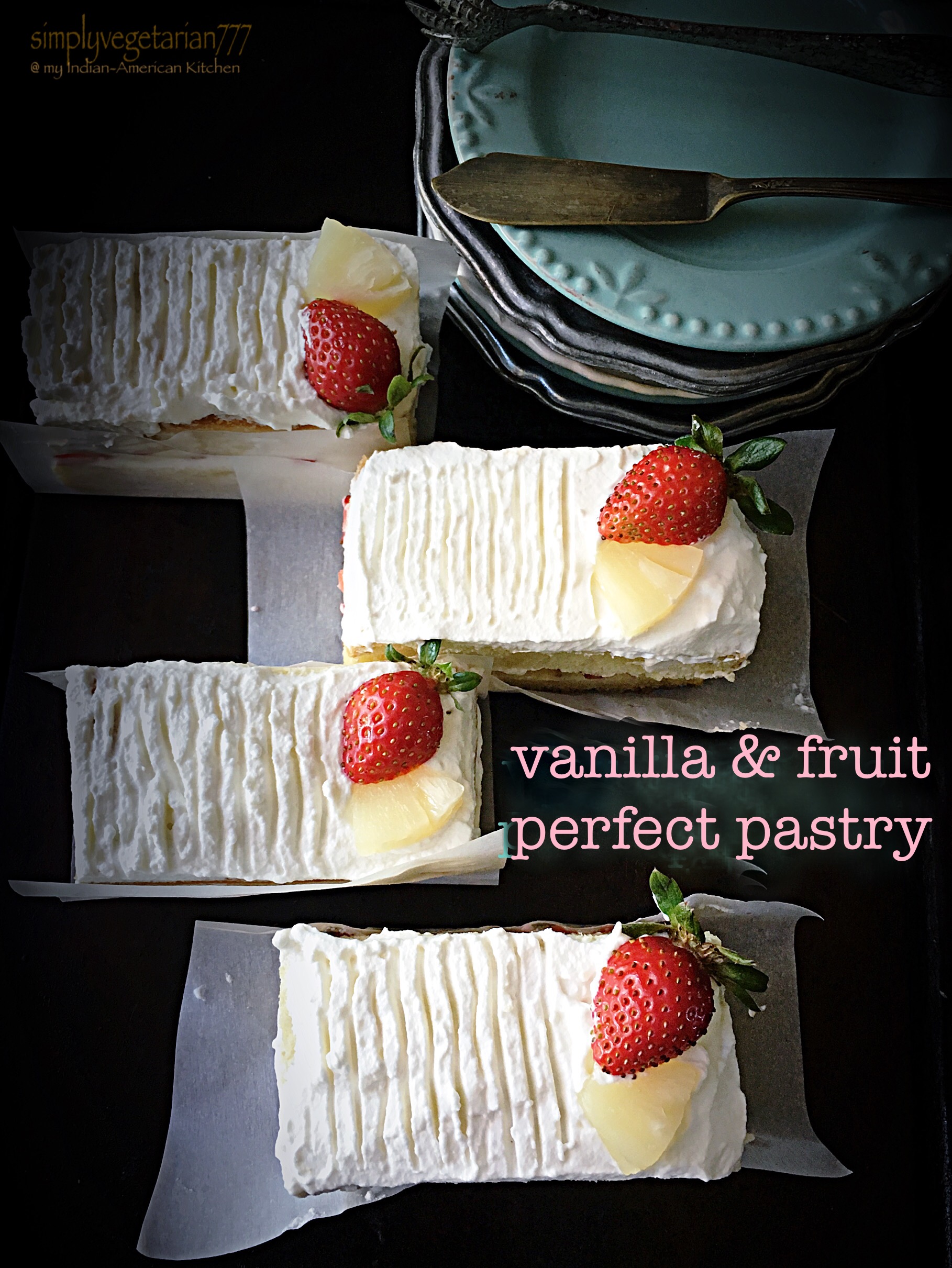 Vanilla & Fruit Perfect Pastry – Detailed recipe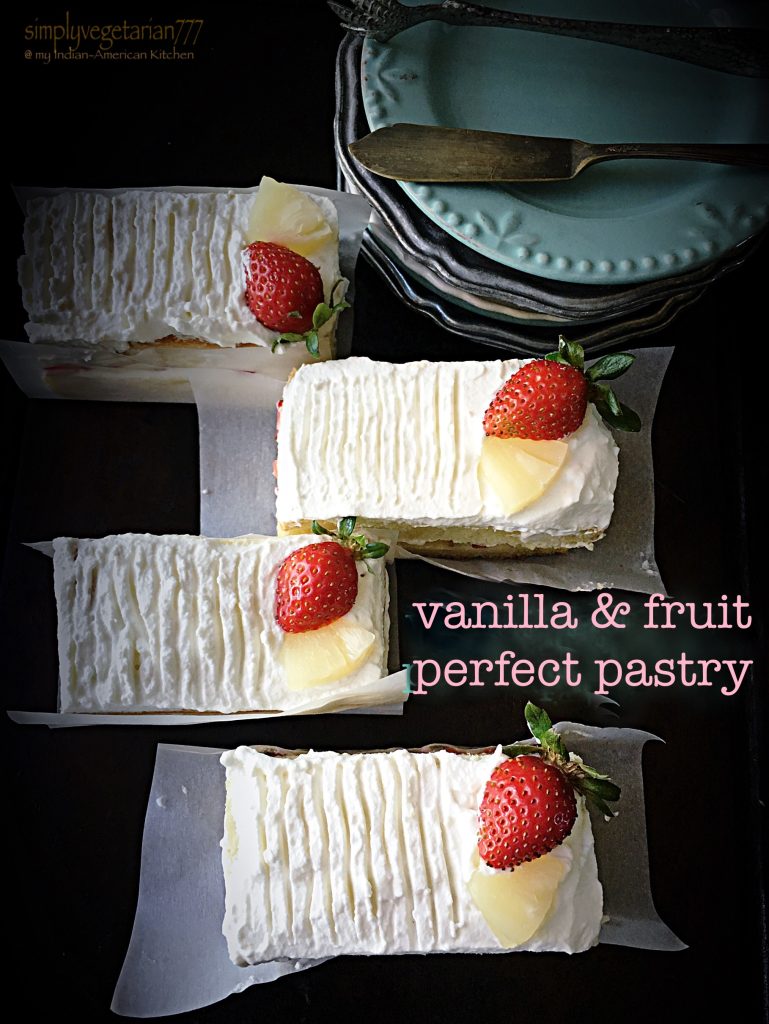 It was my oldest daughter's 12th birthday and she wanted me to bake her these pastries – Vanilla & Fruit Perfect Pastries. She loves these pastries. She wanted me to bake these for the whole crowd but I convinced her that I would bake these Vanilla & Fruit Pastries for her real birthday and will buy a cake from the store for her birthday celebration.
For the longest time, I have known, I have always struggled baking a perfect Vanilla Sponge Cake. A good recipe is hard to find. When Micky SIngh posted her "all time favorite and fool proof" recipe of a basic vanilla cake, I had to try it. I tried it with very slight changes and I have to say that I am not baking a vanilla cake any other way. Micky is just fantastic. She runs a food (primarily) group on facebook and it is always exploding with amazing creativity. Micky, herself is an accomplished baker. Her cakes and ice creams are to swoon over. This Vanilla Cake recipe, is adapted from hers and let me tell you people, this is a recipe to save.
I shall not waste any time on more talking in this post since this is a detailed recipe and is going to be long and informative post. A post that you would want to keep for reference.
Request – I have a request that please read this recipe and understand the detailed steps on your laptop or desktop. It will show better.
Making Whipped Cream Frosting for the Vanilla & Fruit Perfect Pastry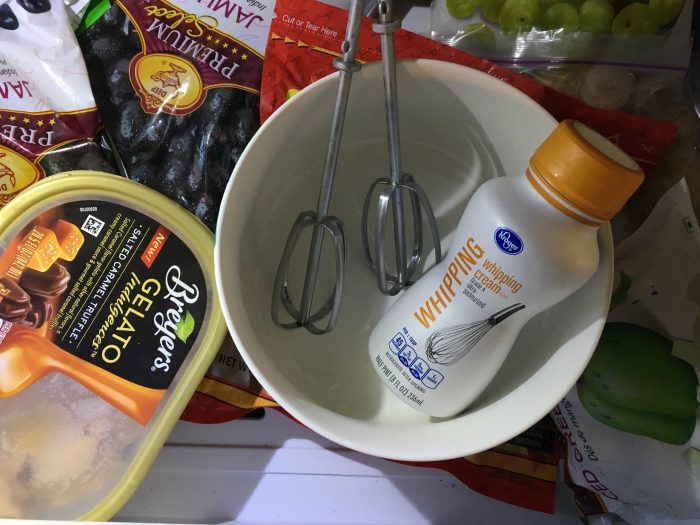 <—- This is an important step in getting the perfect whipped cream for icing any cake o cup cake.
Keep the heavy cream, the whipping blades and the bowl that you are going to use for whipping (preferably glass or steel or corelle) in the FREEZER for about 12-15 minutes. We want everything super chilled.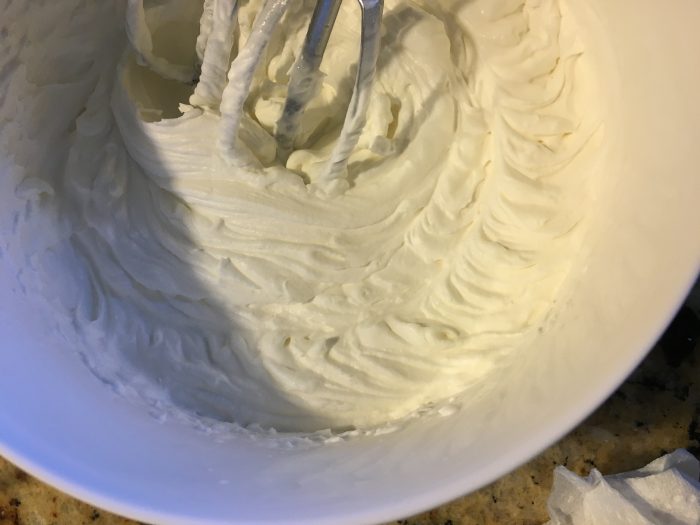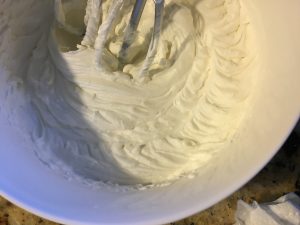 <——Start with whipping the cream+powdered sugar, with chilled blades in a chilled bowl, on a low speed. DO NOT start with high speed or your cream will be all over the place. Make sure that your bowl is deep. Whip on low speed for about 2 minutes till it thickens and comes together. Now whip on higher speed for another 3-4 minutes, till it starts making ribbon like tracks as shown in the picture. For better understanding, refer to Joy of Baking Video on Whipped Cream Frosting . <– Just click here.
Cutting and Getting the Cake Loaf ready for Vanilla & Fruit Perfect Pastry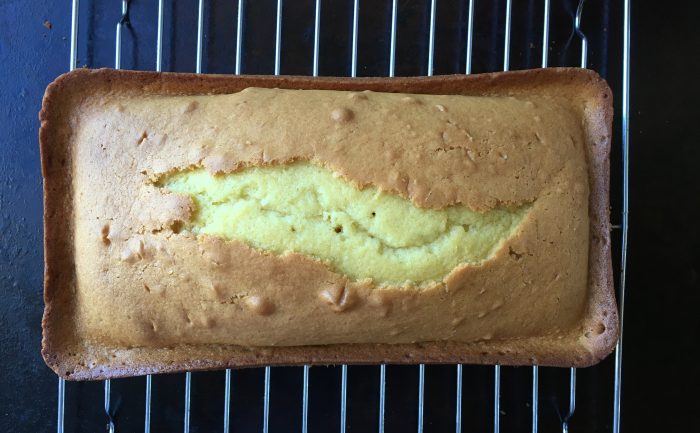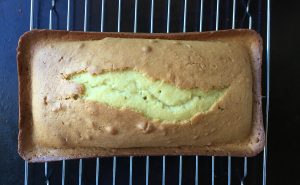 <———–Baked Vanilla Cake Loaf of about 9 inches in width, resting on the wire rack to cool down completely to the room temperature.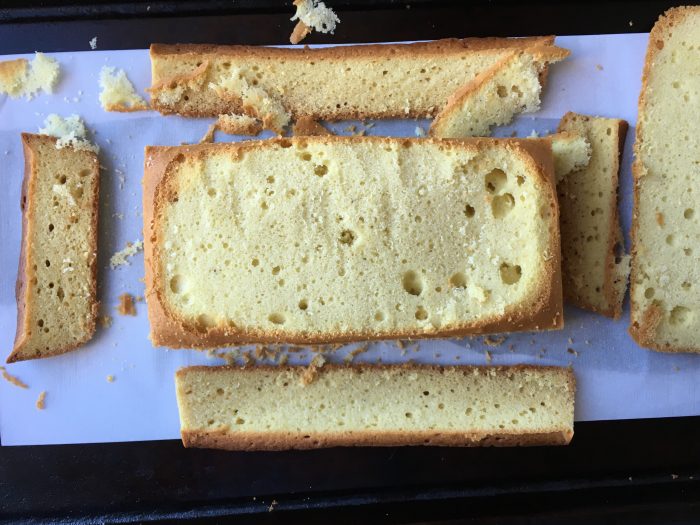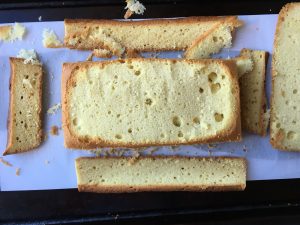 <——–The cake Loaf is trimmed from the sides and the top to make it an even rectangle. Do not trip too much. We are not looking for a perfect rectangle but a trimmed rectangle.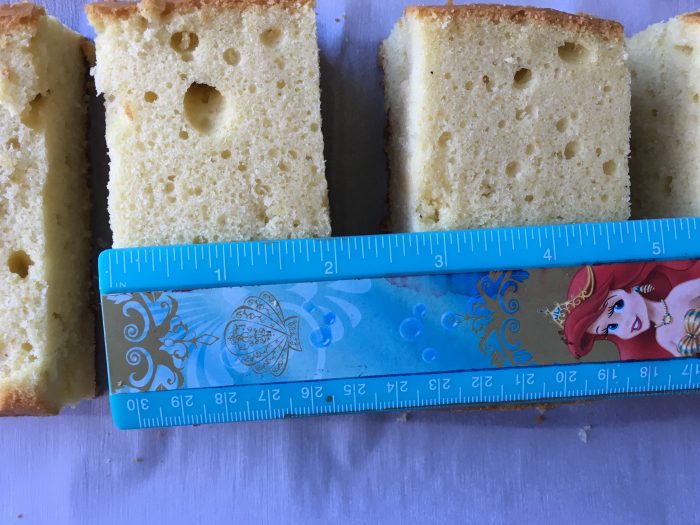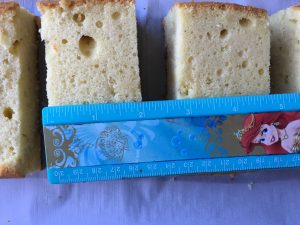 <——-It should be about 8 inches wide cake loaf after trimming the edges. Cut the loaf into 4 equal portions, width wise, of about 2 inches wide each.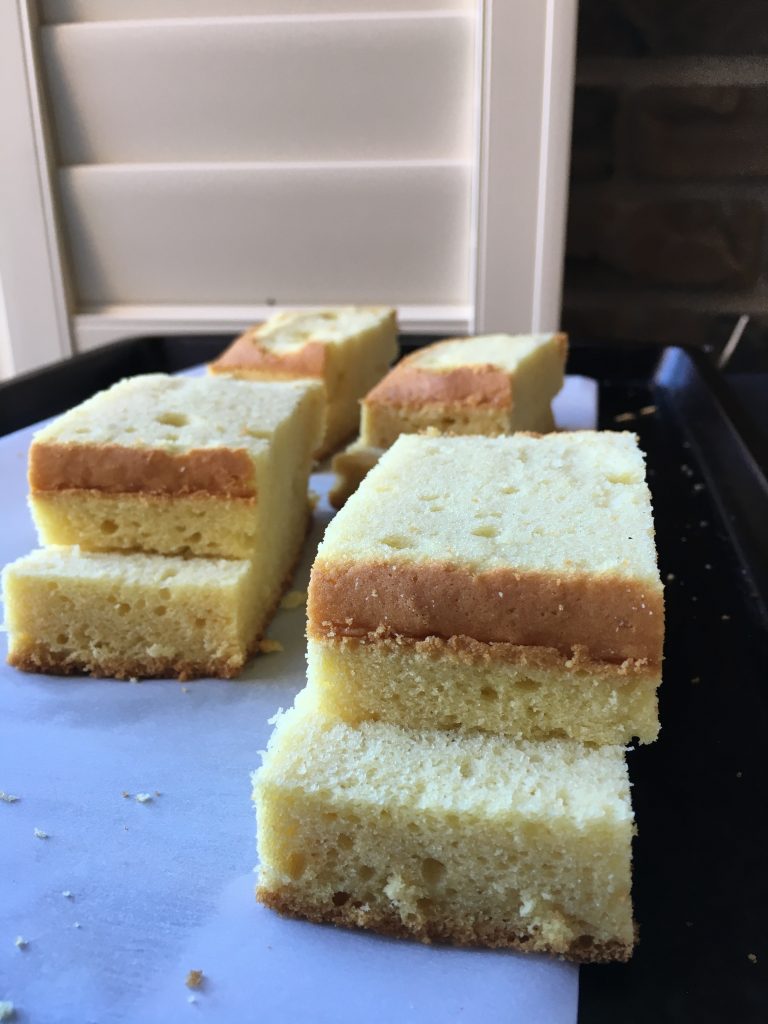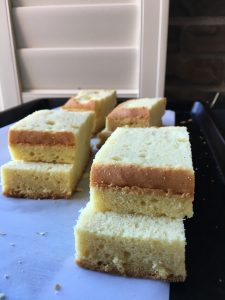 <—— Now slice each rectangular block into 2 equal slices. Each slice is approximately 3/4 inch long. The sliced cake pieces are ready to be assembled as pastries.
 

Turning the Cake Slices into Vanilla & Fruit Perfect Pastry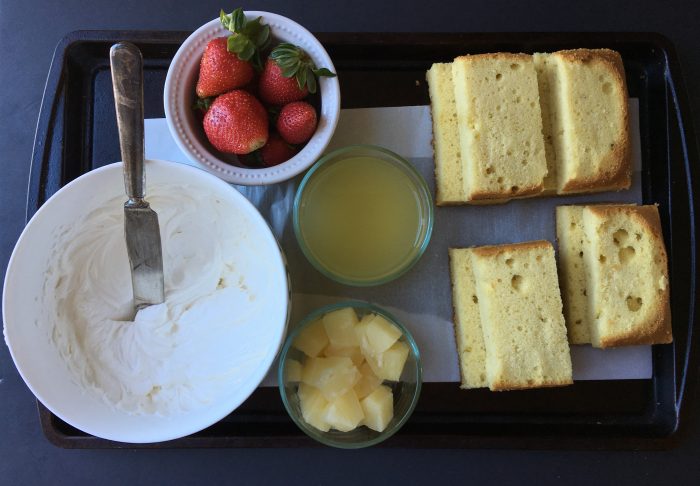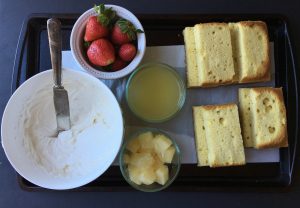 <——Assemble the ingredients for the pastry, which includes sliced cake loaf, whipped cream, strawberries, pineapple slices and pineapple juice.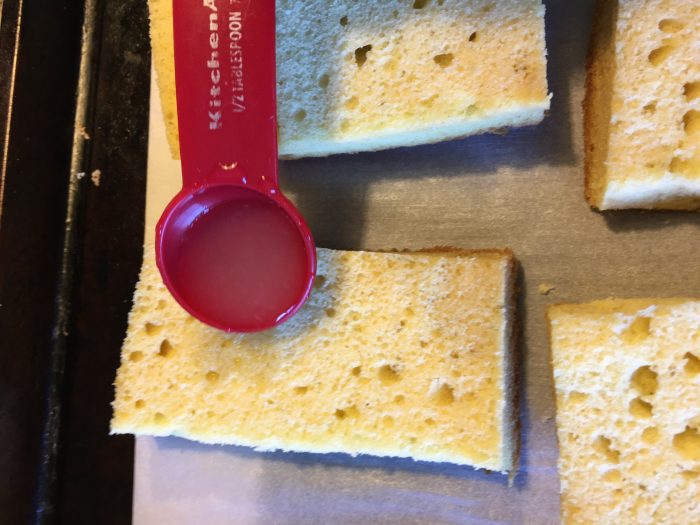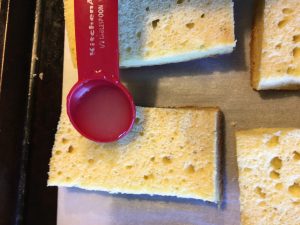 <—–Spread pineapple juice on top of all the slices. This will keep the cake moist and add the required fruit flavor to the pastry. This is an important step since, while icing a cake, the cake dries up and looses moisture and becomes crumbly. Therefore this is an important step. In case you do not want to add pineapple juice, then you may moisten the cake with milk (add sugar to the milk).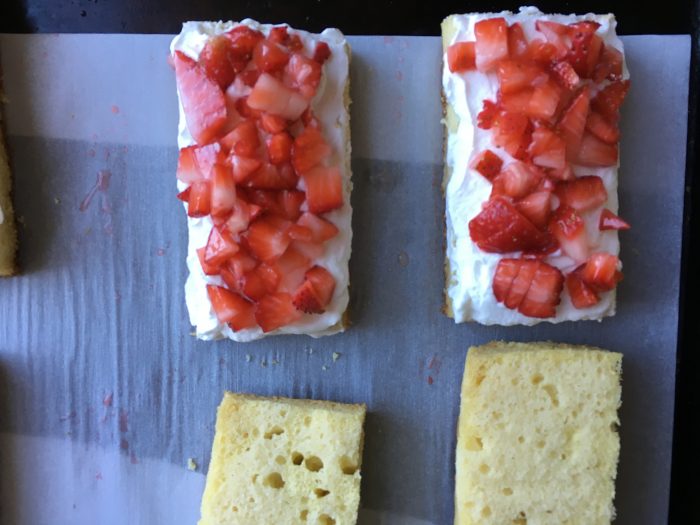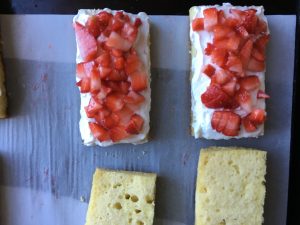 <——Prepare the strawberries by chopping them into fine pieces and tossing them with 1 Tbsp of powdered sugar.
Take the bottom slice of the cake. Spread a thick layer of the whipped cream on each bottom slice. Top with chopped sweet strawberries.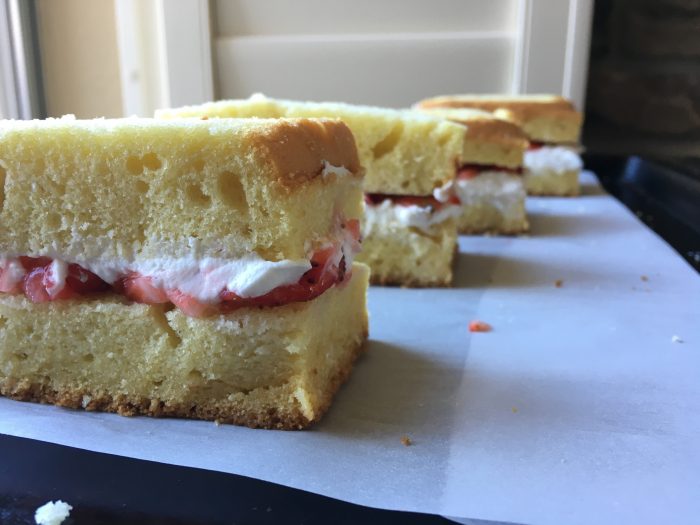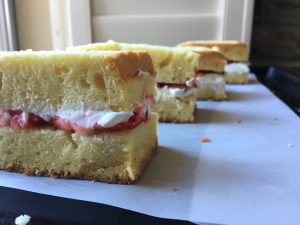 <——Place the top slices of the cake on the prepared bottom slices.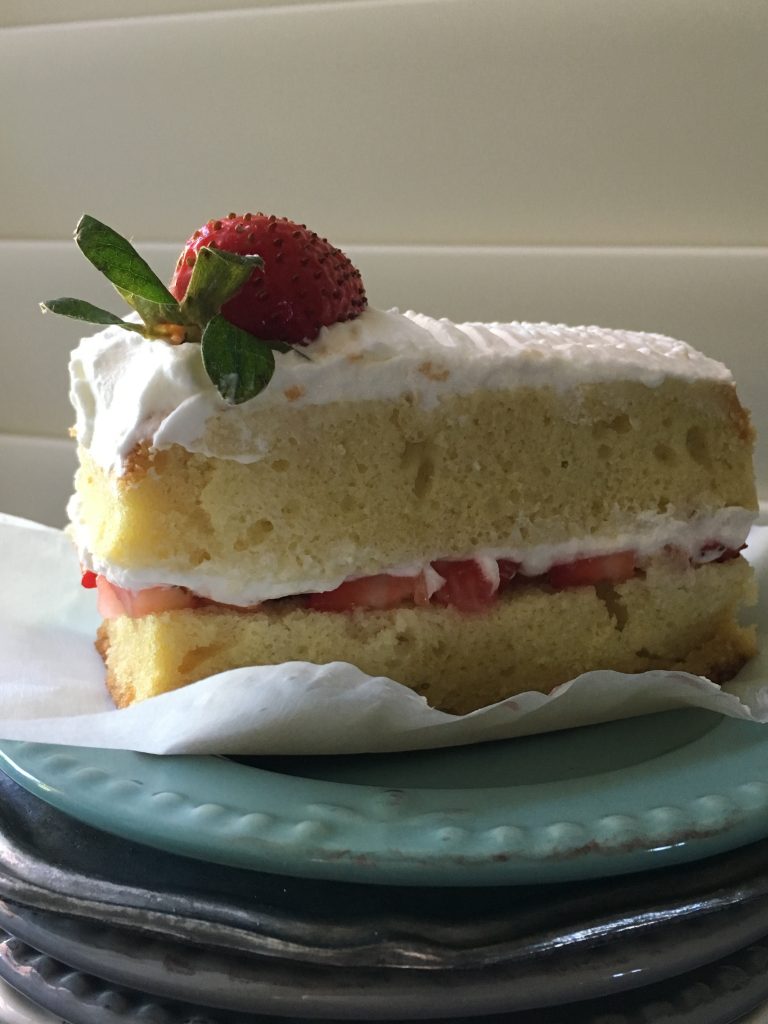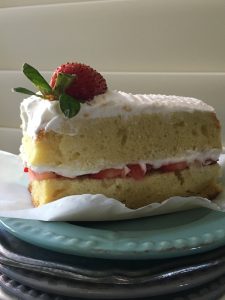 <——-Keep the cake moist by adding more liquid if required. Now apply a thick layer of whipped cream on the top cake slices. Apply such that it is an even layer, covering any irregular bumps on top or sides, if any. Place pineapple and strawberry slices on one side of the pastry. The lines that you see on top of the pastry, are created by a simple fork. It is that easy. No piping or icing equipment required. The pastry is ready. To make sure that it is handled nicely without breaking or dropping, I would advise you to cut 4 rectangles out of butter or parchment paper, slightly wider than the pastry. Place each pastry in the middle of the paper and bring the paper up slightly covering the sides. This is called – easy and clean handling.
Now moving on to the ingredients and measurements required to make the pastries.
Vanilla & Fruit Perfect Pastry - Detailed recipe
Detailed Recipe to make Vanilla & Fruit Pastry at home.
Ingredients
Vanilla Cake / Pastry Ingredients
All purpose flour / Maida - 1 cup

Baking powder - 1/2 tsp

Baking soda - 1/2 tsp

Heavy Cream / Malai - 1 cup

Castor sugar - 3/4 cup

Eggs - 3

at room temperature

Vanilla Essence - 1 tsp or 1 vanilla bean scraped
Whipped Cream Frosting
Heavy Cream - 1 cup

Powdered Sugar - 1&1/2 tbsp

Vanilla Essence - 1/2 tsp
Other Pastry Ingredients
Strawberries - 1/2 cup

chopped fine tossed in 1 tbsp powdered sugar

Pineapple slices - few small

Pineapple Juice - 1/4 cup or 1/4 cup mix of cold milk + 1 tbsp powdered sugar
Instructions
Cake Recipe
Preheat the oven at 350*F/180*C. Prepare a 9 inches wide cake loaf pan by greasing it nicely with butter from all the sides.

Sift together flour, baking powder, baking soda. Set aside.

Blend together the powdered sugar + heavy cream + vanilla essence and beat for about 2 minutes on medium speed.

Add the eggs one at a time and blend for another 3 minutes.

Fold in the all purpose flour/maida with a fork or spatula, till well incorporated .

Pour into the well greased cake loaf pan, level it out with a butter knife and bake for 30-35 minutes, till the tooth pick comes out clean .

Take it out of the oven. Let it rest for 5-7 minutes in the pan. Then run a knife lightly around the edges. Turn it out gently and set on the cooling rack to cool at the room temperature. Let it cool completely.
Making the Whipped Cream Frosting
Chill these in the freezer for 12-15 minutes - the bowl that you will whip the heavy cream in, the whisk or the blades of electric beater and the heavy cream.

Now take out all of these from the freezer. Add heavy cream and powdered sugar to the chilled bowl. Beat on low speed for about 2 minutes and then beat further for 3 minutes till the cream starts making ribbon like tracks. Refer to the video link posted above.

You can prepare the frosting beforehand and refrigerate till ready to use.
Creating the Vanilla & Fruits Pastry
Trim the cooled cake loaf from the edges and top to get a clean rectangular loaf. Do not over trim. After trimming, it will be about 8 inches wide.

Cut the cake loaf into 4 equal portions, of about 2 inches wide each.

Now slice each cake piece into 2 equal slices horizontally.

Pour good amount of pineapple juice or sweetened milk over all the pieces to avoid drying of the cake.

Apply a thick layer of whipped cream on each bottom layer.

Top with chopped strawberries.

Place the top slices of the cake. Spread thick & even layer of whipped cream frosting evenly on the top slices.

Place strawberries and pineapple slices on top.
Handling the pastries
These are dainty pastries, so to avoid dropping or smudging, do this - cut 4 rectangles of butter/parchment paper, bigger than the pastry size and place each pastry in the middle of the paper. Carefully lift from the side and place in a cake box and refrigerate till ready to use.
Notes
You may other fruits like kiwi and other berries.
You may add fruit jam in the middle layer instead of whipped cream frosting.
There are so many possibilities with this basic recipe.
I am sure you are gonna love it. I am not a baking guru or rather very amateurish when it comes to baking. I say so to let you know that if I could make it, then so can you :).
Make this Fruit Pastry this weekend and have a blessed family time.
Eat Happy! Stay Happy!
Taking these pastries to Angie's Fiesta Friday, co-hosted by Ahila and Diann. Also, taking this to Throwback Thursdays.
Sonal