Weeknight Quick Soft Taco Meal : A 30 minute meal
As an Amazon Associate and member of other affiliate programs, I earn from qualifying purchases.
I am so glad that I keep the cans of dried cooked beans handy for the nights like today. Another week night with kids' extra curricular activities, homework and tests preparation for the next day. The dinner was the last thing on my mind, so I thought of picking from Taco Bell while returning home. Nope, I didn't prepare in advance. Why? Because today wasn't the mood ;). After I finished running errands, instead of turning to Taco Bell, I rushed back home. I knew I had Pinto Canned Beans and some flour tortillas handy. I always keep few thing handy like :
Canned Beans, mostly pinto, red kidney, Black beans, garbanzo or chickpeas, navy or butter beans and a tri blend for soups.Also, I always have canned baby corns, chestnuts and coconut milk.
Tacos or flour Tortillas
Some kind of Bread
Canned Tomatoes
Must Have Vegetables and Fruits are Tomatoes, Onions, Garlic, Ginger, Cilantro, Green Chilies, Lime or Lemon, Bell Peppers, Carrots, Apple, Banana, Oranges, some kind of Green are staple on my shopping list along with few picks of the week vegetables and fruits.
Frozen broccoli, spinach, Peas, Corn Kernels, Okra, Asian Stir fry mix make another category of my must haves.
Few Spices like Indian spices of turmeric, Coriander powder, cumin, red chili powder, cinnamon, bay leaf, cardamom, cloves, black pepper corns are must. Along with it I always have dried oregano, basil, lemongrass, paprika, dried onion flakes, garlic powder, thyme, rosemary, black pepper powder, mustard seeds etc.
Some Condiments that make to my fridge and pantry are : soy sauce, chili sauce, sriracha sauce, kind of fruit chutney, ketchup, worcestershire sauce, distilled and balsamic vinegar, oil, Green and Red thai curry paste. Some kind of Salsa or Hummus, Readymade or home made sits there to be used as desired.
Phew! Did I tire you out? That was not the plan. But thinking loud I guess. Never mind! Ignore me if that was bother some. But this is how I rescue myself from no time weeknights to Edible something.
Don't go on my photography this time. It sucks big way for this post but I had to get it out since the idea behind the works is quite noble :).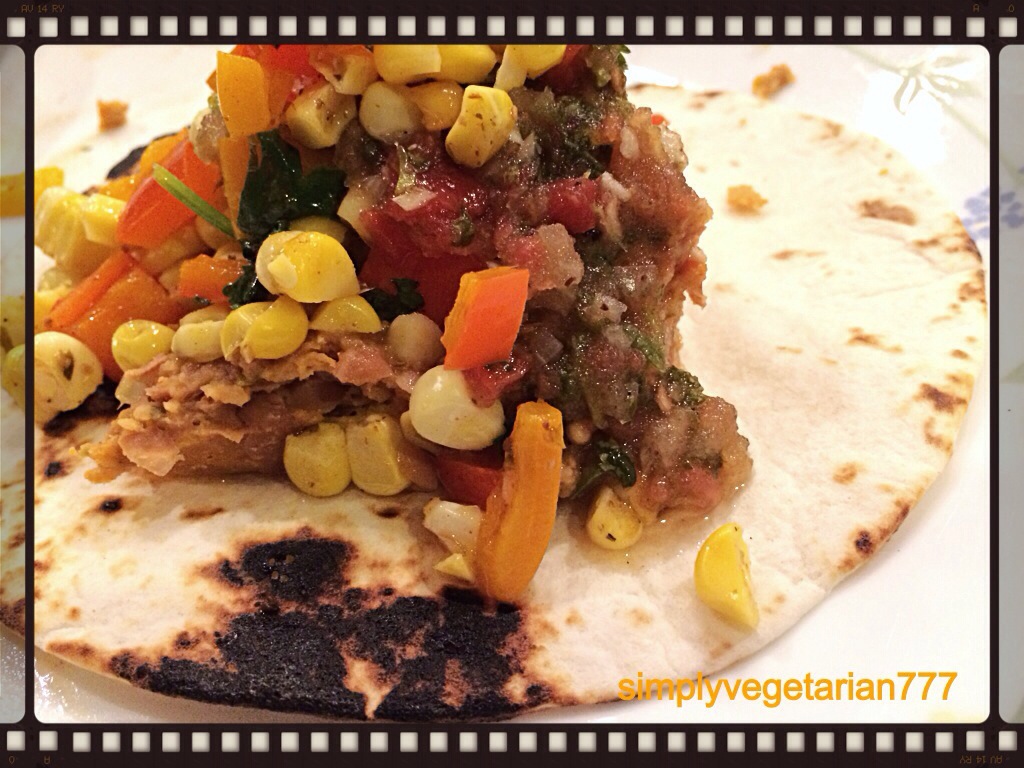 Believe me, it was super tasty. Though the picture doesn't tell the story..Argh! My kids actually couldn't stop saying, "Mom, you are the best cook in the world!" Anything for those brownie points from my little darlings :).
Again no proper proprtions but throwing an idea for that brain raking. Sometimes, that is all we need.
Ingredients :
Flour Tortillas
Salsa or *Pico de Gallo ( Recipes Below)
Guacamole or Sour Curd or Hung Curd
Grated Cheese
*Refried Beans ( Instant Recipe below)
*Corn and Bell pepper Salad
Hot Sauce
Method :
Warm the Tortillas. Top with Refried Beans and salsas. Add hot sauce and Cheese. Roll and eat. A wholesome and flavorful meal, under 30 minutes.
*Few Important Recipes
Pico De Gallo : : 5-7 minutes
Ingredients :
Tomatoes – 1 medium , I used 5-6 colorful cherry tomatoes for more color.
Onion – 1/2 medium
Jalapeño – 1″ piece, de seeded
Lime juice – 1/2 lime or use vinegar
Cumin powder – 1/4 tsp
Salt – to taste
Fresh cilantro – handful
Method :
Chop everything fine and mix well with a fork. Let it sit for sometime. Adjust the salt and heat quotient as per your taste. Another great side for your grilled options and of course chips :).
Instant Refried Beans : 10-15 minutes from prep to finish.
Ingredients :
Oil : 1/2 tbsp
Pinto Beans : 2 cans of 16 oz each. You may use Red kidney beans instead or Black beans too.
Tomato : 1 medium puréed in food processor
Green chili or jalapeño : 1 small or 1/8 – 1/4 tsp
Onion : 1/4 cup chopped fine
Garlic : 3 pods
Dried Oregano : 1/2 tbsp
Cumin powder : 1/2 tbsp
Salt to taste
Red paprika or chili powder : to taste or 1/8 to 1/4 tsp
Method :
Crush tomato and onions in food processor along with chili and garlic.
Heat oil in pan. Add tomato and onion paste.cook till water is evaporated. Add all the seasoning and cook for 1-2 minutes.
Meanwhile process the beans in food processor, just crisp them coarsely,not paste consistency.
Add the coarsely processed beans to tomato onion reduction and add 1/2 cup water. Add salt to taste. Cook on simmer for 8-10 minutes. All done.
Instant Corn and Pepper Salad : 5-7 minutes.
Ingredients :
Oil : 1 tsp
Frozen corns : 1&1/4 cup
Bell peppers : 3/4 cup
Cilantro leaves : 3 tbsp
Cumin powder : 1 tsp
Lime or lemon juice : 1 tbsp
Salt and black pepper to taste
Method :
Heat oil in pan.
Add corn and bell peppers. Toss the spices. Mix well. Cover and cook for 3-5 minutes. Take off the gas stove. Add chopped cilantro leaves and Squeeze Lime juice. All done! A perfect accompaniment for chips. Can be enjoyed as is like a salad.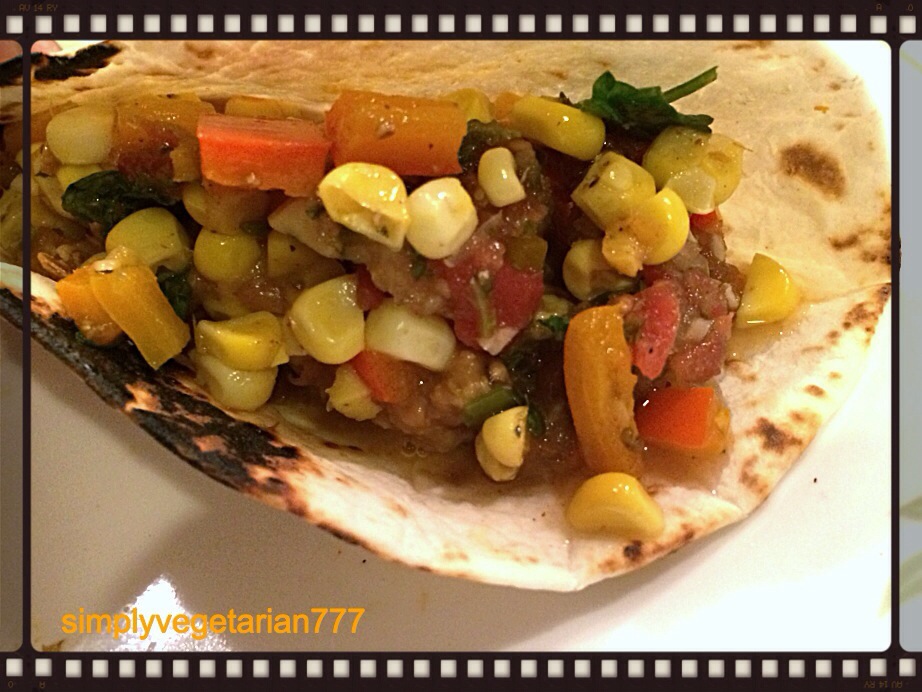 You may use the accompaniments ready made as well. I normally keep fresh salsa or guacamole at home and sometimes buy it.
A great restaurant style salsa recipe is coming up soon!