Aam Papad or Mango Fruit Leather Strips
As an Amazon Associate and member of other affiliate programs, I earn from qualifying purchases.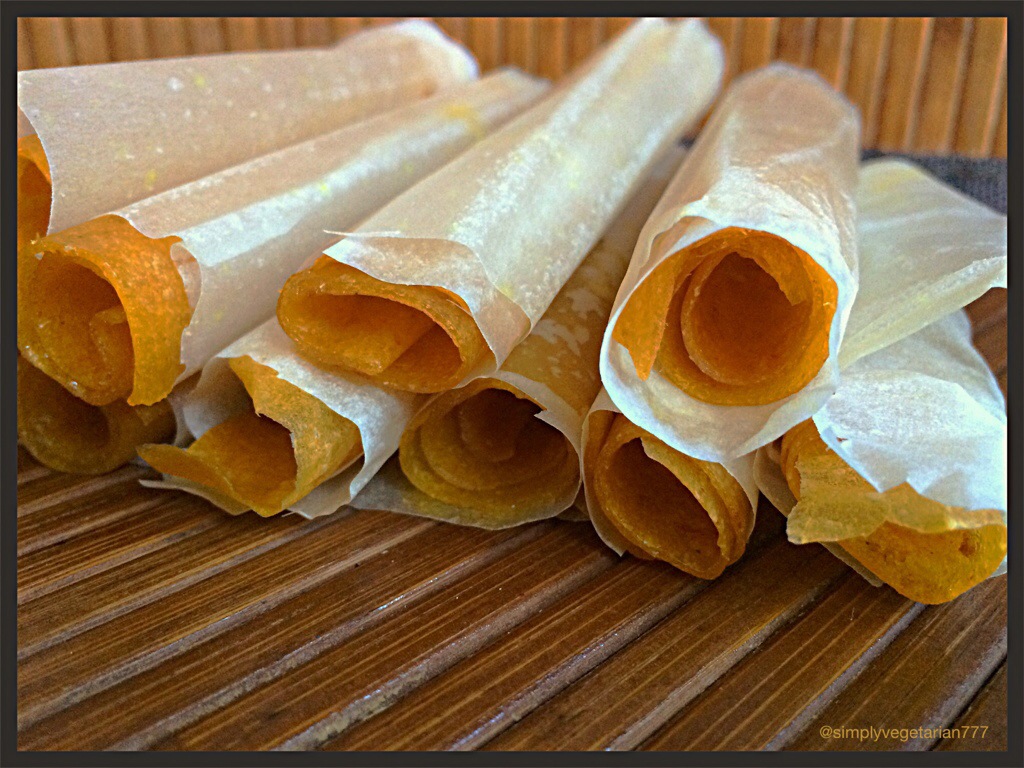 Aam Papad, spicy, tangy and simply yum!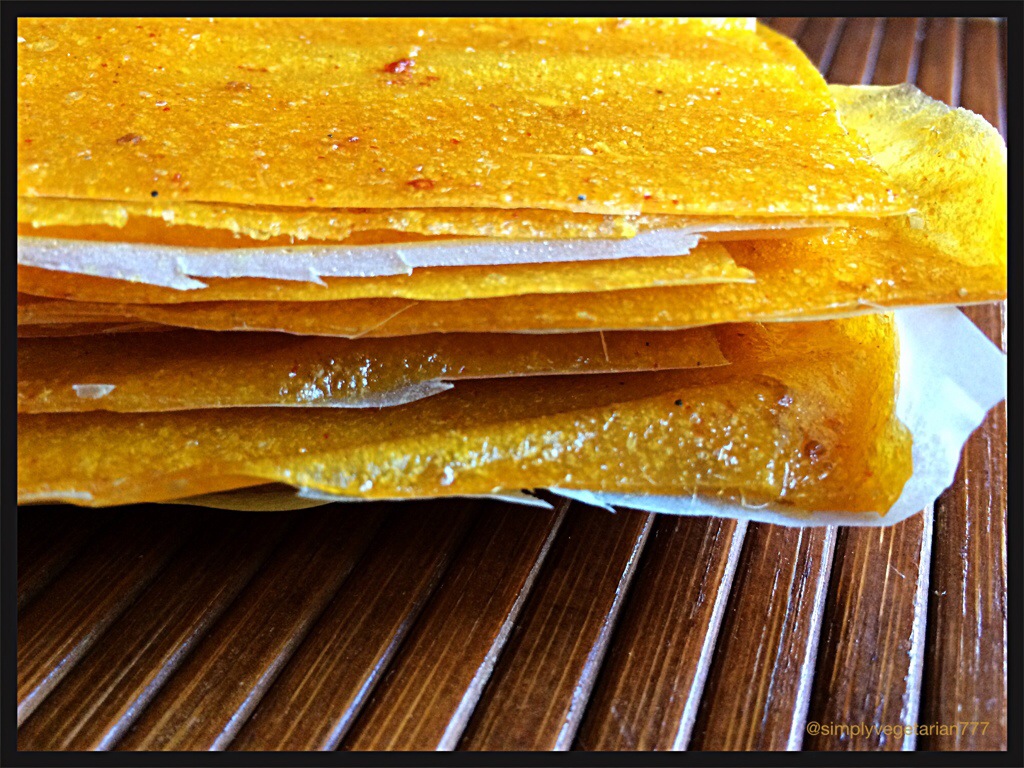 Pure, no artificial colors, no preservatives, no impurities !
Aditi and Nikhil of Confused Bawarchis fame had posted the Spicy Mango and Peppery Strawberry fruit roll ups, few days ago and they had stuck in my mind !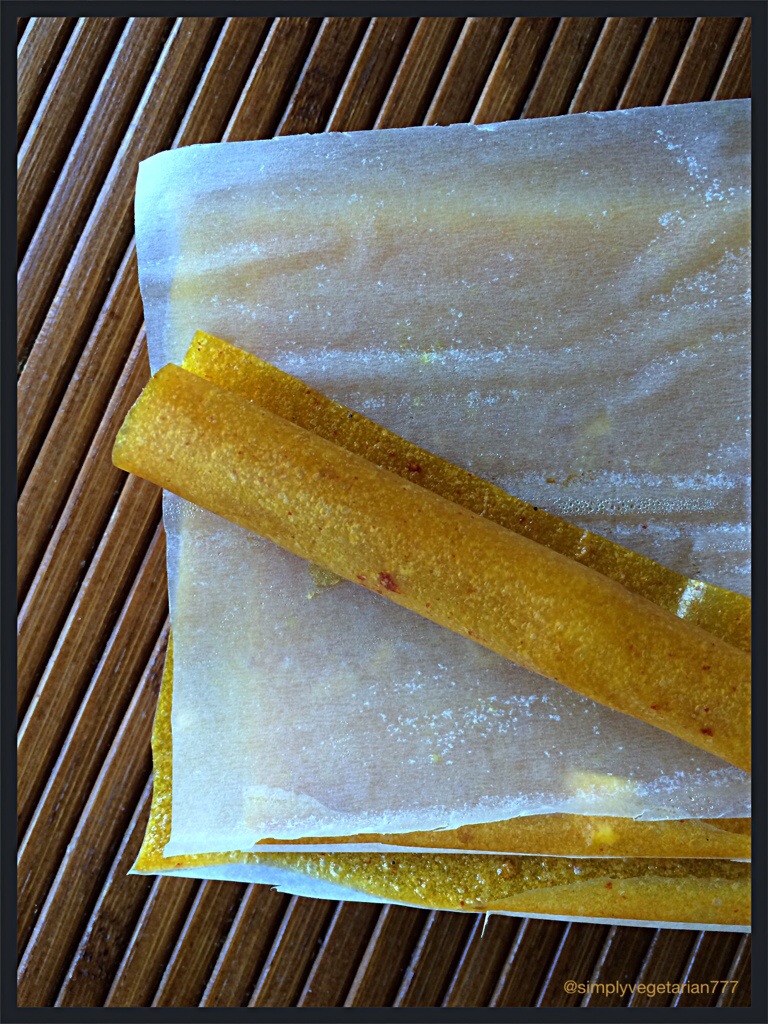 We call these Aam Papad, where Aam means mango and papad means something which is rolled out thin. I had been meaning to make these for a long time but when I saw Aditi and Nikhil posting about it, I knew that I can count on their process. So I read their recipe and added my spices to the mango purée and voila, I got super khatti (tangy), super teekhi(spicy) and subtle meethi(sweet) Aam Papad / Mango fruit leather strips. Do check out their recipe in the link mentioned above. Here is how I did it and will be experimenting with more fruit puréed now :). Thanks Confused Bawarchis!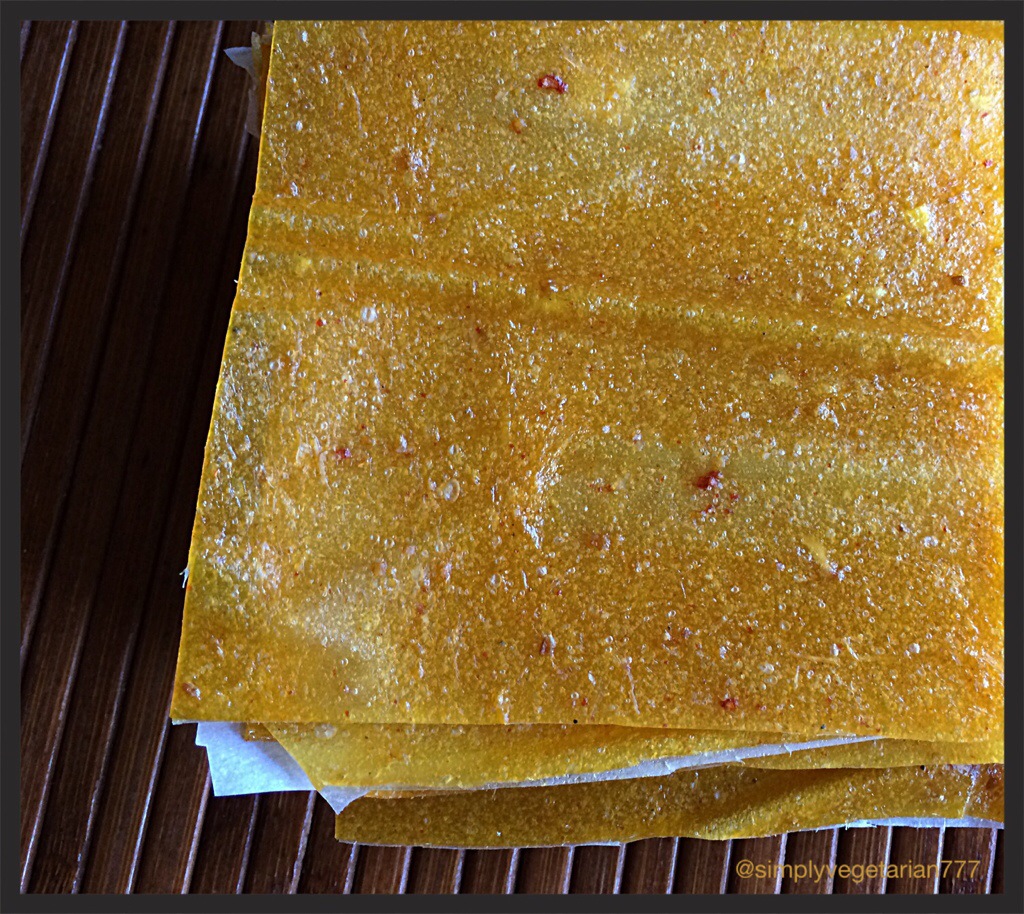 Kitchen Equipments Required : blender, chopping board, knife, oven, baking tray and butter/parchment paper.
Ingredients :
Mango Purée : 2 cups, you may use either tart mangoes or sweet ones.
Cumin powder : 1/2 tsp
Rock salt/kala namak : 1/2 tsp
Red chili powder : 1/4 to 1/2 tsp, as per taste
Sugar : 2 tbsp. I used it since the mangoes were tart but you may choose to skip it if you have sweet mangoes and even in tart ones.
Method :
Preheat the oven at 180*F and line the baking sheet with butter or parchment paper.

Wash the mangoes and peel and chop them. Put them in the blender and make purée out of it. Add all the spices and mix.


Cool it to the room temperature and then it is ready to be peeled off the butter paper and rolled and eaten.

You can use the clean kitchen scissors to cut the Aam papad or fruit leather along with the butter paper and the peel, roll and store in the same paper.
Enjoy these fruit leathers and let us know if you liked them.
Sonal
Taking these to Angie's fiesta friday #23, co-hosted by Marghy and Sylvia. Do visit them to see what they got to make your weekend interesting.