Almonds and Pecans Roasted with Honey, Chili and Lemon Dressing
As an Amazon Associate and member of other affiliate programs, I earn from qualifying purchases.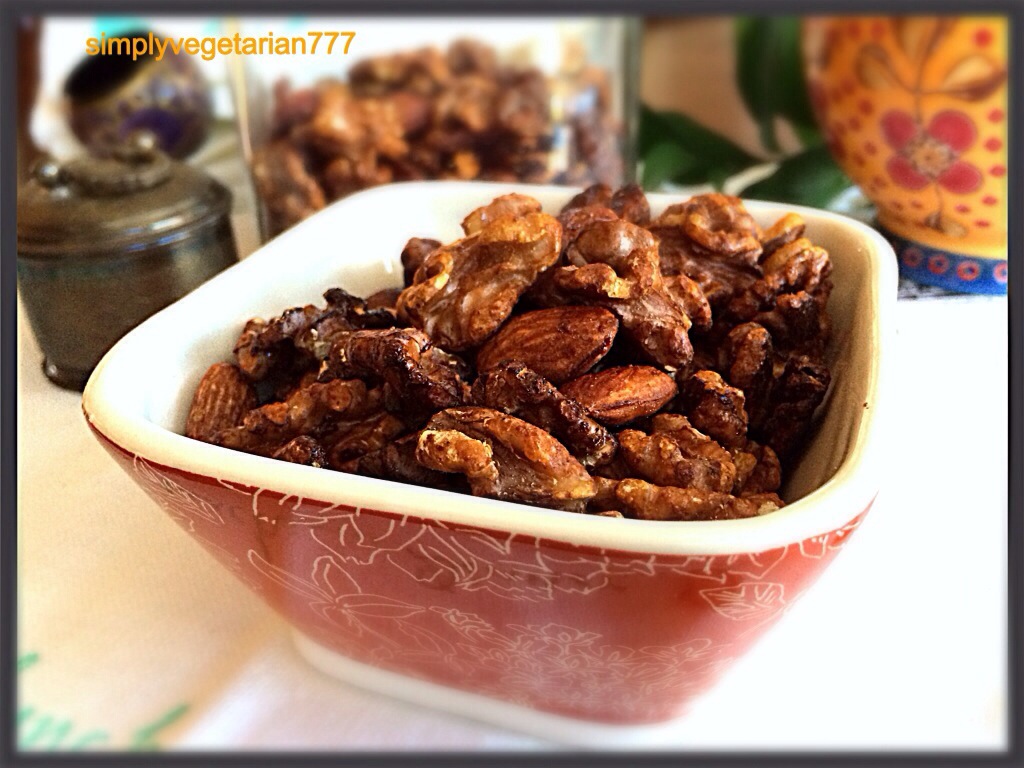 I think my mind is so ready for spring that I have already started cleaning my kitchen cupboards and utilizing the hidden treasures of winter. I know, there is still few more long weeks before I can feel that warm sun on me. But no harm in playing mind games, right ? 😉
While shuffling and sorting the pantry items, I came across this hidden box where I had kept some pecans and almonds, mixed together. They were getting little stale. S I thought of revamping them in the oven for crispiness. But hey, if they could be revamped with a nice zing, that would be like super duper awesome, so effortlessly gourmet!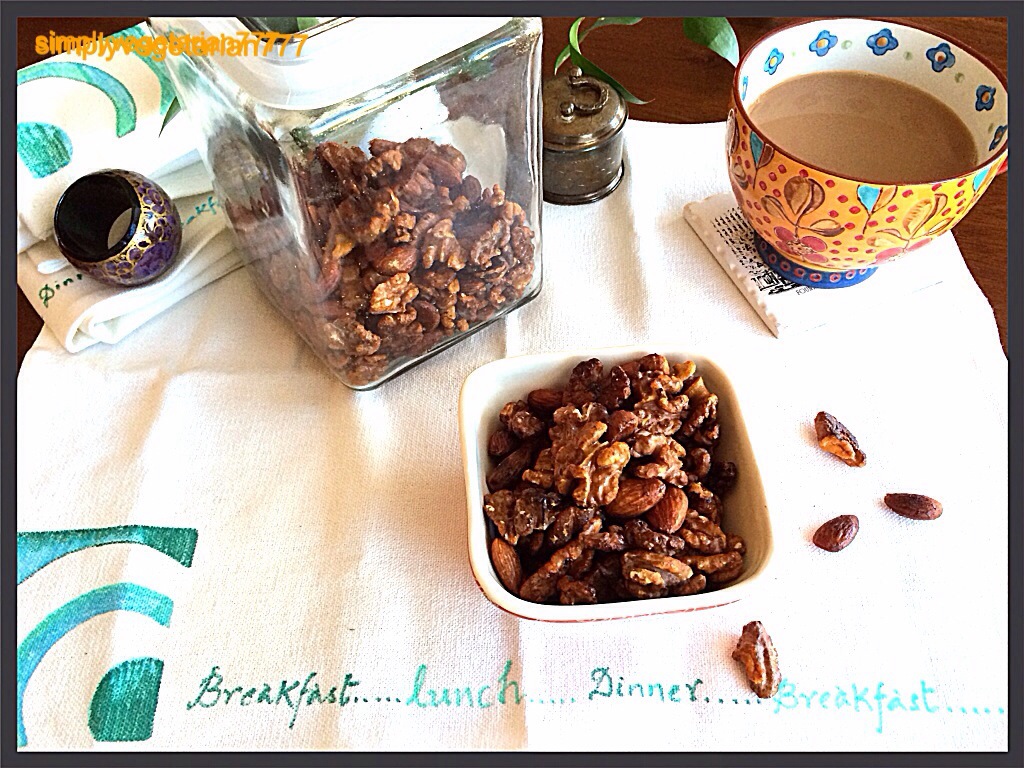 That place mat is hand painted by me with fabric markers, sometime ago when I was running my home boutique. I love it for the freshness and crispness it radiates.
Coming back to the nuts! These are super easy and super simple to do. Even if you have any leftover nuts or you want to make it for parties and even as a hostess gift. The best part is, you can apply this recipe to cashews, macadamia, hazelnuts, walnuts etc.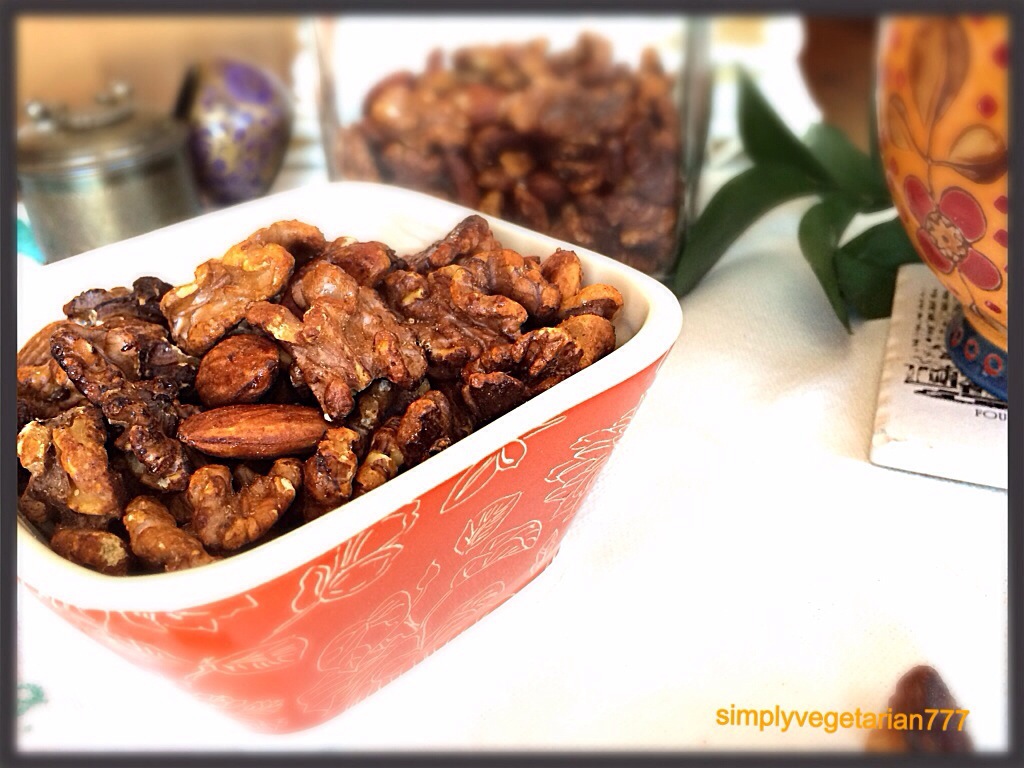 Let's get started now!
Ingredients :
Pecans : 1 cup. Use walnuts instead, if you want.
Almonds : 1 cup
Honey : 1/3 cup
Red chili powder : 1/2 to 3/4 tsp as per taste.
Lemon zest : 1 tbsp
Salt : 1 tsp or to tatse
Water : 3 tbsp
Method :
Preheat the oven at 325F or 160C. Adjust the top rack to the middle of the oven.
Take a big baking sheet. Spread the nuts in single layer on the sheet.
Prepare the dressing by combining honey, chili pepper, lemon zest, salt and water. Try it and adjust the condiments to your taste.
Pour this dressing over the nuts in the sheet. Use both the hands and make sure that you mix the dressing and nuts well so that the nuts are coated well with the dressing lightly.
Spread the nuts in single layer again.
Roast them in the oven for 7-10 minutes. Flip them or turn them roughly after 4-5 minutes for even baking. Turn the tray also from back to front.
Once slightly golden, turn the oven off. Open the door of the oven. Let the nuts sit in the warm oven for 1/2 an hour.
Take them out. Cool them at the room temperature. Enjoy! You may store them in air tight container.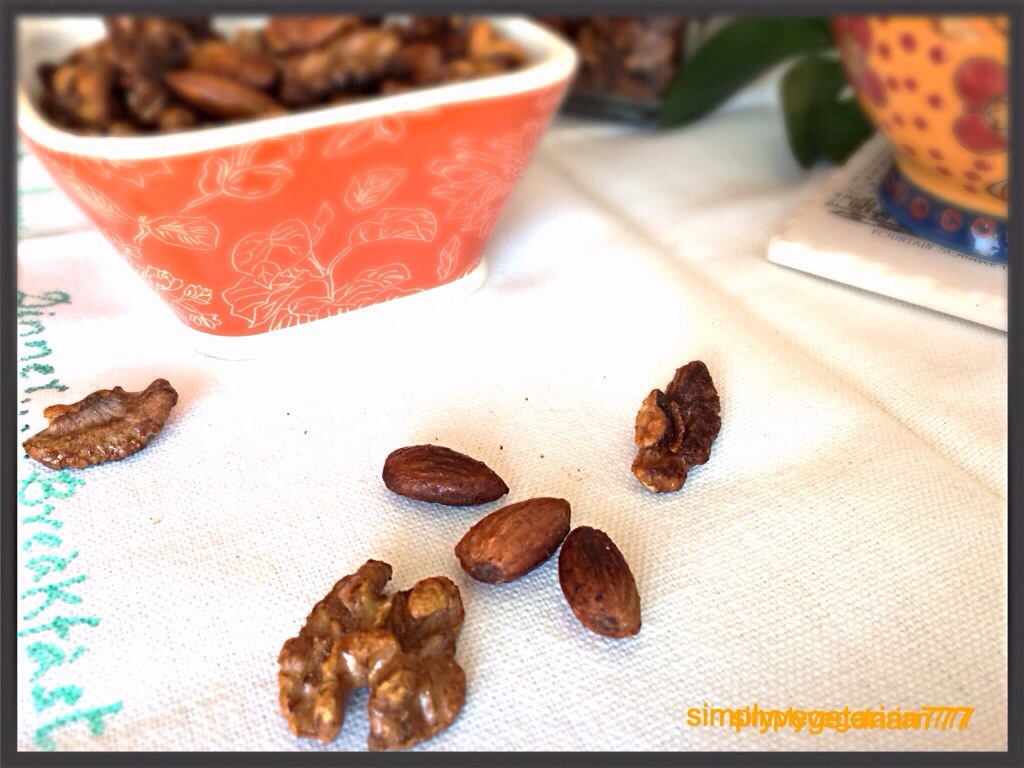 It is a great snack more flavorful and roasted not fried with the goodness of nuts.