Aloo Matar Tikki – Pan Grilled
As an Amazon Associate and member of other affiliate programs, I earn from qualifying purchases.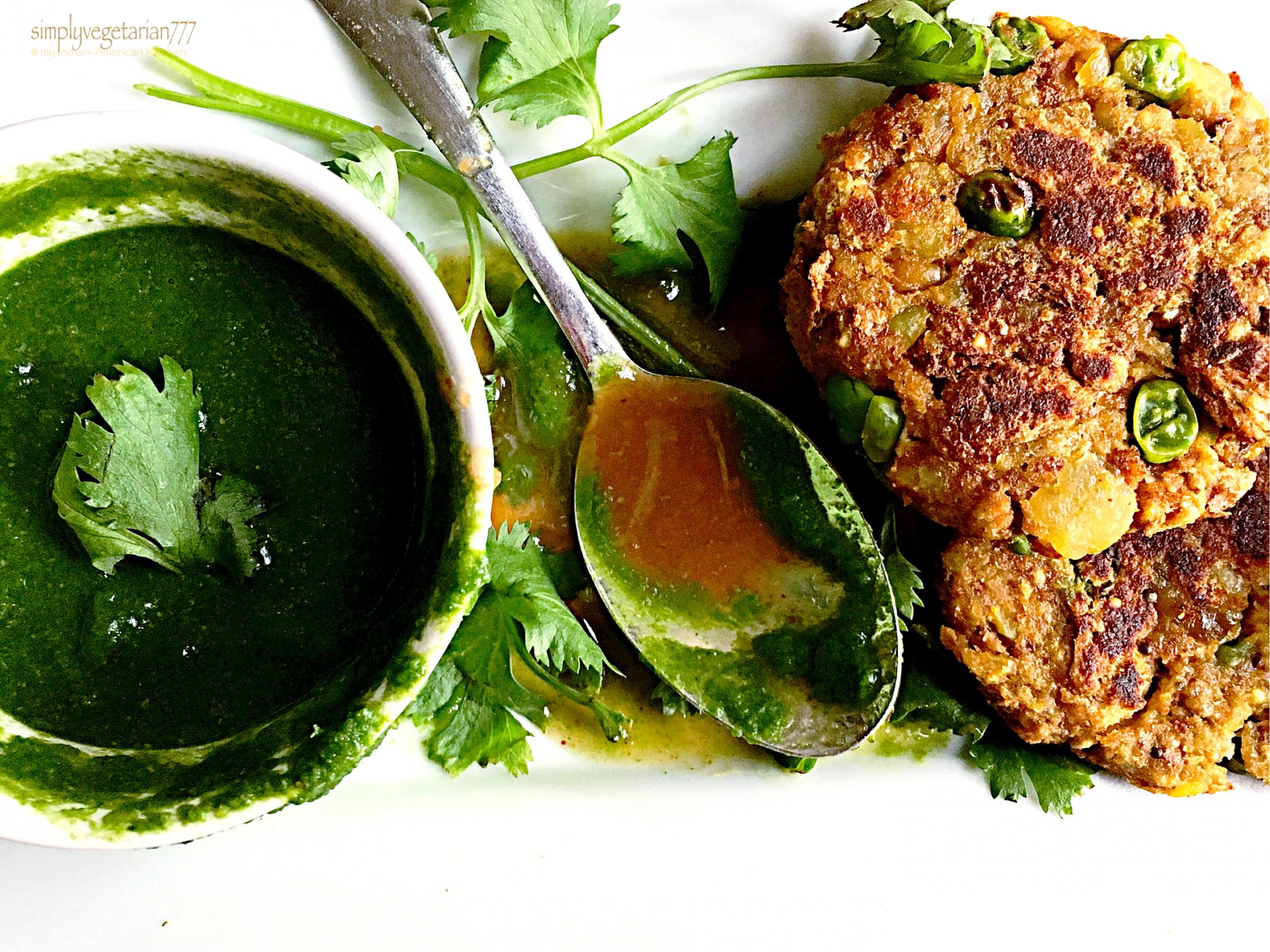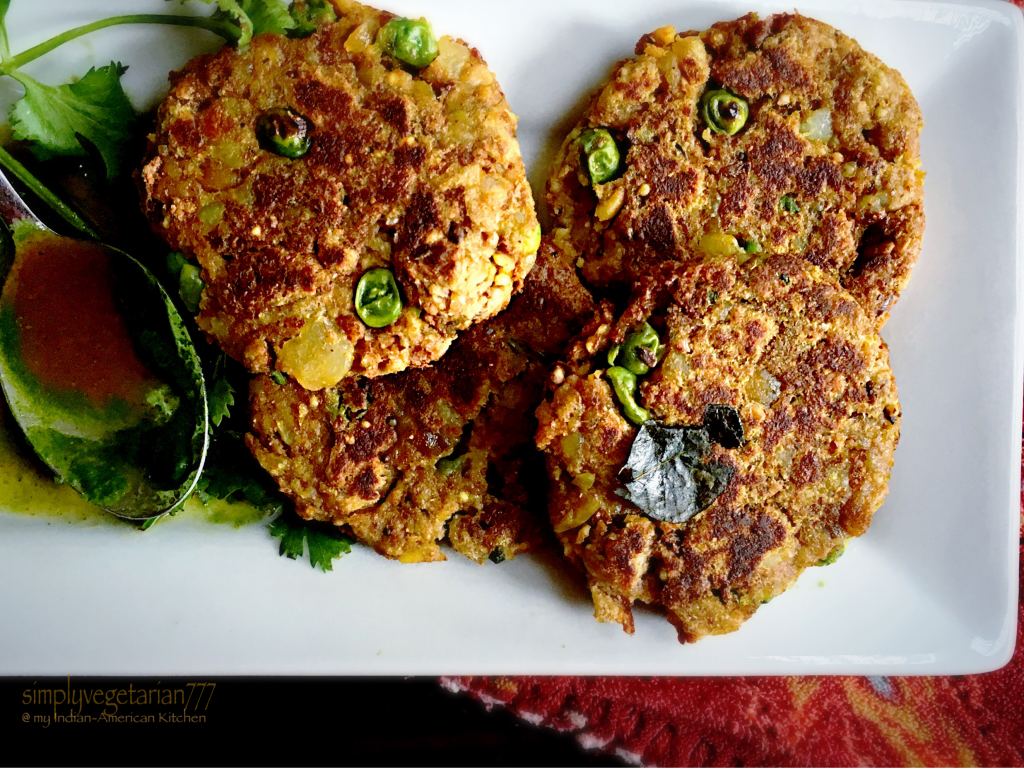 Aloo Matar Tikki – Pan Grilled is an amazingly delicious snack. It has Southern Indian flavors of chana dal, urad dal, mustard seeds and curry leaves. When combined with aloo – matar, it becomes a scrumptious snack.
If you are wondering what is aloo and matar, then aloo is potato and matar is peas.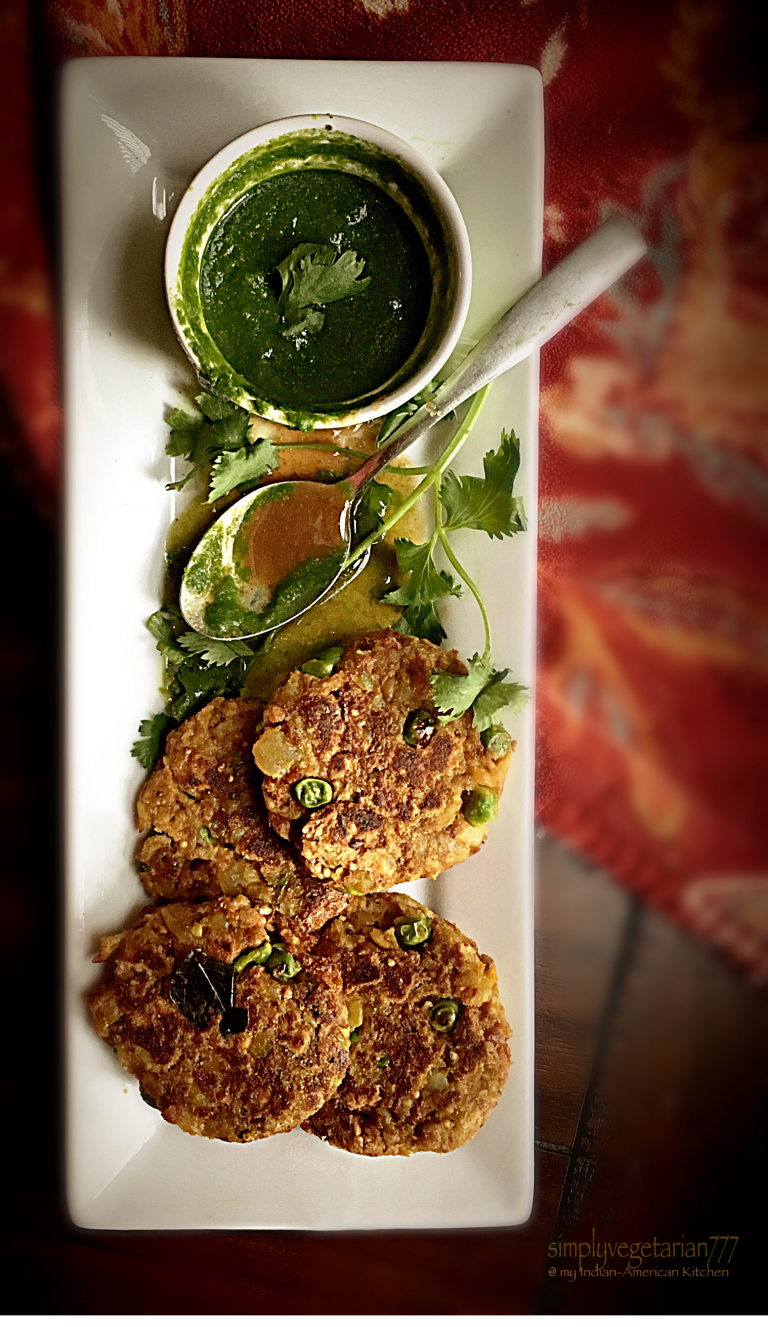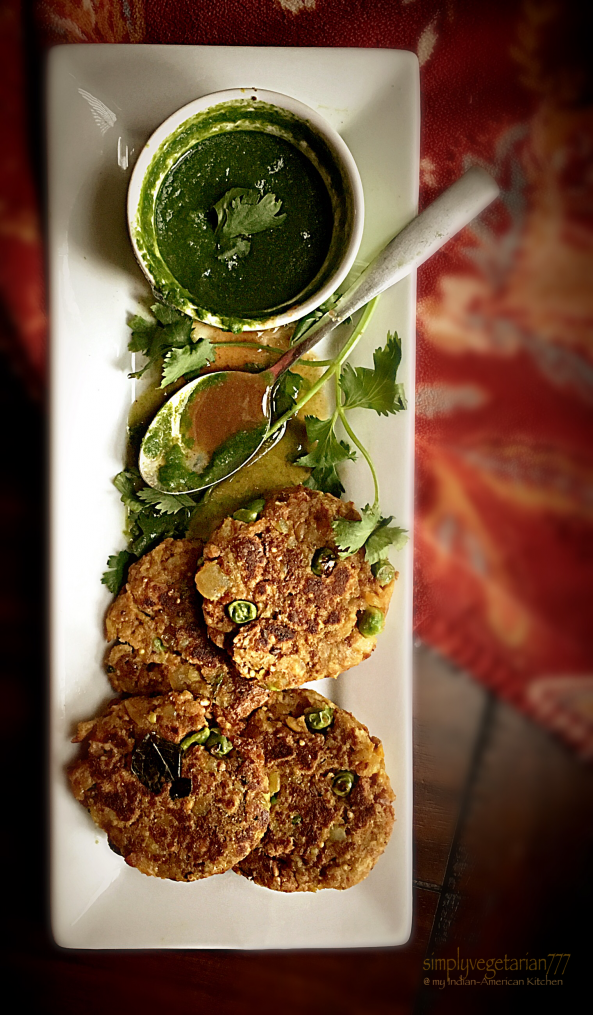 To tell you the whole story in short behind this tikki – Use of the leftovers or "refurbishing" the same old..same old..
I had made this filling of potatoes and peas a day before, using southern india tadka (tempering) for my grilled sandwiches. I know many of you can relate to this kind of grilled sandwich :D, so typically Indian and is one of the most satisfying kind for me.
Coming back to the filling – I had made this filling for the sandwiches and had a good amount of leftover. The next day, Amit was working from home and asked, if I could make something warm for the breakfast? It has become very rare that he requests me something since he knows that the kids' requests keep weighing my head heavy. Like few weekends ago, my oldest demanded me for the home baked Vanilla cupcakes and I avoided for the longest time (story saved for my next post). So, he requested and I agreed. Took out the aloo matar fillling and thought that I would fry some bread rolls with the fillling but I chucked that idea since we both are trying to watch what we eat. Finally, my mind settled down for these tikkis, which are also known as cutlets in western world.
While working on the mixtire for the tikkis, I added some bread slices for better texture. The damp bread slices, when torn roughly and added to the mixture, brought the mixture together beautifully like a dough. It was so much easier to shape these and handle while pan grilling.
It is a good tip / trick to use, whenever you struggle with shaping the cutlets. Adding some bread slices, or bread crumbs or some roasted sooji/semolina, helps in good texture and crispier taste.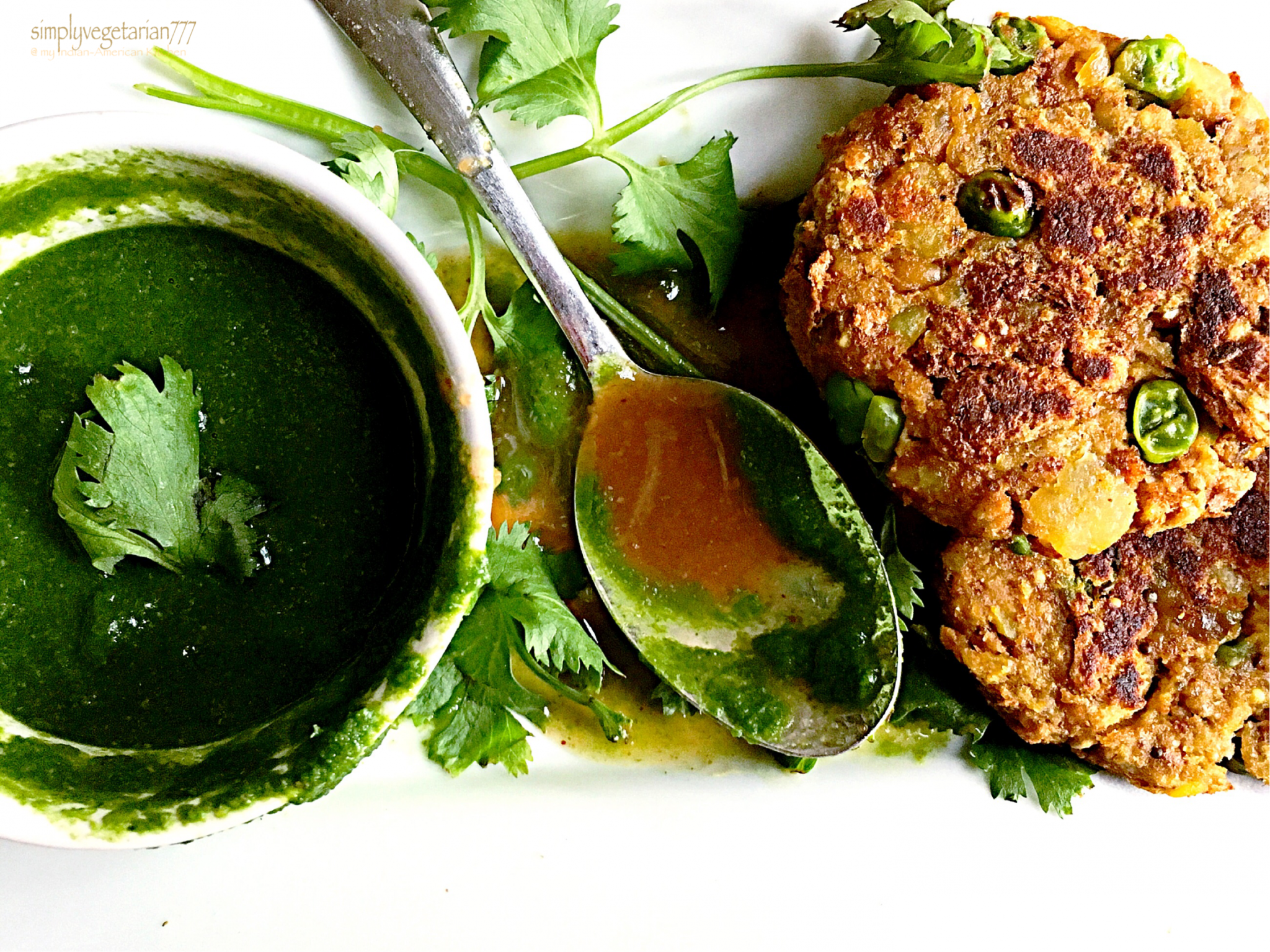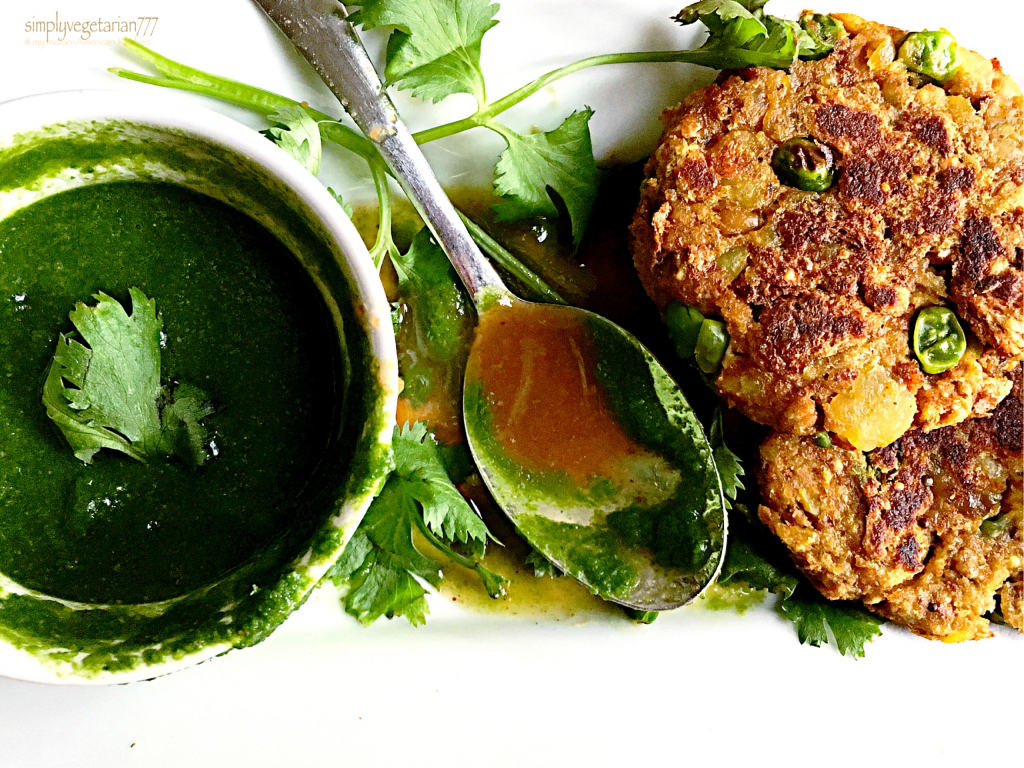 Check out some more recipes of cutlets on my blog –
Raw Banana & Peanuts Cutlets (perfect for navratri fasting),
Vegetable Cocktail Cutlets (Diabetes Friendly),
Plantain & Sooji Kebabs, Cocktail Kebabs,
Kamal Kakdi & Masoor Shami Kebabs.
Aloo Matar Tikki - Pan Grilled
A warm and hearty dish for breakfast, brunch or parties.
Ingredients
Potatoes - 4 big

boiled and peeled and cooled

Peas - 1/2 cup

thawed if using frozen

Bread slices - 2 large or 3 small

Curry Leaves - 5 to 6 chopped fine

Urad dal - 1/2 tsp

Chana dal - 1/2 tsp
Oil & Spices
Oil - 1 tsp + 1& 1/2 tbsp

Mustard seeds - 1/2 tsp

Turmeric - 1/4 tsp

Coriander powder - 2 tsp

Red chili powder - 1/4 tsp

Garam Masala - 1/4 tsp

Salt to taste

Chaat masala - 1/2 tsp
Instructions
Preparing the Tikki Mix
Take the mixing bowl and grate the boiled and peeled potatoes in it.

Heat 1 tsp oil in the small non stick pan and add mustard seeds, urad dal, chana dal and curry leaves to it. Once the seeds start crackling, add all the spices as mentioned above and saute for few seconds on low flame.

Now add grated potatoes and peas to it. Mix well. Saute for 3 to 4 minutes till lightly cooked.

Take off the gas stove and cool it completely to the room temperature.

Your mix is ready.
Making the Aloo Matar Tikki
Keep the small bowl filled with water handy.

Dip the bread slices in the water quickly. Squeeze out all the water from the bread, by pressing between hands. Crumble the bread slices roughly and add to the cooled aloo and matar mixture.

Take the mixture out in a big mixing bowl and mix well to bring out like a dough.

Divide the dough in 12-14 equal portions. Roll them out and press between palms to shape them like tikkis (round discs).

Set them aside.
Pan Frying the Tikkis
Heat 1&1/2 tbsp of oil in a large pan (hard anodized or non stick). Reduce the flame to medium.

Place the tikkis in the hot oil. Pan fry them from both the sides on medium heat till they are brown and crisp. It will take about good 7 to 8 minutes. Handle them gently while flipping.
Notes
The filling is perfect for bread rolls or grilled sandwiches, even as a stuffing for paranthas.

You can deep fry these tikkis. Just make sure to pack them tightly in shape, when frying.
Serving Suggestion 
Serve these cutlets with either ketchup, Green Coriander Chutney or Khatti meethi chutney. I am telling you that you will make this filling again and again, just to make the tikkis. The end result of these tikkis was just so so so so fabulously fantastic.
I had a great time pan grilling these in my Indian American Kitchen. I am sure this will be a hot finger food among your family and friends.
Sonal