Avocado Yogurt Dip
As an Amazon Associate and member of other affiliate programs, I earn from qualifying purchases.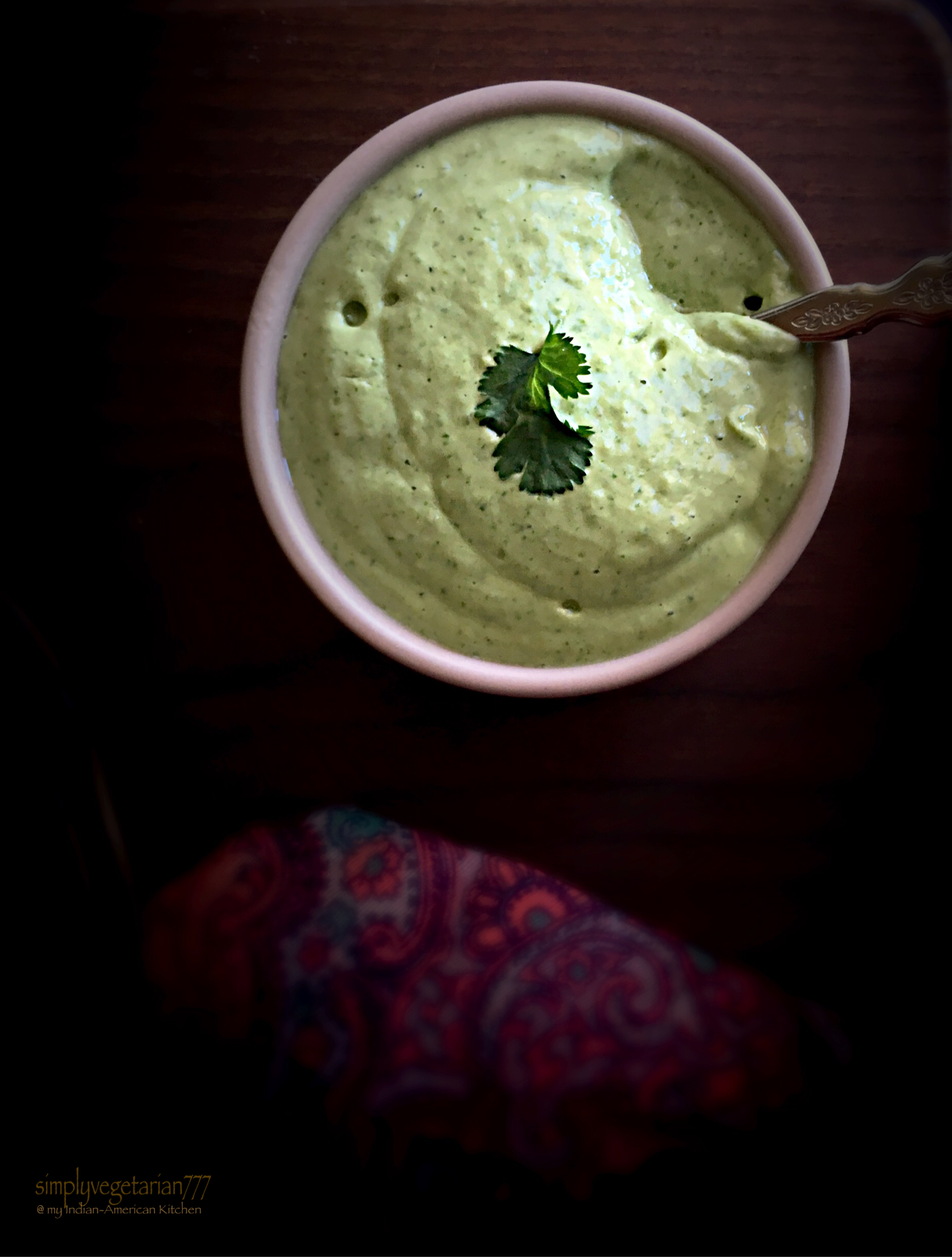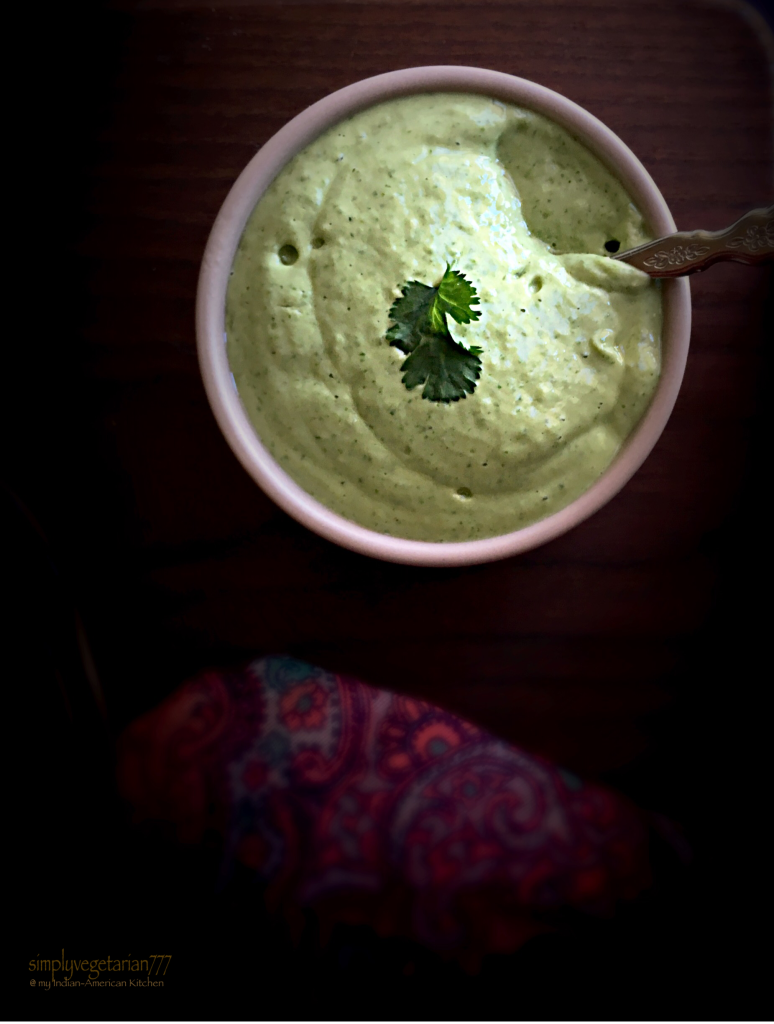 Are you ready to take this trip to discover Avocado Yogurt Dip ?
When you end up with a super ripe avocado, the end product does not have to be Guacamole or Avocado Toast always. Believe me, there are other ways to enjoy a good avocado. And, when I say that, I want to mention that a dip does not have to be Green Coriander/Cilantro Chutney always.
I had bought this avocado a week ago and forgot all about it after keeping it in the refrigerator. Today I had this sudden craving of eating taco and tandoori for my lunch. I know, I know…weird wish but innovations occur at the realm of weirdness only. Don't you agree? 😉
Pssst…..super yummy Tandoori Tacos coming up soon… 😀
So, I was saying that I had this avocado and I had taco on my mind and didn't want to succumb to ready made salsa, so raced my creative horses and whipped up this super easy, super creamy and super delicious Dip or spread or chutney or whatever you want to call it….. It has been the best fusion dip that has ever happened in my kitchen. SIMPLY WOW! FINGER LICKING WOW!
My oldest daughter is not an avocado fan and when I gave her the Tandoori Taco smeared with Avocado Yogurt Dip with hints of coriander/cilantro leaves, lime and garlic, this is what she said, "mom, does this really have avocado?" I said, "yes". Her jaw dropped and she exclaimed, "OMG, is this what I have been missing on, by avoiding avocado". :O
This is how you make the Avocado Yogurt Dip, which is perfect as a dip, as a wrap or sandwich spread, a taco enhancer, a perfect dip for your chips. I am telling you that make this dip at your next party and people will ask for the recipe.
Avocado Yogurt Dip
Servings: 1 cup
Difficulty: easy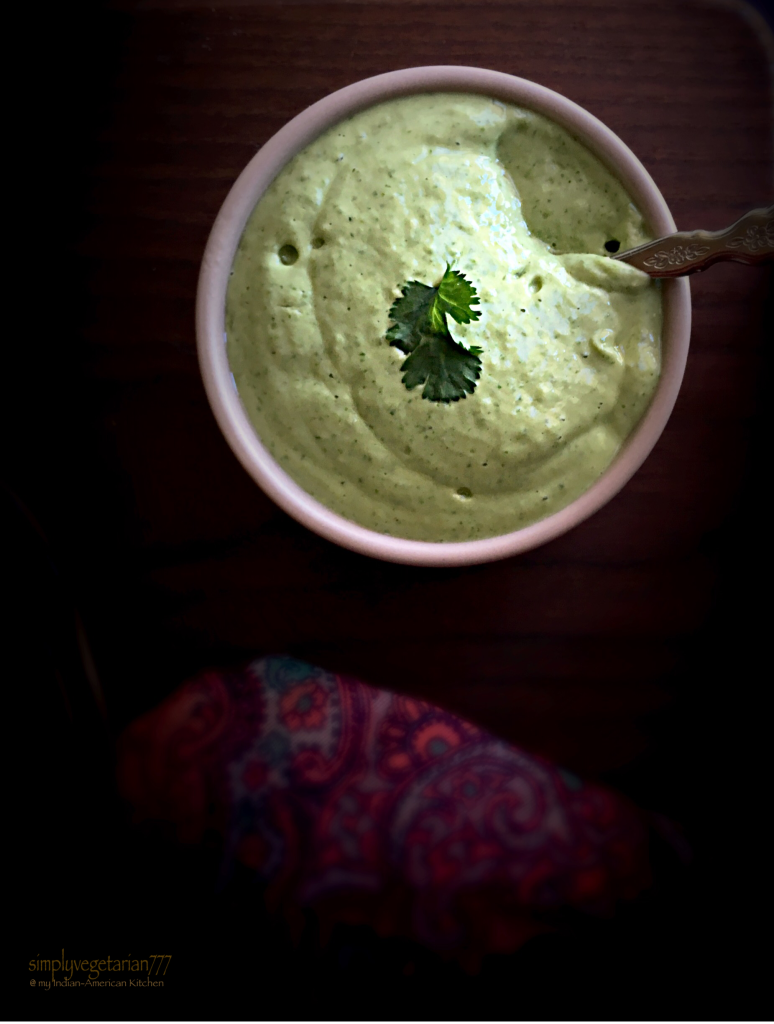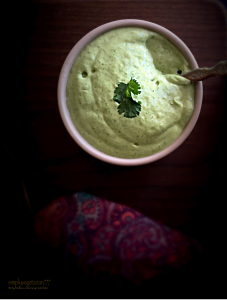 Kitchen Equipments Required
Blender, chopping board, knife
Ingredients
Avocado – 1 small
Yogurt – 1/2 cup
Coriander/Cilantro leaves – handful, washed & chopped
Garlic – 1 small pod
Lime juice – of 1 small lime. You may use small lemon instead.
Green Chili – 1 small
Salt to taste
Method
Cut the avocado and remove the seed/pit from it. Scoop the avocado flesh out.
Take the blender and add all the above mentioned ingredients plus the avocado flesh to the blender.
Blend everything together till smooth.
Refrigerate in an air tight glass container.
Storage
Best used when consumed fresh. You may store it for 1-2 days in the refrigerator but it will start turning slightly dark. Mix with spoon and use.
I had a great time whipping this dip in my Indian American Kitchen and enjoying it with chips and tacos. I am sure you will too. Make a atch and enjoy some fresh ingredients at their best…raw and vegetarian…healthy and nourishing.
Sonal