Banana Almonds Muffin Crumble Bread, Whole Wheat and Egg free
As an Amazon Associate and member of other affiliate programs, I earn from qualifying purchases.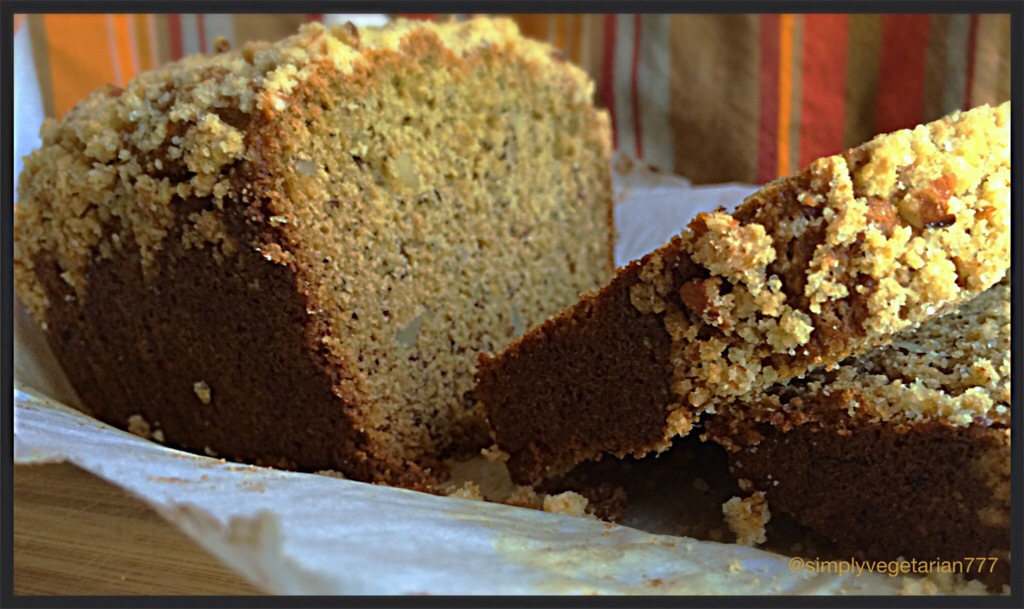 Is it a long name? I couldn't find a shorter name for this gorgeous bread. Normally muffins are topped with crumbles and I brought that to the banana bread. It was an awesome idea to make the top crumbly like a fruit crumble. Totally loved by everybody at home.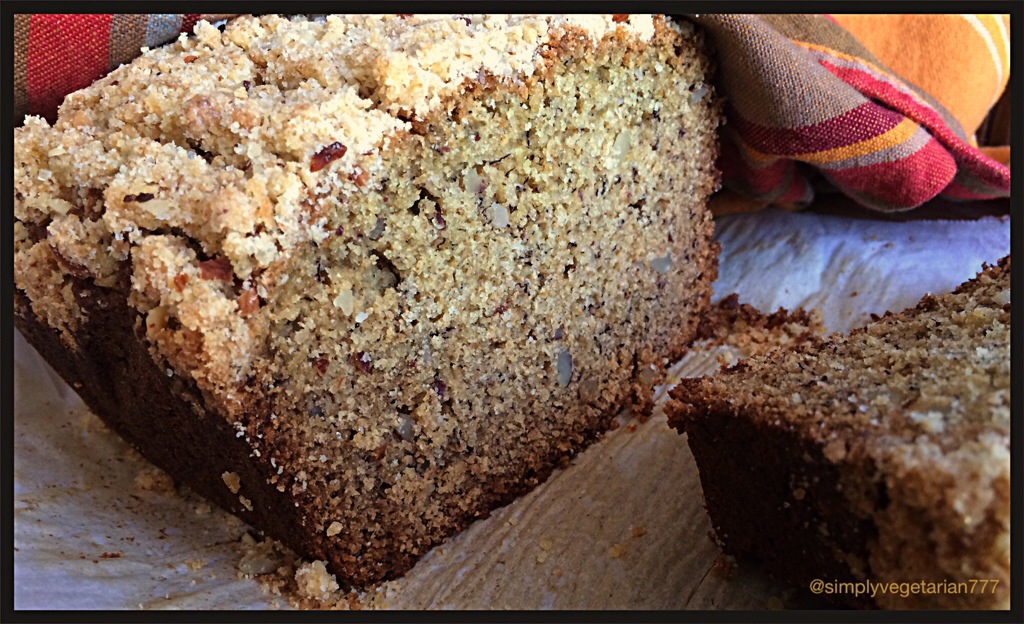 Do you see the gorgeous crumble topping. Have I yet called it delicious? It was yumm. I am taking this loaf to Angie's Fiesta Friday, co-hosted by two of the very talented bloggers, Elaine and Chef Juliana. Do check out all the three links to get better insight into the world of these gorgeous bloggers and their food, each a maestro in their own zone.
Let's get down to the business and bake some gorgeous, yummy and a "healthier" bread/cake.
Banana Almonds Muffin Crumble Bread, Whole Wheat and Egg free
Servings: 1 loaf
Difficulty: easy

Kitchen Equipments Required : 2 big bowl and 1 small bowl, fork, electric egg beater, oven, a bread loaf tin of 9″x4″, parchment/butter paper, spatula.
Ingredients :
Whole wheat flour : 2 cups
Baking soda : 1 1/2 tsp
Salt : 1/2 tsp
Bananas over ripe : 4, almost 1&1/2 to 2 cups mushed
Sugar : 1 cup
Unsalted Butter, melted and cooled : 6 tbsp
Yogurt, whipped : 1/2 cup ( you may use 2 eggs instead)
Vanilla extract : 1 tsp
Almonds : 3/4 cup, coarsely crushed or chopped in food processor
Crumble Top :
Whole wheat flour : 2 tbsp
Butter, unsalted : 2 tbsp
Sugar : 2 tbsp
Almonds : 2 tbsp, crushed coarsely
Method :
1. Preheat oven to 350*F / 180*C and line the loaf pan with parchment paper.
2. In a large bowl, combine the flour, baking soda, and salt; set aside.
3. Mash the bananas with a fork in another bowl. With an electric mixer fitted with a wire whisk, whip the bananas and sugar together for a good 3 minutes. We want a light and fluffy banana cream.
4. Add the melted butter, yogurt and vanilla. Beat well and scrape down the sides of the bowl. Mix in the dry ingredients just until incorporated, no need to overly blend. Fold in the nuts with a spatula.
5. In a small bowl, mix the ingredients of the crumble and mix with hand. It would be bread crumb consistency.
6. Pour the batter into the prepared loaf pan. Give the pan a good rap on the counter to get any air bubbles out. Sprinkle the crumble mixture evenly on top of the bread.
7. Bake for about 1 hour and 15 minutes, until golden brown and a toothpick inserted into the center of the loaf comes out clean. Don't get nervous if the banana bread develops a crack down the center of the loaf; that's no mistake, it's typical. Rotate the pan periodically to ensure even browning.
8. Cool the bread in the pan for 10 minutes or so, and then turn out onto a wire rack to cool completely before slicing.
Enjoy it warm or at room temperature.
Storing Note : As it reaches the room temperature, wrap in either foil, plastic wrap and store in the refrigerator in a box or brown paper bag. This will avoid the drying out. It is good outside for one day.