Breakfast Bar Parfait Easy No Cook Recipe
As an Amazon Associate and member of other affiliate programs, I earn from qualifying purchases.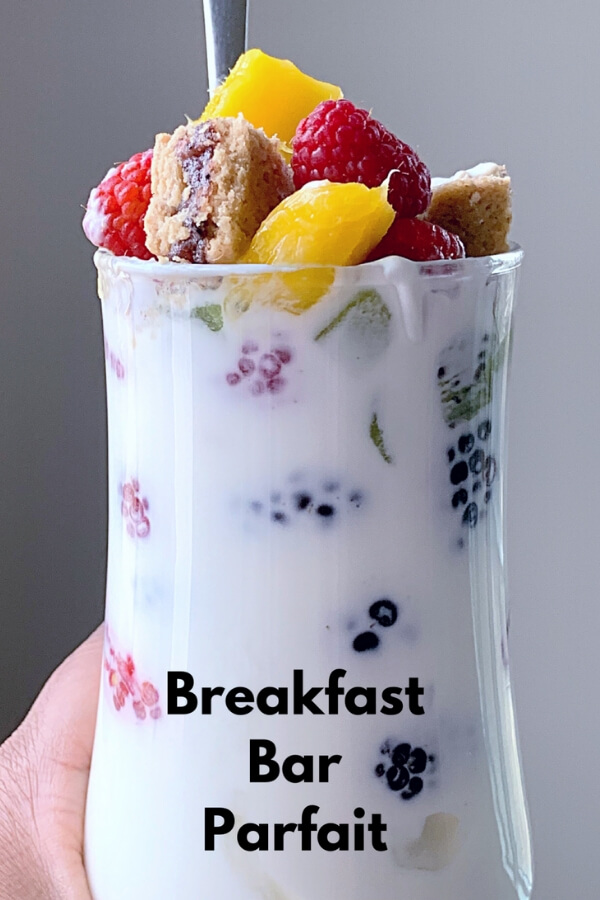 This Breakfast Bar Parfait is a yummy, filling, easy and no cook recipe. Since it is a complete breakfast in a jar, you will probably make it daily.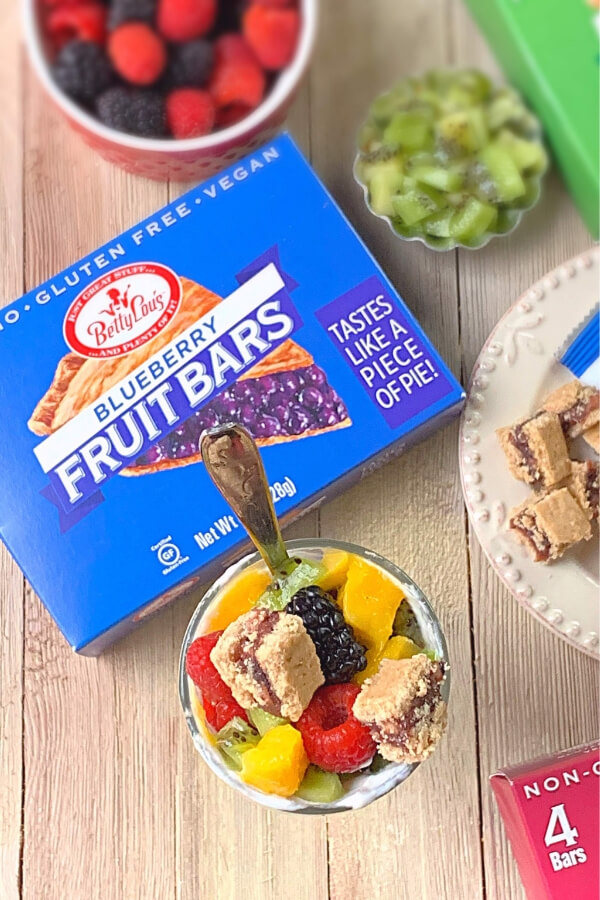 Easy & NO Cook Breakfast Bar Parfait
Happy Spring you guys. I am so excited to finally feel the warmer air in Pittsburgh. It is starting to turn gorgeous.
And the best part is – when my "almost" 15 years old leaves for her school at the crack of dawn, it is not dark anymore. You can feel the warmth and light of the sun, waking up that charcoal sky. Bliss I tell you.
What is not bliss is – my dearest daughter throwing tantrum every morning about her breakfast. That kid gets hungry but can't eat in the morning.
Yes, you guessed it pretty right. It is either because she doesn't have time in the morning when she is rushing out to catch the bus at 6:40 am. Or the sight of any carb laden breakfast makes her queasy.
She says that it gets stuck in her throat. I don't get it but I choose to believe her. But I always worry about her not eating appropriately in the morning.
BREAKFAST IS THE MOST IMPORTANT MEAL OF THE DAY.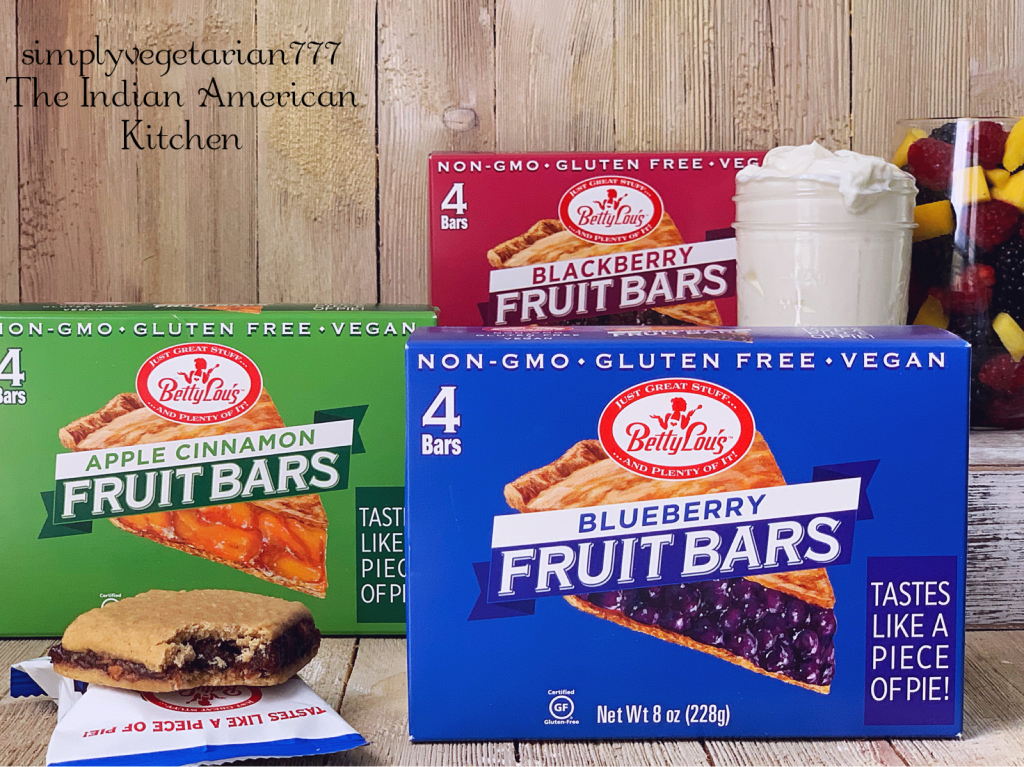 Have I told you that we are a WALMART FAMILY? We go to the Walmart every other weekend for our groceries, snacks, and other basic requirements. You can't beat the variety of products that you find at Walmart.
Now my children love shopping for their school and after school snacks. And I am always looking and guiding them to make better choices when selecting their food.
Needless to say that SNACK AISLE in Walmart is the family favorite aisle to explore.
As we were exploring the aisle of WALMART, we came across these BETTY LOU'S FRUIT BARS. I stopped right on my track and picked up a box to read about the product. That is something I do for every new thing that we try – READ THE INGREDIENTS AND THE DETAILS.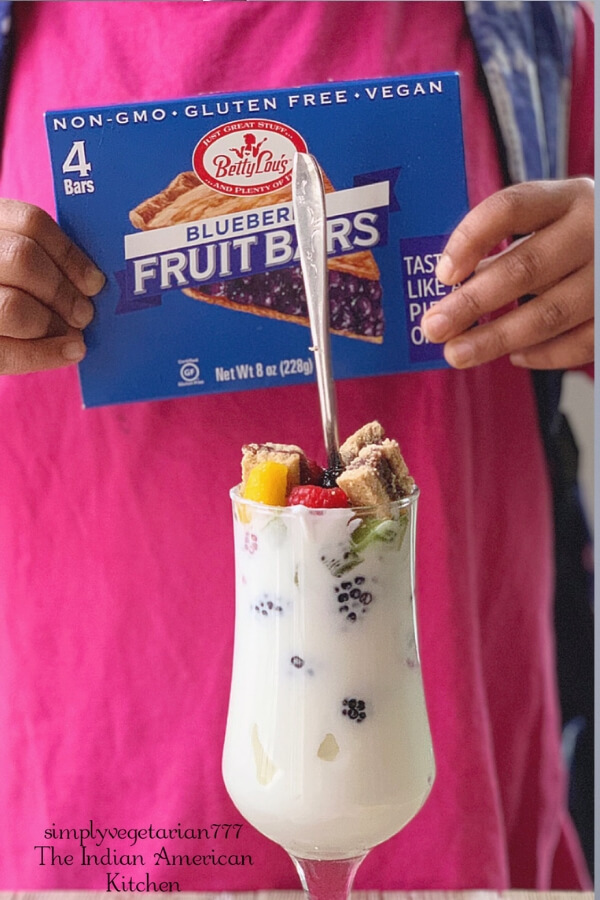 Why should you choose Betty Lou's Fruit Bars for your family?
As it is evident from the pictures posted above, I highly recommend including Betty Lou's Fruit Bars in your regular grocery shopping from Walmart. My reasons are simple –
Betty Lou's Fruit Bars are now available at Walmart!
These bars taste like a Piece of Pie. Literally it is pie in every bite. And that too portion controlled.
You can eat it guilt free.
The fruit bars are Gluten-free, Non GMO, and Vegan.
All sugars come from natural fruit and fruit juice.
Does not contain any of the 8 major food allergens identified by the FDA
Another exciting part is that it is available in many flavors – Apple Cinnamon, Blueberry, Blackberry, and Cherry to name a few.
Isn't that wonderful? You can learn more about BETTY LOU's FRUIT BARS here.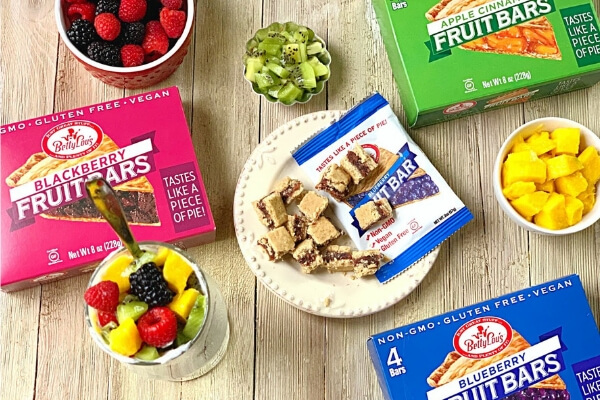 Breakfast Bar Parfait for my Teenager's Breakfast & a Guilt free Dessert for the family
When we got these home, my mind was racing 100 miles an hour thinking about the possibilities. I get so excited looking at my finds and groceries. Call me crazy but that is the truth. Grocery shopping is my biggest HAPPINESS FACTOR of the week.
Though my teenage daughter is not huge on breakfast loaded with carbs but she loves her parfaits. She can have a good parfait any time of the day. Even for her breakfast.
So this is what the smart mama (me 😉 ) did to make Breakfast Bar Parfait –
Took a pretty looking glass.
Got some Low Fat Vanilla GREEK YOGURT.
Added the chopped fruits that she likes.
Took out her favorite flavor of the BETTY LOU's FRUIT BAR.
Chopped the bar into smaller squares.
Top the Yogurt & Fruit Parfait with Chopped Betty Lou's Fruit Bar pieces.
Slipped a tall ice cream spoon in it.
Done!
Alternatively, you can make a BREAKFAST BAR TRIFLE also. Check out thee recipe given in the RECIPE CARD.
Easy, isn't it? I am telling you that FRUIT BAR has solved my worries for her breakfast routine.
We loved these Parfaits so much with the right amount of sweetness and carbs in it, that we made another helping for our DESSERT. EXCITING, right?
Oh man! These were so good that my kids requested a tall glass of these Breakfast Bar Parfaits for their dessert. And I did not flinch even once. Since I knew that I am feeding them good, healthy and wholesome.
I can still use these bars in more recipes which can be guiltfree and indulging at the same time.
GO GRAB YOUR FAVORITE FLAVOR OF THESE BETTY LOU'S FRUIT BARS FROM WALMART ON YOUR NEXT TRIP. AND INDULGE GUILT-FREE.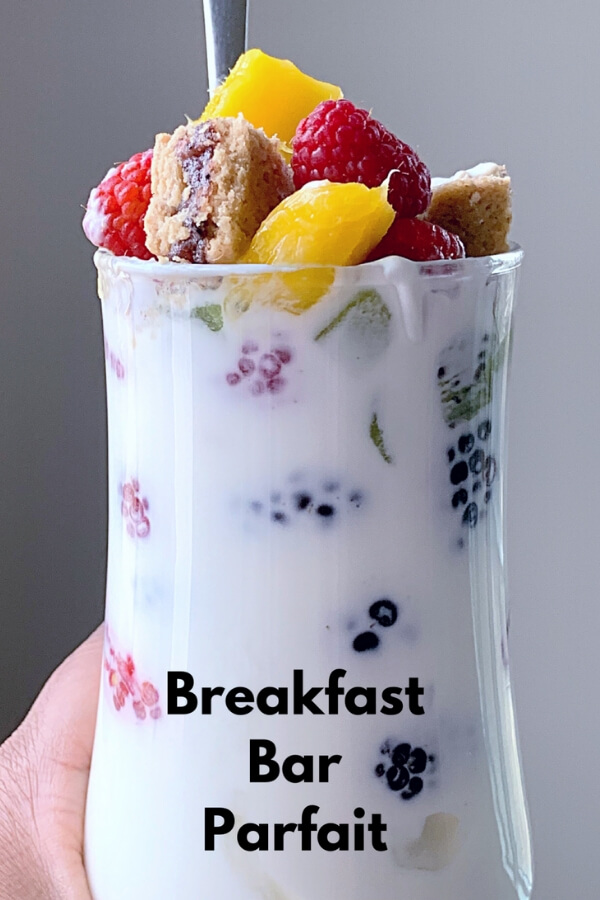 How to make Breakfast Bar Parfait with Betty Lou's Fruit Bars?
Breakfast Bar Parfait Easy No Cook Recipe
This Breakfast Bar Parfait is perfect for yummy breakfast needs or late night healthy dessert. It is made with Non GMO & Glutenfree Betty Lou's Fruit Bars.

Ingredients
1

cup

Greek Yogurt, Vanilla

Low Fat

1

cup

Fruits

Berries, Kiwi, Mango, Banana etc

2

bars

Betty Lou's Blueberry Fruit Bars

or pick your favorite flavor
Instructions
Take 2 parfait glasses or jars.

Dilute the Greek Vanilla Yogurt with 2 tbsp water. Divide and add the Yogurt to the Parfait glasses equally.

Now add the chopped fruits and berries of your choice. You can add any fruit of your choice. I have used raspberries, blackberries, kiwi, and mango.

Now top this fruit parfait with the small Fruit Bar pieces. Tada! your Breakfast Bar Parfait is done.

Alternatively, you can create a BREAKFAST BAR TRIFLE if you have time.

For Trifle, take a small dessert glass. Layer the bottom with the pieces of Betty Lou's Fruit Bar. Press them down. Add a layer of Greek Vanilla Yogurt. Top with Fruits of your choice and garnish with the crumbs of Bar.

Either way - it is going to taste amazing.
I am sure you are going to try these Breakfast Bar Parfaits for sure. If you do, then leave your feedback under comments section. We would appreciate it very much.
PIN IT FOR LATER!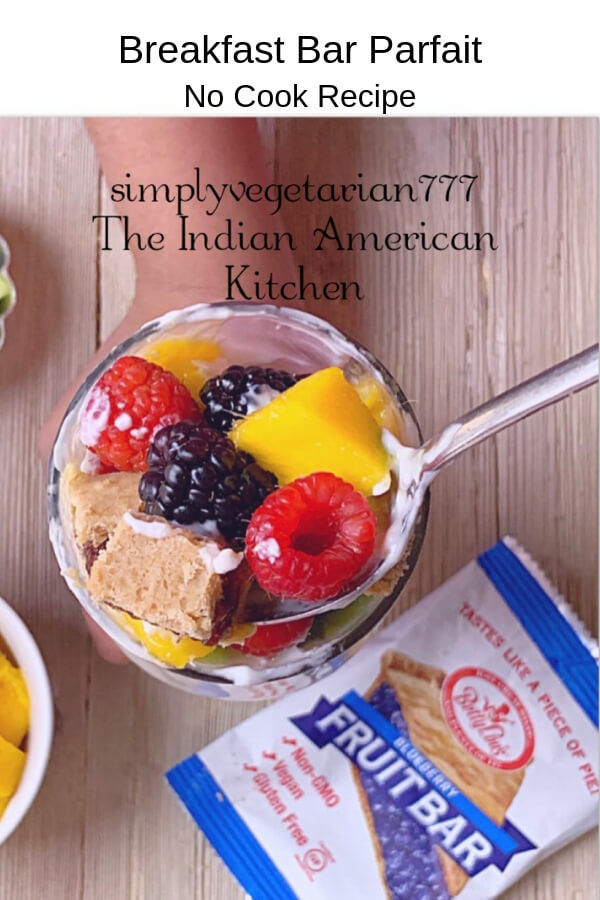 In my kitchen you will always EAT HAPPY & STAY HAPPY.
Sonal
"This post is part of a social shopper marketing insight campaign with Pollinate Media Group® and Betty Lou's, Inc., but all my opinions are my own. #pmedia #BettyLousAtWalmart http://my-disclosur.es/OBsstV"