Caramelized and Curried Onions & Rosemary Focaccia
As an Amazon Associate and member of other affiliate programs, I earn from qualifying purchases.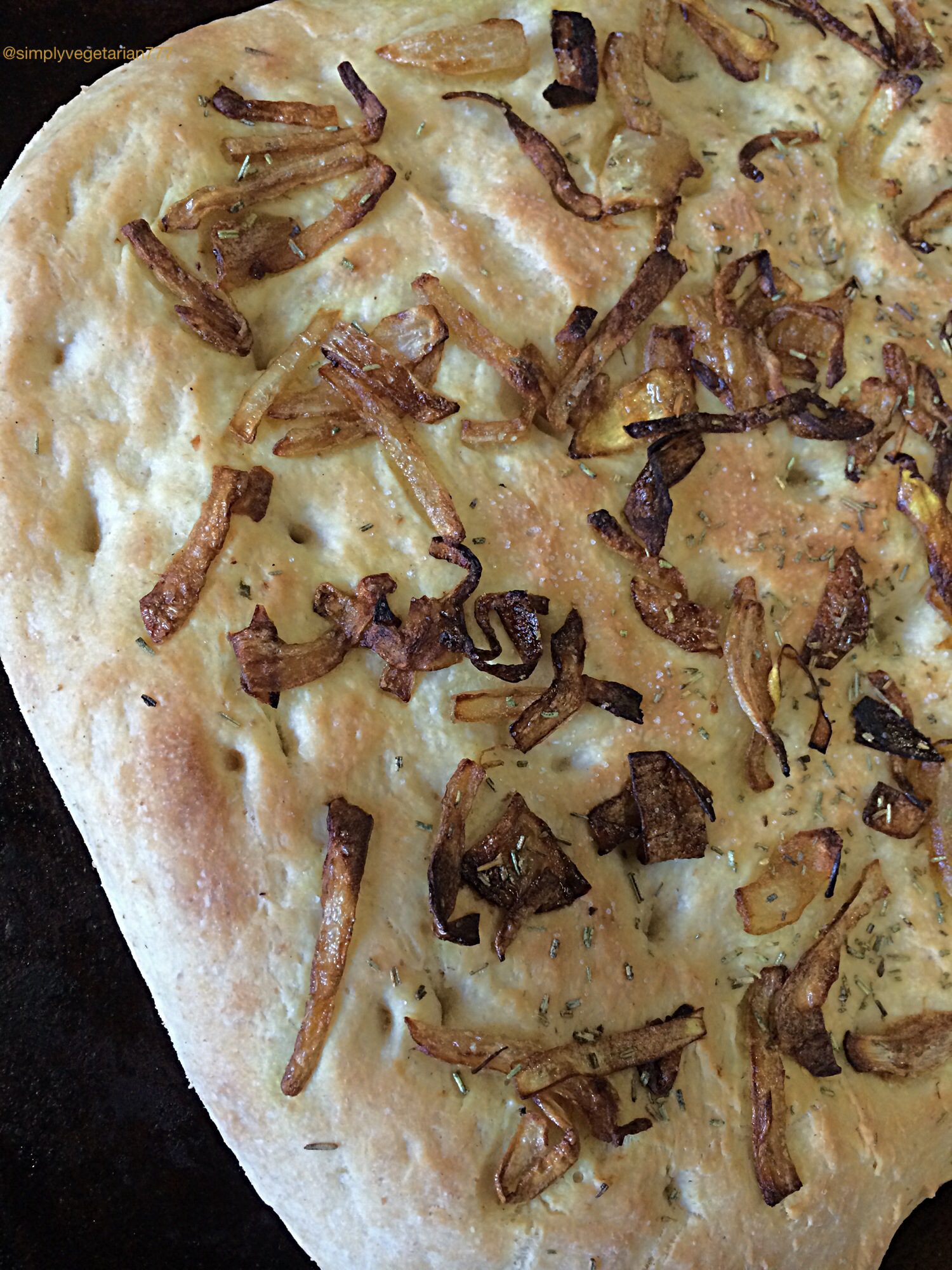 Focaccia is very special to me. It is an oven baked Italian Flat bread similar to pizza but topped with olive oil, salt and sometimes herbs. You can be so creative with this bread.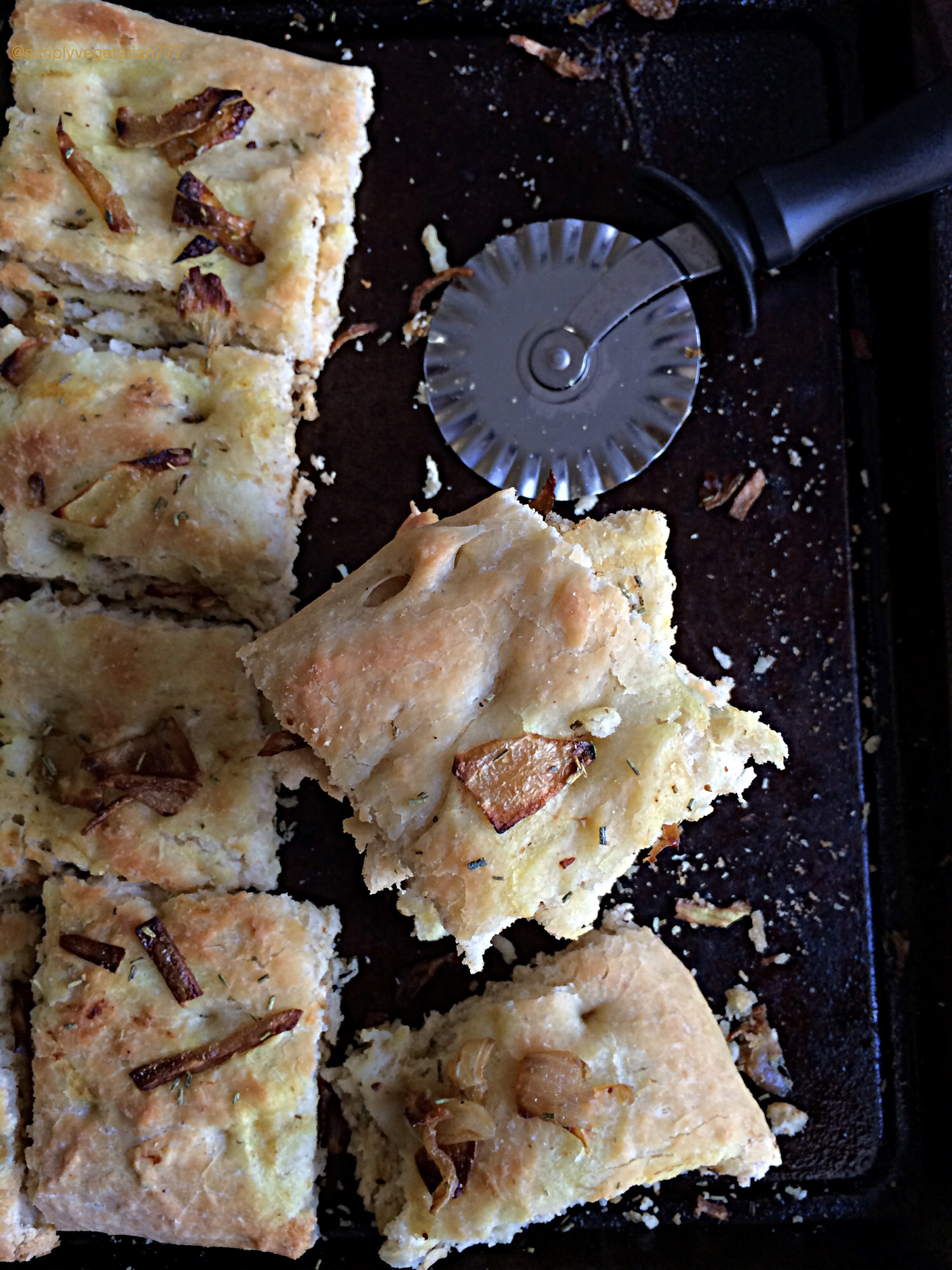 Why special to me, if you ask? Because, this was the first ever bread, I baked ! My starting stone with bread baking and Mr. yeast ! Since then, I have baked it couple of times and everytime with different toppings.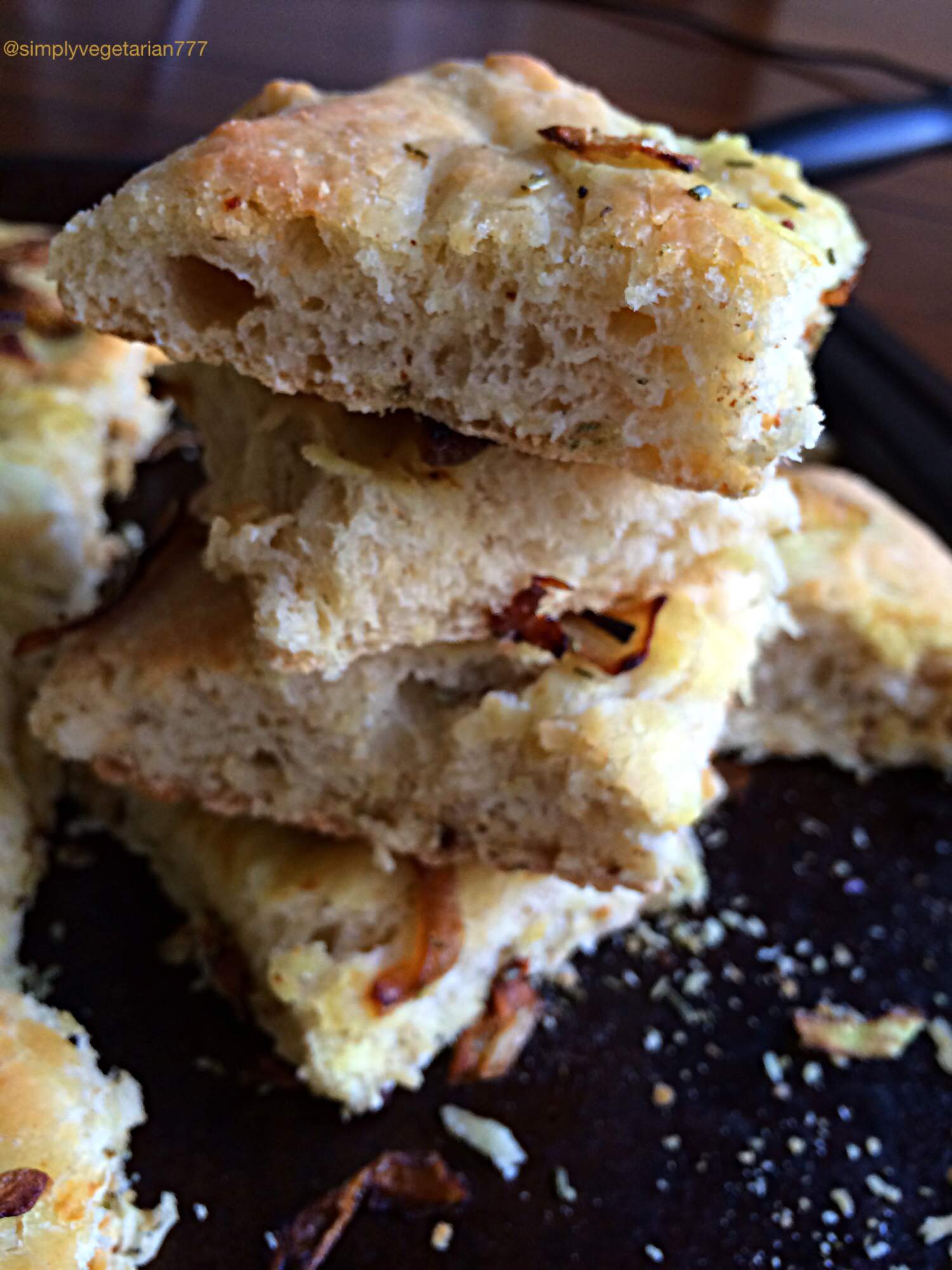 This topping is very interesting. The other day when I made naans, I craved for some caramelized onions on my naan. But when I set out to make another batch of naan, I thought, why Naan again? Let me make a focaccia instead. I was caramelizing the onions and then played with curry spices in it. Just a pinch. It shouldn't hurt, I thought. And it actually took the bread to another level. Everybody loved it.
Ingredients :
All purpose flour : 2 cups
Whole wheat flour : 1 cup
Salt : 1&1/2 tsp
Sugar : 1 tsp
Yeast, instant : 7 gms or 1 tsp full
Warm water : 1&1/2 cups + 1 tbsp
Olive oil : 1 tbsp
Toppings
Olive oil : 1&1/2 tbsp + 1/2 tbsp
Onions : 1/2 cup, sliced thin
Sugar : a pinch
Curry powder / garam masala : a pinch
Salt to taste
Rosemary : 1 tsp dry
Method :
Proofing the Dough
Take a big bowl. Add all the dry ingredients mentioned above besides the topping ingredients. Mix well !

Make a well in between the dry ingredients. Add oil and warm water. Add water little at a time. Make a pliable dough. Knead for 10-12 minutes. If the dough gets too sticky, dip your hands in cold water and knead again.

Lightly grease another big bowl. Transfer the dough to this bowl and swish it around so it is lightly coated with oil.

Cover the bowl with either damp kitchen cloth or plastic cling wrap. Place in a warm corner (switched off oven or microwave). Let it rise for 1 to 1&1/2 hrs, till it doubles.
Note : In summers, it takes less time and in winters it takes longer. So keep an eye.

Preparing the Topping : Heat 1/2 tbsp oil in a pan. Add chopped onions to it. Sprinkle with sugar, salt and curry powder. Sauté on medium flame till they are slightly golden. Switch off the flame and let the toppings cool.

Take the dough out. Preheat the oven at 425F / 220C. Lightly grease the baking tray and sprinkle with some coarse corn meal or flour.

Put the dough on the baking tray. Grease your hands lightly and start stretching the dough out in the tray to the thickness of 1/2 inch. Make indents with your finger all over the flattened dough. Smear 1&1/2 tbsp of oil on top of it.

Bake it for 20-25 minutes in the oven. Switch the oven off. Broil or grill it for 1-2 minutes to bring that beautiful color. Keep a close watch on the focaccia while broiling or else it will burn.

Bring it out. Let it rest for sometime. Slice and serve. I sometimes use it to make grilled sandwiches as well. Entertain family and friends with this delicious flat bread which will not only spread the warm aroma but lot of good laughter and giggles while sharing some good bread together!
Enjoy baking! Have fun!
Sonal