Carrots, Turnips & Peppers Seasonal Pickle
As an Amazon Associate and member of other affiliate programs, I earn from qualifying purchases.

Sharing another pickle from my childhood winter memorabilia. This used to be a regular pickle till the winters lasted. So many times, we would eat paranthas, dal chawal, Mathris with a huge side of this pickle. Tart, spicy, crunchy and couldn't stop eating. My 4 year old is developing the taste and my 10 years old eats it like a pro.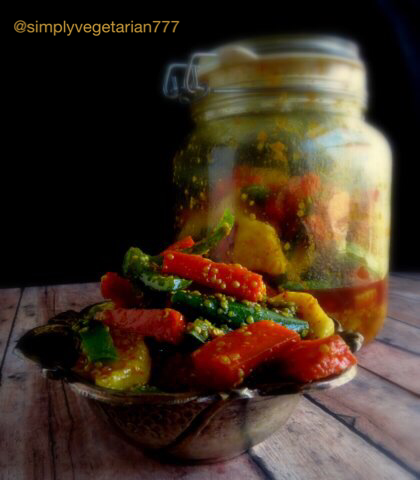 I have good memory of 'cheeni mitti' ke martbaan (china clay pots) sitting in sun in the verandah of my childhood home, sunbathing and maturing the pickles inside. We would pass by, to pick just one piece out and pop in the mouth. Grandma's voice in the faint back…."Arre ladkiyon, achaar kharab ho jayega"! ( girls, the pickle will be spoiled). We would pretend as if we didn't hear it and would run away giggling! Those were the days! Dadi would sit like a pickle guard and us trying to sneak a piece.
Here is how to make it!
Yields – 1/2 kg pickle approximately
Kitchen Equipments Required – chopping board, knife, a clean dry glass jar which can hold 1/2 kg pickle, a clean spoon (wooden preferably), a drying tray, kitchen towels, a small sauté pan, a mixing bowl.
Ingredients
Vegetables : 500 gms/ 1/2 kg, including carrots, turnips & some bell peppers if desired. You may have the quantities in equal proportions or 1 more than the others.
Mustard Oil : 1/2 cup
Ground Mustard seeds, coarse : 2 tbsp. Also sold as Rai Kuria in the market. Or you may coarsely ground yellow mustard seeds at home.
Mustard powder, fine : 1 tsp (optional)
Red chili powder / Lal mirch : 1&1/2 tsp. Use 1 tsp of kashmiri lal mirch or fancy paprika for more red color (optional).
Asafetida/Hing : 2 fat pinches
Salt : 1&1/2 tbsp or to taste
Turmeric : 1/2 tsp
Vinegar : 1/4 cup
Method
Peel and wash the vegetables. Do not peel the peppers.

Put the kitchen towel layers on a clean and dry surface or tray. Spread out the vegetables for drying. Leave them like that for 24 hrs / 1 day. We are not boiling them but air drying them and softening naturally. A tip shared by my sister. This way, I avoid over cooking of vegetables in hot water and loosing the crunch.

Next day, heat mustard oil to smoking point. Switch off the flame. When the oil is still warm, add all the spices to it besides vinegar. Now cool it completely.

Add the air dried vegetables to the mixing bowl. Add the cooled spiced oil to the vegetables and toss it well with spoon.

Transfer the contents to the clean and dry glass jar. Stuff the jar. The vegetables shrink further because of spices and vinegar.

Keep in the sun or the window with sunny corner and shake it every couple of hours for first day. The pickle is ready to be used after 6-8 hrs.
Storage – You may store the pickle at room temperature. If you think that it can get spoiled, refrigerate it. Whatever works for you.
Enjoy this pickle with family and friends!
I am taking it to the Frugal Crafty Home Blog Hop
Sonal