Chana Dal Khichdi – Meatless Monday
As an Amazon Associate and member of other affiliate programs, I earn from qualifying purchases.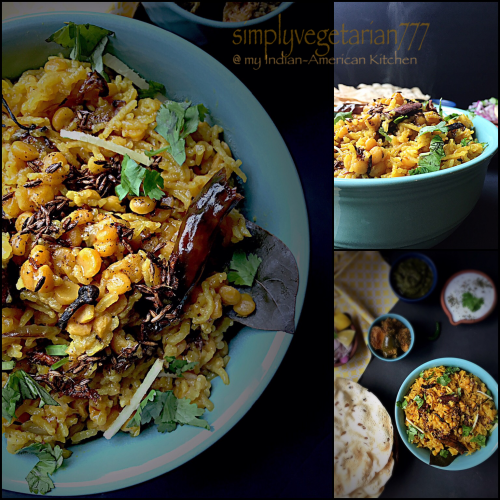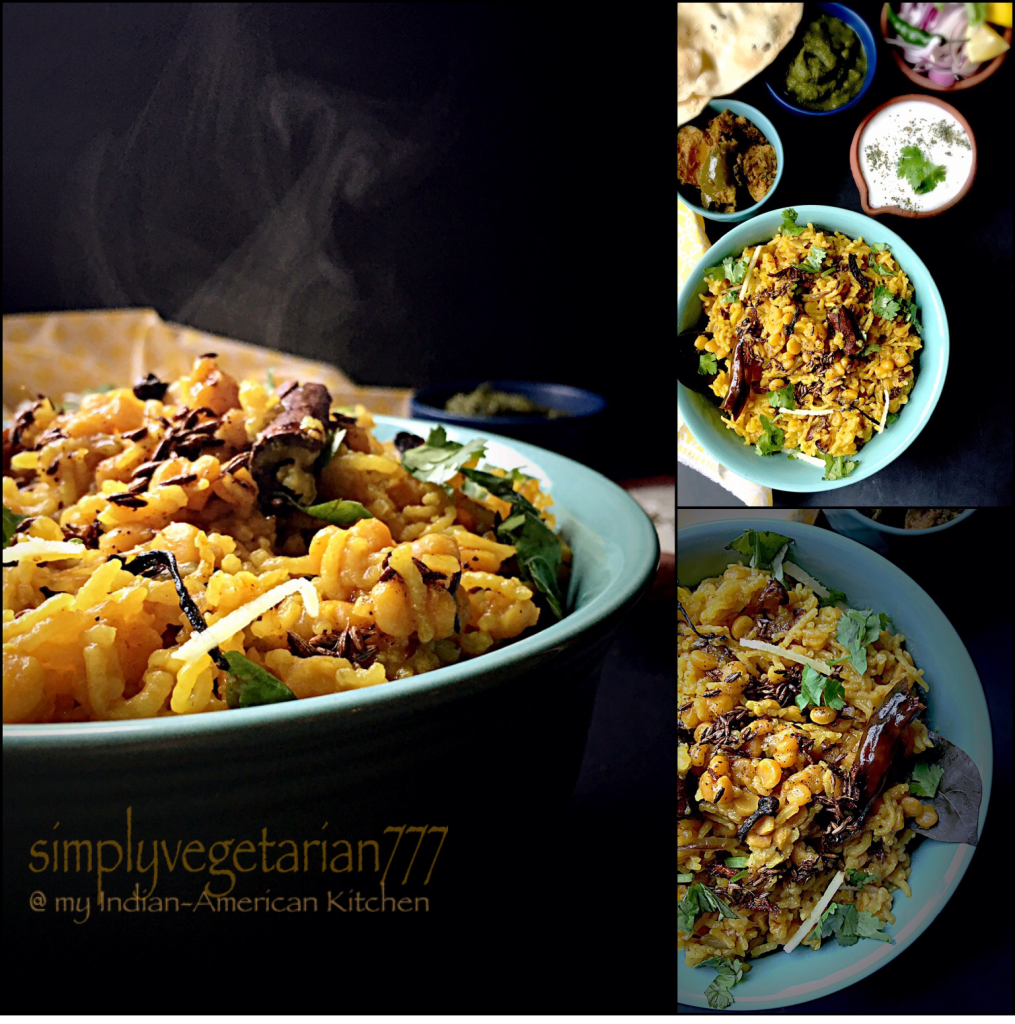 I don't remember as to how and where, I learnt to make this Khichdi. May be a mix and match of so many recipes that I come across or may be out of boredom of eating same old, same old every time! Nonetheless, it is a must try.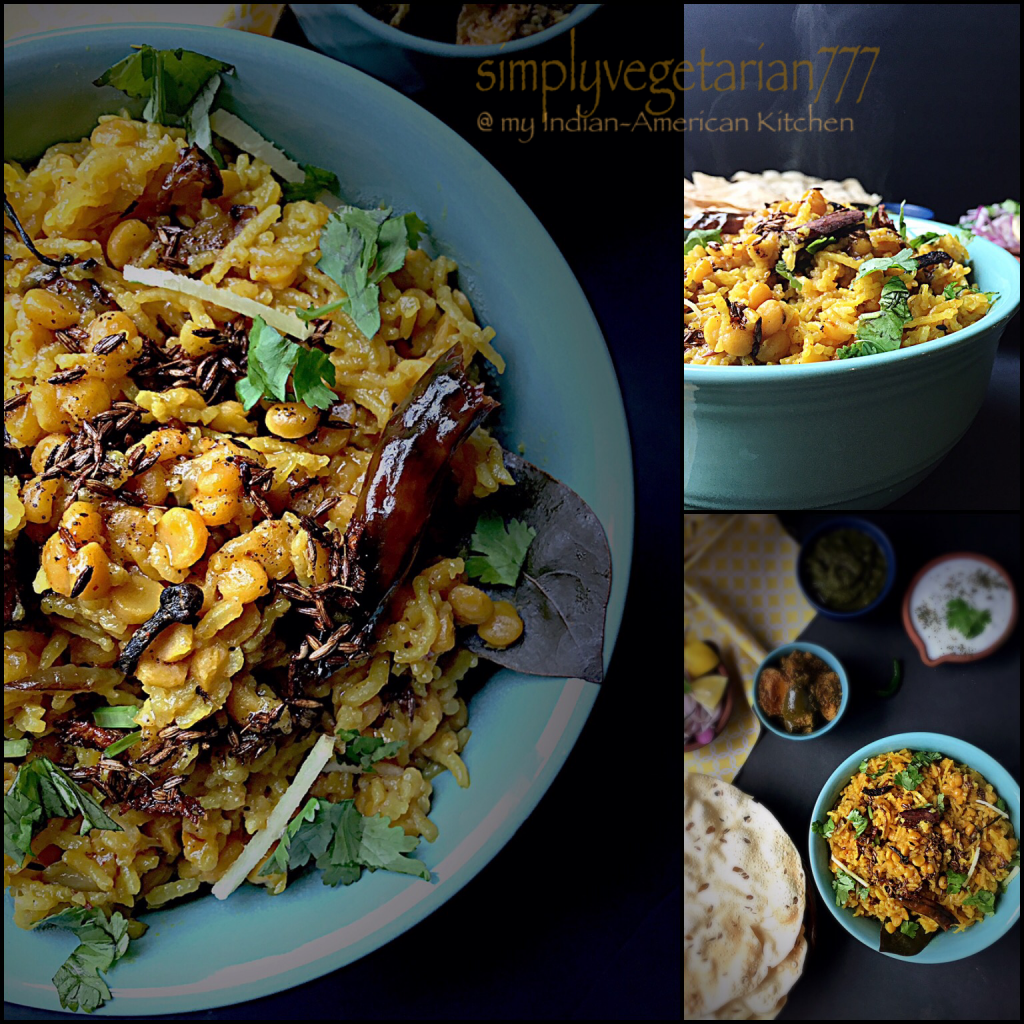 I can vouch that it is just absolutely divine in taste and though Khichdi, it is no less than a Royal Khichdi. If you belong to the category who think that the Khichdi is just for the sick and ailing, then you are in for a treat.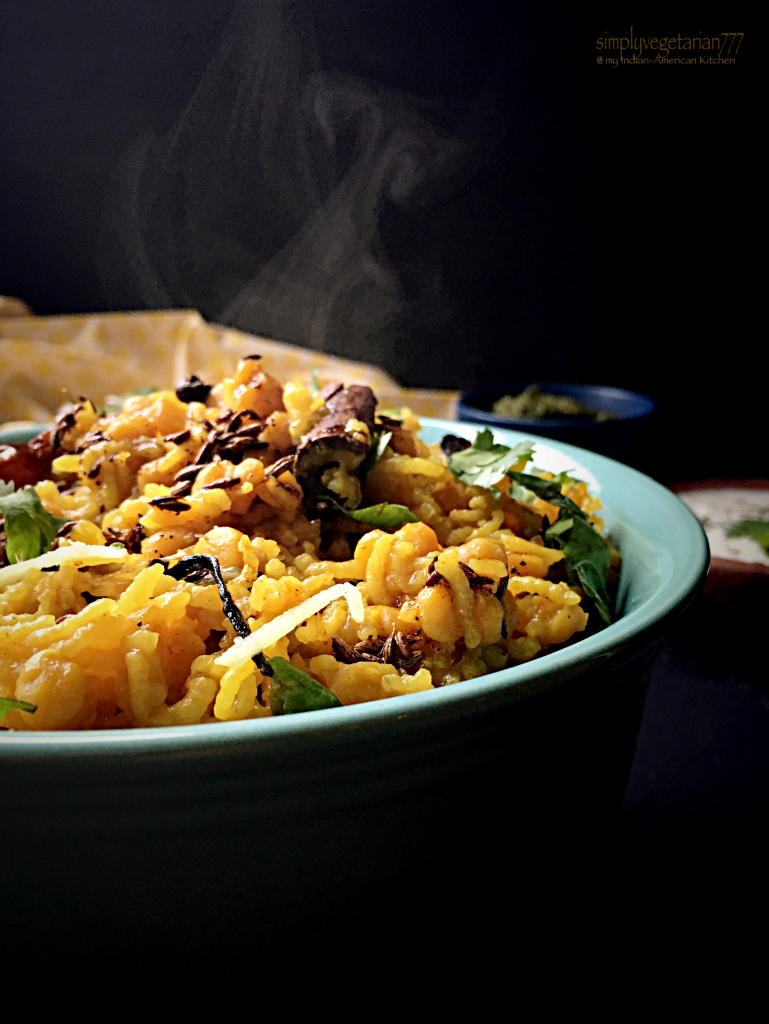 It is a compete one pot meal! Perfect for a lazy weekend lunch or a busy weekday night. Flavors of piping hot Chana Dal Khichdi brighten up any cold, dull and gloomy winter day.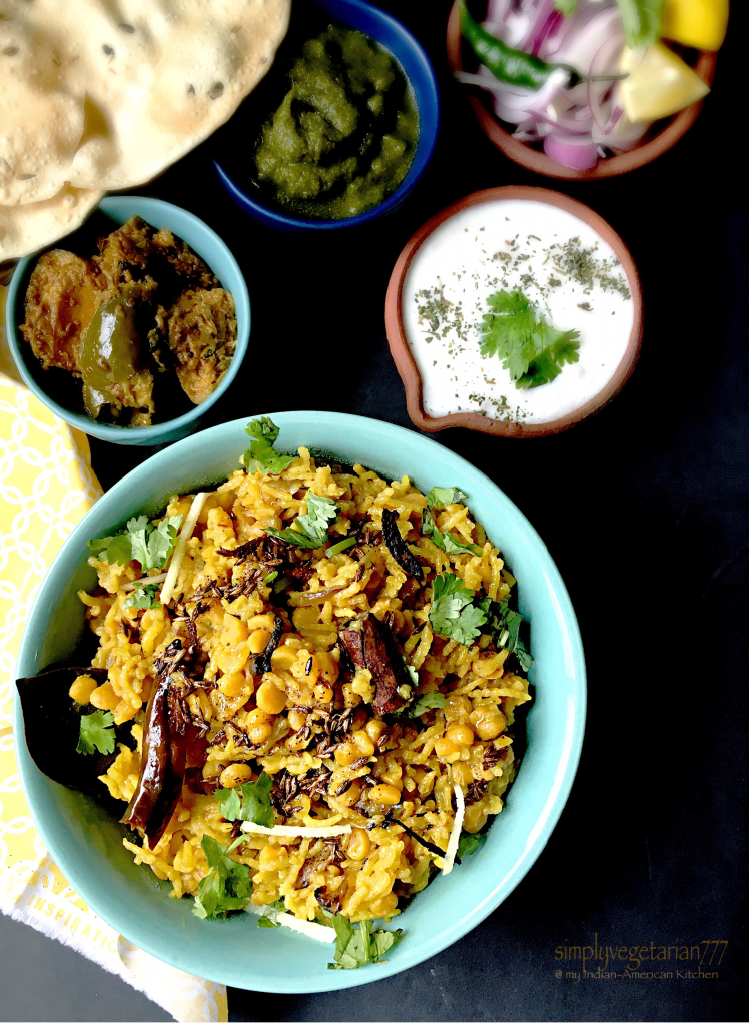 Combined with some roasted Papad, Ghee ka Tadka, Yogurt, Mango Pickle,  Green Coriander Chutney, Onions and squeeze of Lemon juice, it is just out of this world. It represents true desi khana!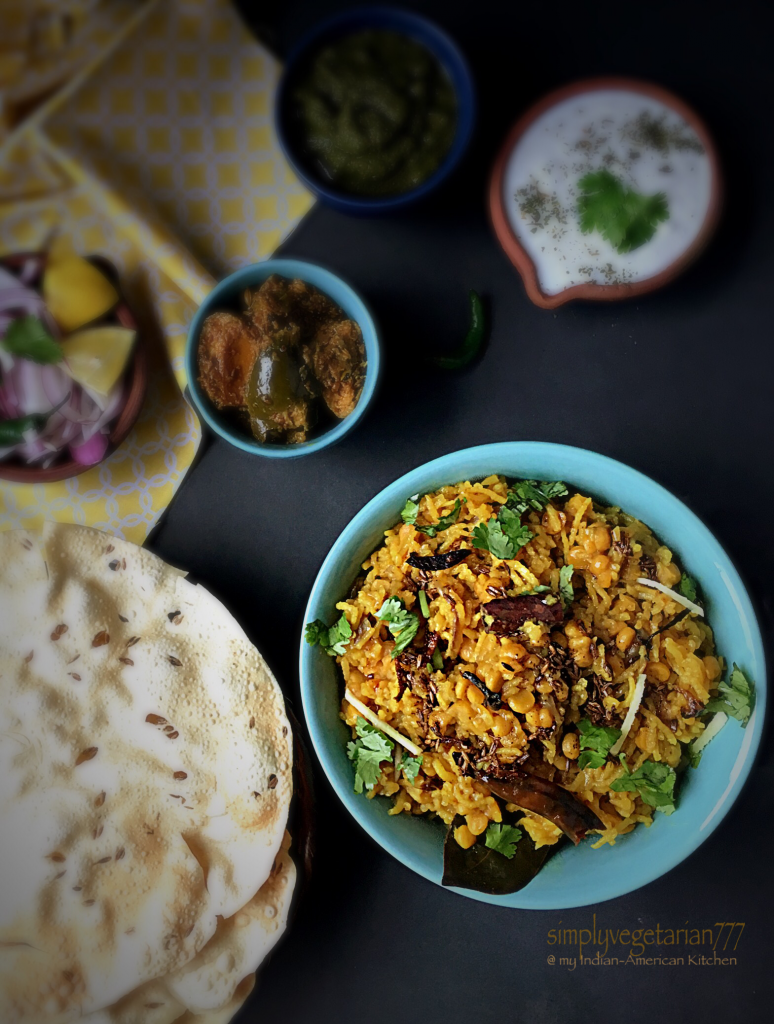 Made in no time and enjoyed by all, has become a staple in my house. Amit, who runs away from the sight of Khichdi, would take second helpings of this one. My kids, who would prefer pasta over the regular Khichdi, would eat it delightfully!
This is how I made it!
Chana Dal Khichdi
Servings: 2
Difficulty: easy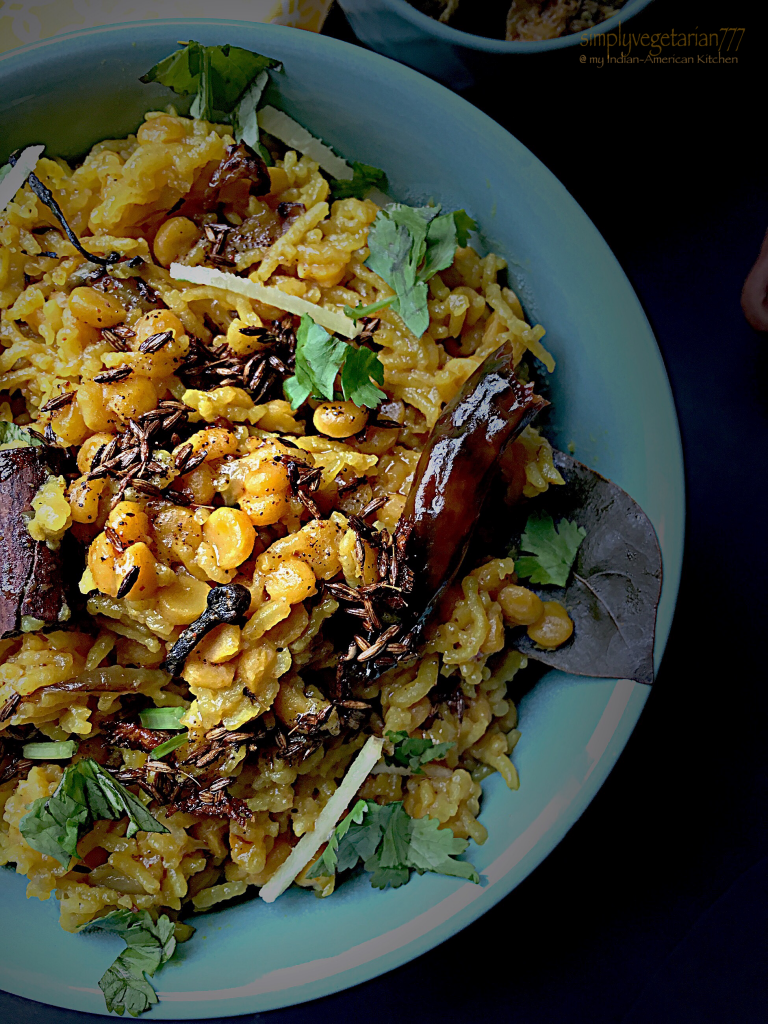 Kitchen Equipments Required
Chopping board, knife, a medium bowl to soak, a pressure cooker or a sauce pan with lid, cooking spoon or ladle, a small pan to make tadka/Chhaunk.
Ingredients
Basmati Rice – 1/2 cup
Chana Dal – 1/2 cup
Ginger – 1 tsp, finely chopped
Onions – 1/2 cup, thinly sliced
Water – 4 cups
Coriander / Cilantro Leaves for garnish
Lemon juice to add later
Oil & Spices
Ghee – 1/2 tbsp
Cumin Seeds – 1/2 tsp
Bay Leaf – 1 small
Cinnamon stick – 1 small
Red Chili, whole & dry – 1
Cloves – 2
Black pepper corns – 4
Turmeric – 1/2 tsp
Red chili powder – 1/4 tsp
Garam Masala – 1/4 tsp
Salt – 1&1/4 tsp or to taste
Sugar – 1 pinch
Tadka / Chhaunk
Ghee –  1 tbsp
Asafetida / Hing – a pinch
Cumin seeds – 1 tsp
Red chilli powder – 1/2 tsp
Method
Take a bowl. Add rice and Chana dal to it. Wash it thoroughly and soak in 1&1/2 cups water for 15 minutes.
Take the pressure cooker. Heat 1/2 tbsp ghee in it. Lower the heat and add cumin seeds, bay leaf, cinnamon stick, whole red chili, cloves and black pepper corn to it.
Once the cumin seeds start crackling, add ginger and onions to it. Also add the pinch of sugar. Sauté the onions on medium flame till they become golden brown. Adding a pinch of sugar to the onions, help in quick and nice caramelization of the onions. You may skip the sugar as well.
Once the onions are golden, drain the water from soaked rice and dal. Add the rice and dal to the pressure cooker along with turmeric, red chili powder, salt and garam masala. Stir in well and cook for a minute.
 Now add 4 cups of water. Stir well with ladle.
Put the lid of the pressure cooker along with its weight (whistle). Increase the heat to maximum. Cook for 1 whistle and then lower the flame. Cook on summer for 3-5 minutes. Switch off the flame. Let the steam evaporate on its own.
Now remove the weight and open the lid. Let it stand for 5 minutes.
Add chopped coriander leaves. Stir gently.
Pour out in a serving bowl. Top with tadka and serve warm.
Making the Tadka – Heat Ghee in a pan. Lower the flame and add cumin seeds and asafetida to it. Once the cumin seeds crackle, add red chili powder and switch off the flame. It is ready to be poured over Khichdi.
Notes
If you are using the sauce pan instead of pressure cooker, use 6 cups of water. After the first boil, reduce the heat, cover and cook on simmer, till water is evaporated and chan dal is cooked well.

Yet another delectable dish from my Indian American kitchen to yours! Enjoy and Stay Warm!
Sonal