Chandra Poli
As an Amazon Associate and member of other affiliate programs, I earn from qualifying purchases.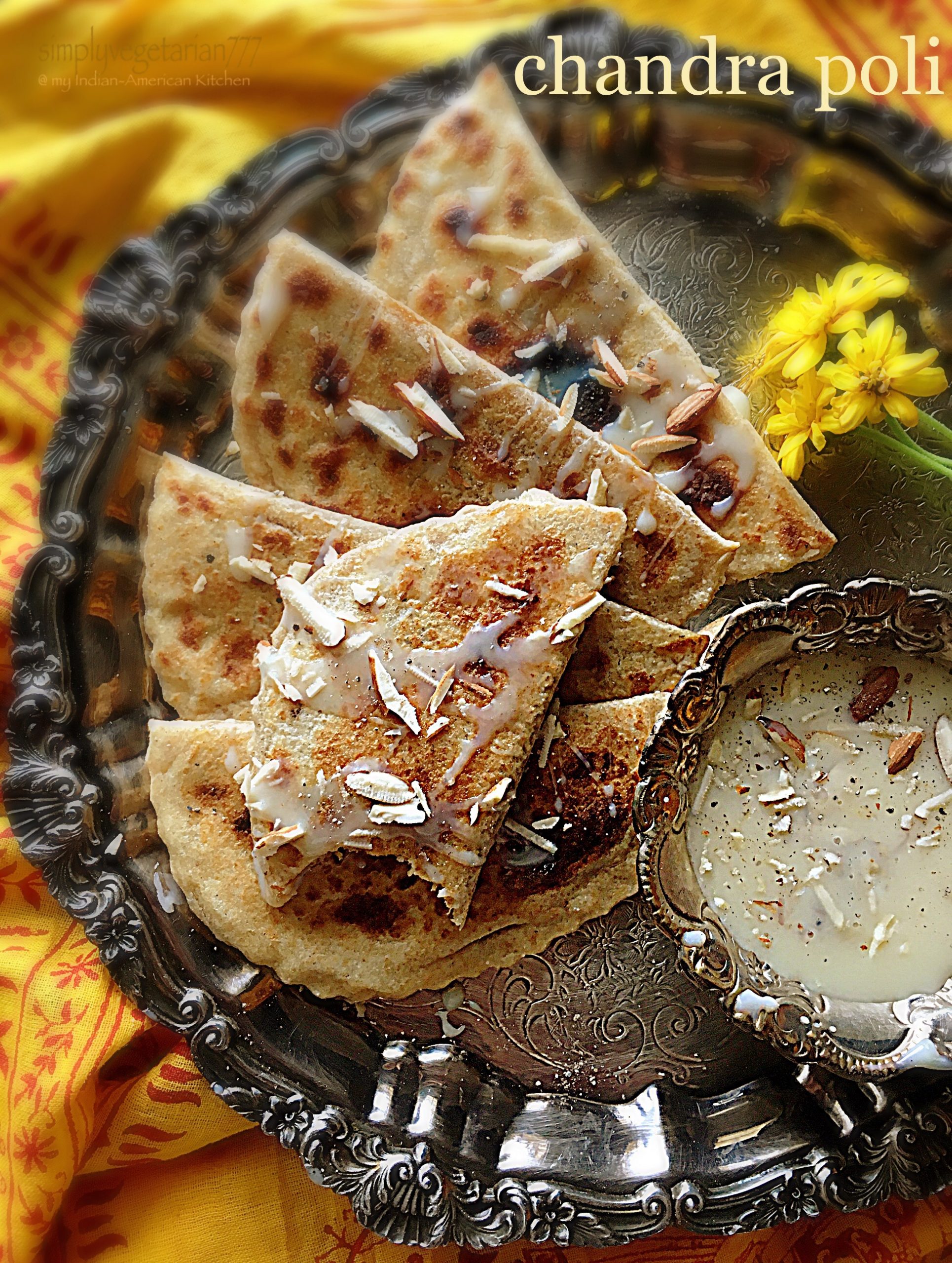 Chandra Poli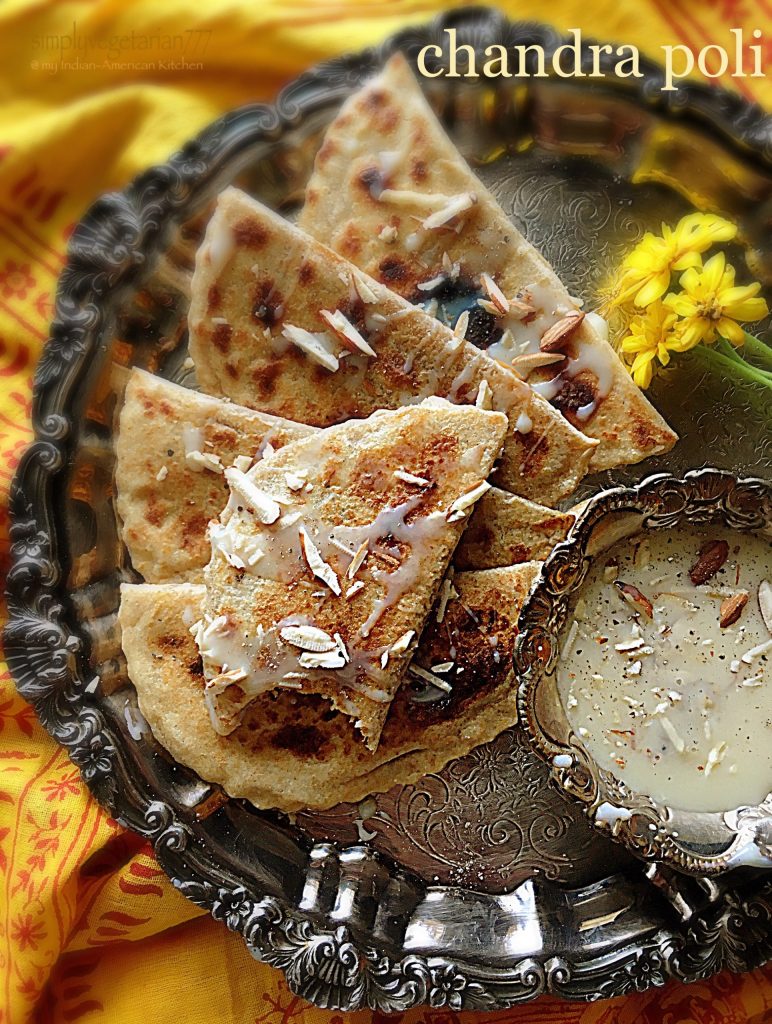 Chandra Poli is a perfect recipe to celebrate Ganesh Chaturthi. It is a fusion dish created with the combination of Puran Poli and Ukadiche Modak.
Lord Ganesha is believed to be the Lord who clears all the obstacles in our path and brings success and happiness in our lives. Most of the Hindu families offer their prayers to him first before starting any new venture in life or livelihood.
Ganesh Chaturthi is a very auspicious day celebrated to pray to the god so that every new activity that is started is successfully completed without any obstacles. It is celebrated throughout India, especially in Maharashtra, Andhra Pradesh and Telagana. There is a grand celebration in the state of Maharashtra by traditional instrument called dhol and tasha. It is also celebrated in the other parts of India such as Gujarat, Karantaka, Tamil Nadu, Kerala, Goa, Odisha and parts of Madhya Pradesh. [1]
North Indians worship Lord Ganesha for everything and anything auspicious but for some reason, we do not celebrate Ganesh Chaturthi, like how people in Southern and Western India celebrate.
I was born and raised in North India, to be precise in Uttar Pradesh and never celebrated Ganesh Chaturthi, while growing up. Bollywood and Migration to USA, introduced me to this festival of colors, frolic and revelry.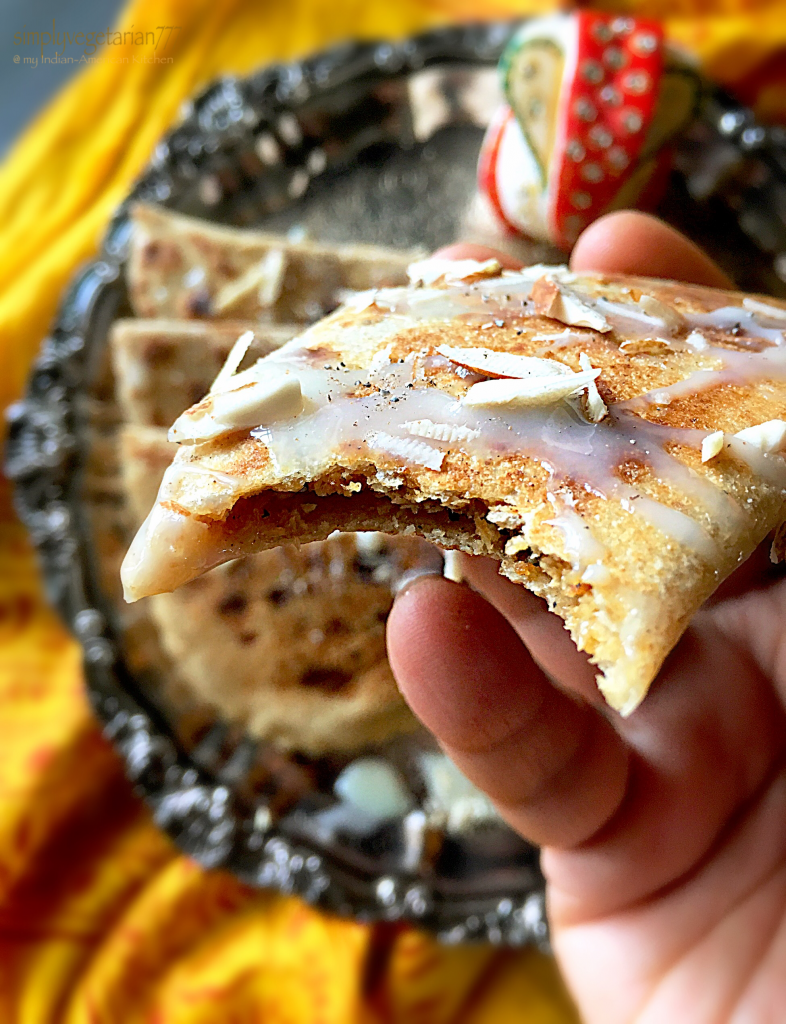 There are 2 very popular dishes that are prepared as an offering to Ganesha on the occasion. One is Puran Poli and the other is Ukadiche Modak.
Puran Poli is a stuffed flat bread. It is made using refined flour or whole wheat flour dough for outer layer. The stuffing is made with Chana Dal (gram dal), jaggery and cardamom as main ingredeints. Dough is rolled into discs, filled with the aromatic stuffing. It is then shallow fried with ghee to perfection.
Ukadiche Modak are a kind of Laddoo or Fudge Balls with a tip. The outer covering is made with rawa or sooji. The inner filling has coconut, jaggery and cardamom as main ingredients.
To make the modak, rawa is cooked in water to make a dough. it is then divided into small portions. Every portion is filled with the divine stuffing. These are then shaped as Modaks. Finally they are steamed to perfection before offering to the Lord.
Honestly, I still do not celebrate the festival with the zeal it requires. The blogging community in India is posting the Ganesh Chaturthi recipes ceaselessly. You may say that I got carried away and came up with this recipe.
I was too scared to try my hands at the traditional recipes with the fright of goofing up. There are millions of Ukadiche and Puran Polis floating out there. I wanted to blog one and get that attention. It is okay to be bluntly honest sometimes.
I read the recipes of both the gorgeous dishes million times and read more and then came up with Chandra Poli.
Chandra Poli is such an easy recipe that I am sure that you are going to love it. You will make it not only for the occasion but to celebrate just any day of your life. Few easily available ingredients, time and energy efficient recipe and you are sorted. I bet Lord Ganesha will like the change too. 😀
Morever, poeple like me who are new to the whole concept of celebrating the festival, they would love it for its ease and taste.
I am calling it Chandra Poli, since it is shaped as a crescent moon / half moon. Don't you think it is adding to the charm of such a simple recipe?
When you are in my kitchen, food is always simple, easy, efficient and delicious!

Chandra Poli
This is how I made these gorgeous delicious packs of divinity !
Chandra Poli
Chandra Poli is an easy reipe combining puran poli and ukadiche modak to celebrate Ganesh Chaturthi.
Ingredients
Ingredients for Poli
Whole wheat flour – ¾ cup + more for rolling

Fine Semolina

suji – ¼ cup

Salt – a very small pinch

Oil /Ghee – 1 tsp + more for shallow frying

Water – ¼ cup + more to make soft dough
Ingredients for Coconut Jaggery Filling
Coconut

dry & unsweetened – ¼ cup

Jaggery

grated or Shakkar – ¼ cup

Cardamom powder – ¼ tsp
Ingredients for Garnish
Almond Slivers – ½ tbsp

Condensed Milk – ¼ cup

Cardamom powder to sprinkle
Instructions
Method to make Poli Dough
Take a bowl and add whole wheat flour, semolina, oil & salt to it. Start adding water, little at a time and make a soft pliable dough. Knead for 5 minutes. Keep in an air tight container and set aside for 10 minutes. Then divide the dough into 8 equal portions and make smooth balls out of it. Set these aside, covered.
Method to make Coconut Jaggery Filling
Take a small bowl. Add dry coconut, jaggery and cardamom powder to it. Mix well. Set aside. It is that simple.
Method to make Chandra Poli
Set your working counter – Lay out the rolling board, keep your rolling pin handy, keep a bowl of whole wheat flour for rolling the poli if required, a small bowl of water, the filling and the dough.

Heat the tawa or a flat pan.

Meanwhile, Take a dough ball. Roll it out into a 3&1/2 to 4 inches circle. Use dry flour for rolling, if required.

Take 1 tbsp of coconut jaggery filling and spread it in the half portion of the circle, leaving the other half for folding over for Chandra shape. Also, leave ½ inch space on the edge for pressing and closing.

Dip your index finger in water. Run your wet finger on the sides of the circle.

Carefully, pick the empty side of the circle and fold it over the other half filled circle. Press it tight and close the edges. I used a pizza cutter for even shaping and cutting out any extra corner or edges.

Grease the hot tawa and place these Chandra polis on it. Roast it from the bottom till slightly red, for approximately 45 seconds. Flip carefully, apply generous amount of ghee and press it down with flat spatula to roast the other side.

Flip again after 45 seconds, when the other side is slightly golden. Apply ghee on this side and press down to cook further.

Flip one more time and press for another 30 seconds. Your Chandra Poli is ready.
Note – You may make 2-3 chandra polis at the same time, depending upon the size of your tawa.
Serving Suggestion
Pour condensed milk in a small bowl and add a pinch of cardamom powder and almond slivers to it. Serve it along the warm Chandra Polis for dipping.

You may drizzle the Chandra Polis with some condensed milk and then sprinkle the almond slivers on top.
Notes
For more festive taste, you may use refined flour instead of whole wheat flour. Adjust the water accordingly. You may garnish it with pistachios and saffron also. You may serve it with kheer also. you can make smaller chandra polis too. Make it vegan recipe by using coconut oil or vegetable oil instead of ghee and do not serve it with condensed milk.
So, are you treating Ganesha with Chandra Polis this time? I am making these again since they were gone from my kitchen counter in a blink. Do not forget that condensed milk dip on the side. It adds to the warm and melting jaggery infused with cardamom and textured with coconut flakes.
At my cucina, we are alway Eating Happy & Staying Happy!
Sonal
Please pin this for later.


[1] – wiki reference