Chilli & Cheese Rangoons
As an Amazon Associate and member of other affiliate programs, I earn from qualifying purchases.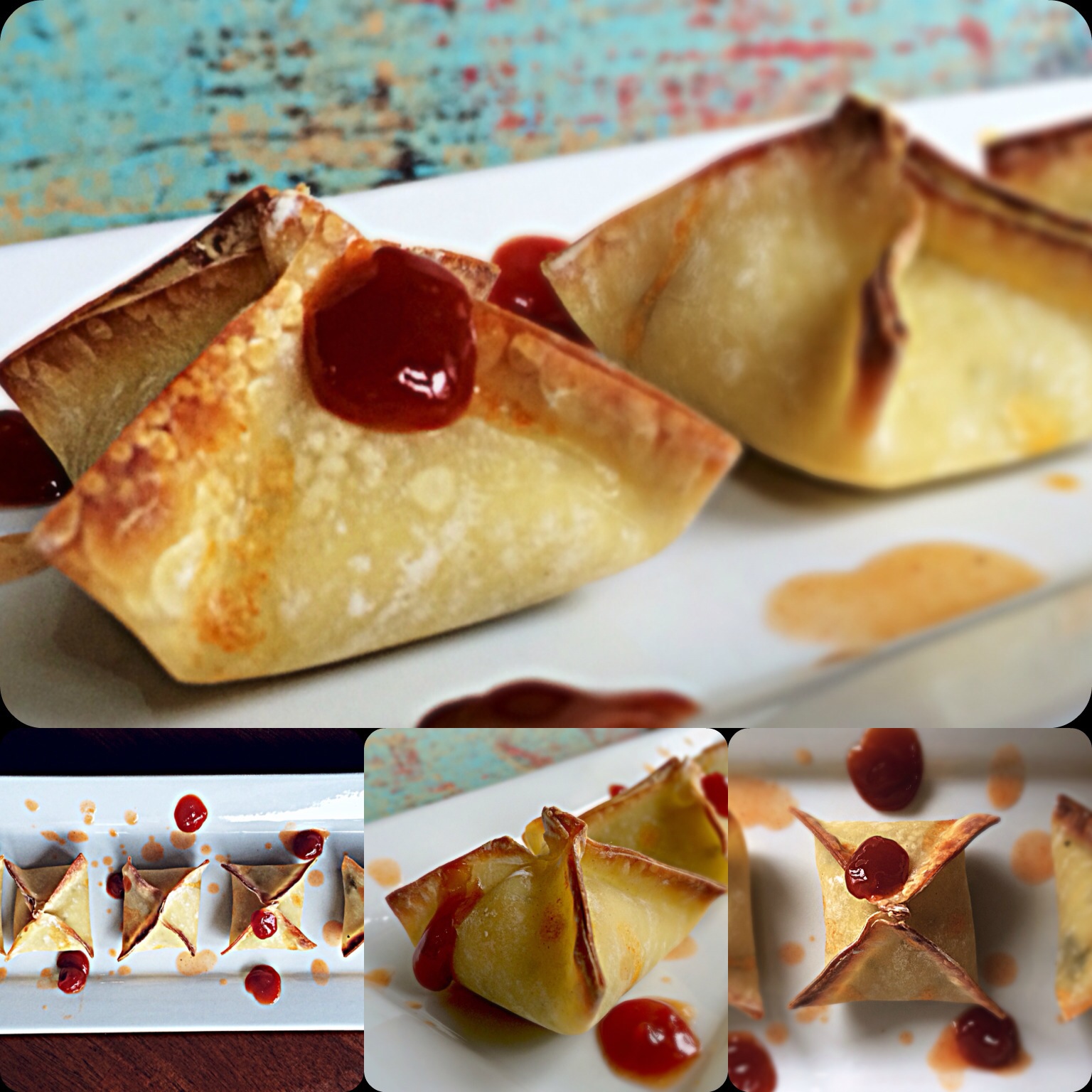 Angie of The Novice Gardener and Fiesta Friday Fame, had posted the Fried Wontons few weeks ago. I was so stuck up on that I quoted to Angie that I will be back on these with my veggie version. She is the master of exotic and fun recipes. Truly inspirational! A league in her own.
It was one of those "cravings" kind of evening. We all wanted something warm, something cheesy and something spicy (not too much). It hit me with Jalapeño poppers from Arbys. Didn't want to wear that jacket and drive out to get those babies. Too much work to satisfy the silly cravings. So, I opened the fridge and figured out few semi home made ingredients and wallah, Angie's wontons brightened my head.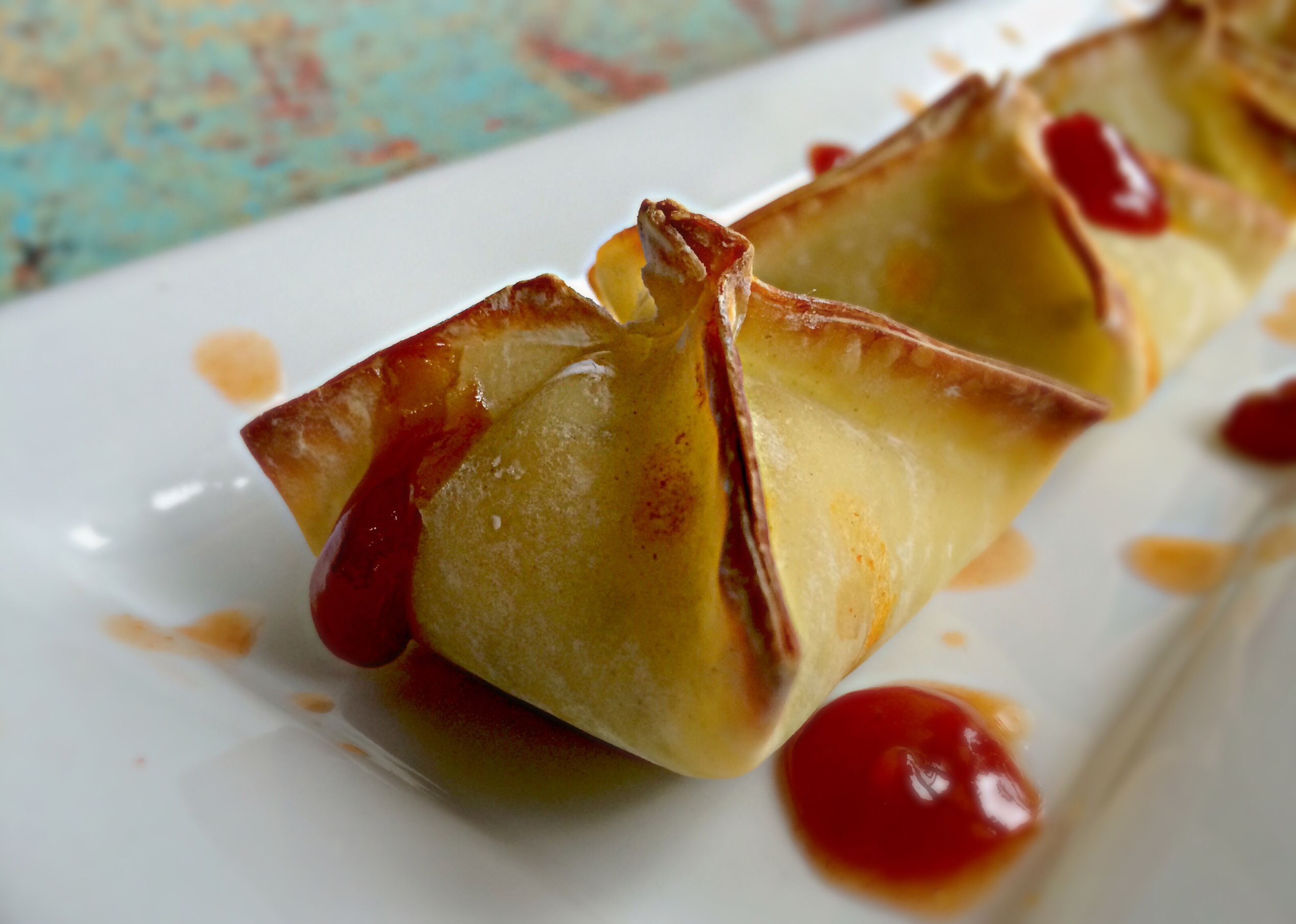 Took the ready made wonton wrappers out by Nasoya, opened the Angie's Wonton Post and put that oven to the pre-heat setting. I tell you, the best thing ever. Some simple pleasures of life are Semi Homa Made as quoted by Sandra. I love that lady and Melissa from the Food Network.
Here is my recipe for making 12 Rangoons. Wontons and Rangoons are the cousins of the same family from different countries 😉.
Kitchen Equipments Required
Baking tray, oven, blender or fork, baking paper or butter paper.
Ingredients
Wonton wrappers, ready made – 12. You may use ready made Samosa Patti too, cut in 4×4 inch squares.
Cream Cheese – 1/3 cup, room temperature.
Jalapeño pepper – 1/2 or 1&1/2 tsp finely chopped. You may use any green chilli variety and adjust to the amount of heat required. The amount I used was just perfect. Hot enough but not to burn your senses.
Corn Flour – 1&1/2 tsp dissolved in 1&1/2 tsp of cold water. We are going to use it for sealing the edges.
Method
Preheat the oven at 400F or 205C. Line the baking sheet with butter paper. Set aside.

Mix the cream cheese and jalapeño chili in the blender and mix to a smooth mixture. Set aside.

Lay out 12 wonton wrappers or Samosa Patti. Work quickly. Add about 1tsp of the cheese and chili mix in the middle of each Rangoon.

Apply the corn flour mixture on all the 4 sides of the rangoons.

Pick the 2 opposite corners and bring them to the center and pinch.

Now bring the other 2 corners of the Rangoon together and pinch them to merge with already merged corners.

Press the sides of the rangoons together to seal.
Refer to Angie's original post for understanding on folding. Also, refer to the pictogram given below.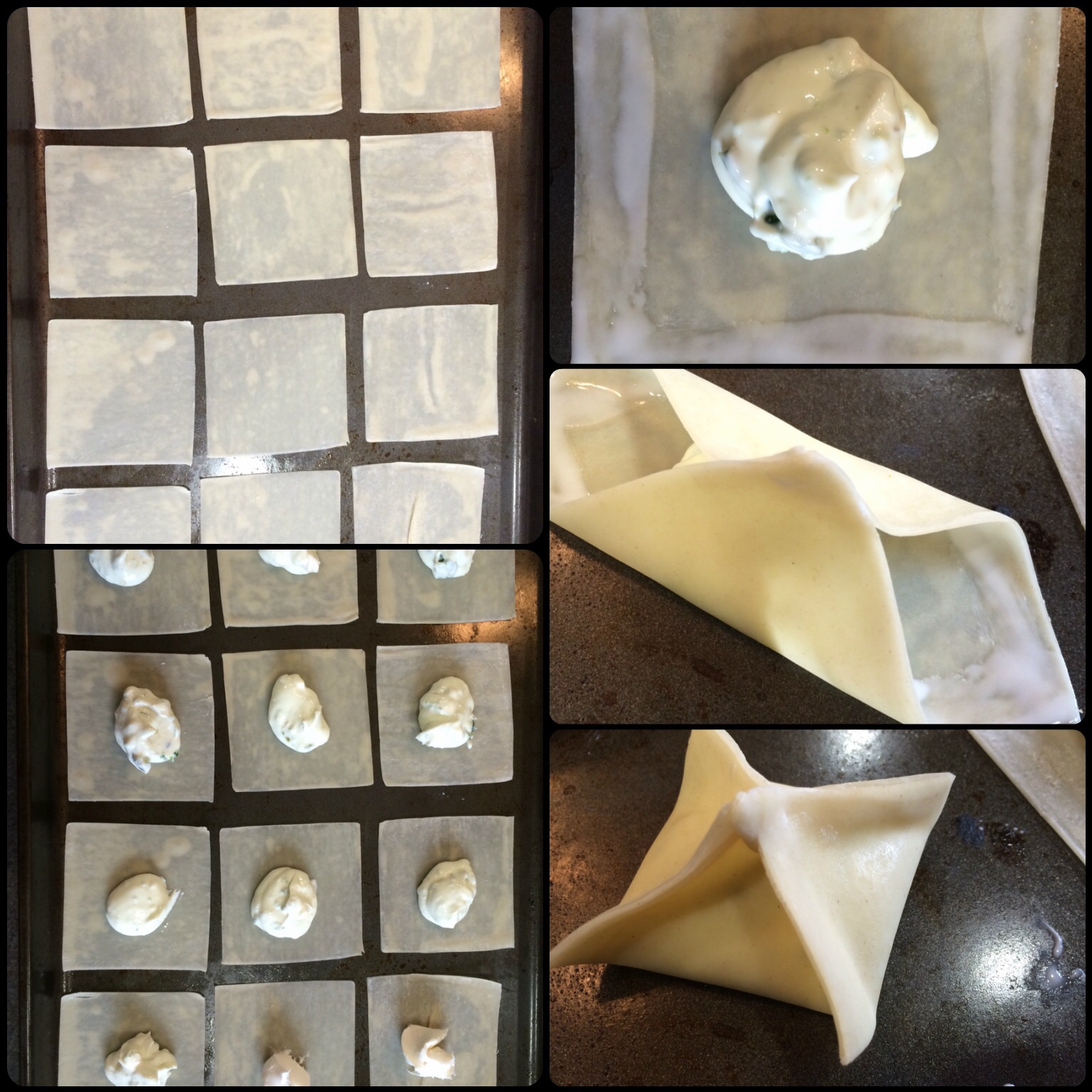 Bake for 10-12 minutes. Grill / Broil for 30-35 seconds to create a golden hue. You can totally deep fry these. Choice is yours.

Serve with some ketchup spiked with hot sauce.
Note – You may use ready to bake rolls, crescents, phyllo cups, anything for its base. The stuffing is so desirably yumm, that it will make any base shine.
An awesomeness created instantly to please your craving taste buds! 😉
You may entertain your guests with it over game party gatherings, weekend drink parties, brunch dates, etc. These make elegant party food!
Enjoy with family and friends this weekend. I am taking this tray to enjoy with my pals at Angie's Fiesta Friday, co-hosted by lovely ladies Selma and Margy. See you guys soon!
Sonal