Crinkled(not so) Chocolate Cookies : Happy Thanksgiving!
As an Amazon Associate and member of other affiliate programs, I earn from qualifying purchases.
I leave for the vacation for a week and so excited for warmer weather. At the same time would miss out on cooking for thanksgiving. So, wanted to bake something before I leave in the cheer happy spirit of Thanksgiving. I woke up craving for a spiced apple coffee cake this morning. I told my oldest daughter, "let's bake it together". She told me instead that she wants to bake cookies. We kept arguing who gets to pick and finally I gave in with a condition to try out a different chocolate cookie and not the regular chocolate chip. She looked at me and I looked back at her with the expression, "take it or leave it…I am already giving up my cake on your demand"…lol! The mothers and the looks. Well, my little would have cared less of that look ;)…lol ! Kids!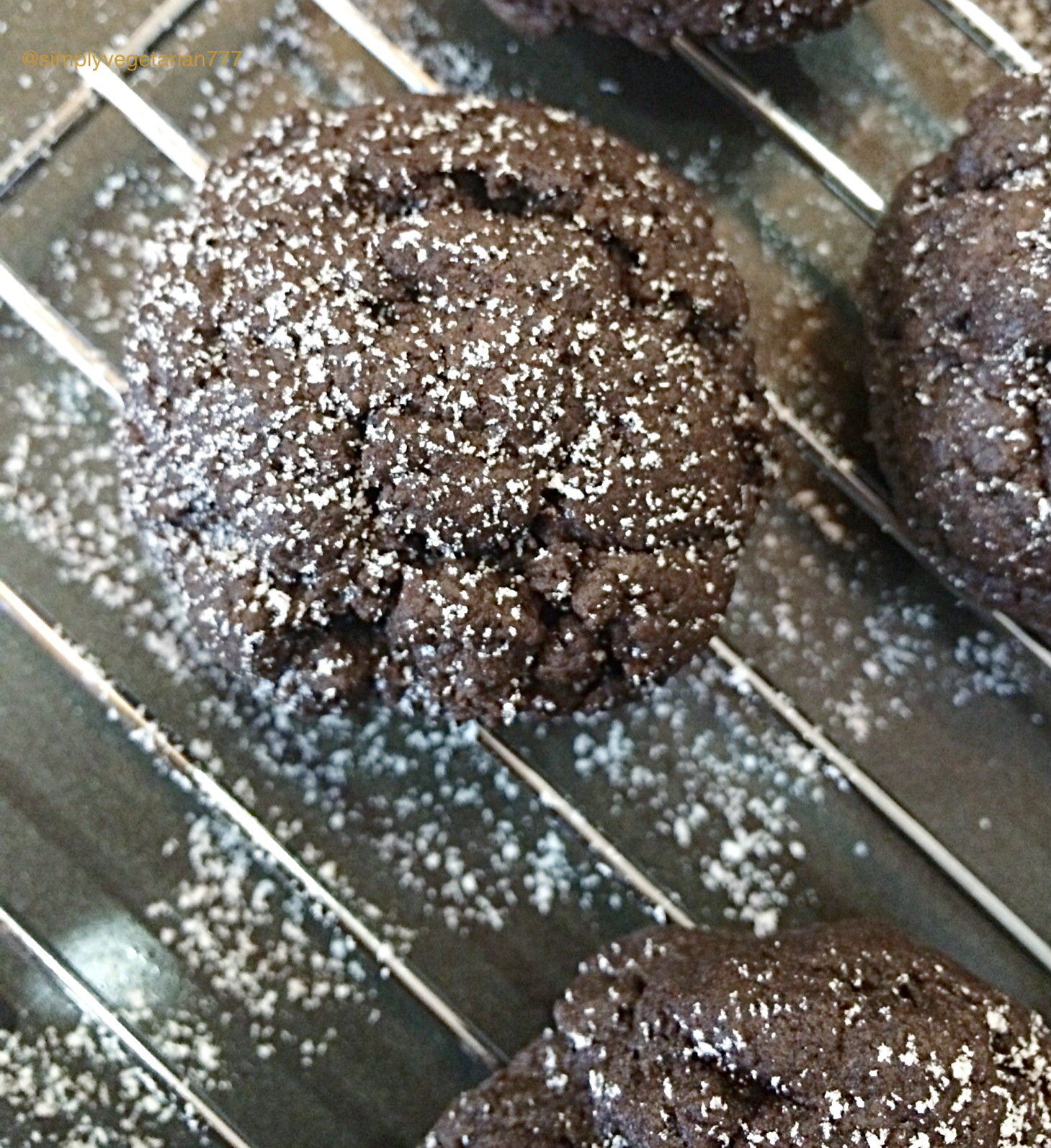 Crinkle cookies were on my mind for sometime. So started flipping through the recipes. Got glued at William and Sonoma Crinkle Cookies. Such an easy recipe and awesome results, with crispy outer and brownie like interior. I am going to experiment more with it next time with nuts and spices etc. If you are thinking that the crinkles are not prominent on my cookies then there is a very good reason I can give. The original recipe calls for rolling the cookie in powdered sugar before baking but I didn't have the heart to use that much sugar so I skipped that part and dusted the cookies lightly with the sugar later after baking. My pictures do not do justice with the taste of the cookies. They were delicious and super awesome. Do give it a try and you will know.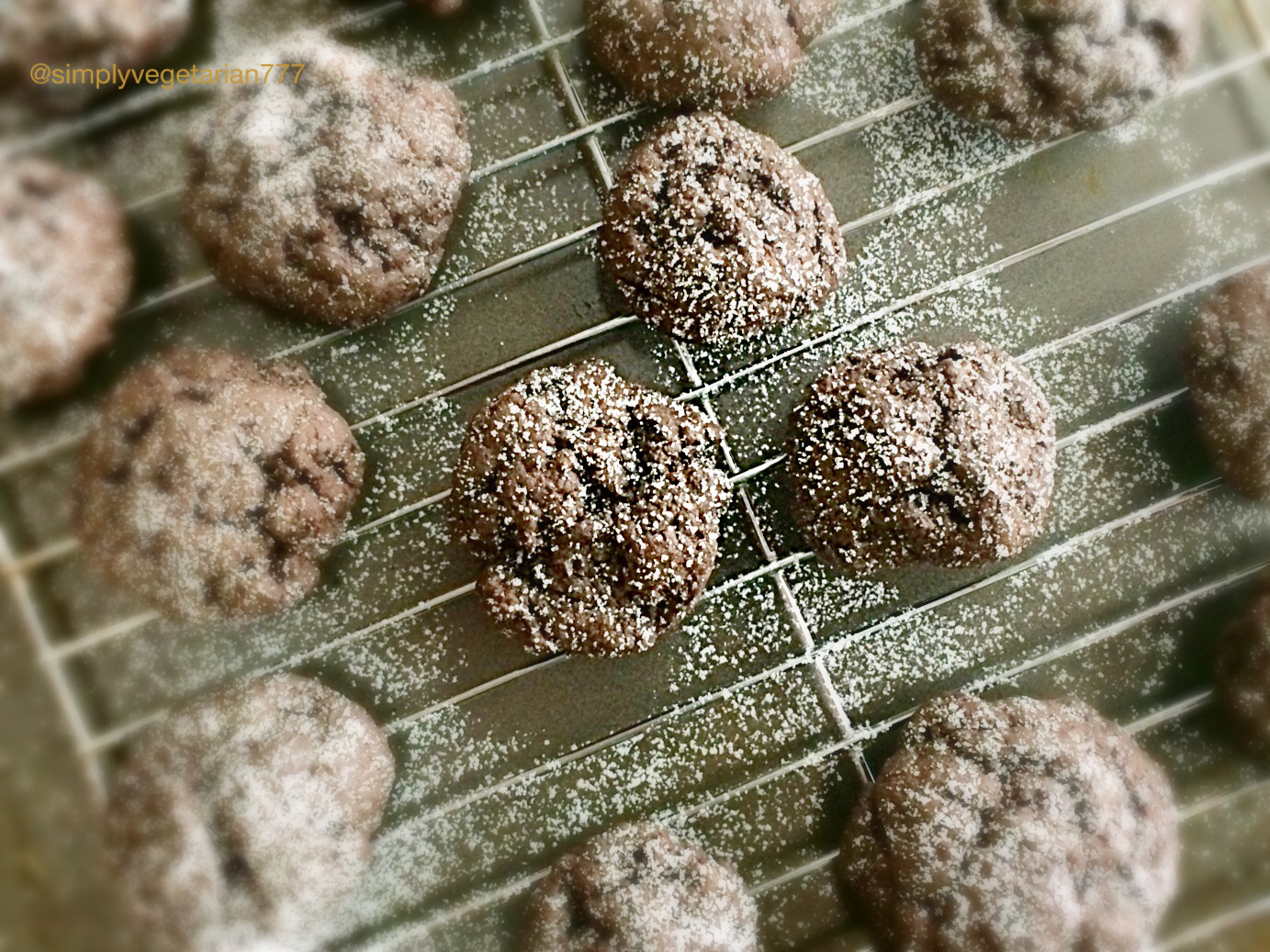 I have halved the recipe from original which you can find in the link given above. Here is my adapted version with reduced sugar and converted measurements from cups to gms.
Yields : 15-18 cookies
Kitchen Equipments Required : 2 big bowls, electric blender, fork, a spatial, cookie baking tray, parchment or butter paper (optional), oven, cooking rack.
Ingredients :
All purpose flour: 170 gms
Egg : 1
Sugar : 130 gms
Butter : 5 tbsp, at room temperature
Coco powder : 30 gms, unsweetened
Salt : 1/8 tsp
Baking powder : 3/4 tsp
Vanilla essence : 1/4 tsp
Milk : 1 tbsp
Confectioners sugar : 1-2 tsp to dust on top. Or 1/4 cup if you plan to roll the cookie before baking.
Method :
Preheat the oven at 350*F. Line the cookie baking tray with paper or lightly grease with butter.
Take a bowl. Add flour, salt, baking powder, coco powder to it. Mix gently with a fork. Keep aside.

Take another bowl. Cream butter and sugar in it with electric blender for about 2-3 minutes. Note : If butter is not at room temperature, then warm it lightly in microwave.

Add the egg and vanilla essence to the creamed butter and beat at low speed till incorporated.

Add dry ingredients to the wet ingredients. I would suggest to use a fork to incorporate it first and then use the electric blender so that the dry ingredients do not fly all over the place :).
Note : You will get a crumbly dough and not well bound. If it is too dry, then add 1 tbsp milk and mix. But the trick is to have a crumbly dough. Do not use hands to bring it together.

Take a tablespoon measurement spoon. Scoop the crumbly dough in heap full. Gently roll it in a ball between hands without pressure. These do not have to look smooth but they should look bumpy and rough.

If you are doing authentic way then, roll these balls in powdered sugar first and then set on the tray. If you want to do "low on sugar" way, then place on the tray directly after rolling between hands.

Bake for 12 minutes exactly for that texture. You will see the cookie balls puffing up and getting prominent crinkles.

Take the tray out. The cookies are soft. Gently pick them and put on cooling rack for 5-7 minutes before eating. If you have used tray without paper, then gently scrape the bottom of the cookie with a flat spatula and the lift and place on rack.

You probably won't have any leftovers to store. But if you do, then store in an air tight container after they are completely cooled.
Enjoy this holiday season! Make it the original way and use as gifts :).
Sonal