Dry Fruits Sweet and Spicy Chutney/Compote
As an Amazon Associate and member of other affiliate programs, I earn from qualifying purchases.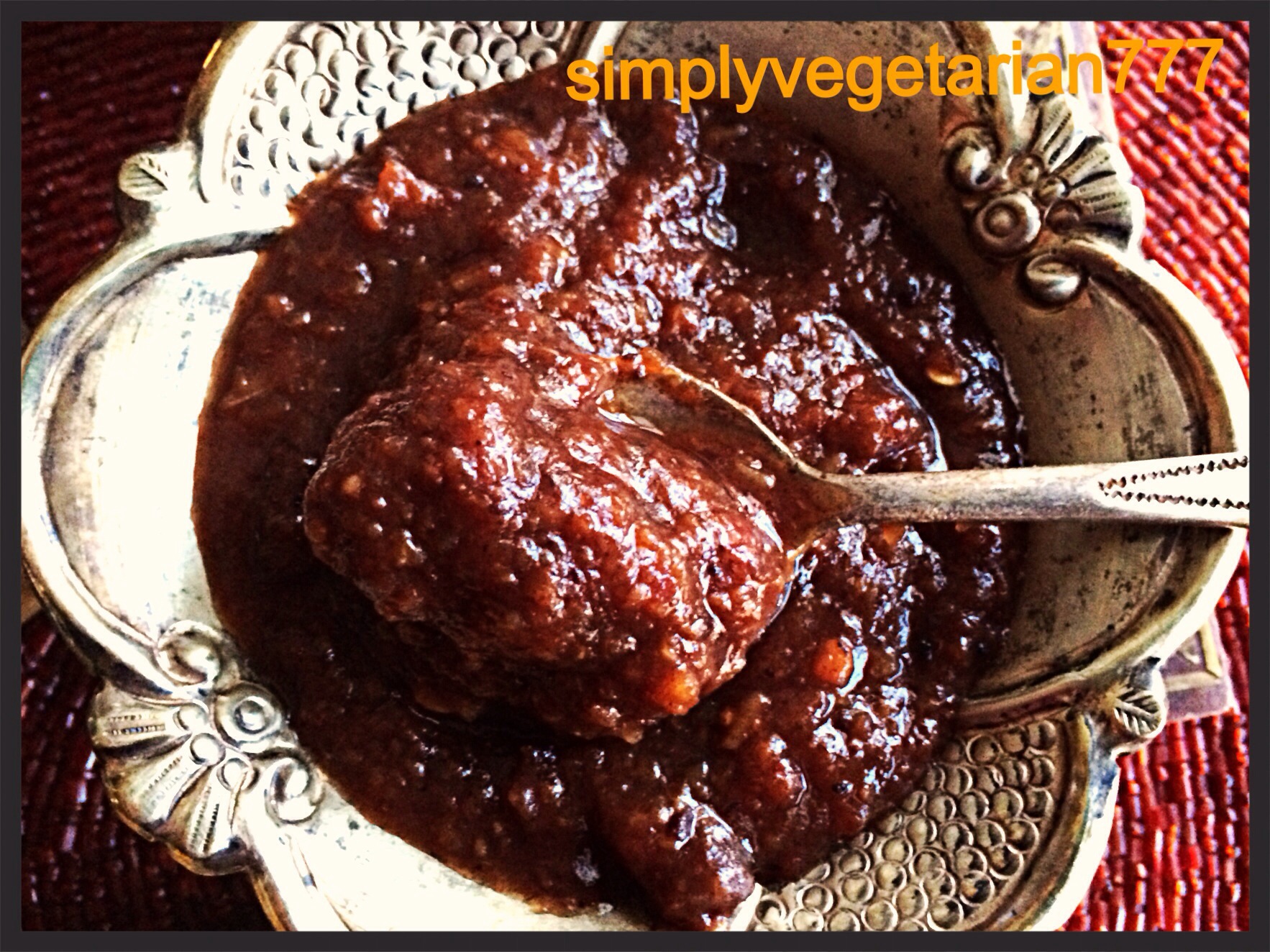 Naturally Sweet, Spicy, Tart and Finger Licking Chutney.
Every winter, I end up buying loads of dry fruits like apricots, dates, dried raisins, dried blueberries and Craisins, figs etc. there comes a wave when I use them in baking and cooking but after that they just hide in a corner of my pantry. I had been thinking of using them in one go, when came across this wonderful red chili chutney, yesterday. Then, I smashed my head…duh!.. I have made the fresh berries chutney, fresh fruits chutneys before. So, there it was…..a pot ready to cook the chutney out of dry fruits and spices. These chutneys stay for long. I store them in the refrigerator.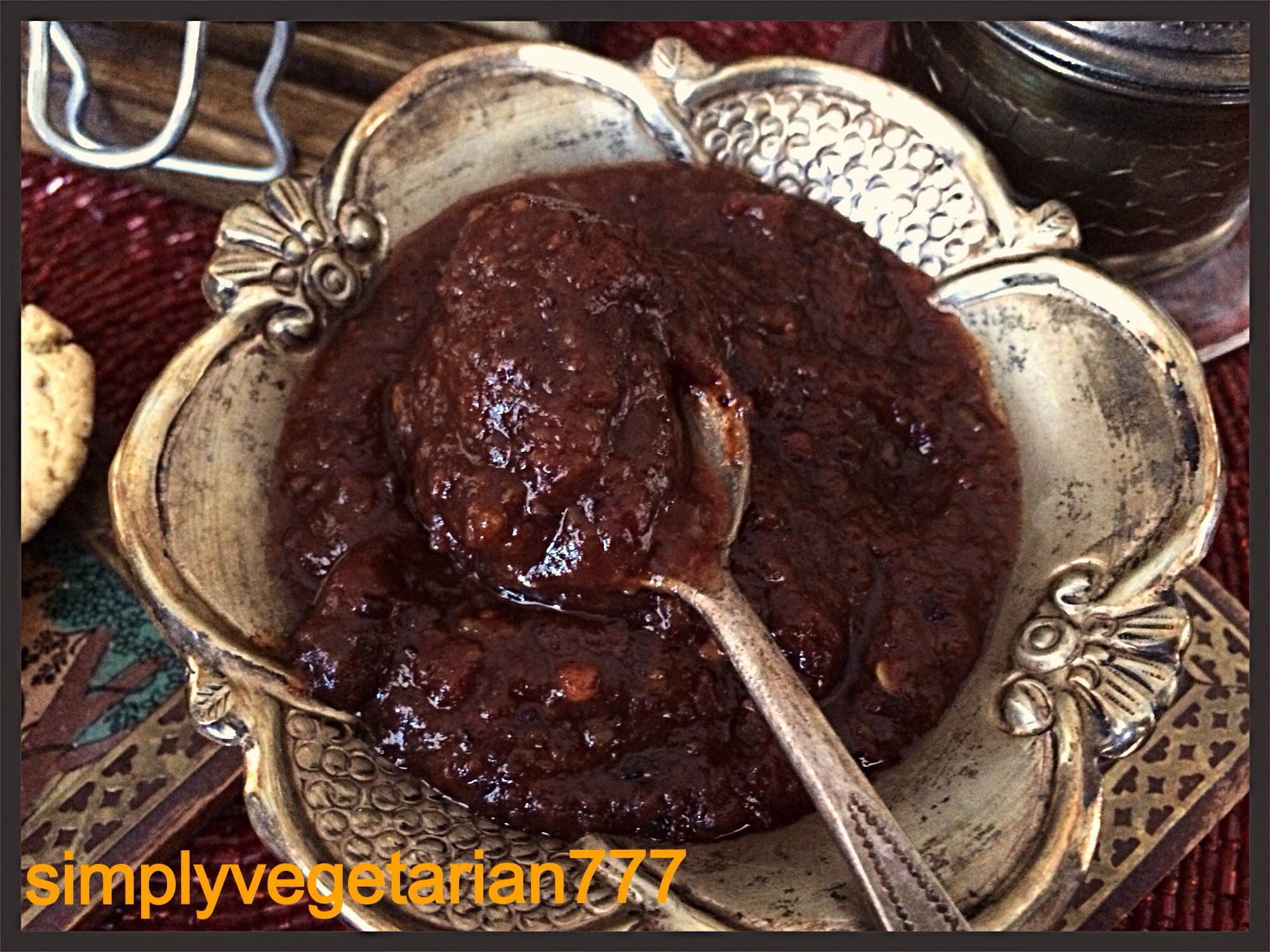 This I made yesterday in combination with my Millet Crackers. It was a marriage made in heaven ;).. Lol! Crispy and Brittle Crackers, loaded with chutney.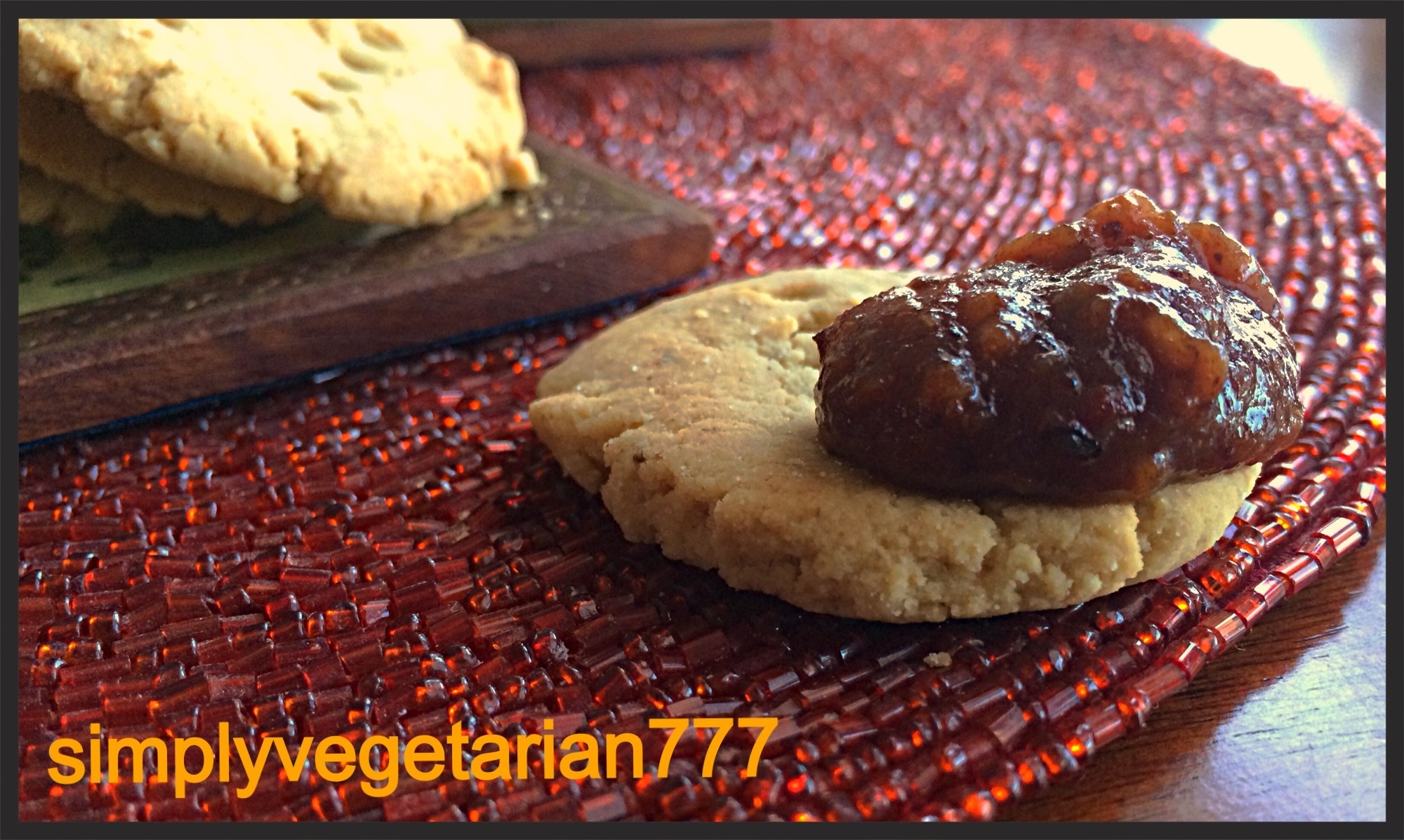 Note : I have used the left over dry fruits in my cupboard. You may switch or substitute with whatever you like. Also, I have not added any sugar since dates are naturally sweet and all the other dried berries and apricots such come sweetened in USA. In case you are using unsweetened dry fruits, add 1/4 cup or as per taste, brown sugar or regular sugar or jaggery.
Get that pot and the other ingredients out now!
Yields : 2&1/2 to 3 cups
Ingredients :
Apricots, dried : 1 to 3/4 cup, chopped roughly. I used already sweetened ones.
Dates, dried : 1cup, roughly chopped
Mixed dried berries which include raisins, cranberries, etc. : 1/2 cup. You may choose to use plain raisins.
Dried Blueberries : 1/4 cup. You may use dried figs, roughly chopped.
Dry Red Chillies : 4-5. I used 7-8 since I love the extra kick. No fun if my temples are not sweating.
Cloves powder : 1/2 tsp
Cumin powder : 1/2 tbsp, preferably roasted. Just dry roast the cumin seeds of low flame and then grind in coffee grinder nice cooled.
Cinnamon stick : 2 inch piece
Black pepper powder : 1/2 tsp
Salt : 1 tsp or to taste
Distilled vinegar : 1 tbsp
Water : 4 cups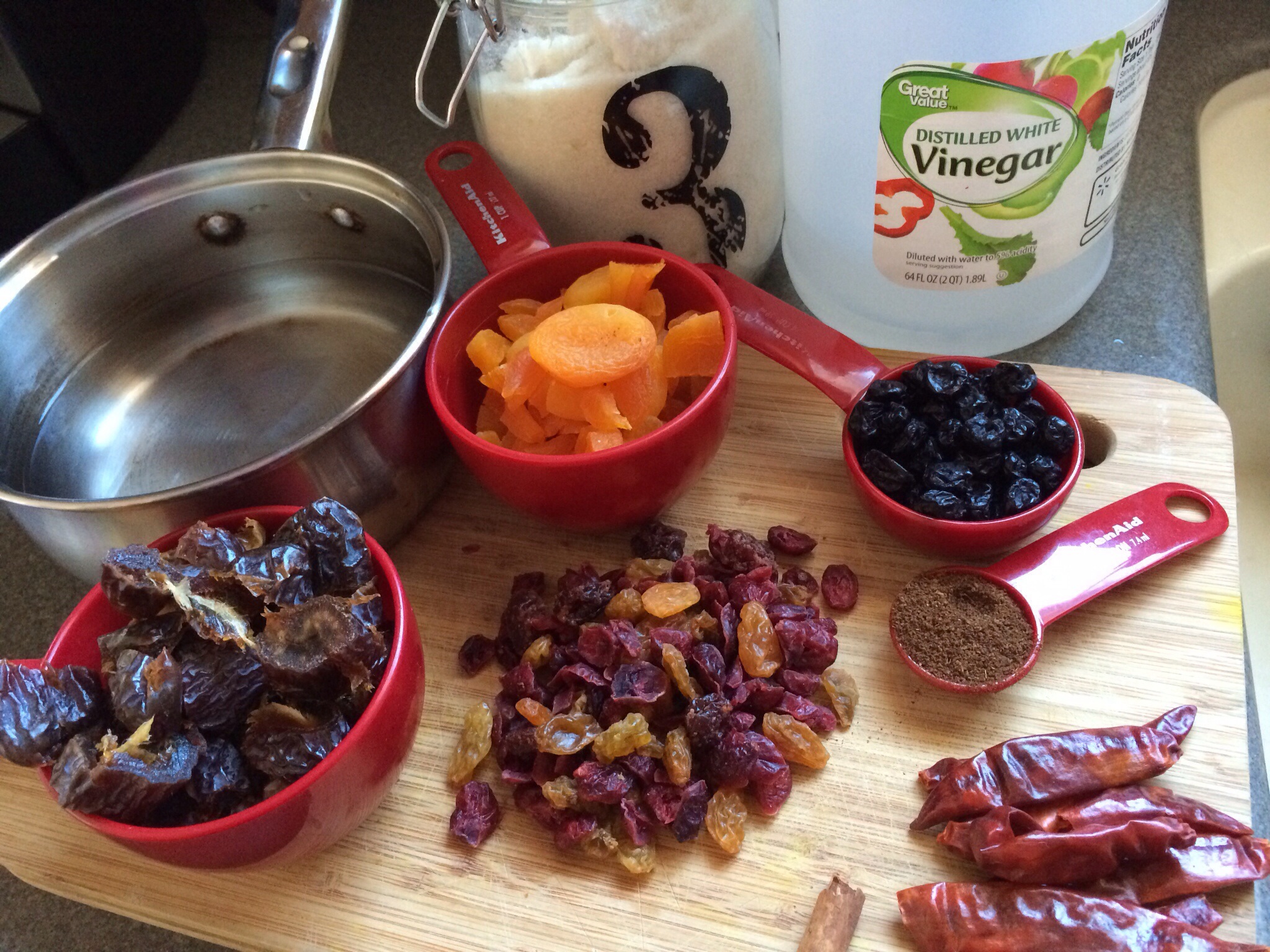 Method :
Boil the water in a thick bottom pan. Add all the berries, apricots, dates etc to the boiling water. Also, add whole red chili, all the powdered spices and cinnamon stick, except vinegar. If you are using sugar, then add sugar as well.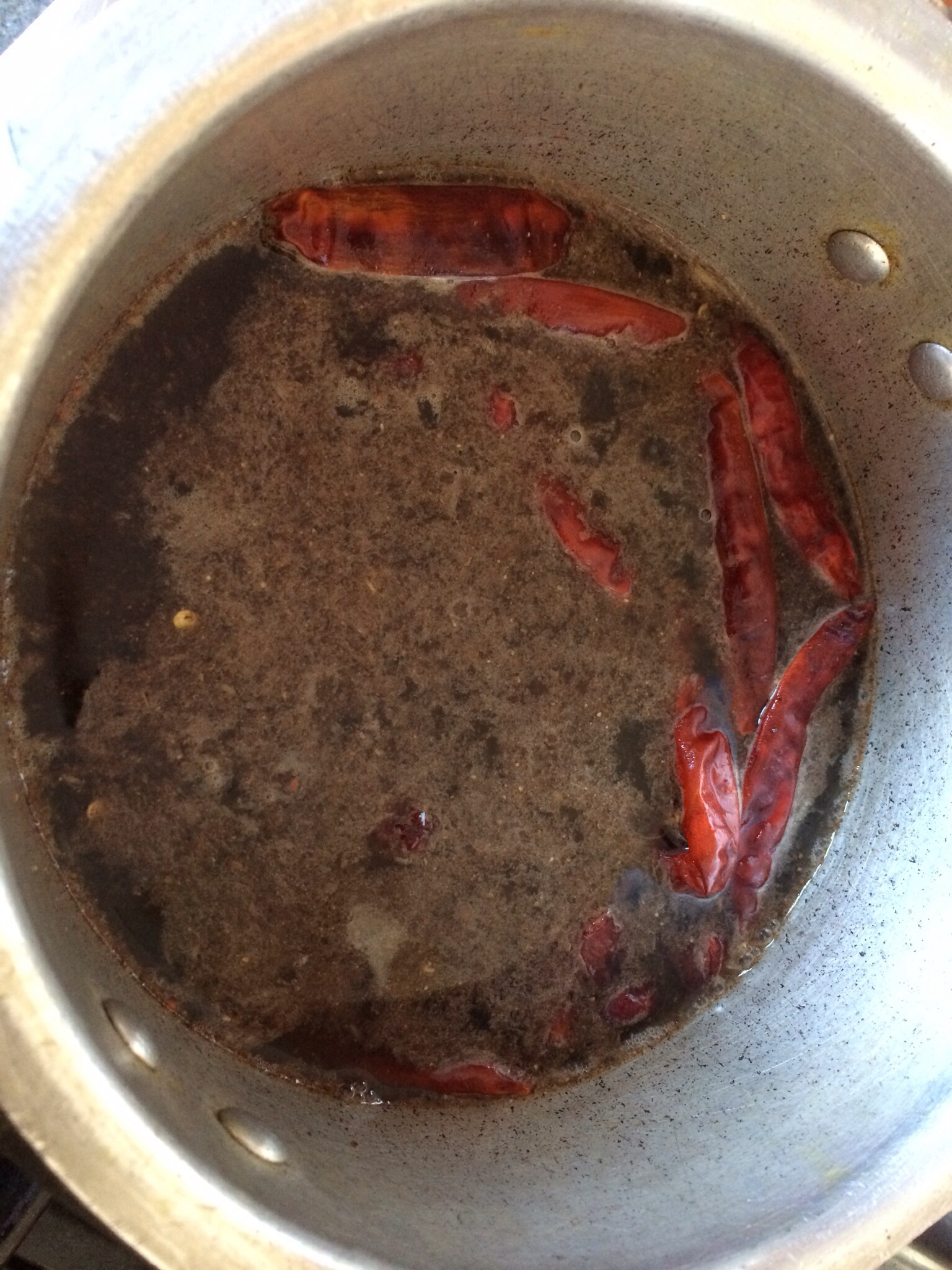 Keep boiling for 20 minutes on medium flame till the berries etc swell up and the mixture becomes thick and start breaking up and release sugars. Turn the gas stove off. Bring the berries potion to the room temperature.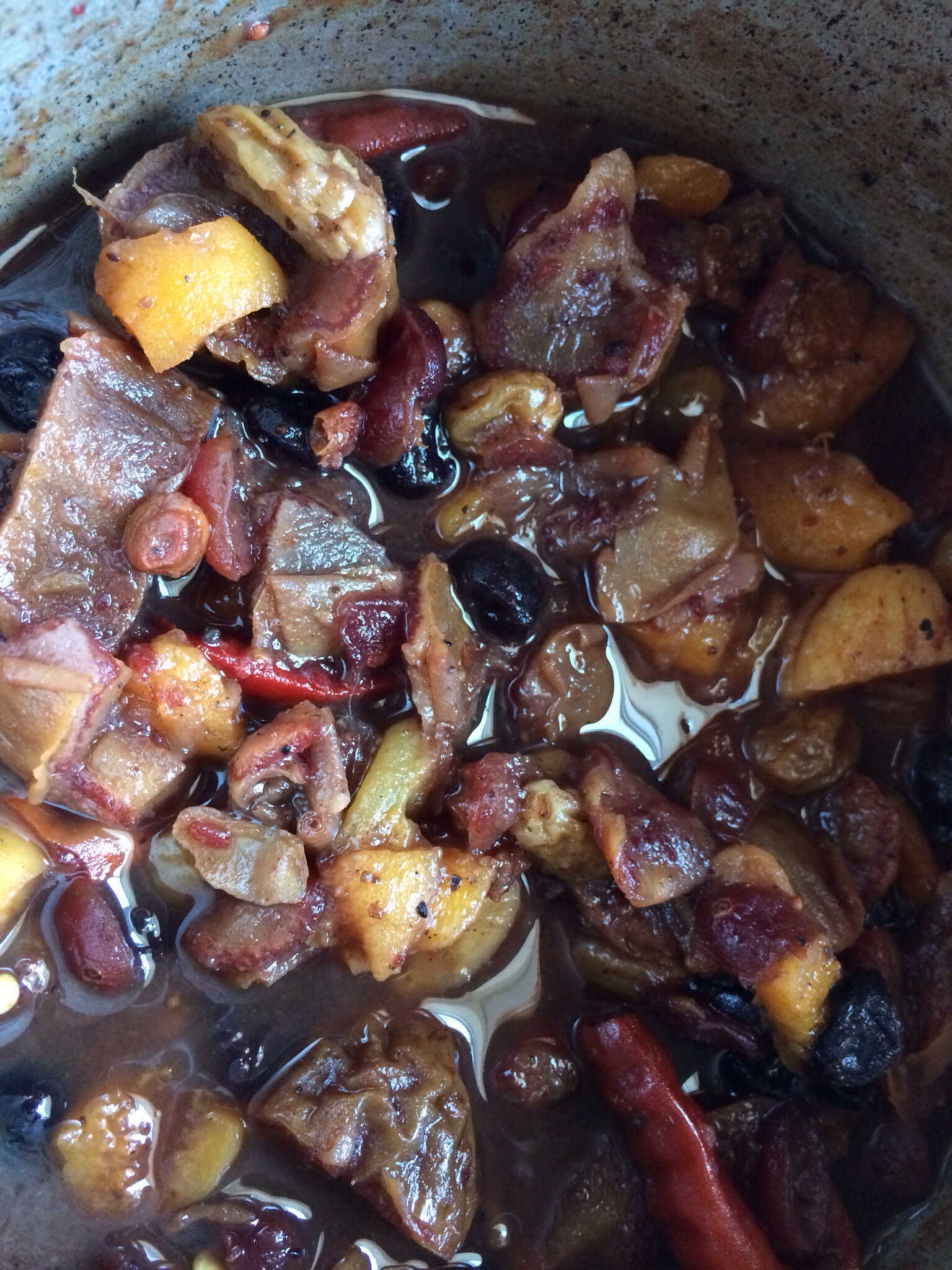 Pour the cooled potion in the blender and blitz for 3-5 minutes till everything comes together. Add vinegar now. Cook for 15 minutes more.
Cool and store in air tight jars. Refrigerate it. It will work fine for few months if handled properly.
Enjoy as a spread in flat breads, in sandwiches, savory crackers, Mathris. Even serve along the side of goat cheese, cottage cheese, feta cheese to go with the crackers in your parties.