Egg Curry, Dhaba (Diner) style, Less oil!
As an Amazon Associate and member of other affiliate programs, I earn from qualifying purchases.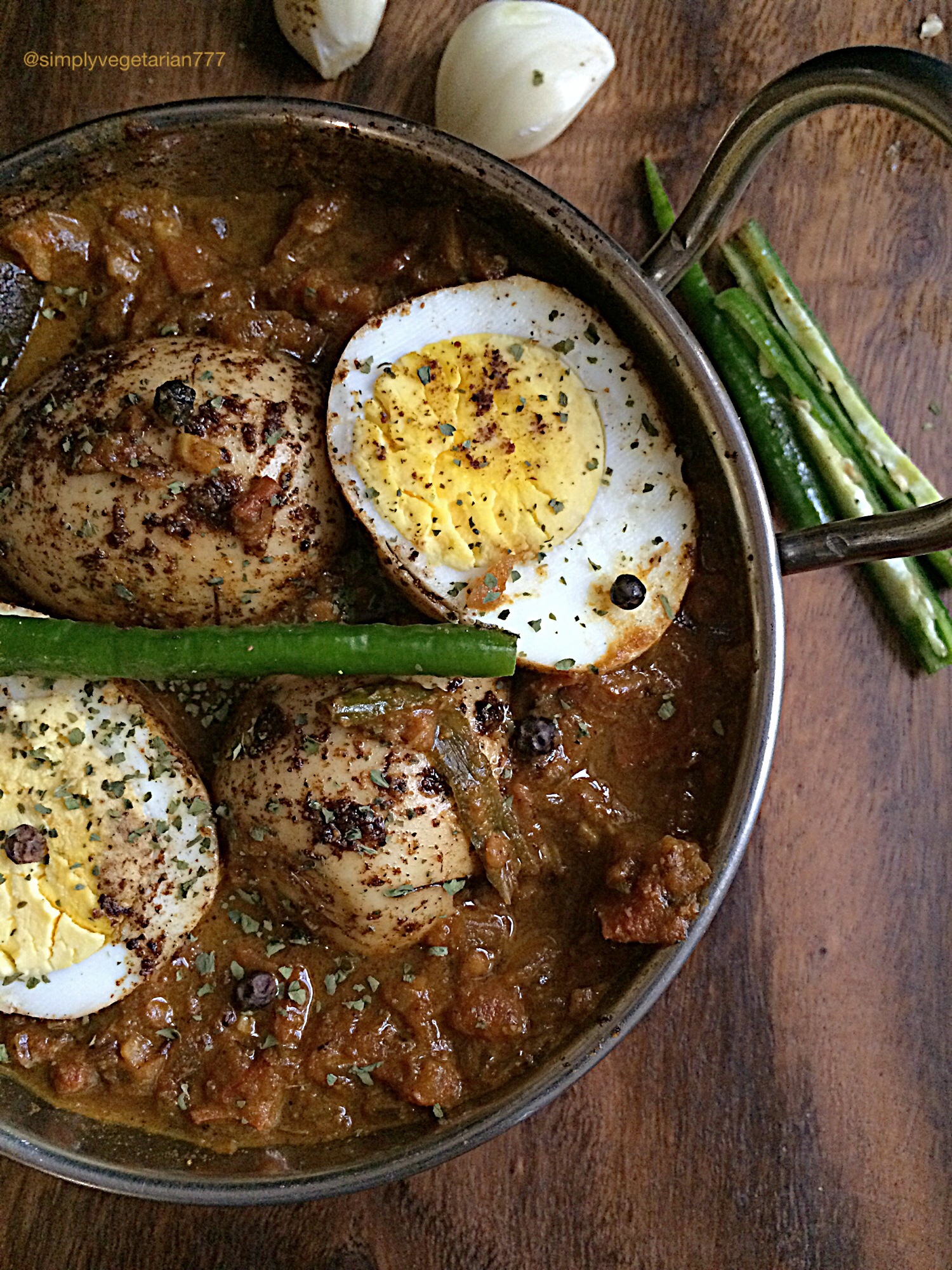 I have such fond memories of Egg-curry, while growing up. The flavors of cardamom and cinnamon in that rustic blend of onion and tomatoes where deep fried boiled eggs glorify themselves. Ah! an amazing texture, flavor, aroma and just out of this world experience when I dip my Rumali Roti in that golden curry.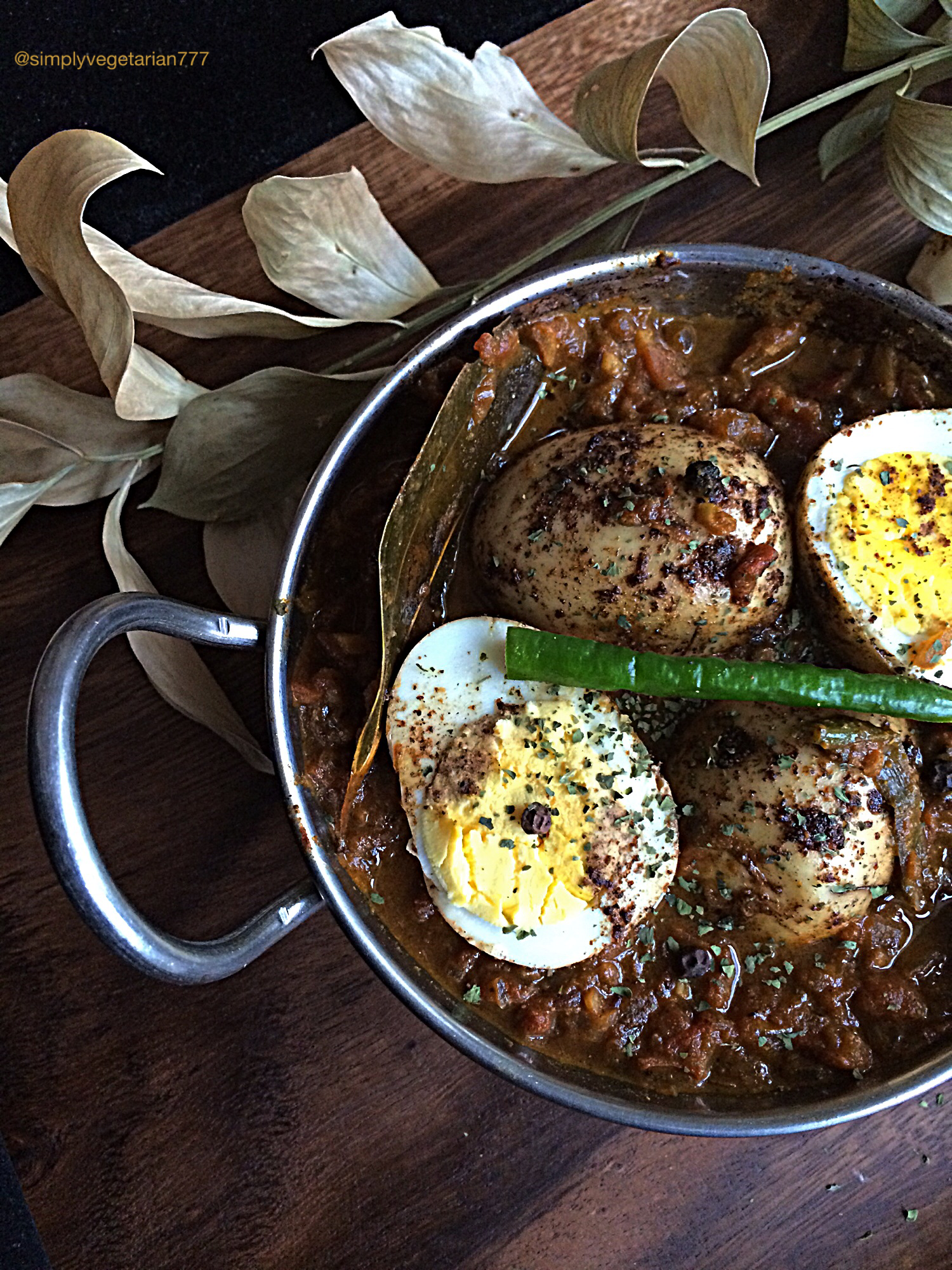 My small cozy town, where I grew up, has the best Dhabas (diners), and they make the best Egg-curry in the whole wide world. The small local dhabas (diners) actually hold the food culture of a particular town. The food of these dhabas, tells you the story of the heart and soul of that town.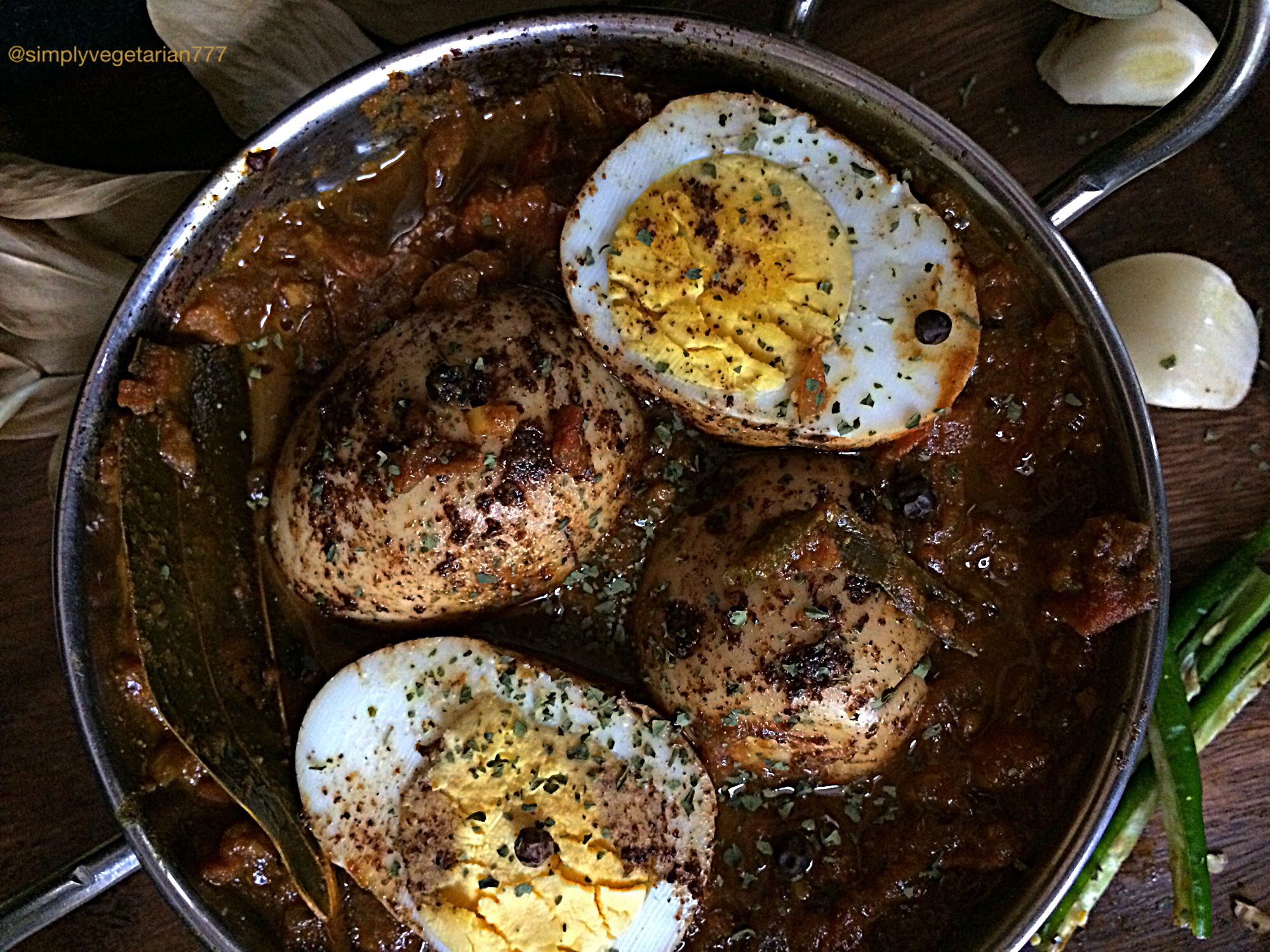 My town is a great example of bringing food from Hindu and Muslim homes and culture together. The best of its kind. Egg-curry is one such example. Made in Muslim family run Dhabas and enjoyed by Hindus, Muslims, Sikhs and Christians equally at the diners and their homes.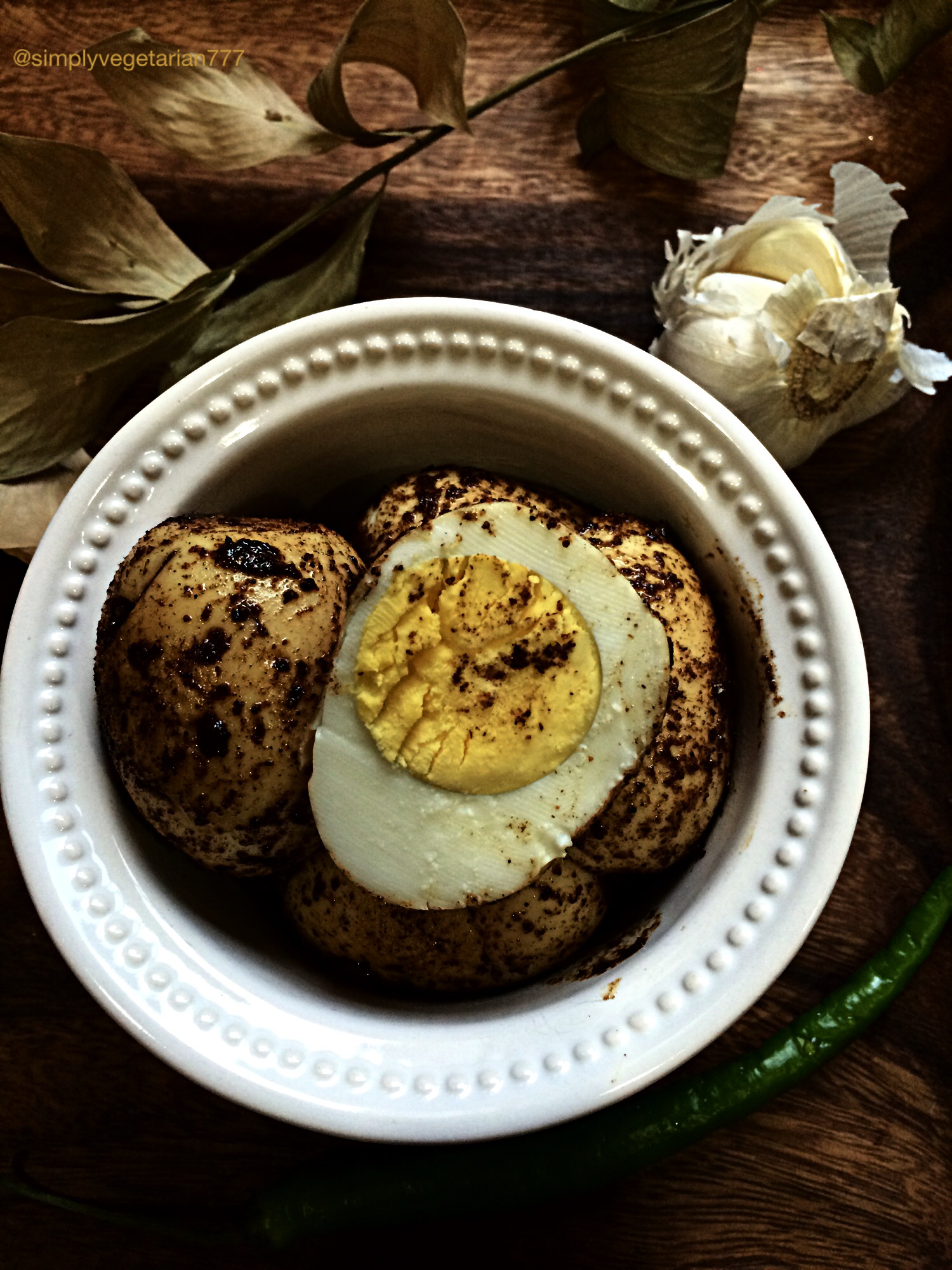 The dhaba food is simple, rustic, flavorful, hot, spicy, fingerlicking yummy and served to you in the most humble and simple way. They don't use grinders or blenders or bread making machines or ovens to cook their food. The sharp rustic iron knife, a wooden board, a steel bowl, may be a hand grater with mortal and pestle are their best friends to make any dish in their earthen small open kitchens.
Another characteristic of the dhaba food is over-flowing oil on the top of their curries. That's why I wrote less oil in the title.
Serves : 2
Kitchen Equipments Required : Chopping board, knife, hard anodized pan or heavy bottom pan with lid, a stirring spoon.
Ingredients :
Eggs : 4, hard boiled
Oil : 1 tsp + 2 tsp
Onion : 1/2 cup, finely chopped
Tomatoes : 2 medium size, finely chopped
Ginger : 1 tsp, finely chopped or grated
Garlic : 2 tsp, finely chopped or grated
Green chillies : 2 small, slit into 4 long sections (thai green chillies) or 1&1/2 tsp jalapeño
Bay leaf : 1
Cinnamon stick : 1 small
Green cardamom : 4-5, crushed gently
Black pepper corns 6-7
Cumin seeds : 1/2 tsp
Turmeric :1/4 tsp
Coriander powder : 1 tbsp
Red chili powder : 1/2 tsp or to taste
Garam Masala : 1/2 tsp + 1 tsp
Salt to taste
Water : 1 cup or as required
Method :
Preparing the Eggs : The hard boiled eggs are traditionally deep fried in the egg curry. Here is how I prepped them.
Take a heavy bottom or hard-anodized pan. Heat 1 tsp oil in it.

Add the peeled whole hard boiled eggs to the hot oil in the pan. Sauté them on the medium flame for 3 to 4 minutes.

Sprinkle 1/2 tsp Garam masala and 1/4 tsp salt on top of the eggs. Sauté them further for 2-3 minutes on the medium flame, till they acquire a light golden color. Switch off the gas stove. Take the eggs out if the pan. Keep them aside. They make a good snack too like that.
Making the curry
Clean the pan with paper towel. Heat 2 tsp oil in the same pan. Add cumin seeds, cinnamon stick, bay leaf, black pepper corns and green cardamoms to the hot oil. Reduce the flame to low. Let the cummins crackle.

Once the cumin seeds crackle, add ginger and garlic and sauté for few seconds. Add finely chopped onions and slit green chillies to the pan now. Keep the flame to low. Cover and cook the onions till they are dark brown in color. Cooking the onions in covered pan, gives them dark brown color without burning them. Do stir in between for even cooking. This takes about 8-10 minutes. Do not skip this part.

Once the onions are dark n rich in color, remove the lid. Add finely chopped tomatoes to the pan. Give a quick stir. Add turmeric, coriander powder, red chili powder and salt to the paste. Stir again. Cover with lid and cook on low flame for another 7-8 minutes till tomatoes are well engaged in the curry and no more stand out on their own.

You will have a thick paste in the pan. Add 1 cup of water or of the desired consistency of the gravy, to the paste. Stir the paste and water well. Bring it to the boil. Let cook for 3-4 minutes. Add 1 tsp Garam Masala. Check for salt. Switch off the flame.
Serving the Egg Curry
Add the crusted prepared whole eggs to the curry. Toss them well and serve in a bowl along with the rice or flat bread of your choice. Naan, parantha, Khobz, lavash, parantha, Rumali roti, Jeera Pulav, mint Pulav will go very well with it.
OR
Pour the curry in the serving dish. Slit the prepped eggs into horizontal halves. Place them in the curry and serve along with the bread and rice of your choice.
Enjoy with family and friends. I often add some boiled pan fried potatoes to the curry for the people who do not like eggs. I am going to enjoy this dish with Angie at Fiesta Friday, to keep her company. After the soup, a hearty curry is must for me ;).
Sonal.