Eggless Walnut Brownie
As an Amazon Associate and member of other affiliate programs, I earn from qualifying purchases.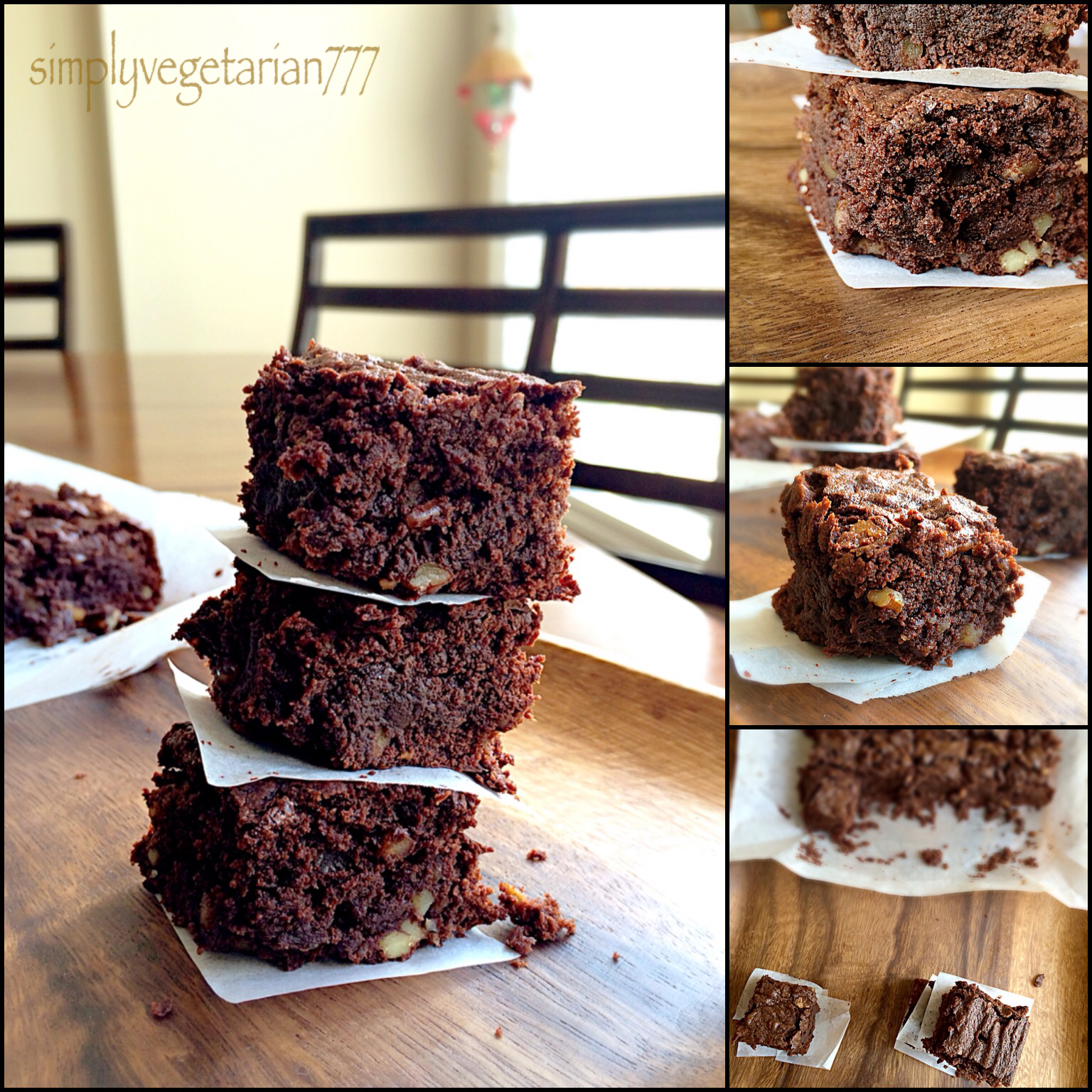 Brownies have become hot favorite dessert in my house lately. After the success of perfect Fudgy Brownie, last time, I thought of experimenting with eggless version of brownie. It came out beautiful. Though can't compare the textures of eggs included and egg-less brownies, nonetheless, it was delicious and my kids loved it!

Many of you are in treat for this one…the ones who do not eat eggs and the ones who do not have eggs handy. You can whip this up with minimum ingredients and least work. These can be your "to-go" brownies. Nutty Walnuts add amazing bite and texture to these.
Taking these to Angie's Fiesta Friday, co-hosted by Loretta and Caroline!
This is how to make these!
Eggless Walnut Brownie
Servings: 25 small squares
Difficulty: easy
1 big bowl, 1 microwave safe bowl, a wore whisk, 9×9 cake pan, parchment or butter paper, a spreading knife, fork, sieve.
Ingredients
Semi sweet chocolate chips – 1&1/4 cup
Butter – 1/2 cup
Sugar, regular – a little more than 3/4 cup
Thick Yogurt – 1/2 cup
Vanilla extract – 1 tsp
All purpose flour – 1/2 cup+2 tbsp
Coco powder, unsweetened – 2 tbsp
Salt – a pinch
Walnuts – 1 cup, chopped roughly
Method
Preheat the oven at 350*F/180*C. Line the cake pan with parchment paper.
1. Take the microwave safe bowl. Add butter and choco chips to it. Microwave on high for 20 seconds. Take it out. Stir with a fork and microwave again for 20-30 seconds till it is warm enough. Take it out. Mix well with fork. Transfer to the big bowl. Set aside to cool for 2 minutes.
2. Now add sugar to the butter chocolate mixture. Whisk it well with wire whisk until well incorporated, for a minute.
3. Add thick yogurt to the bowl. Whisk until blend well. Add vanilla essence and stir well.
4. Sift the flour, salt and coco powder through sieve in the bowl. Use the whisk and incorporate everything together. Add chopped walnuts to it and stir again. It is a tight batter.
5. Pour this batter in the pan. Spread with the spreading knife evenly.
6. Bake for 40-50 minutes. Check after 30 minutes. Bake till the wooden tooth pick comes out clean with little crumbs.
Notes
1. Make sure that yogurt used is not sour at all and is thick. You may use Greek yogurt as well!
2. Cool it to room temperature and then store in air right container in refrigerator.
Bake this super easy and yummy brownie this weekend for the family and have some chocolate love!
Sonal