Ginger Cilantro Spicy Tofu in Cabbage Leaves
As an Amazon Associate and member of other affiliate programs, I earn from qualifying purchases.
As I said earlier that I will dedicate all my posts this month to my fellow bloggers who have always been so supportive and appreciative in whatever I present ! This is for you Suzanne! I hope you like it !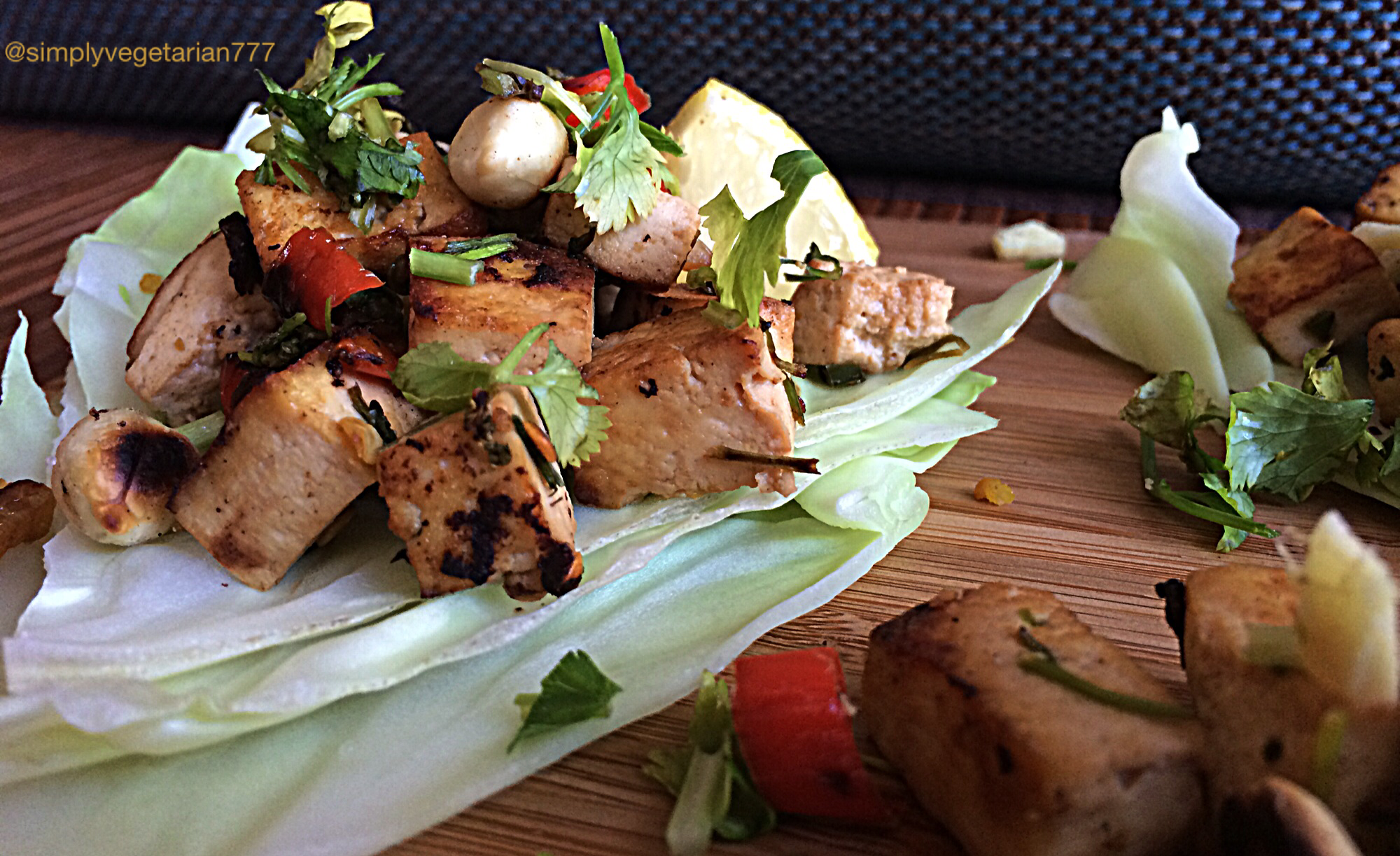 I am on light eating these days. But there are times when I forget or run out of time and take out comes handy. Taco Bell saved me last night. I like their cantina salad bowls but it's not light :).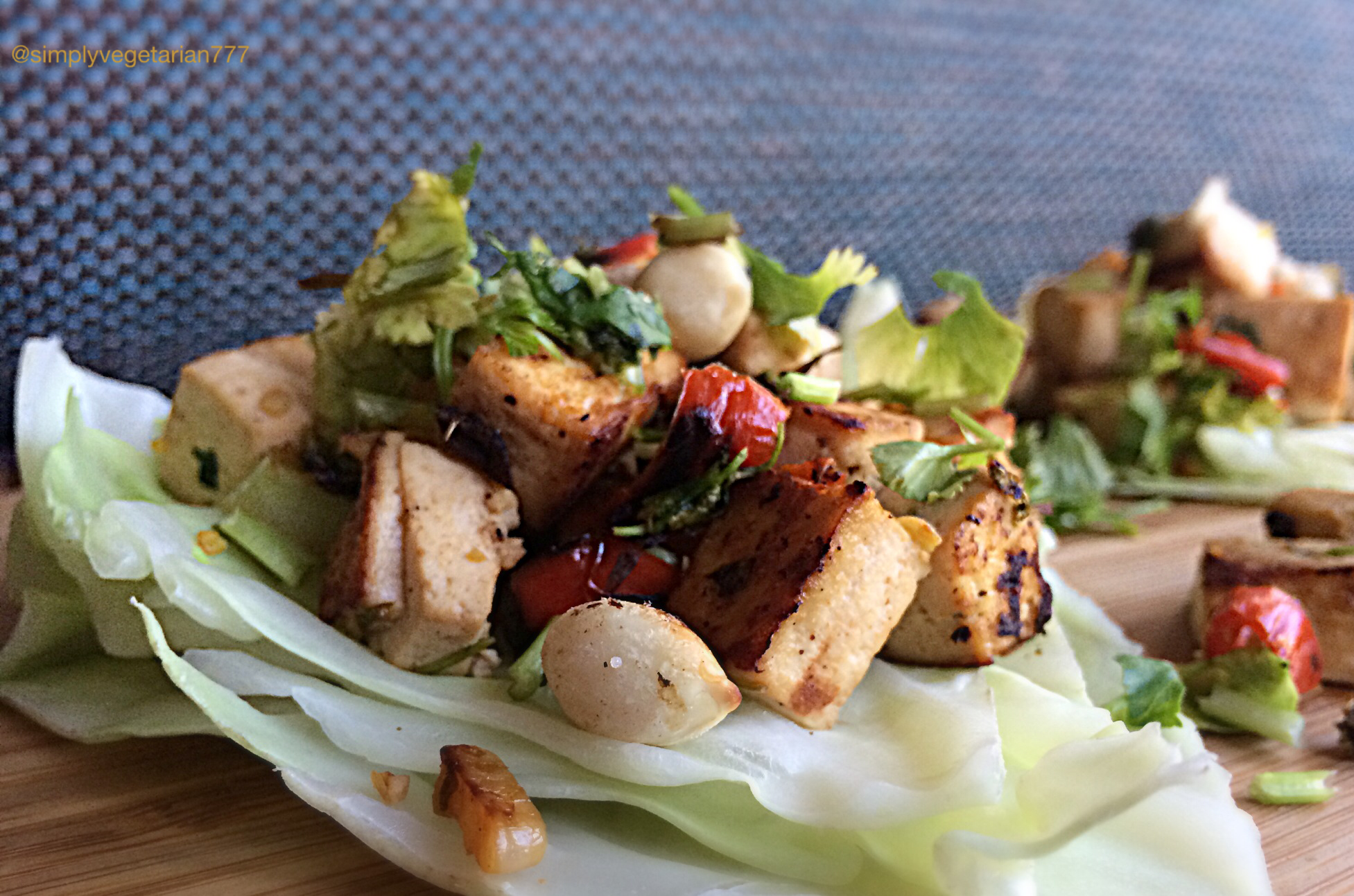 Came back from work this afternoon and wanted to eat something really spicy yet light on carbs and rich on proteins. Eggs, tofu, paneer, etc come to rescue for that kind of a meal. Had eggs for the breakfast, so didn't want to have more. Opened the fridge! A pack of tofu stared right back at me! Yippee! Thought of adding some crunch so peanuts rolled in the pan. For spice, half a Serrano chili went in the dish. Is that too much for 1 serving? BTW, my hands are still burning and not my mouth! Can you believe that?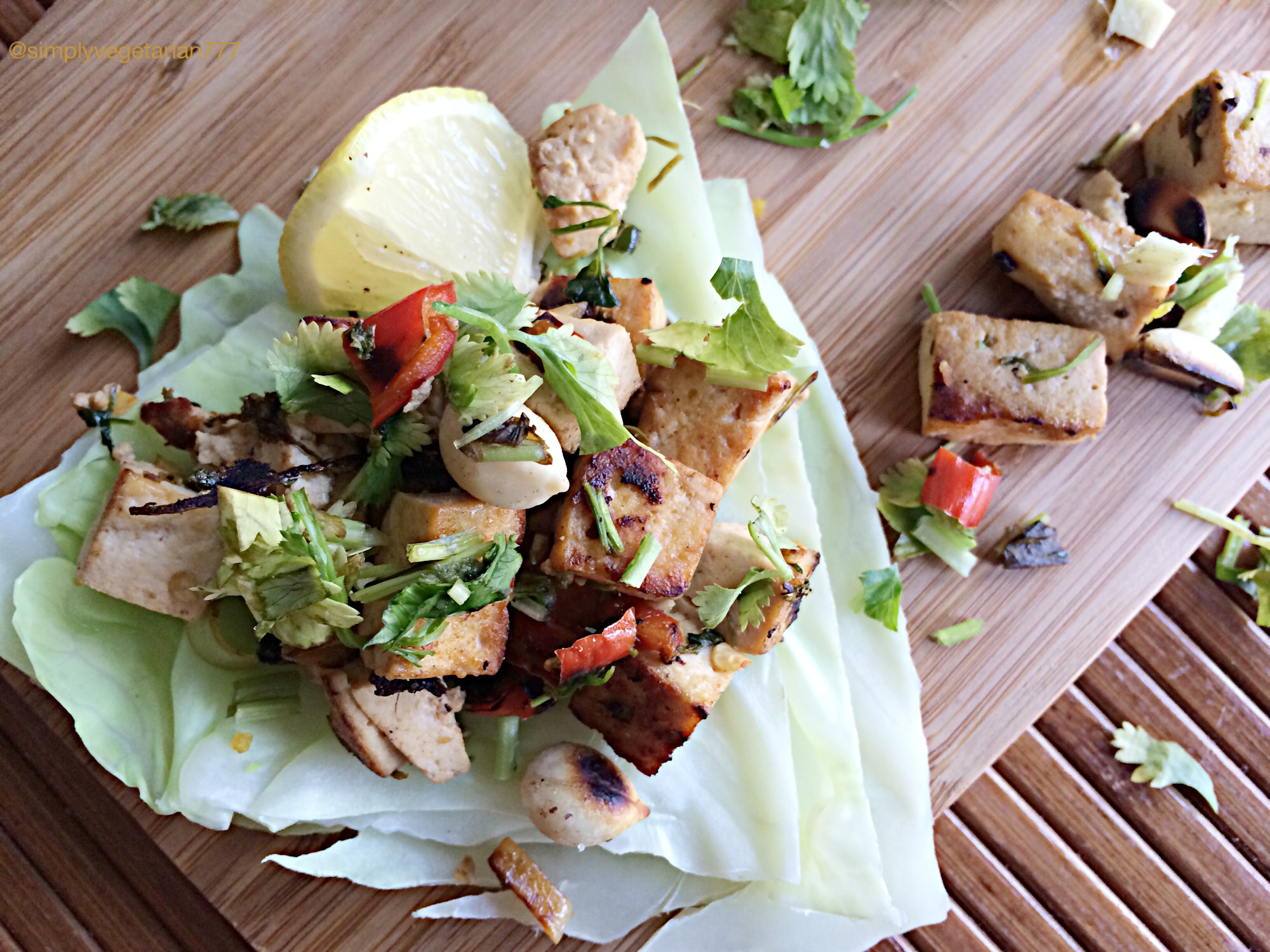 Such an easy recipe yet taste bud tickling! I am sure you will make it again and again and again! Do check the notes at the bottom for more options !
Serves : 1 to 2
Kitchen Equipments Required : chopping board, knife, non stick or hard anodized pan.
Ingredients :
Oil : 1/2 tsp
Tofu , extra firm : 1 cup chopped in small 1/2 inch cubes
Cilantro / coriander leaves : 3 tbsp
Red bell peppers : 2 tbsp, chopped fine
Ginger : 1 tbsp minced
Garlic : 1 small clove minced
Soy sauce, light : 1/2 tbsp . You may use 1 tsp dark soy sauce instead.
Green chili : 1 chopped fine
Peanuts : 1 tbsp, dry roasted & unsalted
Salt : to taste. Actually very little since soy sauce is already salty.
Cabbage : few firm and broad pieces, cut evenly in either shape…big triangles or circular cup shape.
Lemon juice to top
Method :
Heat the oil in pan. Add ginger, garlic and chili to it. Sauté for 30-45 seconds on low flame.

Add red bell peppers and 2&1/2tbsp cilantro leaves. Sauté for a minute on medium flame.

Add cubed extra firm tofu and toss well. Pour the soy sauce & salt and toss the dish again. Lower the flame and let it pan grill for 3 to 4 minutes. It will make tofu crispy on couple of sides and will add more texture. Switch off the flame.

Lay the cabbage sheets on a microwavable plate and microwave for. 30-45 seconds to make them slightly soft but not limp. Take the out and pat them dry with kitchen towel paper.

Place the cabbage leaves in 2-3 layers on the serving platter. Scoop some tofu filling and place in the center. Garnish with more cilantro / coriander leaves, dry roasted peanuts and some ginger.

Eat warm! Absolutely delicious :).
Notes :
You may eat the tofu filling as salad without any cabbage leaves.

You may use paneer instead of tofu.

You may substitute cabbage with lettuce.

You may also serve the tofu filling in baked wonton sheets.
Enjoy!
Sonal