Gole ki Panjiri / Coconut Fudge
As an Amazon Associate and member of other affiliate programs, I earn from qualifying purchases.
Krishna Janmashtami is round the corner and today I am going to share a recipe, that has been passed on from my Ammaji (paternal grandmother) to my mom and then to me. Krishna Janmashtami is the festival, to celebrate the birth of Lord Krishna, the only complete avatar of Lord Vishnu.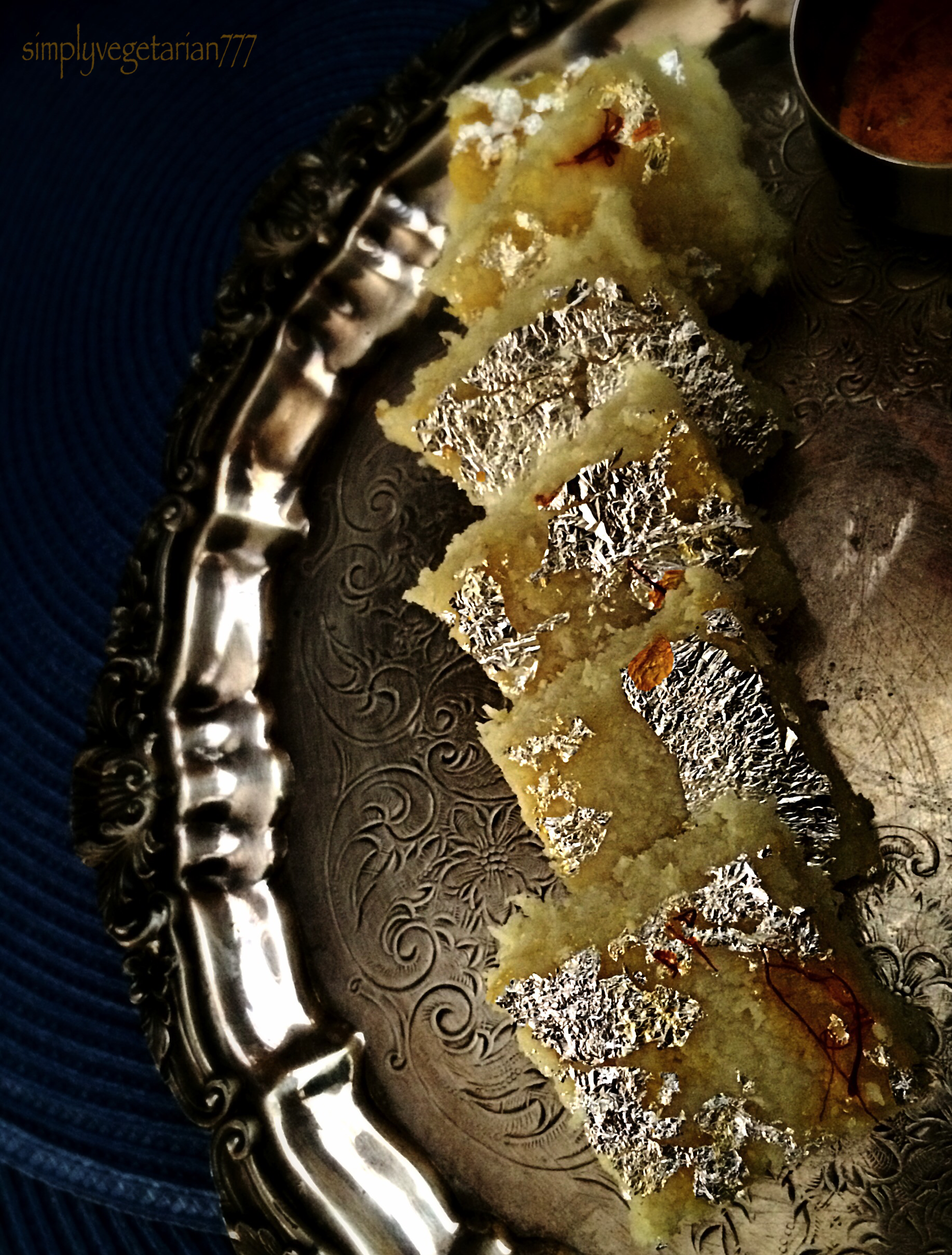 It is a family heirloom recipe and is an absolute star. Easy! Done under 15 minutes! Delcious! Rustic! Can you ask for more? It is a barfi or a fudge honestly and why it is called Panjiri, I have no clue. Ammaji called it panjiri, so we called it so. My grandmother was from Haryana and may be it is a regional name for the sweet that was made on the ocassion of Janmashtami.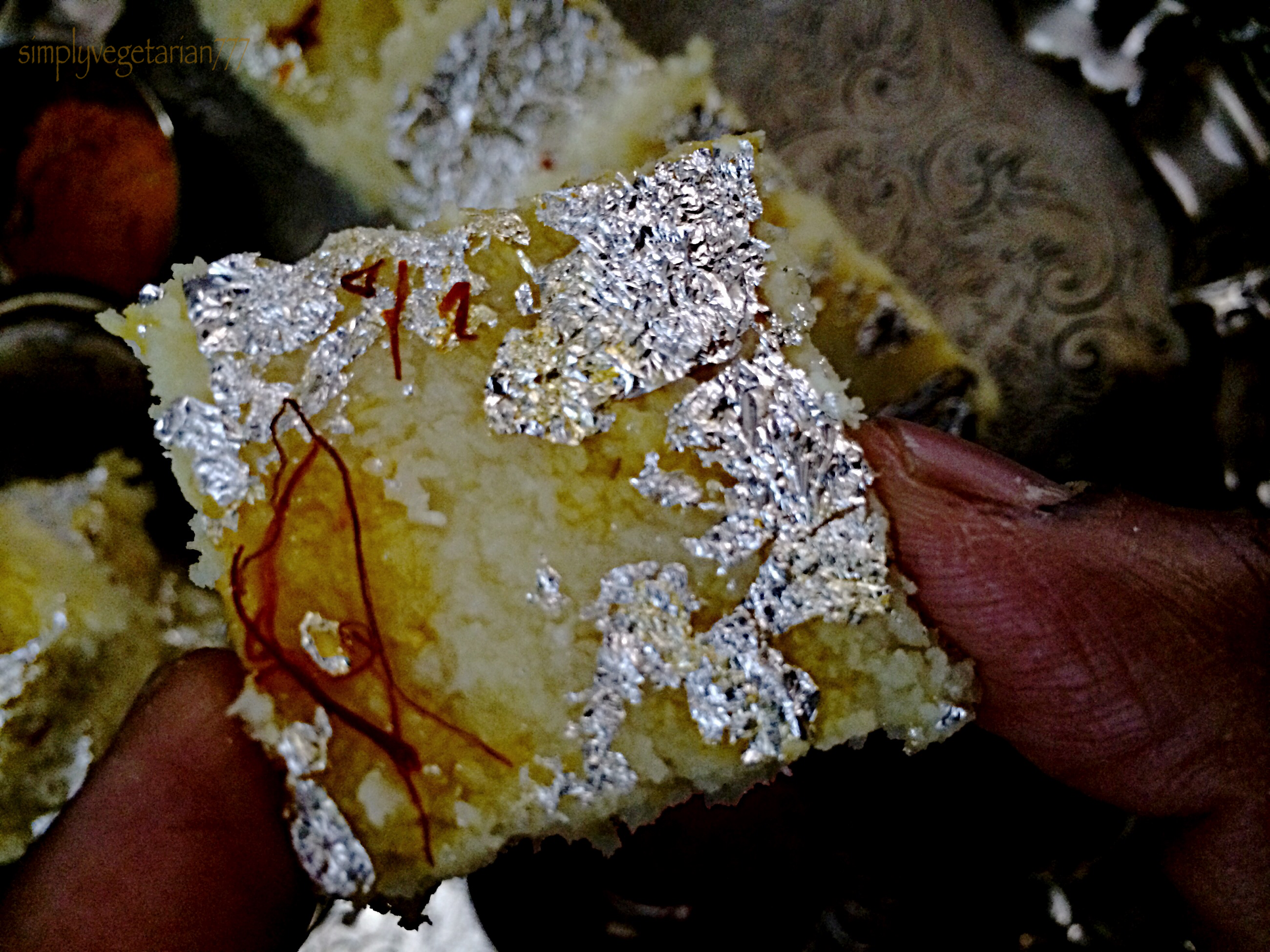 Like I believe, why bother much when the end result is delicious. Having said that, I still need to figure that out! Huh!!
let's continue to the recipe, as followed in the family. This is how it is done!
Gole ki Panjiri / Nariyal ki Barfi
Servings: Yields 16-20 pieces
Difficulty: easy
Heavy bottom pan, sauce pan, stirring spoon, spoon, a plate for setting.
Ingredients
Milk powder – 1 cup
Ghee – 2 tsp plus more to grease
Milk – 3/4 cup
Coconut, dry (unsweetened) – 1&1/2 cups
Sugar – 1/2 cup
Water – 2 tbsp
Saffron – a fat pinch dissolved in 1 tsp milk, optional
Silver edible leaf/chandi ka vark, optional
Method
1. Making the Sugar Syrup – Take the sauce pan and add 1/2 cup sugar along with 2 tbsp of water to it. Put it on the lower medium heat to cook. Cool for 5-7 minutes till, you obtain a sugar syrup of 1 string consistency. The easy way to check is, pour a drop at the back of the steel bowl or flat plate. Touch the top gently with the tip of the finger and gently pull it away. If you see, 1 string formation, it is done. Switch off the flame. Refer to the picture here.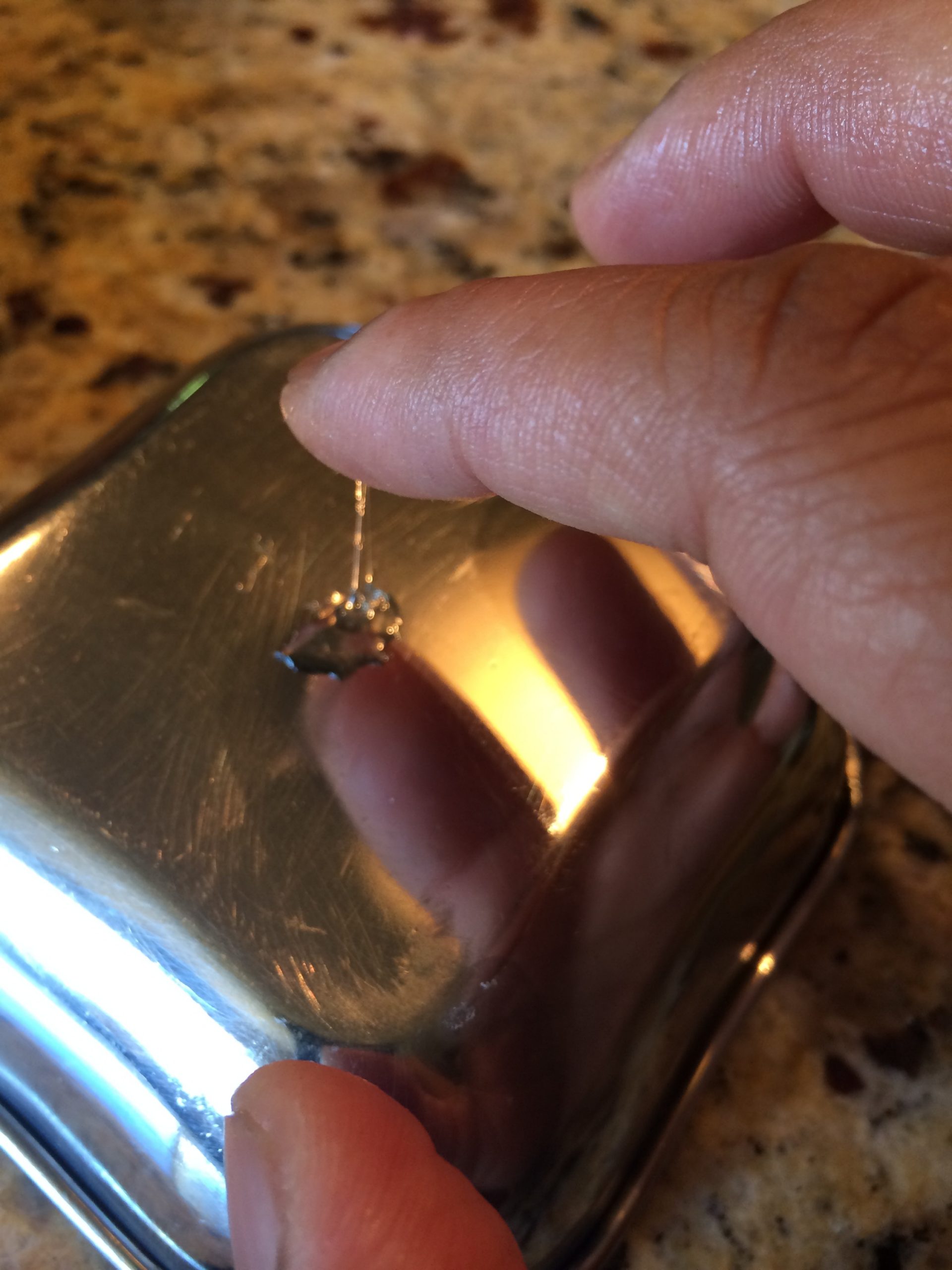 2. Meanwhile, take the heavy bottom pan. Melt ghee on medium heat and add milk powder, milk and dry (unsweetened) coconut to it. Sauté the mixture on medium heat for 5-7 minutes till the milk is evaporated and mixture starts coming together.
3. Now pour the sugar syrup to the coconut mixture in the pan. Stir it well. Cook it for 2 more minutes while stirring continuously. Switch off the flame.
4. Grease the plate with ghee, that you are going to use for setting.
5. Pour out the panjiri/fudge mixture on the plate and either with the back of the spoon or your finger tips, spread out the mixture evenly, to 3/4 to 1 inch thickness.
6. If you are applying the silver leaf or chandi ka vark, apply now. Spread the saffron milk evenly above it.
7. Set it aside for setting, for couple of hours. You may refrigerate it for 2-3 hrs as well, before cutting.
8. When ready, cut into desired diamond or square shapes and serve.
Notes
1. You may use 1 cup fresh mawa/khoya instead of milk and milk powder.
2. The panjiri needs to be refrigerated for good use and generally stays good for a week.
3. I prefer using heavy bottom hard anodized or non stick pan for sautéing since, the mixture doesn't stick on the sides and cleaning is easier.
Have a great Janmashatami celebration and enjoy making this easy peasy and delicious Panjiri!
Sonal