Gudh Til ki Meethi Mathri – Baked
As an Amazon Associate and member of other affiliate programs, I earn from qualifying purchases.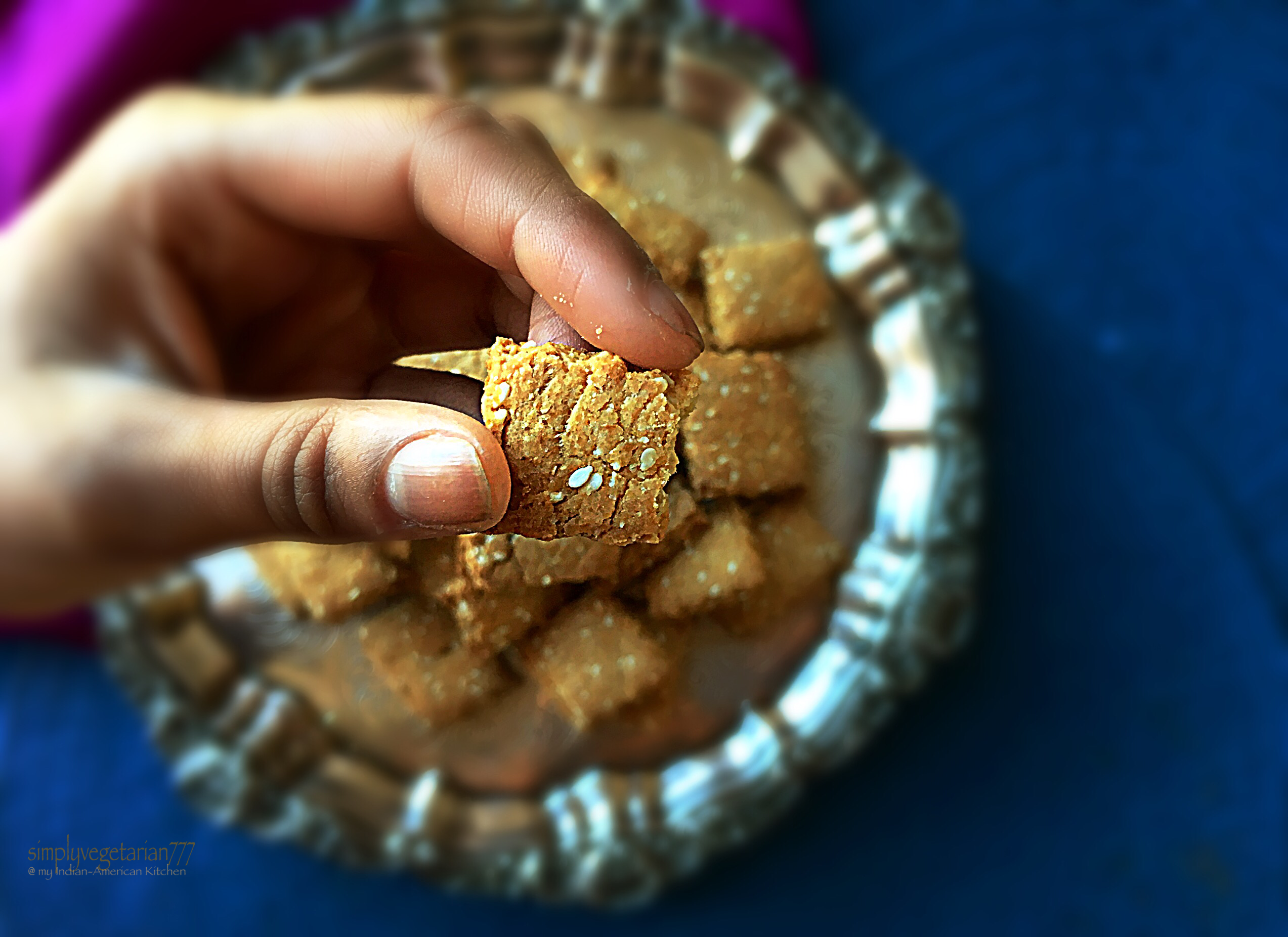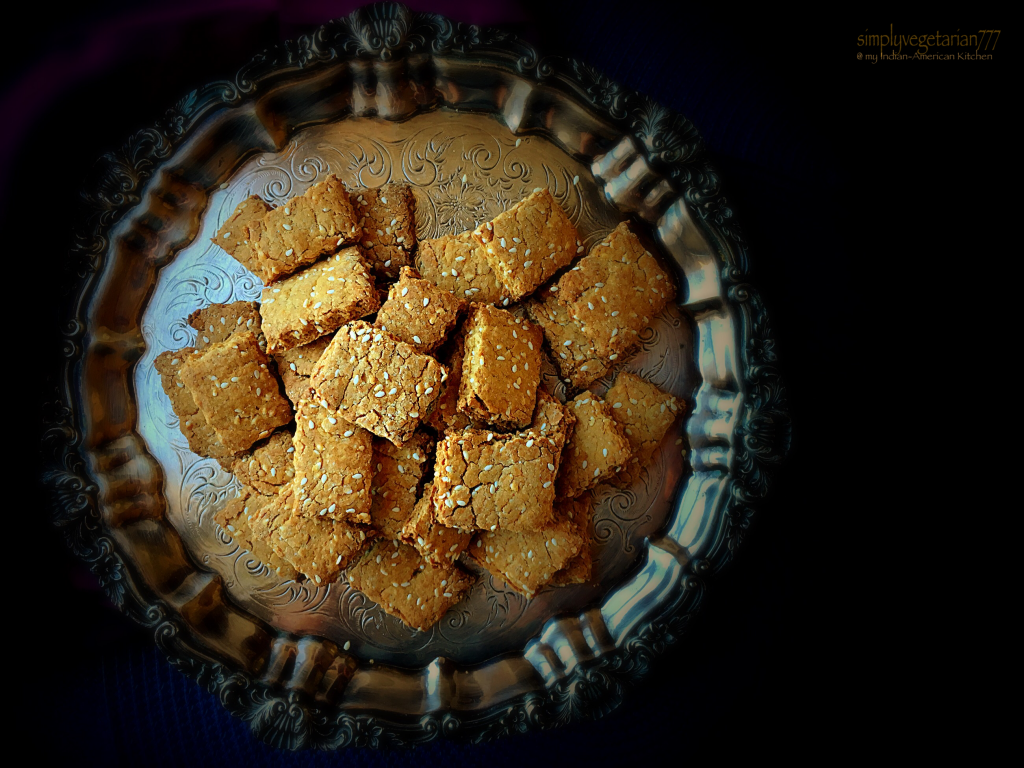 Gudh Til ki Meethi Mathri – Baked is a delicious version which is not deep fried and still very delicious. It is a very common sweet cracker, made often in Indian households during winter time. Gudh and Til both are warm in nature and keeps the cold at bay.
If you are wondering what does the title mean, then Gudh means Jaggery and Gudh in powder form is callled Shakkar. which is the purest form of sugar, made from sugarcane, Til means Sesame seeds, and mathri means deep fried crackers.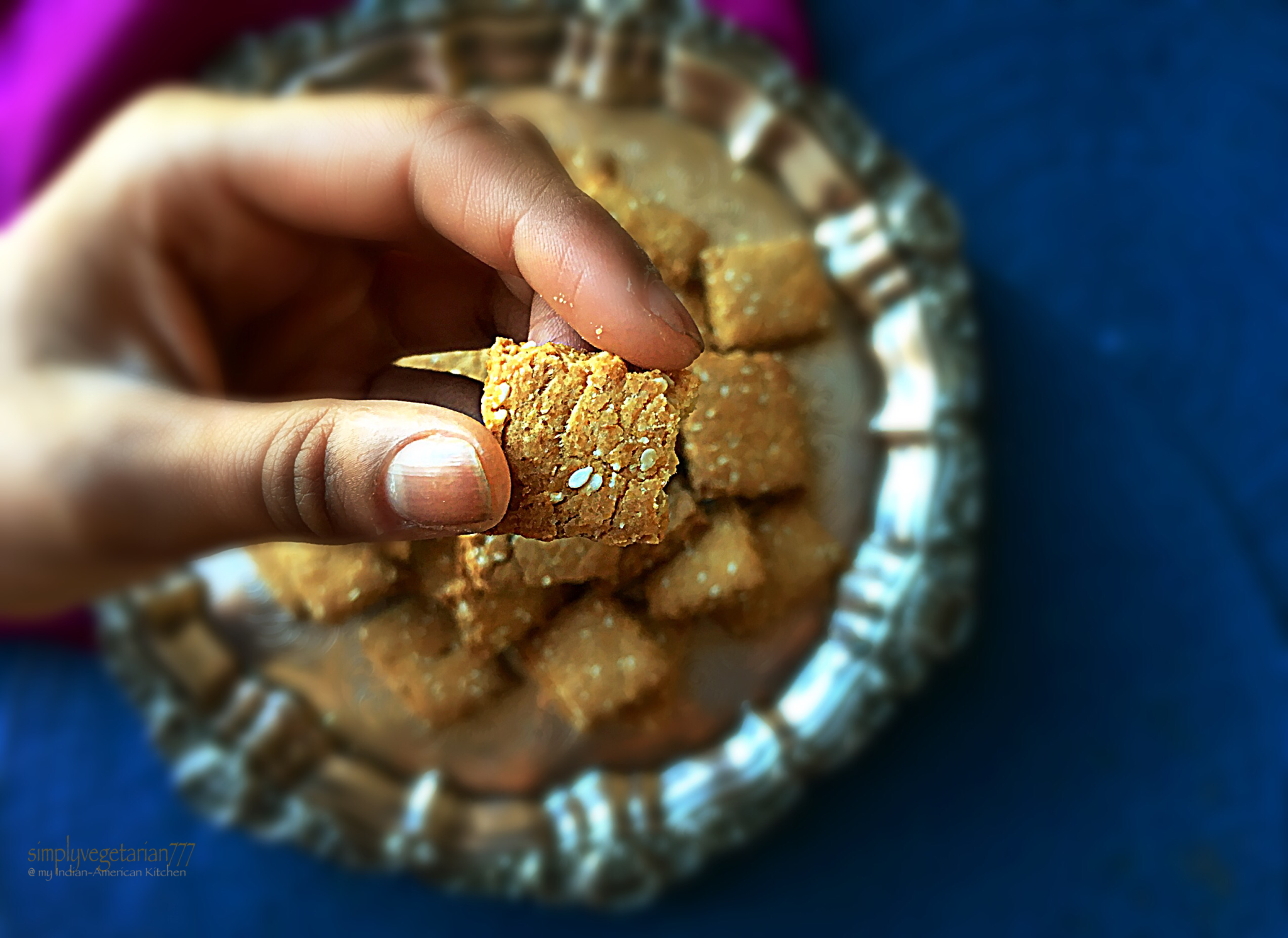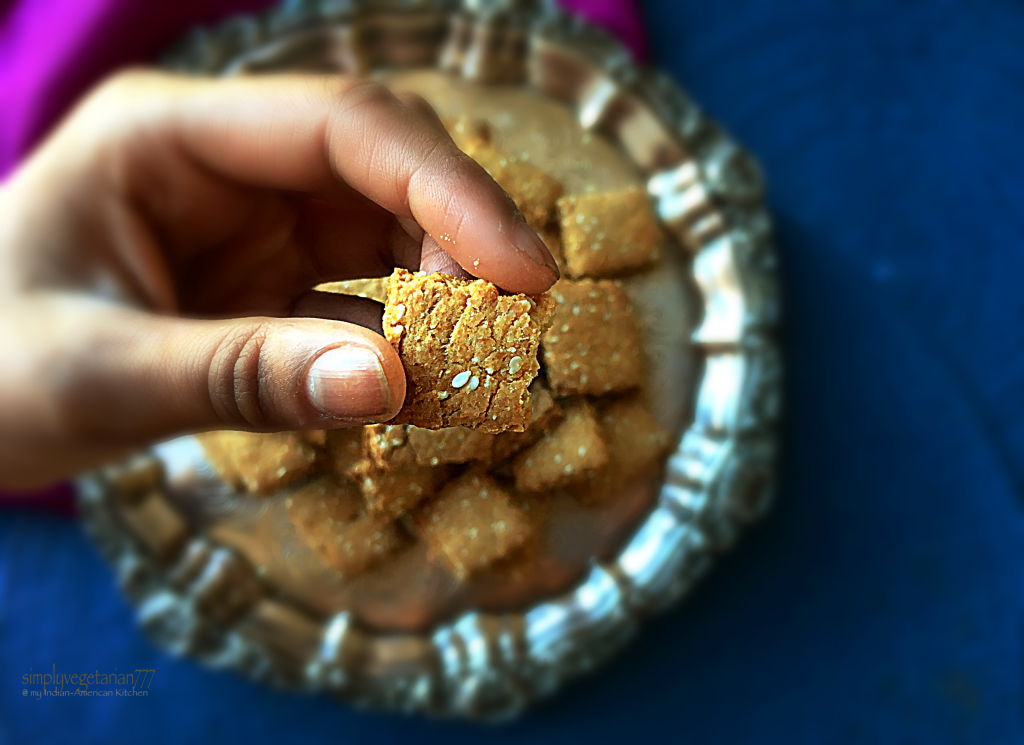 The festival of Ugadi is right around the corner and when Jayashree of Evergreen Dishes contacted me to contribute a recipe for Ugadi collection, I agreed with delight.
As per wiki – Ugadi, also pronounced as Yugadi is the new year celebration for the people from Deccan India. The name Yugadi or Ugadi is derived from the Sanskrit words yuga (age) and ādi (beginning). The Telugu, Kannada, Marathi, Kodava and the Konkani diaspora in Karnataka, Andhra Pradesh, Telangana, Maharashtra, Goa, Tamil Nadu and Kerala celebrate the festival with great fanfare; gatherings of the extended family and a sumptuous feast are 'de rigueur'. The day begins with ritual showers with oil, followed by prayers. While the people of Andhra Pradesh, and Telangana use the term Ugadi and Karnataka use the term Yugadi/Ugadi for this festival, the people of Maharashtra term the same festival, observed on the same day, Gudi Padwa The Marwari of Rajasthan celebrate the same day as their new year day Thapna. The Sindhis, people from Sindh, celebrate the same day as Cheti Chand, which is the beginning of their calendar year. The Manipuris also celebrate their New Year as Sajibu Nongma Panba on the same day. The Hindus of Bali and Indonesia also celebrate their new year on the same day as Nyepi.
It is a season for ripe mangoes spreading its aroma in the air and the fully blossomed neem tree that makes the air healthy. Also, jaggery made with fresh crop of sugarcane adds a renewed flavor to the typical dishes associated with Ugadi. Ugadi pachchadi is one such dish that has become synonymous with Ugadi. It is made of new jaggery, raw mango pieces and neem flowers and new tamarind which truly reflect life – a combination of six different tastes sweet, sour, spice, salt, tanginess and bitter tastes symbolizing happiness, disgust, anger, fear, surprise and sadness.
To learn more about Ugadi, Click here!
I have adapted the recipe from Nisha Madhulika's recipe. 
Some considerable snacks from my blog are – Khasta Achari Mathri, Chivda, Masala Makhana, Kaju Chocolate Barfi and Kaju Masala .
Gudh Til ki Meethi Mathri - Baked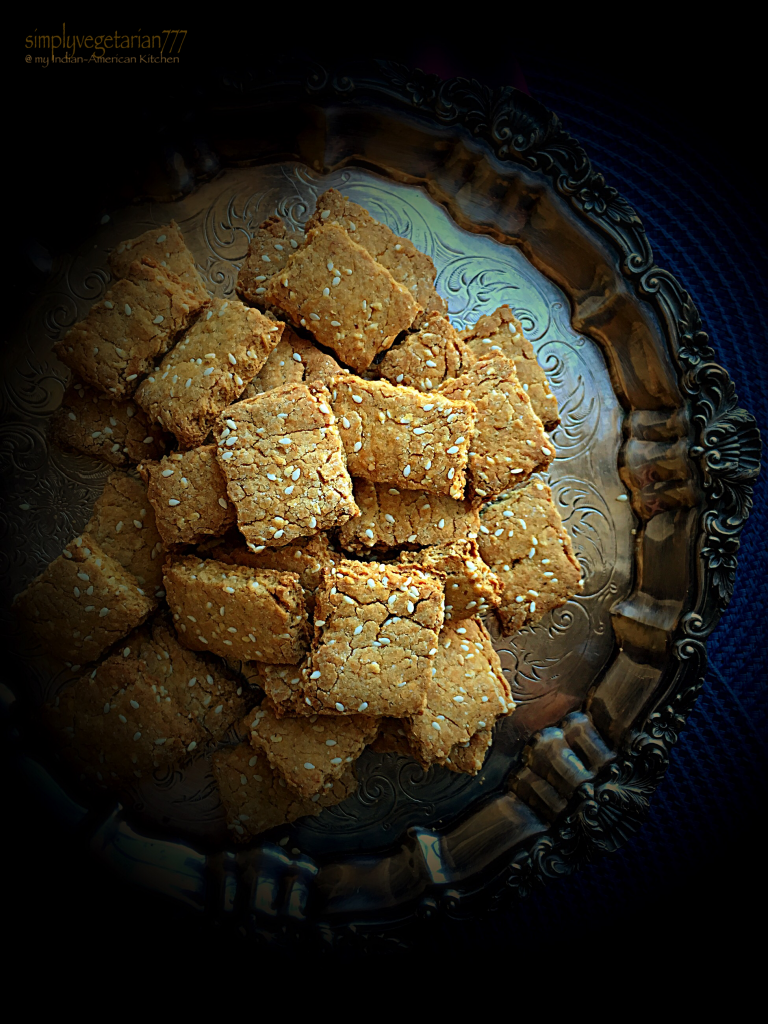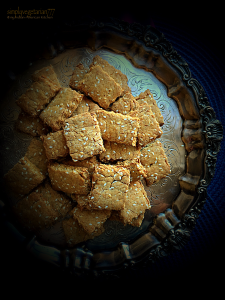 Kitchen Equipments Required
a big mixing bowl, a small sauce pan, a plate to cover the bowl, Rolling Pin, Baking sheet, Parchment or Butter paper, knife or pizza cutter.
Ingredients
Whole wheat flour – 1&1/2 cups
Sooji / Suji/ Semolina – 1/4 cup
Jaggery / Grated Gudh / Shakkar – 1/3 cup. I kept it low since I do not like my sweets too sweet but you may take 1/2 cup of shakkar.
Til / White sesame seeds – 2 tbsp
Ghee – 2 tbsp
Fennel powder – 1 tsp, optional
Baking soda – a moderate pinch
Water – 1/4 cup
Method
Take the mixing bowl. Add whole wheat flour, sooji, til, fennel powder and baking soda to it and mix well with hands.
Heat water, Shakkar or powdered Gudh together in the small sauce pan till gudh dissolves in water. Do not over heat.
Add ghee to the sauce pan. It will melt in hot water and gudh mixture. Stir well and cool a bit.
Add this sweet water to the mixing bowl and make a tough dough. Bring the ingredients together and knead for a minute.
Cover the bowl with a plate and let the dough rest for 1/2 an hour.
Preheat the oven at 350*F / 180*C. Line the Baking sheet with parchment paper. Set aside.
Take out the dough on  the clean kitchen surface. Roll it out in a rectangle with rolling pin. The thickness should be 1/8th of an inch. The thicker mathri might take longer and get very dry. The thinner mathri will become too crisp.
Now cut that rectangle into 1×1 inch squares or diamonds with a knife or a pizza cutter. You may cut out small circles also.
Place these squares on the baking sheet.
Bake the Gudh Til ki meethi mathri for about 15-18 minutes. They will be nicely golden brown and crisp.
Serving Suggestion
These are perfect to be eaten at tea time.
Good as a snack for kids and adults.
Storage
Once cooled at the room temperature, Store them in an air tight container.
I had a fabulous time baking these in my Indian American Kitchen. I am sure you will love these as much as my family did.
Sonal