Guest Post : Alu Posto and Kalai Dal, Vegetarian Delight from Bengal by Sarani Tarafder
As an Amazon Associate and member of other affiliate programs, I earn from qualifying purchases.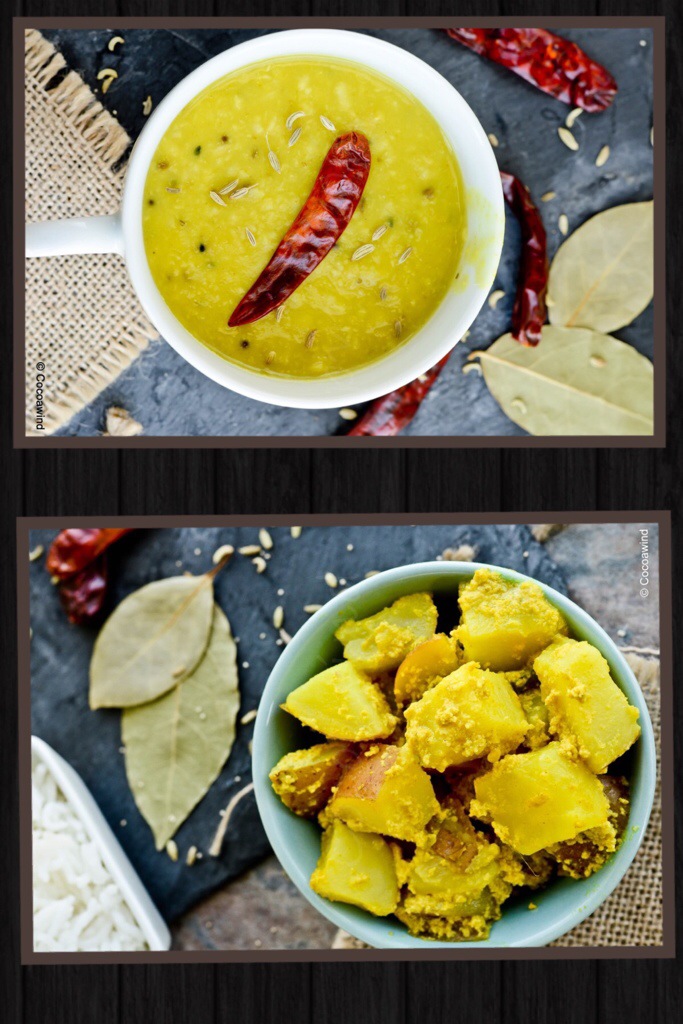 Aren't these pictures speaking thousand volumes? Keeping my tradition alive for Angie, The Novice Gardener's Fiesta Friday; taking Sarani along with me for a fun ride at the blog party, co-hosted by 2 very talented and super awesome bloggers, Fae of Fae's Twist and Tango and Suzanne of A pug in the Kitchen.
Cross blogging and cross introductions put me in a soup. Should I go with the co-hosts first or my Guest blogger first? Well, Fae and Suzanne, this is Sarani who blogs at Cocoa wind and Sarani, this is the whole FF Gang! Each and every one of them is a maestro in their own zone. Every blogger is a star here and comes with a big heart and loads of encouragement and compliments for each other.
Coming to Sarani now! I met her at a Facebook group Chef at Large and since then it's been a mutual admiration for both of us. She is such a crisp blogger and a super loving mom. I love the way she blogs about her family favorite recipes, some ingratiated from her ma and some loved by her son and husband :). Unlike me, she is a creative master in all kind of recipes from vegetarian to non vegetarian and baked goods. Do check out her blog for veg recipes, non veg recipes and some baked goodies. When Sarani asked me what to bring to my blog, I said Aloo Posto, which is a potato dish cooked in poppy seeds paste. She actually obliged me with the whole combo along with a dal preparation. Bengali cuisine is a very rich cuisine and along with vegetarian dishes, fish and goat meat makes to many dish preparations. Unfortunately, the restaurants in USA offer either North Indian or South Indian cuisine. Bengali cuisine is East Indian cuisine. The main spice stream of Bengali cooking is a spice mix called Paanch Phoron.
Now off to Sarani, as she says it !
Thanks Sonal for this opportunity! It is a pleasure to be featured on your blog which is simply a delight!
I started blogging in June 2012 as a way of keeping myself engaged. I had quit my job as a Banker in 2010 to be with my son full-time. But since he was growing more and more independent with each passing day and was starting school – it meant I will have more time on hand. When I started two years back, I had little idea about blogging but over the last two years my idea of casual 'time-pass' gradually became a passion of mine. This passion was further fueled when I became the founder-member of this awesome group Kolkata Food Bloggers. I have been through a lot of changes over the last 1.5 years (including a move to Kolkata from the US and back again) – but blogging has constantly been a part of my life. This journey has been an awesome one till date – the best part being the great friends that I have made in the blogosphere!
Now coming to the recipes. Today I present not one but two recipes from the Bengali Cuisine – Kalai Daal (Biuli Daal/Urad Daal/Spilt Black Gram) and Alu Posto (Potato cooked in Poppy Seeds Paste). We Bengalis cannot imagine one without the other. For me a meal comprising of Kalai Daal and Alu Posto is resonance with nostalgia – a constant reminder of childhood.
This is how Ma used to make these and now I do too!
Alu Posto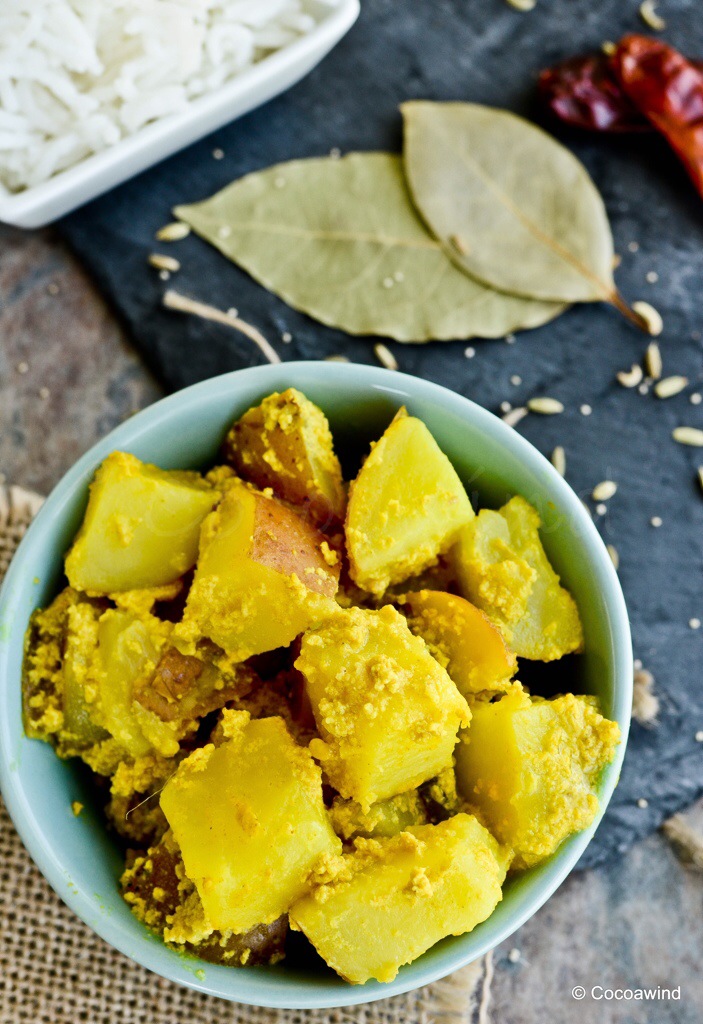 Ingredients:
Potatoes – 3 Cups, cubed
Poppy Seeds – 3 tbsp
Turmeric Powder – 1/4 tsp
Green Chilies – 2 or 3
Salt to taste
Oil – 1 tbsp
Water – 3 tbsp + enough to cook the potatoes
Method :
You can use your wet grinder to make the paste. My Ma would throw in the green chili along poppy seeds when making the paste. I used my coffee grinder to grind the poppy seeds into a coarse powder, mixed in 3 tbsp of water and let it sit for about 10 minutes.
I used small red potatoes (with the skin on) for this dish, but you can use russet potatoes as well.
In a non-stick pan or kadai, heat up oil and throw in the cubed potatoes along with the green chili and a sprinkle of salt. Cover and cook while stirring from time to time, till the potatoes are almost fork tender. In the Bengali cuisine, a lot of stress is put on how vegetables are cut. And all pieces need to be of similar, if not same size. This particular dish calls for the potato to be cut into smallish cubes.
Once the potatoes are almost cooked, add the poppy seed paste and enough water to just cover the potatoes and cook till the raw smell of the poppy seed paste disappears and the potatoes are fork tender. Serve warm with steaming hot rice and kalai daal.
Kalai Daal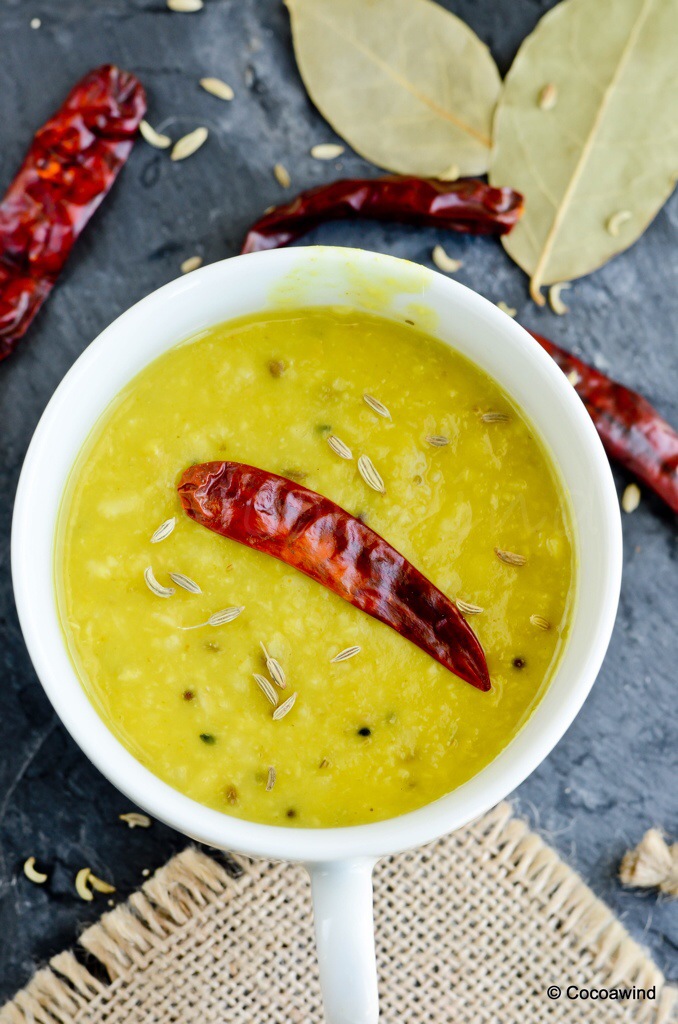 Ingredients:
Kalai Daal/Biuli Daal/Urad Daal/Spilt Black Gram – 1/2 Cup
Water – 2 1/2 Cups (for cooking the Daal)
Paanch Phoron – 1/2 tsp (Five Spice Mix – equal parts of fenugreek, fennel, mustard, cumin and nigella seeds)
Dried Red Chili – 1, split
Asafoetida – 1/8 tsp or a fat pinch
Bay Leaves – 1 big or 2 small
Fennel Seed Paste – 1 1/2 tsp
Ginger paste – 1 1/2 tsp
Turmeric – 1/2 tsp
Salt to taste
Oil – 1 tsp
Method :
I used a pressure cooker to cook the Daal – it took about 12 or 13 minutes. Then I used my wire whisk to to mash the daal and kept it aside.
Heat up the oil in a kadai or a pan and temper with 'paanch phoron', dried red chili, bay leaves and a fat pinch of asafoetida. Once the spices starts spluttering and the aroma of asafoetida hits you add the boiled Daal back and mix well. Add the salt and turmeric and bring it to a boil. Add little water if you think the Daal is too thick. Throw in the fennel seed paste and ginger paste – give it a quick whisk. Cook for just a couple of minutes and take it off the heat.
Serve with hot rice and a side of Alu Posto!
Kalai Daal tastes best when freshly made. We sometimes use the leftover Daal to make Daalpuris.
Have fun meeting each other and learning new recipes.