Guest Post : Anjana from "Happy & Harried" brings Lemon Rice and Cauliflower Curry with Coconut Milk
As an Amazon Associate and member of other affiliate programs, I earn from qualifying purchases.
It's that time of the month again! Yes, the Guest Post week, where I introduce some of my blogger buddies along with their talents and charms. I look forward to the second week of every month since I get a break and I get entertained with so much of yumminess and love :).
Today it's Anjana from the corner of "Happy and Harried". She is super talented, super cool and just amazing! Yeah, I got short of words to describe her. She not only blogs about food and recipes…you have to check out her blog to get a glimpse of so many DIY Projects and such a crafty critter she is :). Hugs Anjana! You inspire me everyday with your colorful and multidimensional personality. She has done it again. I requested for one Guest Post and she gave me bounty full of one Post! That's Anjana :). Can you believe 2 recipes in one post and both of them super tasty and gorgeous golden clicks! Check out the post and her blog for sure. I am sure you will be glad that you did!
Now, on to Anjana..as she says it !
Lemon Rice And Cauliflower Curry With Coconut Milk
I am so glad to be guest blogging at your lovely blog, Sonal. Ever since I came across simplyvegetarian777, I've been hooked. I love the healthy, delicious and simple recipes you post. So when you announced the monthly guest blog feature, I jumped right in. I so wanted to be a part of it!

I thought a lot about what to cook for you. It almost felt like you were coming over for a meal. What would I feed you? Staying true to my South Indian roots, I decided on the classic lemon rice with a mild, flavorful and fragrant curry to go with it. I've used cauliflower this time, but once the basic curry/sauce is done, you can add any kind of vegetable to it. I hope you and your readers enjoy these recipes.
Lemon rice is immensely popular in South India, particularly Tamil Nadu. It is super easy to make, dresses up the humble rice, and can easily be a one-dish meal along with some achar (pickle) or pappads. It is excellent to pack while traveling too.
Curry with coconut milk is another southern favorite, particularly along the Malabar coast. It makes an excellent base for any number of curries and soups. It is mild, delightfully fragrant and packed with flavor.
Let's get on with the recipes now.
LEMON RICE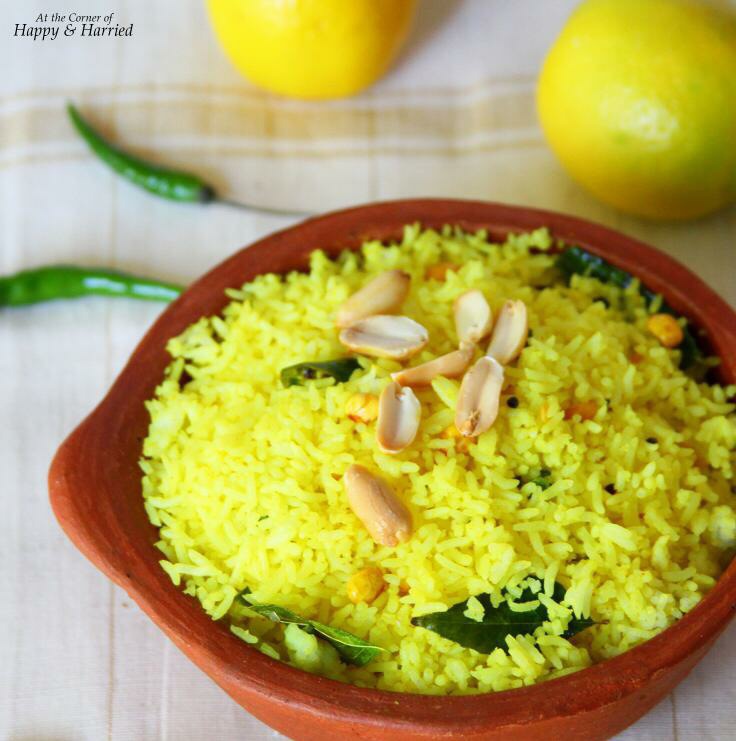 You will need:
Rice – 1 cup (raw rice or other thin white rice variety)
Water – 2 cups (or as required to cook the rice)
Oil – 1 tbsp
Mustard seeds – 1/2 tsp
Urad dal – 1 tsp
Chana dal – 1 tsp
Whole red chilies – 2
Curry leaves – a few
Grated ginger – 1 tsp
Green chili – 1, chopped
Asafoetida (Hing) – a pinch
Turmeric powder – 1/4 tsp
Cumin powder – 1/4 tsp
Lemon – 1, large
Salt – as per taste
Peanuts – a few, dry roasted (optional)
How to:
Prepare rice as usual and fluff gently with a fork. Allow to cool.
Heat oil in a pan. Add the mustard seeds, urad dal, chana dal, red chilies and curry leaves. The mustard seeds will start to sputter and the lentils will turn a lovely light golden color.
Now add the ginger, green chili, asafoetida, turmeric powder and cumin powder and mix well.
Add the juice of one lemon and salt to taste (remember to account for the amount of rice to be used). Remove from heat once the lemon juice is just heated.
Gently fold in the still warm rice so that the lemon mixture coats the rice evenly. Garnish with roasted peanuts or cashew nuts.
Notes:
Do not cook the mixture for long once the lemon juice is added.
The cooked rice should neither be too hot nor too cold. It is best to prepare the rice first, fluff it and let it cool slightly in a large plate. By the time you prep the lemon mixture, the rice would be just right to be mixed. This recipe works excellently with warmed-up day-old rice too.
The best equipment to mix the rice is a large steel slotted spoon. Use the spoon's edges to gently fold in the rice without mashing it.
CAULIFLOWER CURRY WITH COCONUT MILK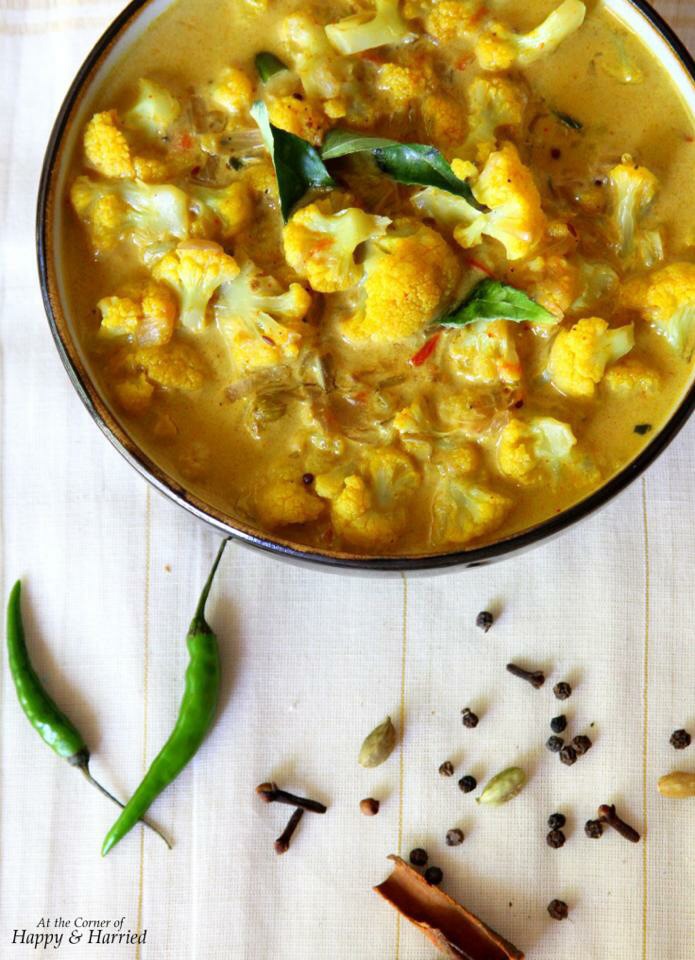 You will need:
Oil – 2 tbsp
Mustard seeds – 1/2 tsp
Curry leaves – a few
Cumin seeds – 1/2 tsp
Whole spices – a small piece of cinnamon, 2-3 cloves, 4-5 black pepper corns, 1-2 whole cardamom pods
Onion – 1 medium, finely chopped
Ginger – a 1″ piece, finely chopped
Green chili – 2, chopped
Tomato – 1 large, chopped
Turmeric powder – 1/4 tsp
Red chili powder – 1/2 tsp
Coconut milk – 1 cup
Cauliflower – 1 small head, cut into florets
Salt – as per taste
Water – as needed
How to:
Coarsely grind the cumin seeds and whole spices in a mortar and pestle. Keep aside. (Alternately, you can use half a teaspoon of garam masala powder, but I highly recommend that you grind your own spices.)
Heat oil in a pan. Add the mustard seeds and curry leaves. When they start to sputter, add the ground spices and allow them to become fragrant.
Add the onion and ginger and saute till the onions are soft and start changing color, but do not allow them to brown.
Now add the tomatoes and chopped green chilis and cook till the tomatoes are mushy.
Add the masala powders and mix well. To this, add the coconut milk and bring to a gentle boil.
Add the cauliflower florets and season with salt. Add about a quarter cup of water, cover and cook. Once the cauliflower is cooked, open the lid and boil the curry further so that it thickens slightly. You could also mash a couple of the florets with the back of a spoon.
Garnish with more curry leaves (or maybe some cilantro) and serve with the lemon rice. This curry goes excellently with almost any kind of Indian flat bread too.
Notes:
Substitute cauliflower with potatoes, green peas or a mix of vegetables like carrots, green beans and mushrooms. Adjust the liquid and cooking time accordingly.
Any curry cooked with coconut milk will further thicken upon standing. Keep this in mind while reducing the curry in the end.
I hope you enjoy these lovely recipes. And do pop in at my blog here . I would love to have you over. You can also find me on Facebook, Pinterest and Bloglovin'