Guest Post : Black Bean Fajitas by Lori of Creating Beauty in the Kitchen
As an Amazon Associate and member of other affiliate programs, I earn from qualifying purchases.
Have you met Lori yet? I bet most of you have :). I love this girl. Will you believe if I tell you that she hated cooking? No? This is what she says, "I would rather clean a toilet without gloves in someone else's house than cook a meal". lol! When I read that I couldn't believe it either. Have you seen her blog, the way she cooks and experiments? She works like a pro! Check out yourself at Creating Beauty in the Kitchen!.
LOW GLYCEMIC , NO REFINED SUGARS, FRESH INGREDIENTS, & MOSTLY GLUTEN FREE !
Yup, that's her blog! Super healthy, super cool and super creative :). Full of life! Full of zest! And full of love! She has showered me with so much of love that I get overwhelmed ;). Lori, you know what I am talking about :).
I have loved her recipes including Tomato Basil Mini Quiches, Poached Peaches with cinnamon and vanilla, Cherry Vanilla Pudding Pops and many more :). Just love the way,her blog reflects :). More love to you Lori!
Now off to Lori, as she says it !
I was super excited when Sonal asked me to do a guest post for her!
My reasons?
She is a wonderful cook! But all of you already know that! 🙂

She is a vegetarian…and I am not. 🙂 For those of you who know me by now, you know I am always up for a challenge, and this was a challenge I was excited to take on! Though I grew up a meat and potatoes kind of girl, I have grown to love my vegetables and can always use eating more of them! 🙂

There is so much I can, and do, learn from her! I would never have
known how to make fruit leather strips
Aam Papad or this wonderful eggplant and yogurt middle eastern dish Bademjan Borani
… two things that I am sure hoping to make in the future!

Sonal opens my eyes and taste buds to delicious things that I never knew were out there like this amazing pumpkin in Indian curry spices
Pumpkin in Indian Spices ! All I can say is WOW!!! She inspires me to try things that I never would have before! I love
This recipe I am bringing you Sonal…well, I made it not even realizing that it would be the one I was actually making for you! 🙂 I was craving Mexican food, like I often do, and when things went awry in the kitchen….yes, that
sometimes often happens 😉 … this delicious recipe was born! Black bean fajitas! They were sooooo good! I didn't even miss the meat! 😉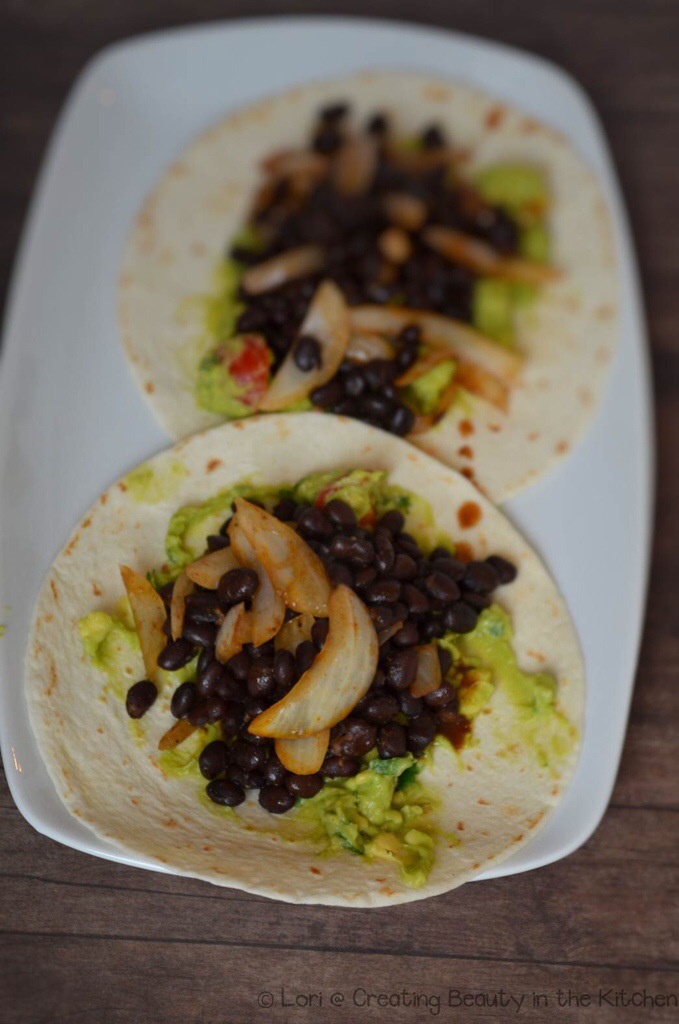 I love using fresh ingredients!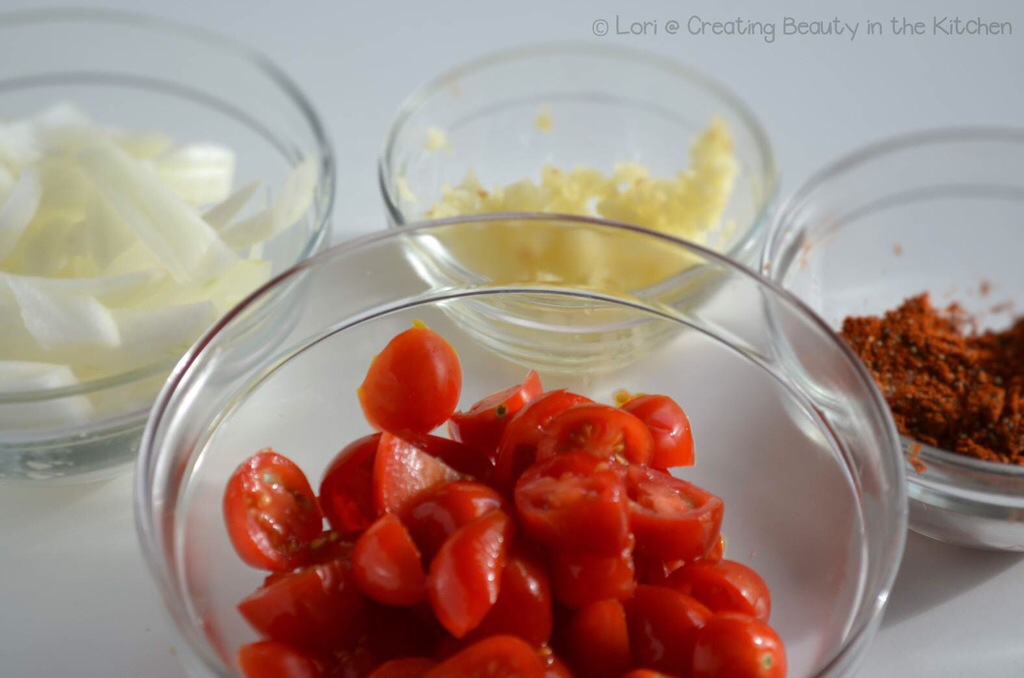 Some homemade fajita seasoning…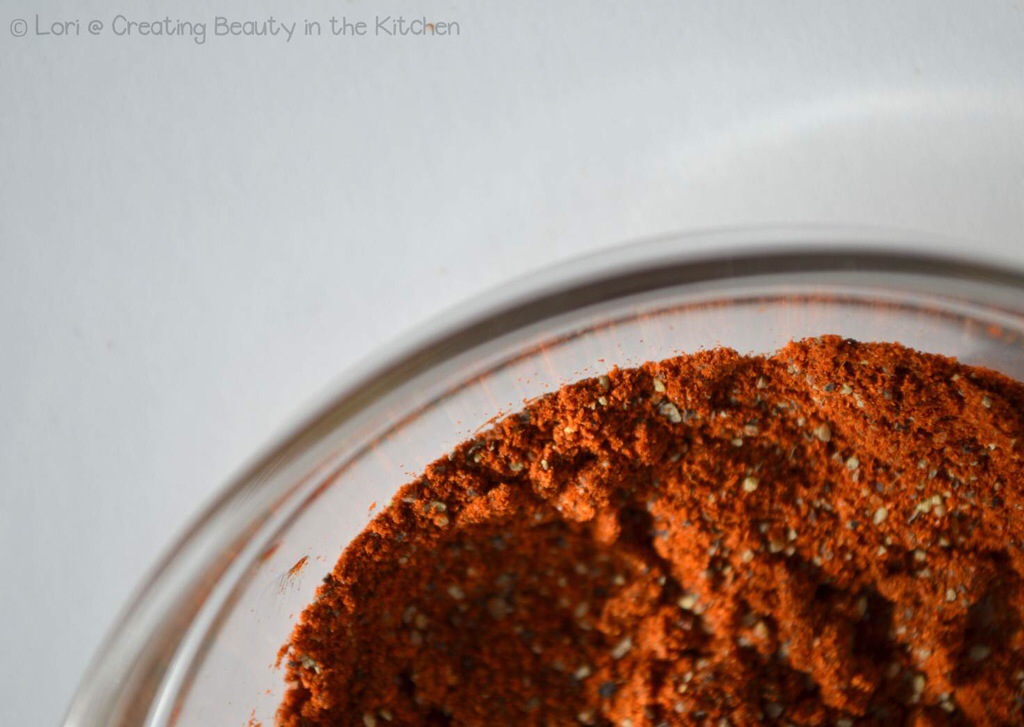 I hope you and your followers will enjoy this as much as we did Sonal! Love, love, loved it!
I'm looking forward to seeing some mutual friends, as well as many new ones! I know Sonal appreciates each one of you!
Feel free to come visit me at Creating Beauty in the Kitchen!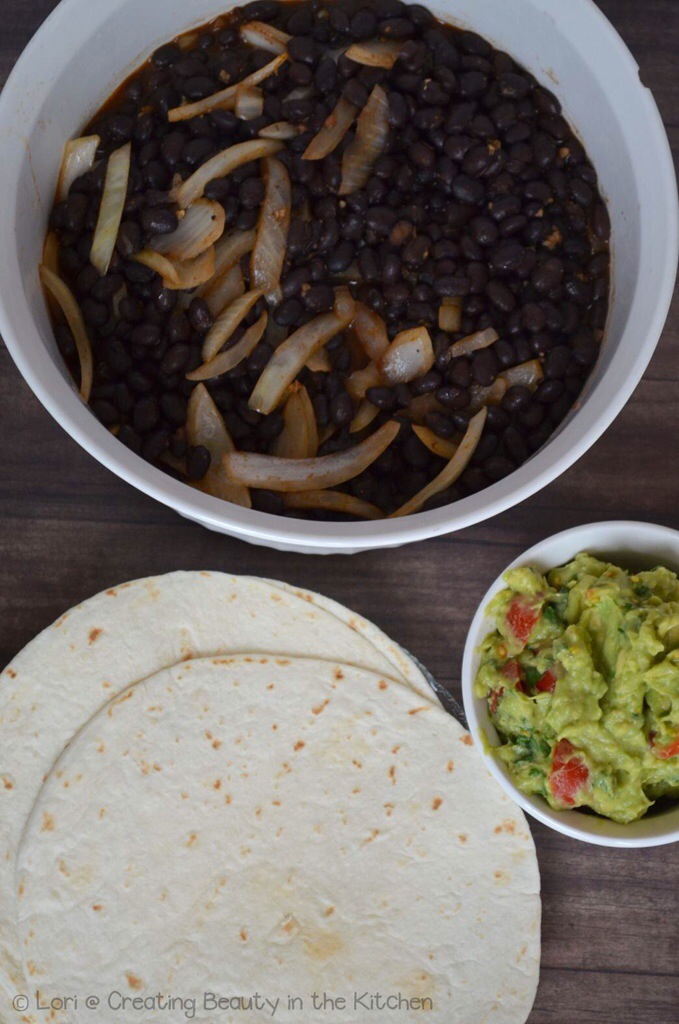 Black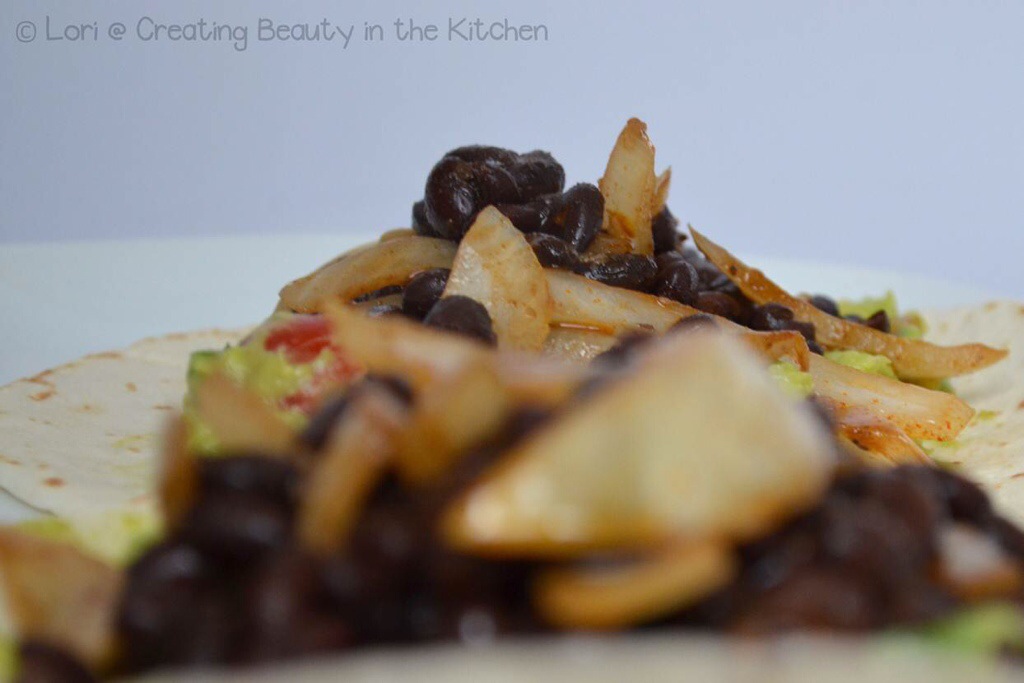 *Created by Lori at Creating Beauty in the Kitchen

Ingredients:
· 2 cans black beans, drained and rinsed
· Flour tortillas (or gluten free ones, for my gluten free friends)
· 3 avocados
· Cherry tomatoes, halved
· ½- 1 whole yellow onion
· About 6 cloves of fresh garlic, minced
· Chili powder
· Cayenne Pepper
· Black pepper
· Honey
· ½ lemon for lemon juice
· 1 tbsp olive oil
· ¼ cup water
· Fresh cilantro- lots of it!
Directions:
· Press the garlic, slice the onions, halve the tomatoes, wash and cut up the cilantro, prepare the beans, and set aside in separate containers.
· Prepare the fajita seasoning by combing chili powder, cayenne
pepper, black pepper, about 2 cloves minced garlic, and some honey. I didn't put measurements on these, because each of us has a different tolerance for heat level. Experiment around until it is the right amount of spiciness for you. After you have made this, set it aside.
· In a large skillet add some olive oil and sauté the onions on medium heat.
· When the onions are looking pretty good, add in the beans and
continue cooking.
· After a couple minutes, add in the fajita seasoning, along with
about ¼ cup of water. Mix around thoroughly. Let cook for about 10 minutes to allow the spices to cook into the beans.
· Meanwhile, make your guacamole by putting the avocado in a large bowl and mashing it. Add the rest of the garlic, the tomatoes, cilantro, and the lemon juice. Mix thoroughly.
· When everything is ready, heat up some tortillas and dinner is
ready! Enjoy!