Guest Post : Chandrakanta or Chandrakantalu by Aruna of Aharam
As an Amazon Associate and member of other affiliate programs, I earn from qualifying purchases.
Aruna blogs from Aharam. Aharam means meal / food in Sanskrit. as the name suggests, her blog is filled with loads of traditional, regional and culturally rich food. Aruna's roots are from Andhra, lives in Mumbai, travels the world for work, takes care of her family, cooks excellent food, follows all
traditions to the core and blogs! Wow. She is a true icon of modern super woman . I met her in the blogosphere around an year back. I was still new and she totally got me hooked with her blog on those yummy recipes which she posted regularly. The blog reflects honesty and a very strong character of good work. If you ask me what I love most about her blog, then the thing that tops the list is her storytelling and details of traditions which is the core for her. In today's world, how many people actually follow the cultural and traditional duties? Her posts keep me grounded and rooted to my native land with a touch of temple-ish feel. You have to visit her blog to see the body of her work. Just amazing. Thanks Aruna for this wonderful recipe and the detailed story behind it. I also apologize for posting it a week late. Just don't ask…it's crazy here!
Off to Aruna, as she says it !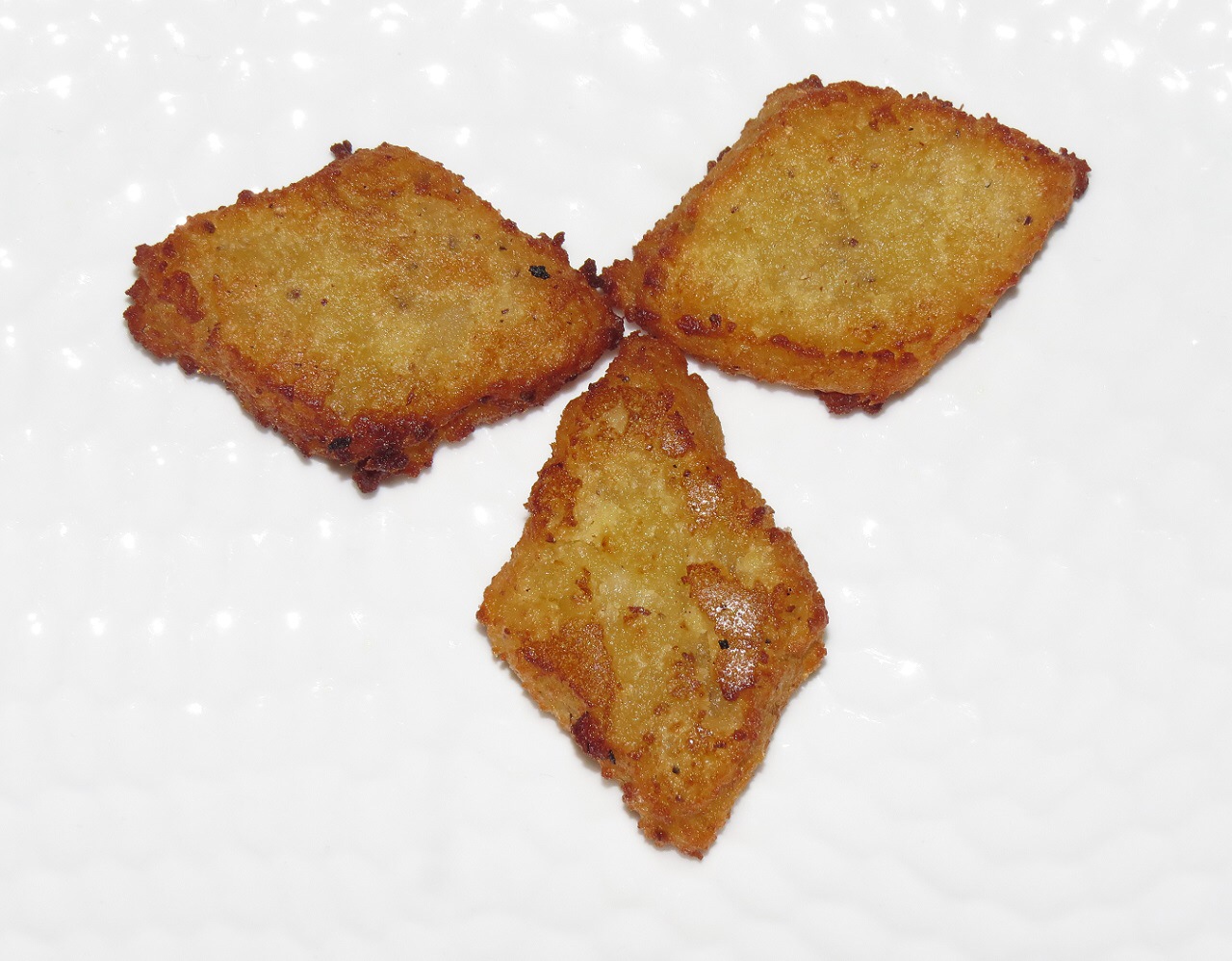 Let me start with a confession. Sonal asked me for a guest post eons ago. I promised that I would do one but never got around to it. However, as they say better late than never, and so here I am.
Instead of choosing a recipe myself, I gave Sonal some options and she chose Chandrakanta (or Chandrakantalu in plural). I am glad she chose this sweet because it is often made in Andhra homes during festivals. With the Hindu month of Sravan upon us, there is no dearth of poojas and festivals when Chandrakantalu can be made. It is on my list for any one Sravana Shukravaram (any Friday in Sravan); ideally for Varalakshmi Pooja.
The beauty of this recipe lies in its simplicity. Why is that important? Anyone who has been involved in making a traditional naivedyam will know how many different dishes are to be made. These days we limit the number of cooked dishes to eleven (it has to be an odd number); essentially because the family no longer has the capacity to eat more.
In my home, the Pooja does not start till the Maha Naivedyam is made, simply because my father insists that the entire family sit together for the pooja. Being a South Indian household, poojas tend to be early in the day. This means all the cooking starts fairly early in the morning. Given that some must-have dishes are elaborate, I need a couple which are simple so that I can make it to the pooja on time and not have Dad pace the kitchen asking "ayyinda?" every 2 mins (Ayyinda = done?). Then there are things like Rahu Kaalam (inauspicious time of the day) to consider.
One of the simpler sweets that one can make is Chandrakantalu. Made by deep frying pieces of cooked moong dal paste (pesara pappu poornam), this traditional dessert gets done in less than 45 mins (soaking time for the pesara pappu or green gram excluded) and that is a boon for me when I am multitasking before a pooja.
The name literally means "loved by the moon" (don't ask me why) and this deep-fried sweet is traditionally in the shape of the crescent of the moon. However, it is also made in the shape of a diamond, and I chose the latter option.
So without further ado, I present the recipe for Chandrakantalu and hope you like it!
Makes: 12-16Soaking
Time: 1 Hour, Cooking Time: 45 Mins
Ingredients
Pesara Pappu or Moong Dal – 1 Cup
Sugar – 1.5 Cups
Fresh Grated Coconut – 0.5 Cup
Green Cardamom – 4 to 6
Ghee – 0.5 tsp
Oil for Deep Frying
Method
Soak the moong dal in 2 cups of water for 1 hour.
Grease an 8″ plate with the ghee. Set aside.
Peel the green cardamom and crush the seeds to a fine powder.
Drain water from the moong dal completely. Grind the moong dal to a smooth paste with little (ideally no) water. The water in the soaked moong dal should be enough. If required, add about 1-2 tbsp water not more. If you add a lot of water, the Chandrakantalu will either not set or disintegrate on frying.
Add the cardamom powder, grated coconut and sugar to the moong dal paste.Mix well.Heat a heavy-bottomed kadai or wok.Add the moong dal paste.Over medium heat, cook the paste while stirring constantly till it begins to form a thick paste. Initially, the paste will thin a bit and bubble because of the water in the sugar. This paste is called pesara pappu poornam.
Spread the paste in the greased plate to form a layer that is about 0.5″ to 0.75″ thick.
Cut into squares or diamond shapes. Ensure you cut well because you will have to remove one piece at a time and fry it.
Set aside for 10 minutes or till the paste cools and solidifies a bit.
In a wok or kadai, heat enough oil to deep fry the pieces. The oil should be medium hot. To test the heat of oil, add a pinch of the moong dal paste to it. The piece should sink to the bottom and immediately rise to the top and fry on the top.
Using a knife, gently remove one piece at a time from the greased plate and deep fry till golden brown.Let cool to room temperature.
Enjoy!
Notes
If you wish to store Chandrakantalu, do so in an air-tight container. If you are going to finish the sweet in a day or two, you need not refrigerate it.
If you plan to savour the sweet over several days, I would recommend you refrigerate it and warm as many as you need just before eating.
You can use the Pesara Pappu Poornam to make Pesara Pappu Bobbattlu (Moong Dal Puran Poli).