Guest Post : Roasted Veggie Enchiladas by Patty Nguyen
As an Amazon Associate and member of other affiliate programs, I earn from qualifying purchases.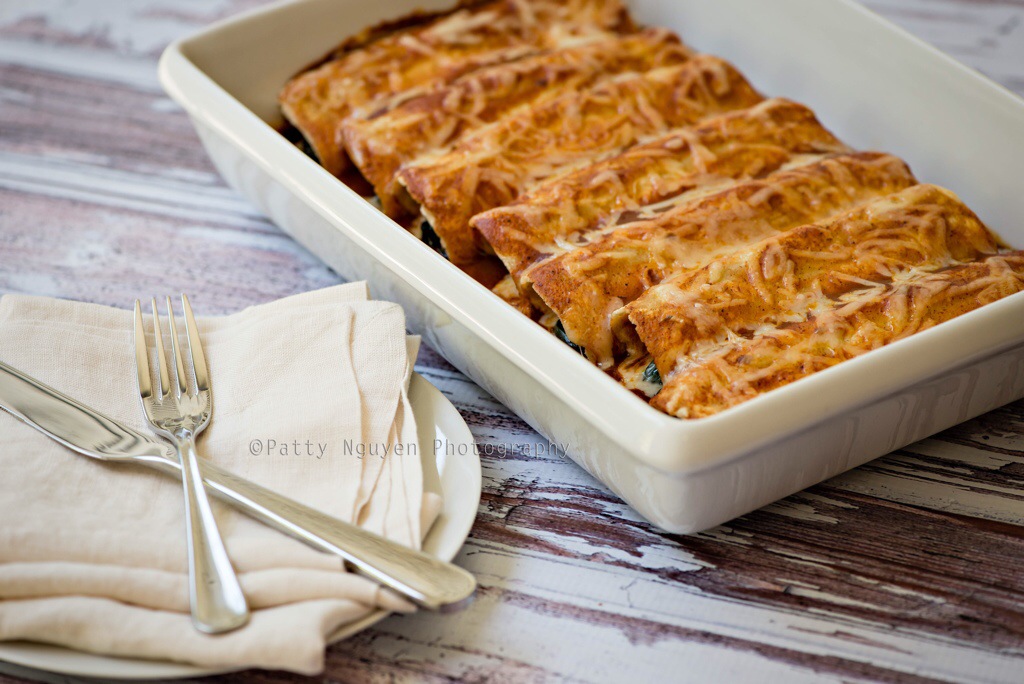 What should I say about Patty ? I just adore her :). A warm hearted, full of fun and life, bubbly Patty ! She is an experienced and a fantastic photographer. Patty blogs from Patty Nguyen, which is full of beautiful pictures, lovely recipes, travel adventures and her beloved dog Bailey. None of her posts are complete without sweet Bailey.
I connected with her at Fiesta Friday Blog party hosted by Angie, The Novice Gardener and since then there was no looking back. I wait for her Macro Mondays Photography Posts. They are simply brilliant. A look into the beautiful fragment of anything, mostly nature and flowers is a visual treat to eyes. Check out yourself! Isn't it pretty?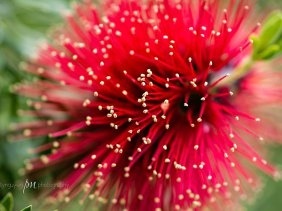 Her A to Z Photo Project is mind blowing, where she clicks for the alphabet and posts. Now tell me what do you think? I adore her for so many more reasons, mainly for the kind of person she is…a high school teacher for English and conversational Vietnamese, loved by all for her beautiful spirit and the joy that she reflects.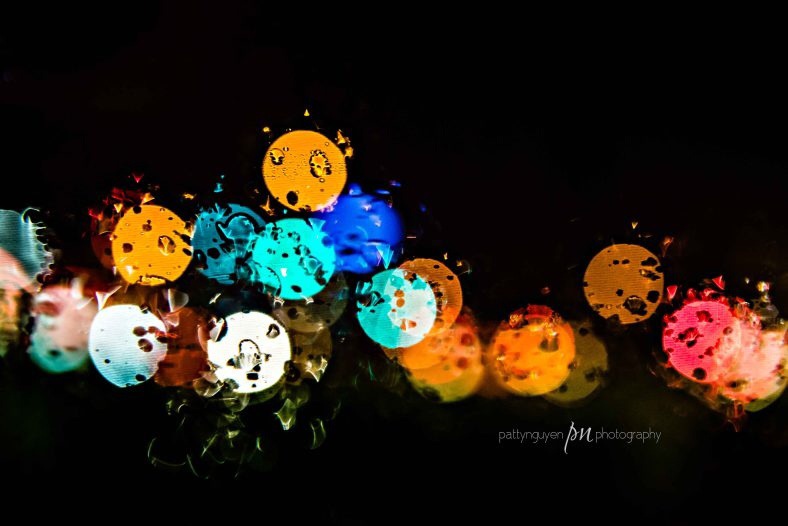 Buckets full of love for this beautiful girl, called Patty !
Now off to Patty, as she says it !
I first met Sonal at the inaugural Fiesta Friday blog party extraordinaire, hosted by the one and only Angie of the The Novice Gardener.We have been blogging buddies since then and I can't imagine my blogging experience without either Sonal or Angie.
I don't think Sonal has missed commenting or "liking" one of my posts since we discovered each other's blogs. The other week she made my day by asking if I had posted my weekly Macro Monday photo yet because she hadn't seen it. Talk about support and encouragement! She also gives the best virtual hugs ever. <3
Now on to my recipe for this guest post! This is a super easy, tasty, and
healthy (depending on how much cheese you use!) dinner you can whip up in no time. Sonal is great about teaching her kids their way around the kitchen and I am picturing her little ones helping out with these Roasted Veggie Enchiladas. I hope you enjoy this dish as much as I do!
(As with almost all of my recipes, please feel free to add/omit/substitute ingredients depending on your own personal preference.) 🙂
Roasted Veggie Enchiladas
Ingredients:
2 medium sized poblano peppers, thinly sliced
1/2 yellow onion, thinly sliced
1 orange bell pepper (or any color you prefer), thinly sliced
1 zucchini, thinly sliced into 1/4″ sticks
1 yellow squash, thinly sliced into 1/4″ sticks
corn tortillas (I didn't make my own, but I purchased my favorite
locally-made ones)
Monterey Jack cheese (or whatever you have on hand), freshly grated
(amount of cheese will vary depending on how much or how little you want to
use)
3 cups enchilada sauce (homemade or your favorite brand)
Directions:
Lay the sliced vegetables on a baking tray and drizzle with olive oil. Season with salt and pepper and roast at 400 degrees for approximately 20-25 minutes. You can adjust the roasting time depending on how tender or crunchy you prefer your veggies. Remove the veggies from the oven and let cool slightly before assembling the enchiladas.

Prepare a 13″ x 9″ baking dish by completely coating the bottom with
enchilada sauce.

For each enchilada:
Spoon 1 tablespoon of enchilada sauce on each corn tortilla. Place as much cheese as you'd like down the middle of the tortilla and top with a layer of roasted veggies. (Please see Image #2 for reference.) Tightly roll the enchilada and place seam side down in the baking dish. Repeat until you have used up all your veggies or your baking dish is full. (As you place
the enchiladas in the dish, make sure you nestle them tightly against each
other so they hold their shape during baking.)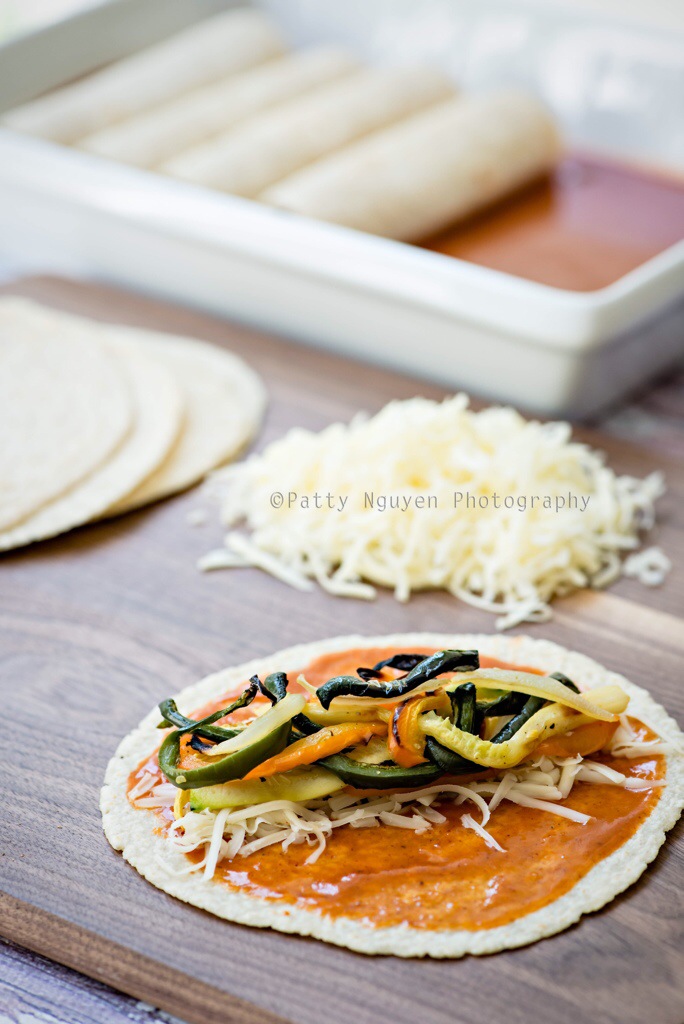 Once your enchiladas are rolled and in the baking dish, pour the remaining enchilada sauce on top. Sprinkle with cheese and bake at 350 degrees for 20 minutes, or until bubbly.
And now here is the obligatory photo of Bailey, because none of my food
posts are complete without a shot of my little helper! (Who is not really
helping, but decided to sunbathe instead.) 😉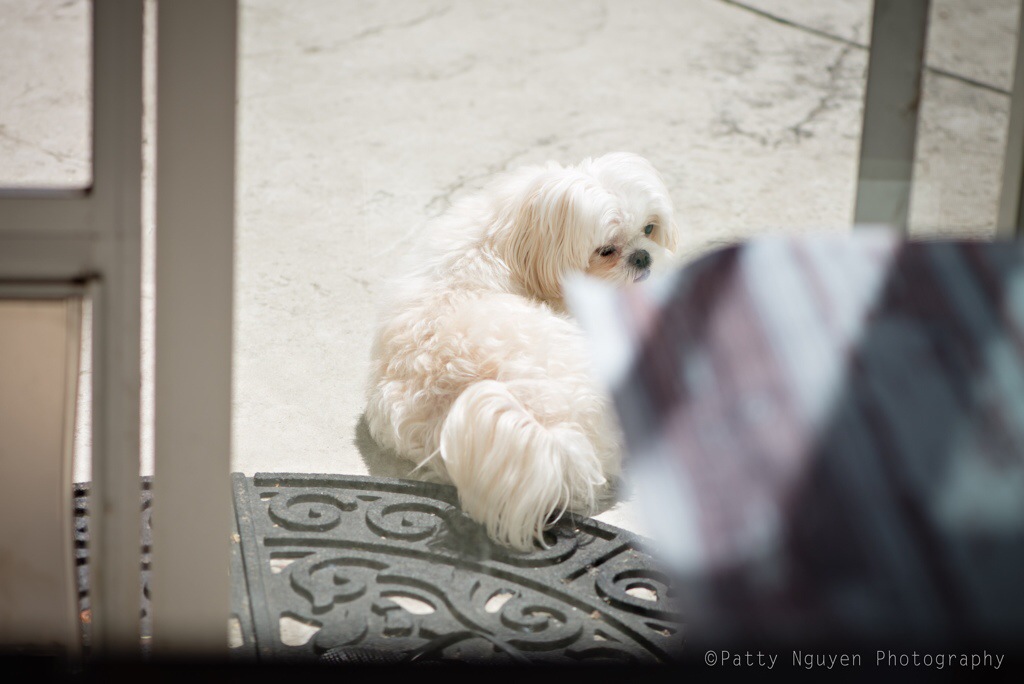 Note for Enchilada Sauce : If looking for an easy enchilada sauce recipe, click here