Meatless Monday : Herb and Veg Laden Whole wheat Focaccia
As an Amazon Associate and member of other affiliate programs, I earn from qualifying purchases.
I make focaccia often and with no fixed recipe. Sometimes I use 100% whole wheat flour, sometimes 100% white whole wheat flour, sometimes 50/50 whole wheat and all purpose flour. I have another recipe on my blog which was my first but in have improved on that gradually.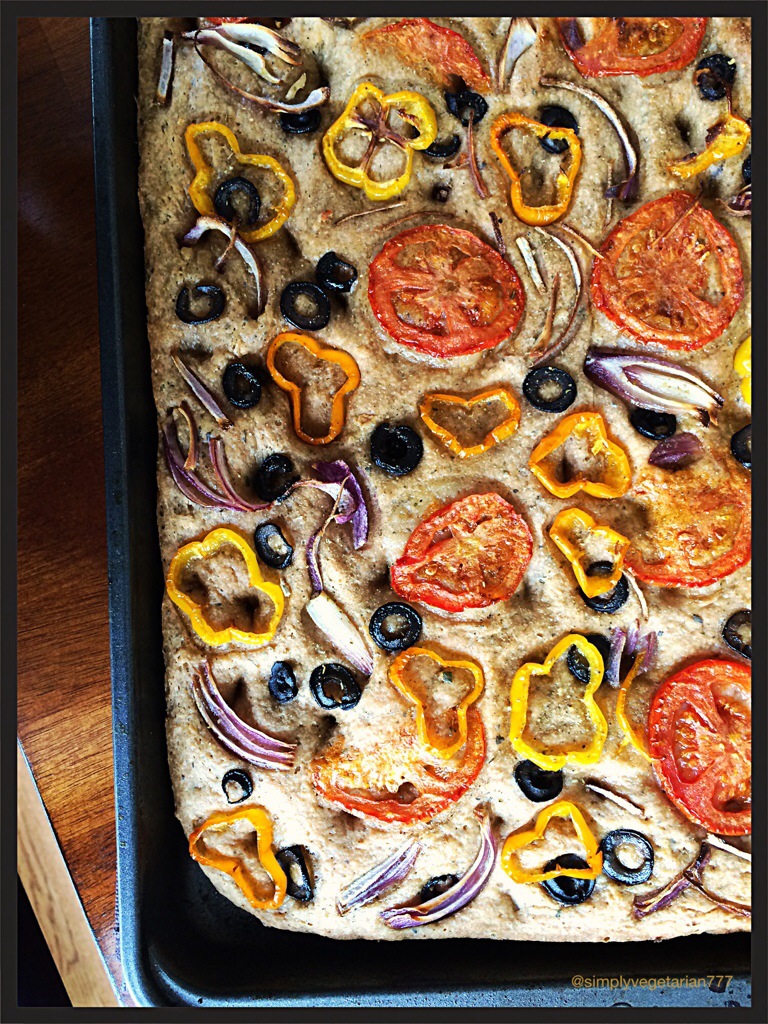 Focaccia loaded with Italian herbs and vegetables
This came out to be of perfect liking for my family. Loaded with herbs and laden with vegetables, each bite crusty and filled with goodness of caramelized onions, tomatoes, bell pepper and black olives.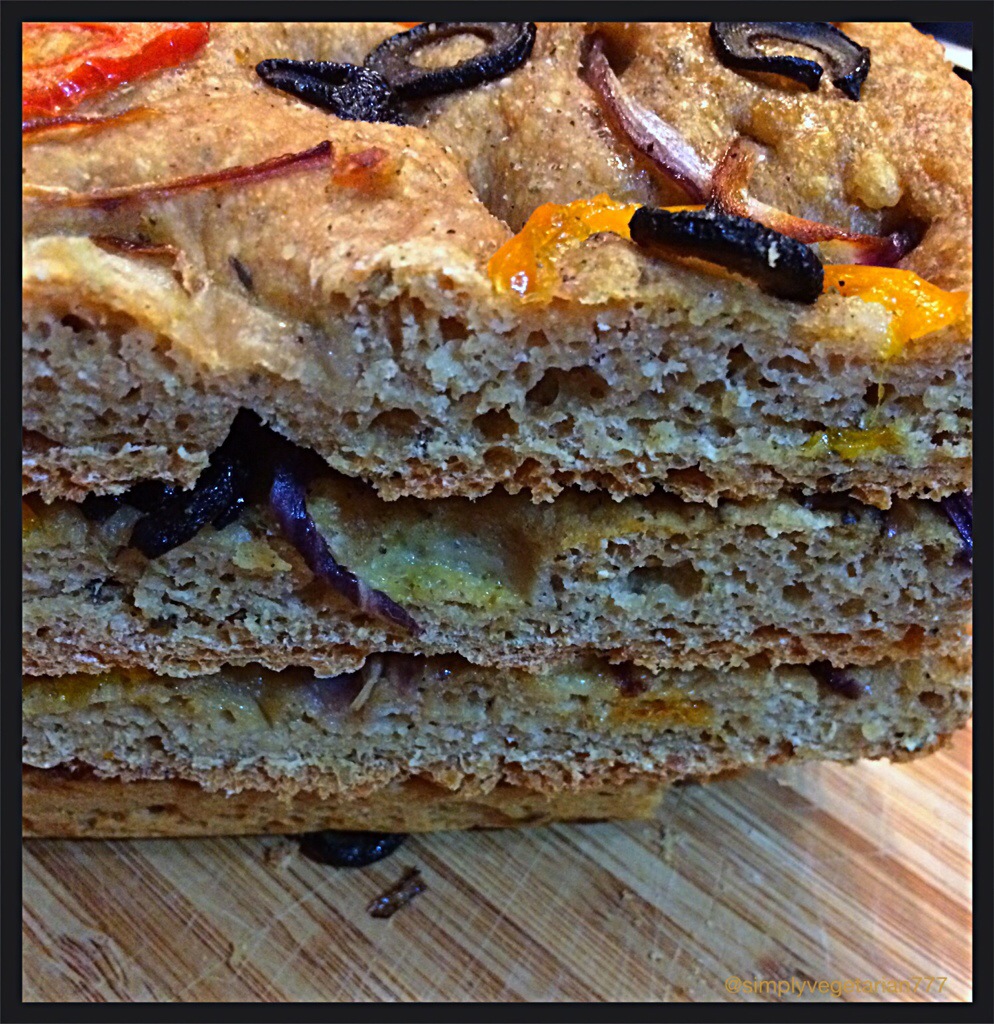 Texture of a Whole Wheat Focaccia made with instant yeast
I use infant yeast for my baking. How many of you use instant and how many of you use the dry active one? Have you noticed the difference between the quality of the two bakes? My bread guru Shailja has been pursuing me to go for active dry yeast but such a chicken I am :(. Soon, may be next time ;).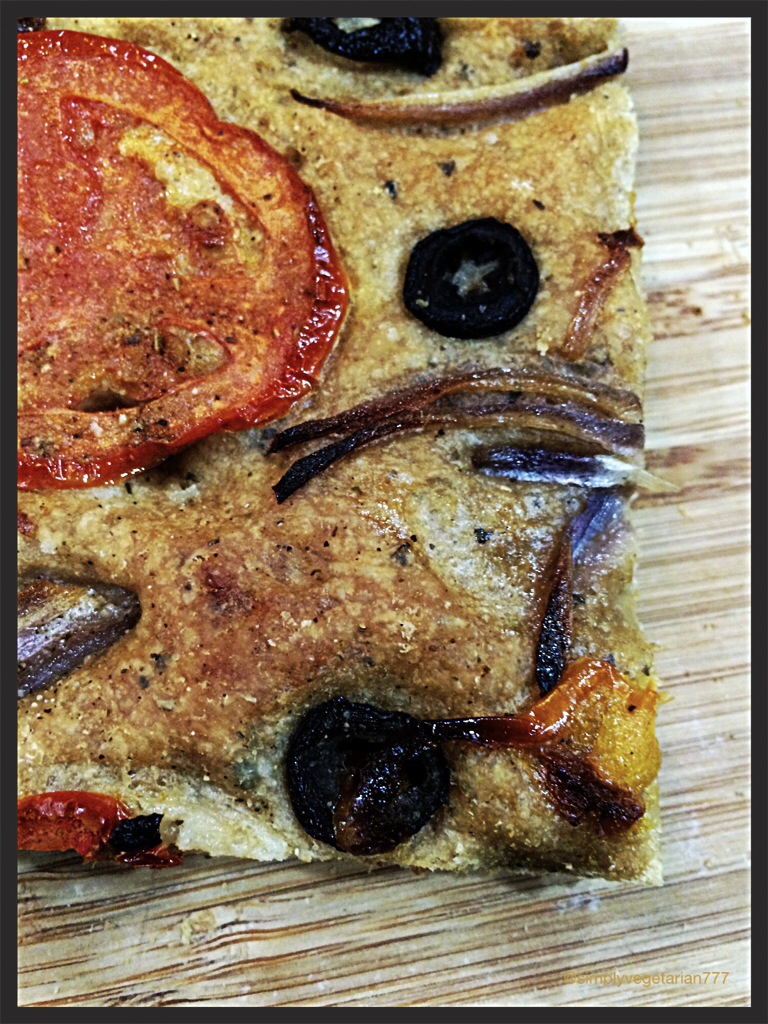 A close up of a slice of focaccia
Though I like the texture of my focaccia given the fact that it is 100% white whole wheat flour, I think all purpose flour gives it more air pockets. That is what I want to achieve with my next bake :).
Recipe
Kitchen Equipments Required : a big bowl, a flat bowl to knead, cookie tray, oven, cutting board, knife, plastic wrap, a pan to warm the water.
Ingredients :
White whole wheat flour : 4 cups plus some more for kneading. You may use All purpose flour or regular whole wheat flour or 50/50 of both the flours.
Salt : 2 tsp
Sugar : 1 tbsp
Instant yeast : 1 tbsp
Warm water : 2 & 3/4 cups
Basil, dry : 1 tsp
Onion flakes, dry : 1 tbsp
Garlic powder : 2 tsp
Rosemary, dry : 1 tsp
Thyme, dry : 1 tsp
Olive Oil : 4 tbsp or 1/4 cup
Vegetables used : 2 Roma tomatoes or medium sized long tomatoes (not too juicy), few onion slices, sliced olives, colored or green bell peppers/capsicum sliced.
Italian Herb Mix to sprinkle on top : 1 tsp. This is optional but I keep a small rash of this handy at home to sprinkle my pastas, pizza and such. Putting in a hand written note!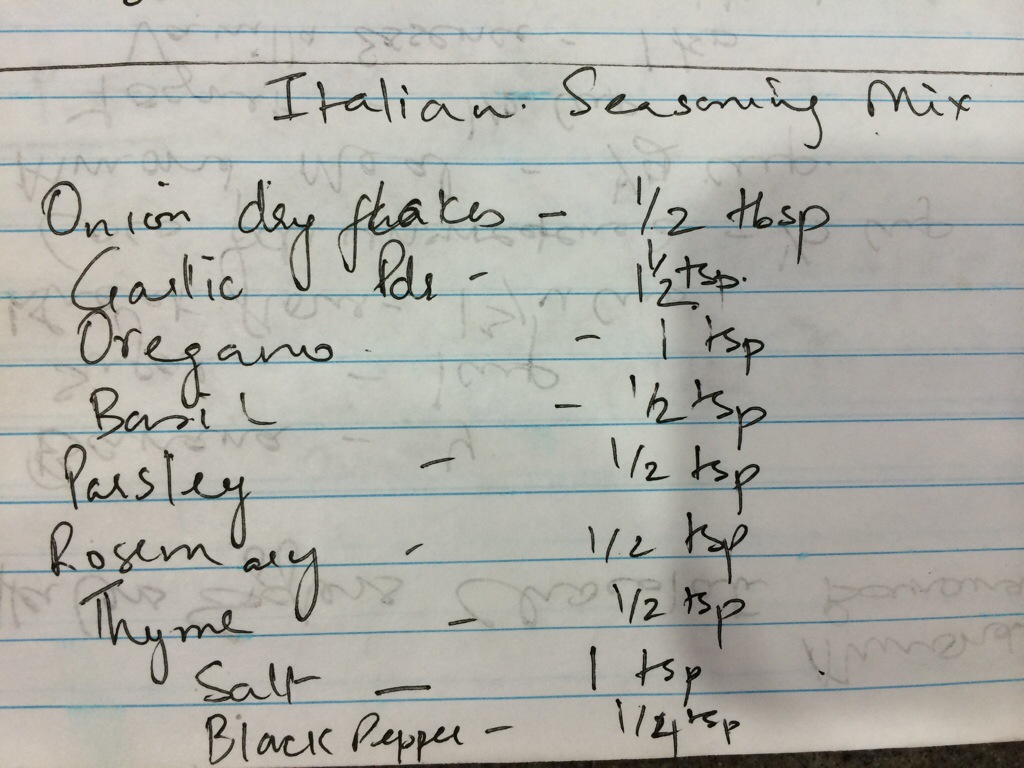 Method :
Take a flat kneading bowl. Add flour, yeast and other dry ingredients besides Oil to the bowl. Make a well in the middle and start adding warm water to it.

I use more water for better hydration and air pockets. You may choose to use less. Start pulling the ingredients together in a dough. This dough is going to be super sticky and loose.

Once gathered in a dough, start kneading the dough for atleast 10-15 minutes. I do somewhere around 12 minutes. To make it easier, keep dusting the dough with dry flour, a little at a time. You may wet your hands with water or oil to avoid the stickiness. By the end of it, it will be a pliable dough.

Take a big bowl. Coat the bowl lightly with olive oil. Shift the dough to the oiled bowl and turn it around so that it is coated with oil from all the sides. Cover with plastic cling wrap and let the dough rise for around 1 hour in a warm place. The dough should have doubled by then. I normally leave the bowl in my oven with the light on.

Grease the baking tray with olive oil. Take the dough out and lay it on the tray. Push it down gently and spread it out on the baking tray. Cover with the plastic cling wrap and let it rise for the 2nd time for about an hour more in a warm spot.

Meanwhile preheat the oven at 425*F. Once the second proofing of the dough is done and it has risen again, take it out.

Make indents with the index finger. Spread out the cut vegetables on top of it. Press them down gently in the dough so that they get slightly engraved in it.

Sprinkle the top of the "ready to bake" focaccia with 1 tsp of the Italian herb mix. If you don't want that, then just sprinkle with some black pepper powder and salt.

Bake for 30-40 minutes till it gets golden on the top. Take it out. Cool to the room temperature. Slice I with serrated knife and enjoy :).
I made some focaccia grilled cheese sandwiches which came out very yummy. It was like stuffed crust pizza but with less guilt :).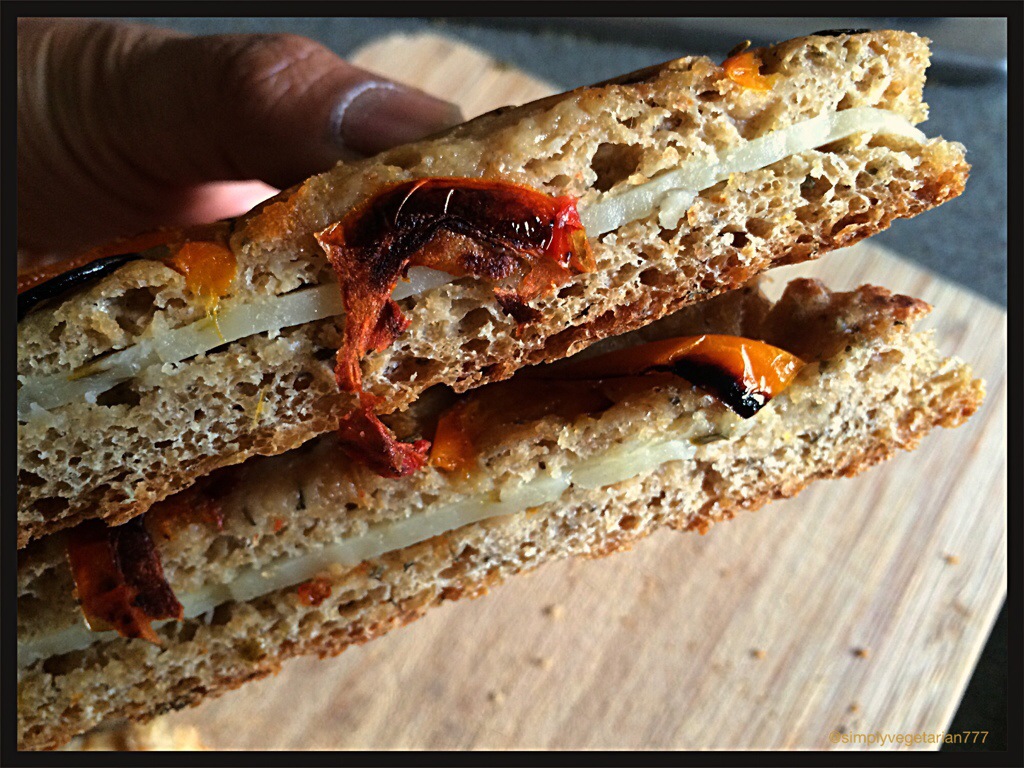 Do try it and let me know if you enjoyed it!
Sonal