Holiday Giveaway : Simpleware Perforated Cutting Board FLOW !
As an Amazon Associate and member of other affiliate programs, I earn from qualifying purchases.
Disclaimer : One has to read the complete article to be able to register for the Give-away! I promise, I will keep it crisp and short!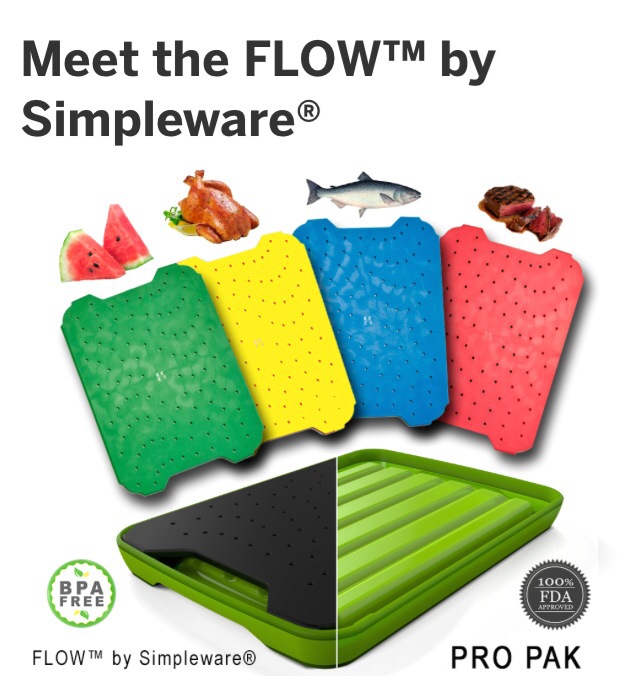 Simpleware is a company dedicated to the invention of modern kitchen Equipments. It's been in the market since 2012. There are 2 men behind this wonder product! Flow as they call it, is a modern day Kitchen Chopping board which has 2 parts – a fitting tray and set of removable perforated chopping boards. It is FDA approved. It is Dish washer safe. It fits easily in your cupboard for storage. Can you ask for more?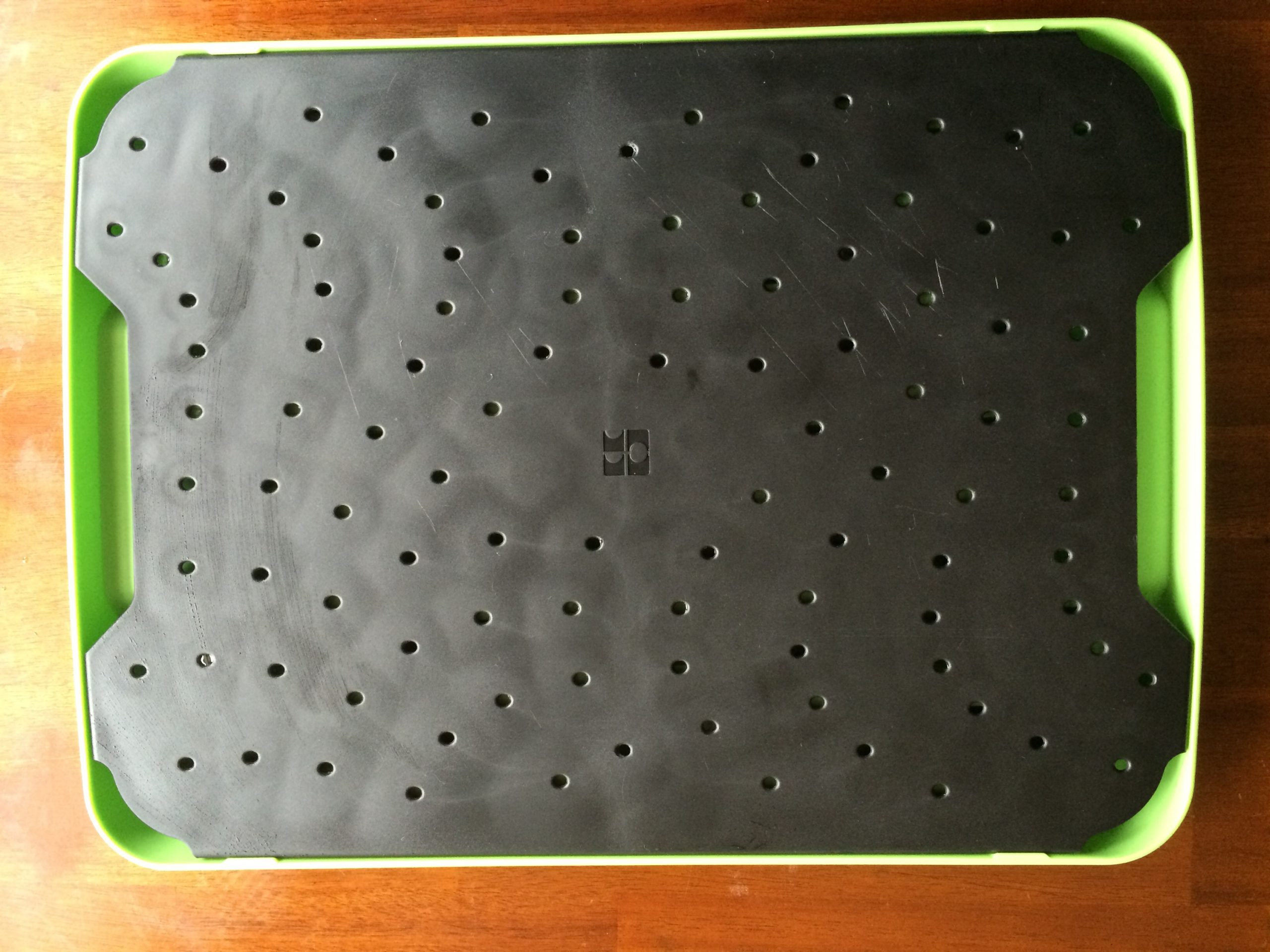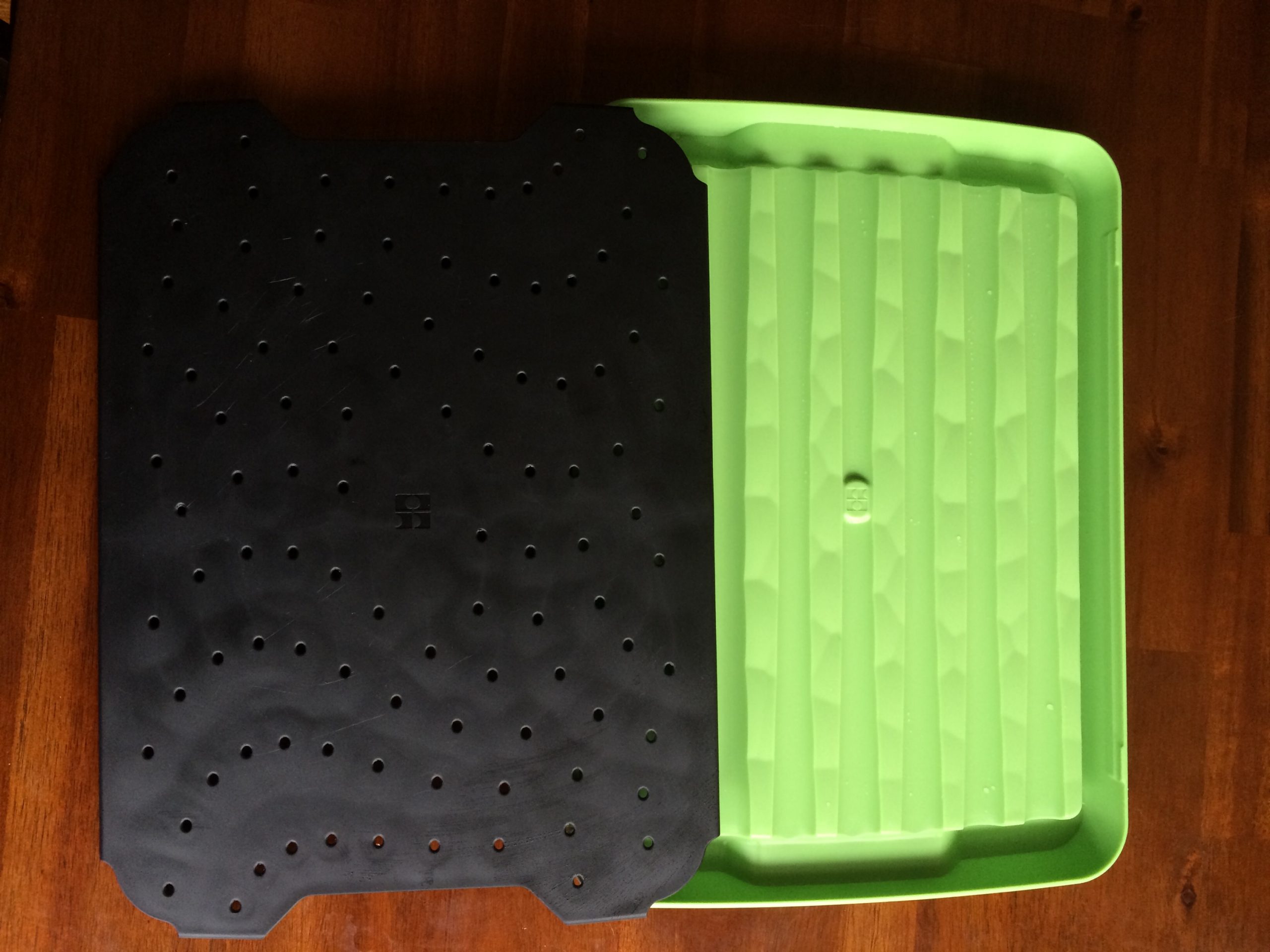 When Pamela Rossi, Marketing Director for Simpleware, contacted me and asked if I would be interested in doing an editorial for their product, there was no reason for me to say no since I liked the product already. She shipped me one board to test and write about. I tested it in different scenarios. I can't tell you how much I have fallen in love with it.
Here are some of my test results!
Baked a Bundt cake and cooled it on the board, drizzled it with weak sugar frosting and topped with chopped nuts. I was happier than ever since I am an OCD when it comes to mess while cooking. Nothing fell out of the tray. All the dripping sugar syrup stayed there and extra went through the holes of the chopping board down to the tray. The tray was easy and simple to clean.

Chopped some citrus fruits on it! I was so amazed when I chopped these citrus and "slipping" fruits on the tray. First, all the "discharging juice" from these fruits seeped through the holes of the board and was collected in the bottom tray. The second thing that really amazed me was that these boards are non slippery. They provide friction and the fruits or vegetables or "other" food ingredients don't slip when you cut or slice them. No flying knives and hurt fingers for the "newer" chefs in the kitchen or mess free working counters for OCDs like me :).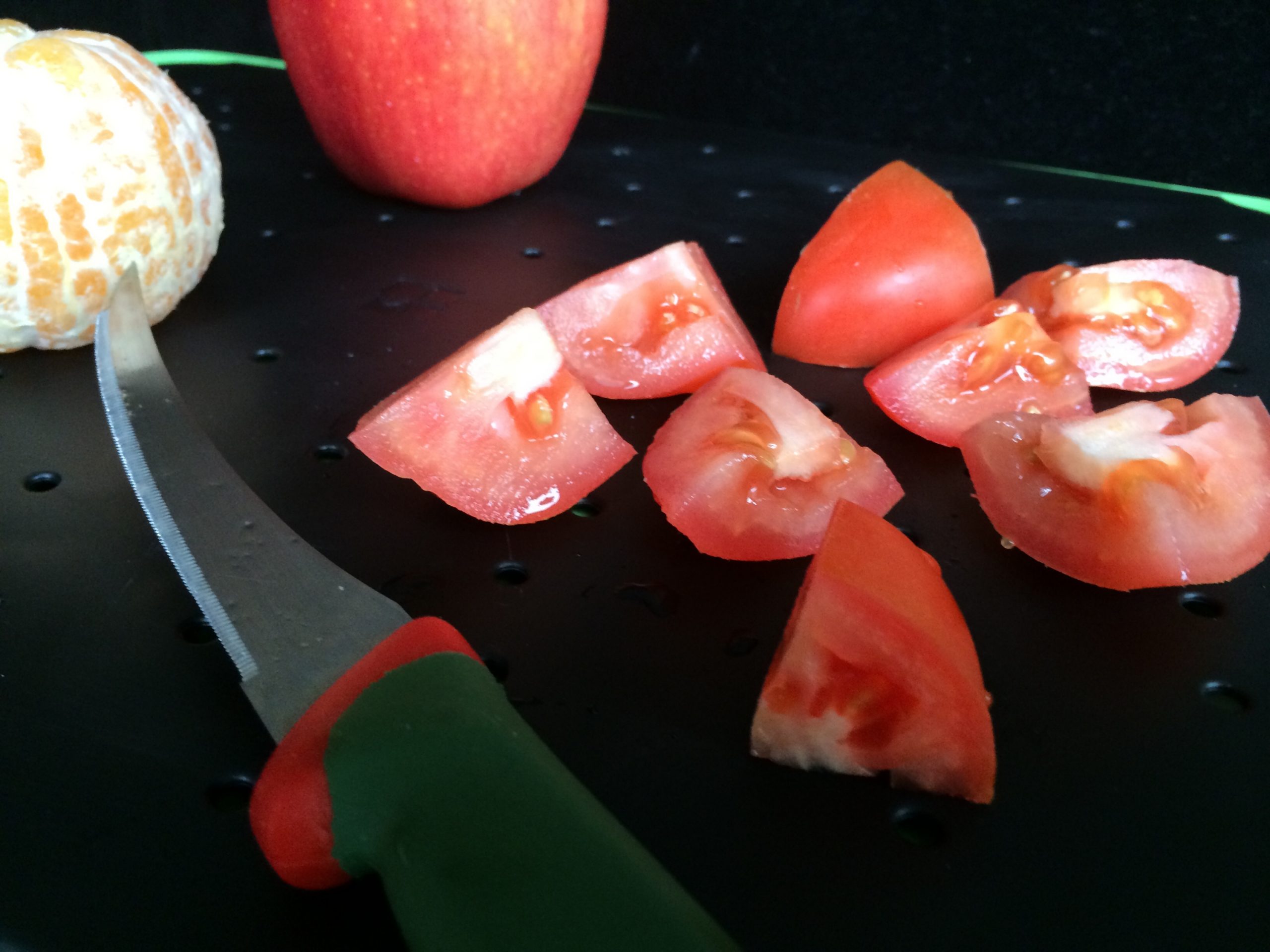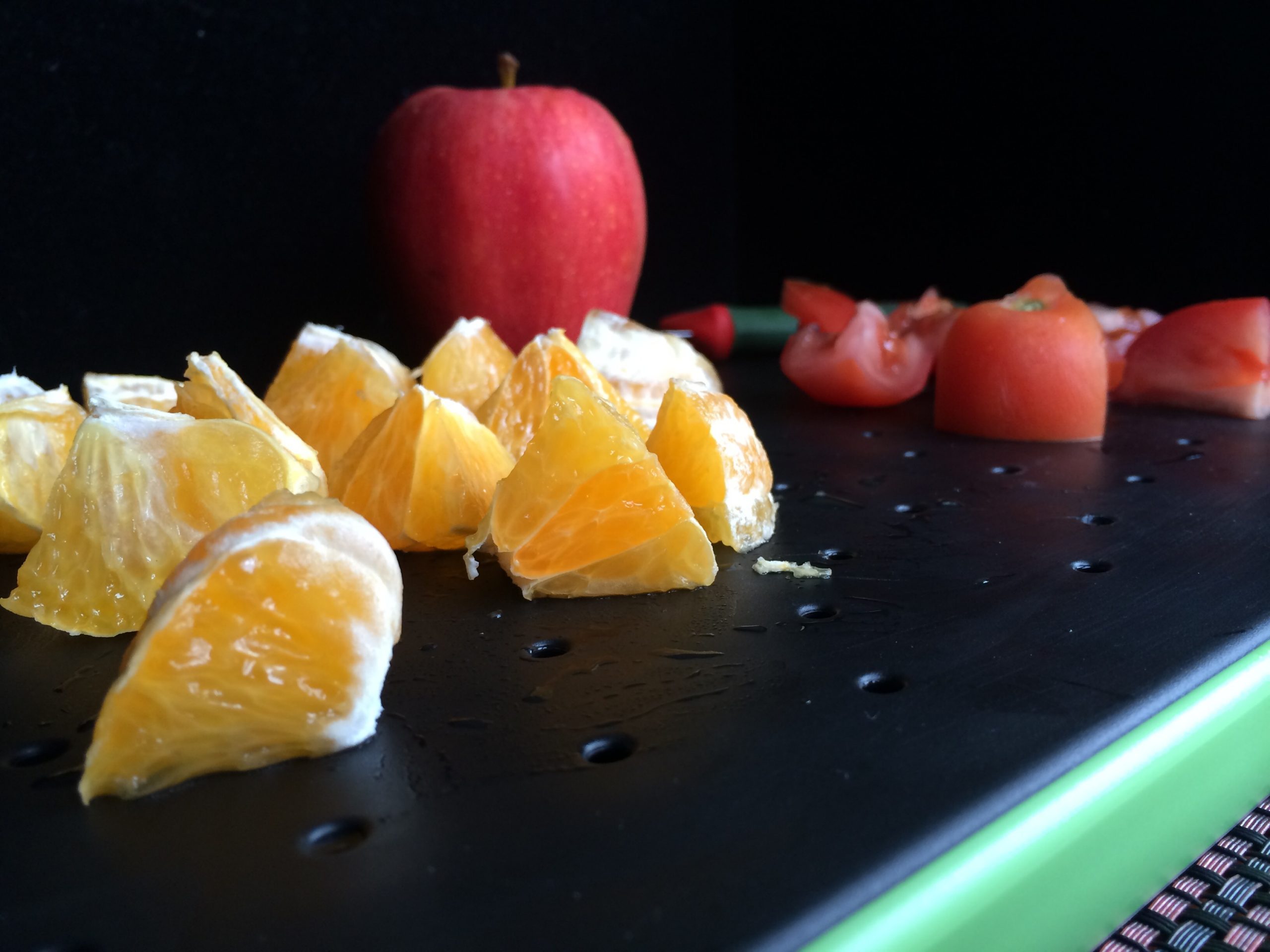 My personal take :

1. It doesn't take a minute to dry up after wash. Just wipe it dry with a kitchen towel and ready for 2nd use, unlike wooden boards.

2. It doesn't develop mould or fungi or swollen wood or spoiled finish after sometime, as I have seen the case in wooden chopping boards.

3. It is durable and can carry a weight of some heavy duty meat roasts.

4. With the beautiful colors available, this can be easily used as a serving board too for your fruits and veggies at the parties.

5. For the same price of some good quality wooden chopping boards, I can buy a more durable, manageable, more consumer friendly, kitchen work counter oriented, Simpleware Flow Perforated Chopping Board!
Now Read this article to answer 2 questions to enroll in the Give-away!
1.WHO ARE THE 2 MEN BEHIND SIMPLEWARE FLOW PERFORATED CHOPPING BOARD ?
WHAT IS THE "NEW" BOARD THEY ARE PLANNING TO LAUNCH IN EARLY 2015, WHICH IS MORE COST EFFECTIVE BUT WILL MAINTAIN ALL THE REGULAR FEATURES ?
DISCLAIMER : I WILL HAVE TO DELETE THE ANSWERS BUT I AM KEEPING A RECORD OF ALL THE PARTICIPANTS HERE :).
Answer this question in comments and get a chance to win a Flow absolutely free! Register by 24th December 2014. I will do a draw through randompicker online and declare the winner on Christmas day! It makes a great Christmas present so you may order for gifting purpose too. Only USA residents may register At this time for a free board draw. I apologize to others since the shipping overseas for a freebie is not in company's favor at this point. I promise to bring it back when they launch the newer one :).
Here is the special pricing, as offered by Indiegogo, an online Campaign to help raise awareness and funds for the company. This special offer closes by mid of January, so do avail the benefit within the time line.
I hope to see many interested bloggers and non bloggers here, creating a great deal of discussion on their analysis. Bringing it to Angie's Fiesta Friday with lovely co-hosts Indu and Jhuls, for a hearty meal and a great chit chat!
Sonal