Home made Quick Hash Browns
As an Amazon Associate and member of other affiliate programs, I earn from qualifying purchases.
Hash browns it is! That's what I made for breakfast today along with an English muffin and pepper jack sandwich.. Yummmmmmm! A heartful and a tummyful breakfast for a beautiful Saturday morning….which says…cheer up dear…spring is around the corner 🙂 🙂 🙂 . D you see a big smile on my face! I am in the mood to dance my shoes off today, run and play outside, just go berserk with this golden gorgeous weather… The flower bulbs and mulch is calling me outside…. Come get dirty with us :).

I had 2 boiled potatoes sitting in my fridge calling to be cooked. Mostly, potatoes turn into fried cutlets for weekend brunch. But not this time my dear. It was the mood for some good hearty breakfast with hashes. Amit and I love hash browns. They come in different shapes and kinds…cubed, shredded, with meat, without meat, fried, grilled, baked and so on. I made mine in my warrior pan, pan grilling them and a mushy texture but still crispy. Can you imagine? Oh it was bursting in the mouth, few ingredients, done under 15 minutes and still a party :). Hey you can totally make these guys for breakfast on Sunday morning. So easy….. Have I sold enough..lol :).
Let's get rolling beauties :). Gather your stuff! Ready?
Serves : 2-3
Ingredients :
Potatoes : 2, medium size and boiled. Chopped fine or mushed roughly.
Oil : 1 tbsp
Onion : 1/2, small and chopped fine
Garlic : 1 big pod, chopped fine
Bell pepper/Capsicum : 3 tbsp, chopped fine, I used red colored, you may use what ever is handy.
Oregano : 1/2 tsp
Cayenne Pepper : 1/4 tsp or to taste. You may use crushed chili flakes instead.
Salt to taste
Parsley : 1 tbsp, curly, washed and chopped fine.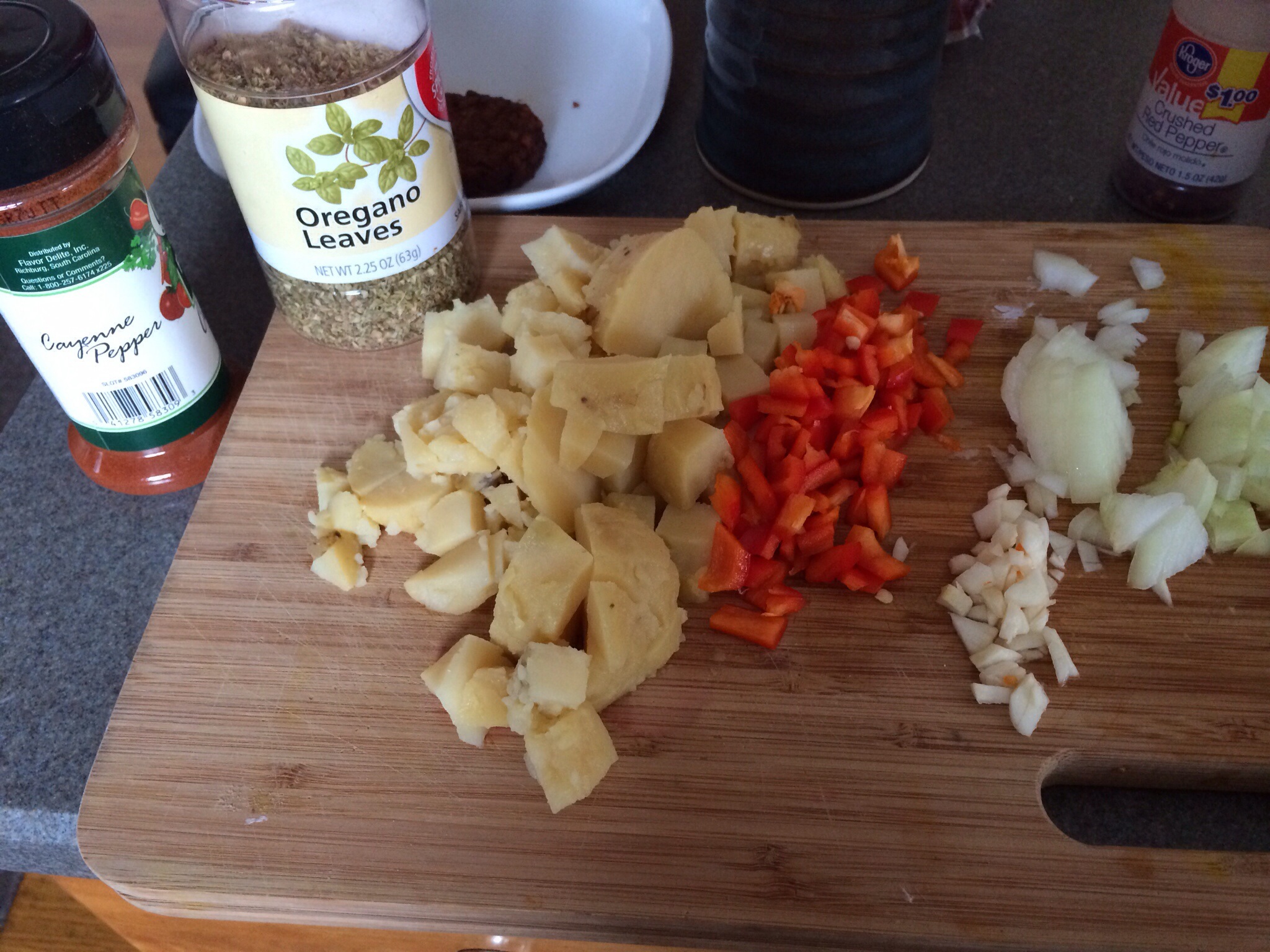 Method :
Heat the oil in pan.add oregano and paprika to it. I add my spices to the oil first, most of the time since that infuses more flavor to the dish. So ute for 1/2 a second. Add chopped garlic onion and bell peppers. Add salt and mix well and sauté for 3-4 minutes.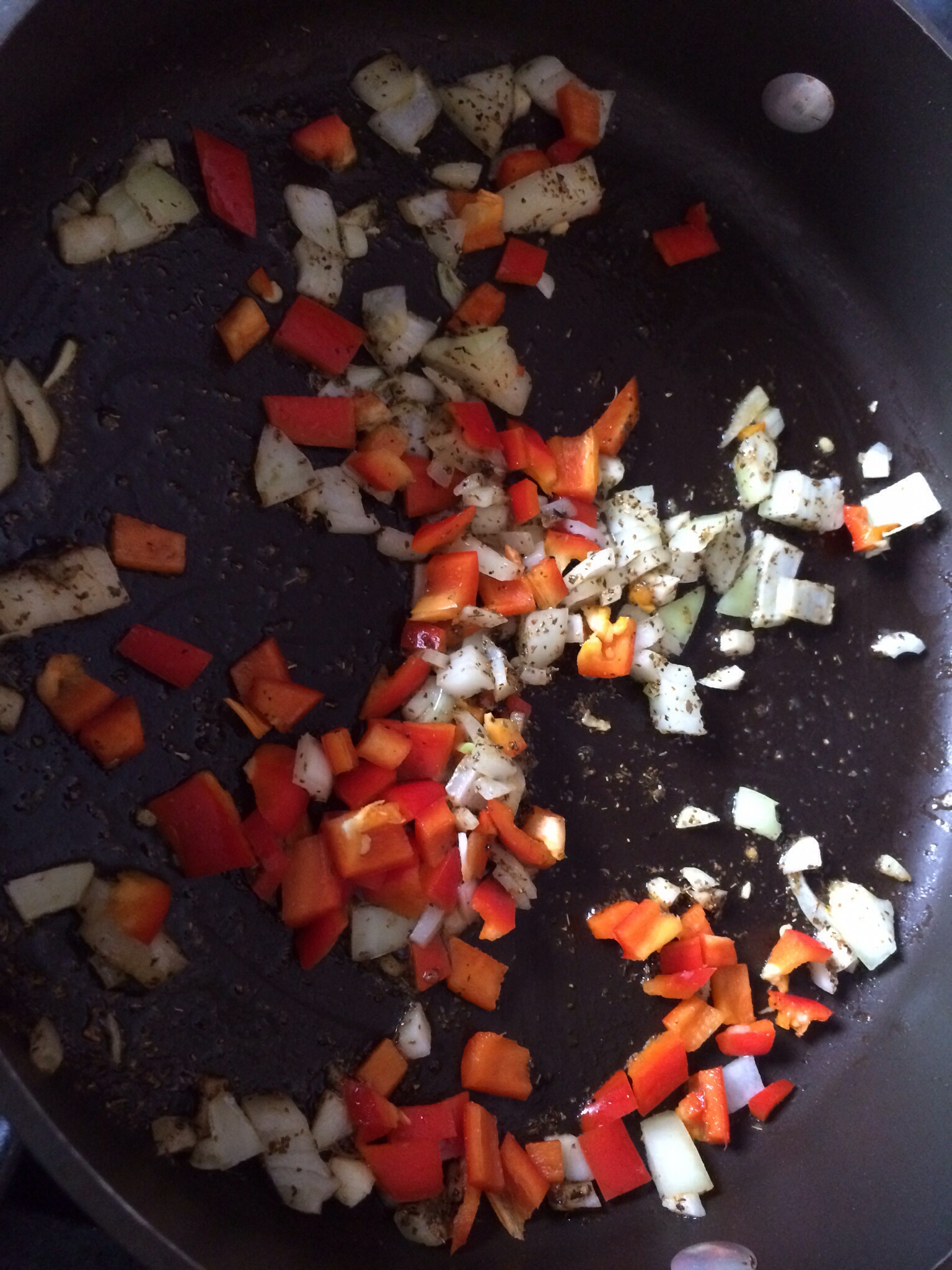 Add chopped or mushed potatoes to the sauté. Mix well. And let cook on medium high flame in open pan for 4-5 minutes, stirring occasionally for more browning. Enjoy it hot with a good dollop of some fresh salsa, sour cream, poached or half fried eggs, some toast, guacamole and what not…just jazz up your breakfast a big way by adding simple things and more flavors. Hope you enjoyed it.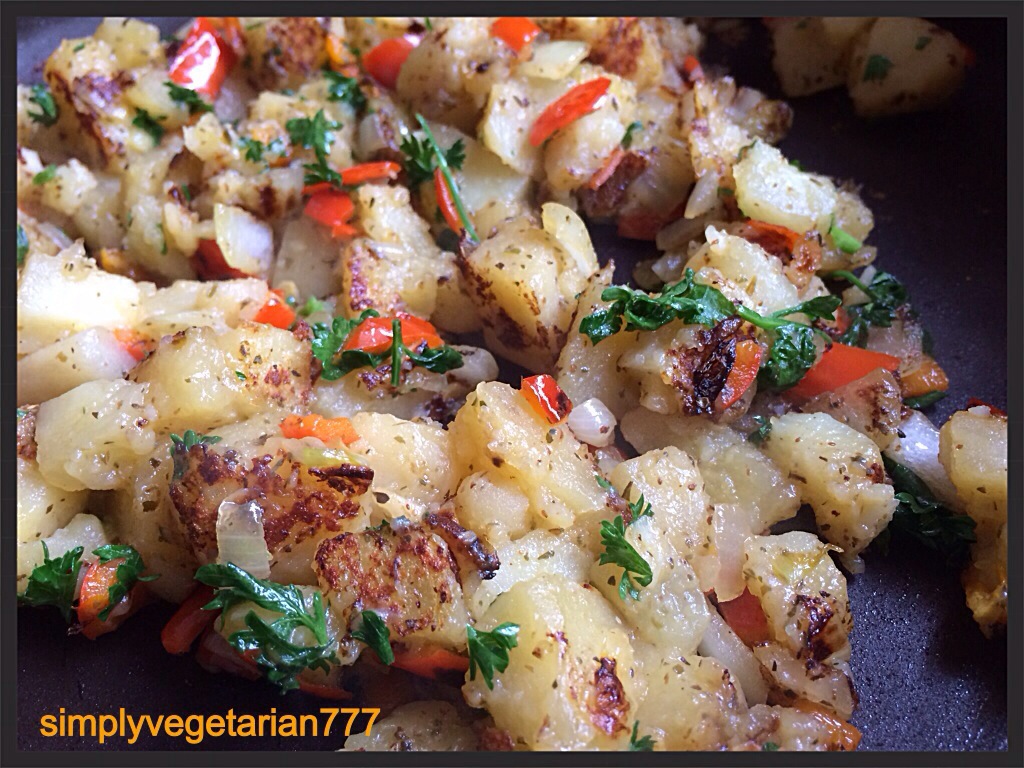 Next week is my Guest Post Week, where I am going to introduce some of my cherished blogger buddies, some experienced, some new, some sticking to the routes, some going experimental. Also, I am bringing my first article written as a passive story, introducing a fantastic person, who followed his heart. Also my another article, may be, if I can squeeze it on "Who's your Health Hero?" as requested by The American Recall Center. The plate is full and tipping right now but WTH…bring it on!…

Meanwhile, check this lovely blogger Don't Label My Kid
Sending Love and Feel Good Vibes to all you lovely readers and buddies :).
Also a Big Welcome and Thank you to the new blogger friends and readers.
Sonal